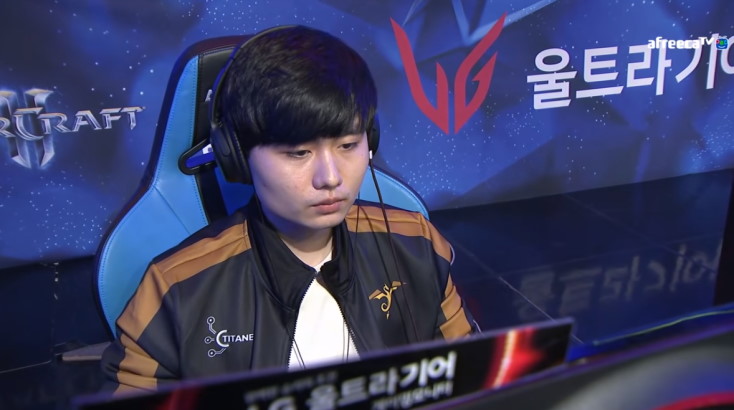 by: TheOneAboveU
With Zest & Stats facing impending military service and sOs declining in form, things have looked bleak for Korean Protosses. However, breakout player

Zoun has offered them a glimmer of hope, reaching the RO16 of Code S while going toe-to-toe with championship caliber players in the Gold Series team competitions.

TL.net talked to the Alpha X Protoss about returning to StarCraft II after retiring in 2016, his unusual playstyle, and his plans going forward.
---
TheOneAboveU: Hello Zoun, thank you for taking the time and talking to us! First, how did you start down the path of becoming a progamer?
I was a viewer of Brood War Proleague when I came across StarCraft II. I wanted to play on that stage as well, so I decided to try and go pro.
You originally started out on Prime during the Proleague era and then went to SK Telecom T1. What did it mean to you back then to play for such a historical team as SKT?
I thought
"Me, joining SKT?"
I was happy that the team had a great system, living up to its reputation.
SKT's StarCraft II team disbanded in 2016 and you were picked up by Alpha X in 2020, so you were on your own for close to four years. How difficult were those years for you and why did you ultimately return to professional StarCraft 2? Zoun:
When the team first disbanded, I switched to Overwatch before I had to quit for some external reasons. After that, I tried League of legends, and I joined a team called APK. However, there were a lot of players who were younger and better than me, so I gave that up. After that I was studying how to use 3D architecture/design software.
Along the way, I wanted to play some StarCraft II before I started my military service, and somehow I ended up sticking to it.
How did you come into contact with Alpha X after being teamless for so long?
I kept getting offers from teams as I was streaming, and I ended up joining Alpha X because they offered the best conditions.
Your performances this year have won you many new fans around the world, and some are calling you the new Protoss hope. Do you feel more pressure from expectations on you becoming higher?
My goal this year was to reach the GSL round of eight, but unfortunately I wasn't able to reach that goal. I'm proud that I got satisfactory results in tournaments like King of Battles and the Gold Series Team Championship—obviously, you feel pressure as a progamer to get good results.
Your gameplay style is known for its broad variety of builds—you can play excellent cheeses, but also very solid macro games—do you have any idol as a play, someone you try to emulate?
Before I quit StarCraft II the first time, I really liked macro-oriented play so I liked playstyles similar to Rain. But I learned a lot from watching Classic and Myungsik's play on SKT, and I learned a lot of strategic play as well.
How difficult is it for you to maintain good form in both tricky play and macro at the same time?
I think you have to have a solid base as a macro player to show off those strategic plays.
It seems like your signature-style in PvT is going for Phoenixes, you did it a lot in the GTC Spring season and then against INnoVation in last season's playoffs, for example. Why do you like it so much, what are the strengths of the style?
There's so many things Terran can open with. But if you go Phoenixes, you can at least force your way to a macro game, even if you give up a bit of an advantage early on—that's why I use them a lot. I don't like Robo or Twilight starts as much, because you give up too much of an advantage.
Let's talk about GTC a bit more—congratulations on getting second place this season! How important is competing in a team league for you? Does it bring back memories from Proleague, from the start of your career?
My teammates outperformed expectations, so I was really disappointed that I let them down by slipping up at the end. The GTC was fun because it let me feel nostalgia from the old Proleague days.
RagnaroK and Nice replaced Astrea and BreakingGG on your roster for the latest season. How was it for you getting two new team mates to work with?
Astrea and BreakinGG played well in their own unique ways, and I was happy to play with good players as well this season.
What's your team's greatest strength in your opinion?
I think the team's greatest strengths are managing the players' condition, the amount of support they give us, and analyzing our opponents.
Your team is considered to be very strong at preparing for your opponents, are you players doing most of this work, or is the team supporting you with gathering information and so on?
I don't know if it's as much preparation as it is every player utilizing their individual strengths to the max, sharing information with each other, and being confident.
How did the routine change for the playoffs, since you couldn't do that much preparation for those games?
It was unfortunate that the playoffs were so condensed, so we didn't have much time to prepare. I think if we had more time, we could have won the championship.
What was your reaction when you saw TIME instead of INnoVation in the ace match of the Grand Finals?
TIME has really increased his skill level lately and my recent head-to-head record against him isn't that good. I almost never get nervous in team competitions, but I was nervous playing against TIME.
Zoun takes down INnoVation to qualify for the Code S RO16
How does it feel to be called the 'INnoVation-killer?' He's one of the greatest players of all time, but he seemed afraid to play against you in the GTC ace match.
I don't think you can call me that since I've lost to him a lot recently. I think people are just paying me lip-service to be nice—when I play against INnoVation, the luck factor just goes my way.
It feels like you really grew stronger by playing in GTC every week for two seasons. Is the tournament helping you improve, giving you a goal every week?
Just having the competition is motivation in itself, so it makes me practice a lot.
Your ID was inspired by the famous general Zoun/Zhao Yun from China's Three Kingdoms era. Why do you like Zhao Yun especially?
I've liked
The Romance of the Three Kingdoms
since way back—particularly the characters from Liu Bei's faction. Among them, I thought "Zoun" sounded good coming off the tongue, so I went with that.
It was recently announced that Blizzard would stop the support of SC2 with new content. As a progamer, how do you feel about this? Does it change any of your plans for the future?
I was really disappointed in this news. But it didn't affect my future plans.
What is your goal for 2021?
Obviously, it's winning a championship.
Thank you very much for your time, Zoun, we wish you the best of luck in the future and hope to see more of you. This is your opportunity to make shout-outs!
There's a lot of people who've told me they're my fans lately, and that really makes me happy. I'll try to repay that with good play.
---
You can watch Zoun's stream at Twitch.tv/zoun123.
Liquid+ members can check in here!