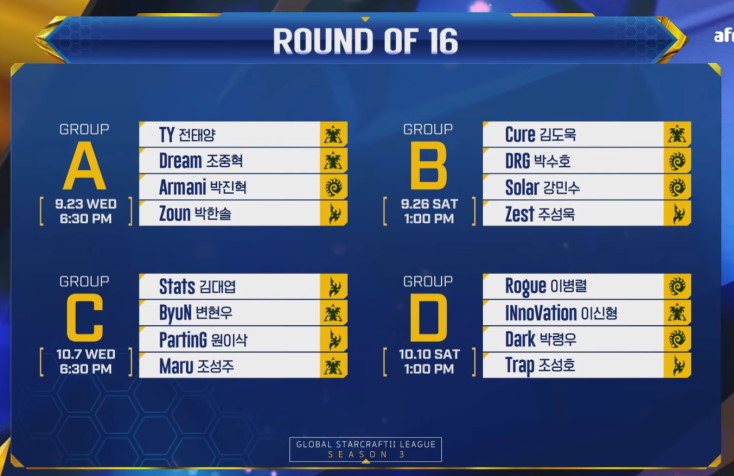 2020 Global StarCraft II League: Code S Season 3


The Code S RO24 concluded with a strong comeback performance from

ByuN in Group F, who advanced to the RO16 in first place with victories over PartinG and Patience. ByuN brought several quirky openers and looked dangerous when attacking in the early-mid game, but his late-game loss to Patience suggested he might be in trouble should his TvP matches go long. In other words: not much has changed since two years ago? In any case, it's good to see the former BlizzCon champion back in action, and also back in form.



PartinG overcame his initial loss to ByuN to advance in second place, taking down

Bunny and Patience to claim the last ticket to the RO16.

Contrary to reputation,

Patience might actually have been the best macro-game player on the night, beating all three of the Group F players in lengthy macro games. Unfortunately for him, he lost a proxy vs proxy cheese-off in the deciding map against PartinG, thus narrowly missing the second round cut.





With the RO24 completed, the RO16 group selections were held immediately after with TY holding court as the #1 overall seed (due to having the most GSL points on the year). TY must have looked on with glee as Group D turned into group of death, with Rogue, INnoVation, Dark, and Trap forced to fight for two playoff spots. Fans will have to wait a while to see that particular group, however, as Group D will be played on October 10th, after the Chuseok holiday break.

The RO16 will begin on Wednesday, Sep 23 9:30am GMT (GMT+00:00) with Group A, featuring TY, Dream, Armani, and Zoun.


Poll: Group of Death?
(Vote): Group A
(Vote): Group B
(Vote): Group C
(Vote): Group D
(Vote): There is no Group of Death