Gold Series Team Championship:
2020 Spring Season
by: TheOneAboveU
The playoff race in the Gold Series Team Championship remains incredibly close as we come back from a two week break. The teams in the middle of the rankings are packed together tightly, with four teams still battling for the two remaining playoff spots. There's no time to shed off any rust—we'll go right back into some decisive action!
The Catch-Up Match: Team GP vs Invictus Gaming
Team GP 4 -3 Invictus Gaming
Watch VOD
The break week did feature a single match: Team GP made up ground after their belated entry into the league (having replaced Chivo SC in week 2), going up against iG.
In retrospect, it really shouldn't have surprised us that Team GP and Invictus Gaming, the two teams with the most ace matches played this season, would both go to another game seven. While iG were once again on the losing end, they were still able to deliver a dramatic and entertaining series.
The first match between
GP.Super
and
iG.XY
unfortunately was as one-sided as expected, with Super's Blink Stalker play being too much for XY to handle, while his own Marine-Tank pressure builds were ineffective. Perhaps a bit more cheesy approach would've brought XY success here.
The big surprise of the day was how dominantly
iG.XiGua
crushed
GP.Bomber
. I had expected the Chinese Zerg to exploit Bomber's predictable TvZ greed killing him early, but instead XiGua played a very confident macro game on the first map. Similar to SYF.SortOf a few weeks prior, XiGua he shut down Bomber's harassment with ease and Droned up heavily. Whenever the Terran marched out onto the map, XiGua had already prepared Zergling counterattacks, which dealt massive damage after a while. With back-up bases already in place, the Zerg didn't have to commit to any bad engagements, and only fought Bomber when he really needed to. The iG player bought enough time to get to Ultralisks for defense at home, while his counterattacks killed ever more SCVs and even started to take down entire bases. Bomber had no answer but to GG out.
On the second map, Bomber tried to go for a Marauder-Hellbat push, but another fantastic counterattack by XiGua made the Terran F2 home his entire army, buying time for the Zerg to get up his defenses. Taking very slight damage from the Hellions, XiGua got out Mutalisks and kept Bomber pinned at home. Having severely out-produced him the entire game, XiGua started a massive offensive and overwhelmed Bomber with Muta-Ling-Bane, securing the 2-0! I thought XiGua would at least take one game, but this was a big upset, and the manner it was achieved in can only be described as impressive.
It was all up to
GP.GogojOey
and
iG.Jim
then, to decide the fates of their teams. GogojOey played a very solid and straight-forward game on Golden Wall, crushing Jim with Roach-Ravager after having defended the Protoss player's Dark Shrine opening, and also taking no damage from the Archon drop follow-up. Jim set a different tempo in the second game, starting with Cannon Rush, which successfully destroyed the Zerg natural expansion. Keeping up the pressure with Stalkers and his Warp Prism, he geared up for a massive two base attack, which GogojOey could not hold, having neither the economy, nor the army to keep up with the Protoss after the Cannon Rush.
Having forced the ace match through Jim, Invictus Gaming sent out XiGua against Super, who once again took the by now familiar position as TGP's ace. Super opened with a Glaive build, but only got a moderate amount of damage done, with XiGua defending quite well. The Zerg, however, fell apart when his army was pressuring Super at his third base, and Adepts started to infiltrate his base via Warp Prism. Ironically making the same mistake as Bomber had made against him, XiGua F2'd his entire army home, giving Super just enough breathing room to get out four Immortals and an army of Blink Stalkers, which crushed and routed his Roach-Ravager force and won the series for TGP!
Week 8 Preview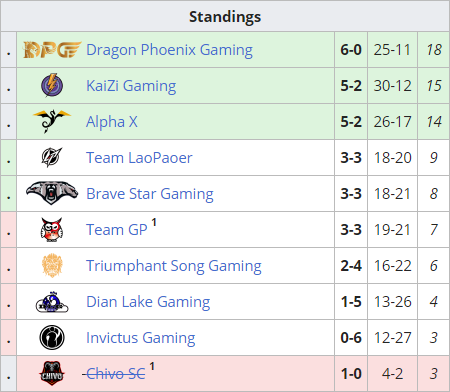 Points are awarded as follows:

3 points for a 'normal' victory in a series that does not require an ace match

2 points for a victory in a series that requires an ace-match

1 point for a loss in a series that requires an ace-match

0 points for a loss in a series that does not require an ace match
Going into Week 8, three of our four match-ups still hold great importance for the playoff race, showing how little separates the teams in the middle of the table. TSG need a win over iG to keep their playoff hopes alive. LP could probably survive splitting the points with Alpha-X. BSG and TGP meet in what is basically a direct duel for a playoff spot—the losers are likely out of the race for good.
Without anything crazy happening, TSG should be able to rally around their ace player Solar and at least force an ace match. An ace win, though, is not going to be good enough to really gain them any advantage in the playoff race—TSG need to get a clean win for the full three points. Invictus Gaming are basically out of playoff contention, but they still have their pride to play for. Who wants to end the season without a single win?
The all-Chinese squad definitely has the advantage in the first pairing of
TSG.Star
and
iG.Jim
. Jim had shown some pretty competent PvT a few weeks ago against KZ.Bunny, picking up a win against the Korean. If he hasn't massively dropped in level since then, he should have no issues securing two maps. Star, unfortunately, hasn't been able to pick up another map win after his debut. He showed some promise in his past matches, but potential alone isn't going to cut it. TSG need a map win from him now, but it's
very unlikely
they'll get it.
For our next match,
iG.XiGua
looks to put in another heroic performance for iG as he takes on a difficult opponent in
TSG.Solar
. It's a
super one-sided
match on paper, but there's a slight element of mystery. XiGua has literally only played a single official ZvZ series this year, narrowly losing 1-2 to Silky, a player Solar easily 2-0'd just a few days ago. The Korean clearly is the massive favorite here, and there is no obvious angle here for XiGua to win—no big holes in Solar's ZvZ to exploit, in contrast to GP.Bomber's TvZ. This should be a comfortable 2-0 for the Korean Zerg, bringing TSG back into the series.
However, to keep their playoff hopes alive,
TSG.Cloudy
then would have to 2-0
iG.Coffee
, and that is
not an easy feat
whatsoever. The Terran player's style relies heavily on Tank pushes, and even enabled him to take maps off strong Protoss opponents like BSG.Hurricane and αX.Zoun, who crumbled under the relentless pressure Coffee put them under. It's true that KZ.Nice schooled him in their last PvT here at GTC, but Nice is one of the most solid Protoss players in the region, and it seemed like he knew Coffee's style perfectly well. Cloudy probably does too, and his gameplay has gotten better every week it feels like, but he will be under a lot of pressure to deliver a good result here, as the efforts of the entire season may have been for nothing if he can't win two maps here. I think Coffee will take a map, and we will see an ace match, with Solar coming out to bring home another victory for TSG—albeit a Pyrrhic one.
Prediction: Triumphant Song Gaming 4
-3 Invictus Gaming
The Liquipedia gurus seem to have determined that Alpha-X have mathematically secured a playoff spot—still, they'd like to get as many points as possible for the purposes of playoff seeding. Meanwhile, Team LP could
probably
get by with an ace-match, but they'd much prefer the three points of a clean win to maximize their playoff chances. The deciding factor for all of this is likely going to be a PvP match.
Clearly,
αX.Astrea
must be regarded as the favorite here against
LP.Jieshi
, though I'd give the Chinese Protoss a decent shot to make an upset happen. Their last duel in March actually went
Jieshi's way
. Among the Chinese Protoss legions he actually seems to be at the very top when it comes to PvP skills, pulling off some pretty
good runs off the back of the mirror match-up recently
. That said, Astrea has been posting some fantastic PvP results himself lately, taking series from the top echelon of Korean Protoss players, as well as their Chinese colleagues. Add to that his incredibly solid GTC performance overall, and I think we have built up a pretty solid argument for him being considered a strong favorite.
Alpha X will need those early wins, because the next match-up—likely the critical, series-deciding one—is tricky. It involves another PvP, but most importantly it involves
LP.Patience
, trickster and gambler extraordinaire, and truly a fiend in the match-up. I often give him a hard time in these articles, but his PvP is truly strong, feeding not only off of the chaotic side of Patience, but in fact sometimes showcasing the rarely seen patient side.
αX.Zoun
certainly has his work cut out for him here, and his team's preparation magic will need to conjure up a really good plan if he wants to tame the beast that is Patience's mirror match-up. If Alpha X can find some patterns in Patience's PvP, some angle for Zoun to exploit, there is a good chance they could finish off this series early, or at least force the ace match already (which would likely lead to another PvP, because we all know LP love to send out Patience as the ace). It's going to be
tough
, though.
The last match should also be difficult for Alpha X.
LP.Impact
certainly isn't in the monstrous form of the previous season, but he is a solid enough ZvZer to be regarded as
the favorite
over
αX.BreakingGG
. The two are 2-2 in maps (1-1 in series) this year, so BKGG absolutely has the ability to take a map for Alpha X here, but that probability is nothing the team can safely count on and plan with. Impact took his 2-0 win over BKGG only last week, so at the moment he definitely seems like the superior mirror player—not to mention their vastly different recent performances in the match-up in general.
I continue to believe in Alpha X's preparation abilities, and think we may go to an ace match here, but there is definitely a chance of Team LP finishing the series before that. Should we go to ace, I think Astrea will take it over either Patience or Impact.
Prediction:
Team LP 2-
4 Alpha X
SYF were almost able to bring back the magic from the beginning of the season against Team GP in Week 7, but fell short in the ace match. There's technically a chance that they could still make it to the playoffs, but having their next match against top-ranked Dragon Phoenix Gaming means they're realistically eliminated.
I'll give SYF this, though: if there ever was a point of time at which
SYF.DynaMite
could beat
DPG.Dark
, it's probably now. Dark's recent ZvT form is in
negative win rate territory
, and going by his own words his wrists are not in the greatest health condition at the moment. You know how in 'A New Hope' the Rebels attack the Death Star, and despite knowing the critical weak point of the battle station the mission is still basically a suicide tactic? It's similar to that. No, DynaMite can't literally blow up Dark's wrists with Proton Torpedos, but he can try to bring the cheesiest cheeses man has ever seen. But even Luke Skywalker needed help from the Force to make that shot count, and I don't think DynaMite has the unnatural powers needed to overcome some truly
terrible odds
.
The second duel is not as one-sided, but
DPG.Firefly
is
definitely favored
to take both maps against
SYF.EF
. Firefly looked pretty damn solid against αX.BreakingGG, not just defeating the Zerg, but managing to do it with some style to boot. This long into the season, I still don't really know what to make of EF: whenever I look into his match history, there's a new result that kind of baffles me. This time, it's a clean 2-0 win over DRG in Kung Fu Cup. Then I watch his games in GTC, and it does not look like the same guy is playing. How does he score these big wins in individual events, and then have a 2-10 record in the team league? Is his style so reliant on surprising his opponents that the preparation factor just neutralizes him? It's really hard to say. But going by his GTC performances alone, EF should not be able to pose a big threat to Firefly, who really stabilized his GTC performance in the last couple of weeks on a very solid level.
With
SYF.SortOf
having returned to Europe from his sojourn in Korea, this match is likely going to be played under non-optimal circumstances ping-wise, which is usually not an issue in GTC and thus should be mentioned. That said, both him and
DPG.PartinG
are likely used to that by now, so it's not the biggest of deals. SortOf should also be pretty familiar with the Protoss player's style, having long practiced on the same server as his opponent. But is that going to be enough to save him from the maestro's Force Fields? The statistics certainly don't seem to think so, with PartinG being the
dominant force
between the two ever since 2012. There is definitely the chance that the Swede secures a map here for SYF—a failed cannon rush or a successful Roach-Ravager push, for example, are always in the cards—but I highly doubt that SYF can really force DPG to go into an ace match at the end of this series. Being huge underdogs in every single match-up is a rough place to be in.
Prediction:
SYF 1-
5 Dragon Phoenix Gaming
With both teams being 3-3 in the rankings, Team GP and Brave Star Gaming are direct combatants in the fight to reach the playoffs. A victory over the other team here would be a massive success in their efforts to secure a spot amongst the top 5, so every map is going to count.
We're starting off with
GP.GogojOey
and
BSG.Cyan
. Historically, the Protoss has dominated the duels with this Zerg player, being
13-3 in maps (7-1 in series)
against him. Going only with 2020 stats still leaves us with a 5-2 lead in maps, and a 2-1 advantage in series. This goes to show that GogojOey certainly has the mettle to take maps off of the Protoss player. From what we've seen so far ZvP actually seems to the match-up in which he feels secure enough to go long-distance and try macro games. Cyan's best match-up recently has been PvZ on paper, with wins over TSG.Solar and LP.Impact over the course of May underlining this development. GogojOey has shown himself to be dangerous, but Cyan has played some very solid games and is familiar with what jOey likes to do—if he plays this one out carefully, he should get BSG off to a good start.
Had we seen GP.Bomber here instead of
GP.Super
against
BSG.Scarlett
, I'd have argued that Brave Star would have been in a fantastic position to close the series out quickly. With Super taking on Scarlett, and Bomber dodging another TvZ disaster, things might well get closer. That said, Scarlett has made a habit out of beating strong Korean Protoss players in the last couple of months, repeatedly scoring some big victories in online tournaments over the likes of Zest with a mixture of aggressive cheeses, and some solid macro games. The two are
1-1 in series
so far this year, with Super slightly leading the map score 3-2. It's clear that they are an equal match for one another. The Protoss seems to favor the Adept style in PvZ, which Scarlett has shown some vulnerability against. Perhaps this gives Super the slight edge, but a map split seems like the most probable scenario here.
That leaves us with
GP.Bomber
taking on
BSG.Dream
in our third pairing. First of all, it's very good that Bomber was able to avoid another TvZ and plays the mirror match-up instead, which is also Dream's weakest match-up (that hasn't changed from his glory days), so the map pick here has panned out well for Team GP. But even though Dream's mirror isn't as good as his other match-ups, it's still pretty strong and solid. He manages to go up against players like DPG.Cure and KZ.INnoVation on equal terms more often than not, sometimes gaining some pretty big advantages but failing to close the games out (as we saw in NeXT Spring). In terms of notable recent TvT results Bomber has…
none
. Dream should be the
clear favorite
here and secure BSG the victory if everything goes as planned—anything else would be quite an upset.
Now, BSG would not be in this precarious position if everything would work out as planned all the time. They are prone to falling to underdogs and disappointing. Hope is not lost for TGP, any of their players can take maps. Super could well take the series against Scarlett, and in ace matches he has been a terrifying opponent so far. But BSG haven't gotten to 3rd place at NeXT for nothing. They're a strong team when they show up, and I'd say the time to show up has come.
Prediction:
Team GP 2-
4 Brave Star Gaming
---
Credits and acknowledgements
Written by:
TheOneAboveU
Editor: Wax
Stats: Aligulac.com & Liquipedia
Images: Netease