Super Tournament 1: Semifinals Preview
Start time: Saturday, Mar 28 8:00am GMT (GMT+00:00)
Only four players remain to contend for the Super Tournament championship was we head into the final day of games. Many fans are already looking ahead to a finals mega-match between Maru and Dark, which would be their first grand finals meeting since a $200,000 clash at
WESG 2017
. Of course, that's assuming they take care of business against Trap and Solar—not an unfair assumption given the difference in stature. But, as usual, the old cliche bears repeating: anyone can get hot for one match. Maybe, just maybe, this underdog duo will show us that a new year is a time for new champions.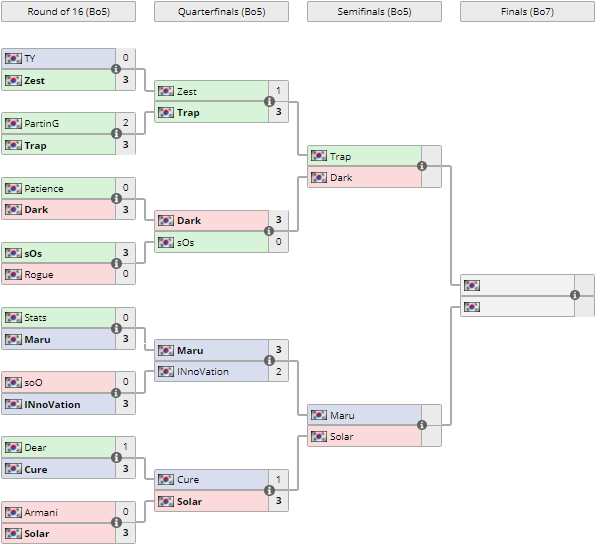 Semifinal Match #1: Trap vs Dark
by Orlok
The first semifinal is a
Code S finals
rematch from 2019. Back in Season 2 of 2019,
Dark
defeated
Trap
by a 4-2 scoreline, and it looks like Trap will be facing an uphill battle once more.
In the past two rounds, Dark showed that his best-in-world aura from BlizzCon 2019 hasn't faded much—if at all. Against Patience, a dangerous-but-limited cheeser, Dark demonstrated their difference in class with a 3-0 sweep. Headed into the next round, fans wondered if sOs' three-zip victory over IEM Katowice champion Rogue meant he could also put up a credible fight against Dark. Well, such questions were quickly and brutally answered. sOs actually came very close to winning the first game where he deployed the best of his big-brain strategies: Adept shenanigans to abuse the terrain on Golden Wall. But with incredible patience and decision-making—and also thanks to some poor combat micro from sOs—Dark was able to take sOs' best shot and still win in the end. In the next two games, sOs didn't even come close to threatening Dark with his cheeses, and Dark ended up winning in a lopsided 3-0.
Maybe Dark's absolute peaks haven't been as high as the internet's favorite Zergs, but he might be the one who most regularly brings his A-game to offline tournaments. Nobody's perfect, of course—Rogue really capitalized on Dark's lack of caution in their
IEM Katowice quarterfinal match
. But if you had to pick someone to play a world class-game on any given day or in any setting, you're be hard pressed to find a progamer more reliably excellent than Dark.
[Editor's note: Wow, what a cordial invitation to Serral fans for a fight!]
Trap, on the other hand, comes into this with big concerns surrounding his PvZ play. Trap's 2020 didn't get off to the start he wanted, as he dropped out of the group stages in IEM Katowice after looking like one of the favorites to advance. The reason was his unbalanced match-up strengths. While his masterful PvT allowed him to defeat both Maru and INnoVation, he dropped PvZ matches to both Solar and Elazer (a PvP loss to Patience sealed his elimination). Not only that, but he dropped a PvZ series to Lambo as well in the open bracket.
Losing to Solar is understandable. But with all due respect, a championship contender shouldn't be losing to Elazer and Lambo (and thus, Trap was eliminated from IEM championship contention). In the case of the loss to Lambo, one could argue it was actually an exceptionally good series from the German Zerg rather than Trap playing poorly. But there really wasn't any excuse when it came to Elazer, who has been taking games and series off Korean Protosses with 'random' all-ins for a while now. It's even more worrisome for Trap when you consider that Dark is also quite fond of fast Ravagers, Nydus tricks, and other sorts of all-ins. Trap hasn't looked much better post-IEM, racking up losses against Armani, soO and Solar. While he quelled a rejuvenated Zest in the RO8, his vZ matchup still remains as a big question mark. Overall, Trap is barely
over a 60% match win-rate (26W-16L)
in PvZ in the 2020 season. While Dark's stats in the same period aren't exactly overwhelming—
9W-4L for a 69% win-rate
—his consecutive 3-0 ZvP wins in the Super Tournament seem like the more pertinent data point.
It sounds a tad cruel to say this matchup has a forgone conclusion, but it's highly likely that Dark takes down Trap in this match. The last time they fought, Trap did keep the score respectable: once by holding off a poor all-in from Dark, and once by playing some masterful defense against Darks' Swarm Host-Nydus tactics. But Trap's PvZ seems to have fallen below that GSL finalist level, while Dark looks as strong as ever. We're picking the BlizzCon champion to move on to the grand finals.
Prediction: Dark 3
-0 Trap
Semifinal Match #2: Maru vs Solar
by Wax
So, I probably don't have to cite any statistics or data for you to realize this is a colossal mismatch. But let's go through this exercise anyway, for fun.
Maru
is
9-1 in ZvT matches
during the 2020 season, while
Solar
is
32-26
. Maru's single loss was his narrow 2-3 defeat against eventual IEM Katowice champion Rogue in the quarterfinals. Speaking of IEM Katowice, that happens to be where Maru and Solar played their last match:
a 2-0 win for Maru
in the group stage. Overall, Maru is
18-4 against
Solar in career head-to-head matches. Maru is barely a year removed from being a four-time consecutive Code S champion. Solar, uhhh, I guess he made the finals of ASUS ROG Summer? You get the picture.
While I'm certainly not going to pick Solar to win, I do think he deserves a bit more credit than he's getting. Should Solar
really
be receiving
less Liquibet picks to beat Maru
than
Trap is getting to beat Dark
? Even with the 'three stupid/genius all-ins can end any Zerg' factor of PvZ priced in, that seems unfair. Consider the previous round where Solar 3-1'd Cure. Say what you will about offline/online-Cure, but Solar acquitted himself pretty nicely in that series. Sure, Solar's finesse plays didn't exactly shine, whether it was carelessly losing Queens and Banes in his only defeat of the series, or the hilarious clustering of Mutalisks for Thor shots. But the latter mistake didn't matter in the end because Solar showed some soO and INnoVation-esque macro, seemingly conjuring units out of thin air to crash into his opponents' army in endless waves. While Solar might not be able to take enough efficient fights to wear down Maru in a standard macro game, I do think he has the skills to make such games quite entertaining.
One amusing subplot I saw TL.net users posting about was that of the Bunker rushing king vs the Bunker rushing magnet. Proxy-Barracks Bunker rushing has been a popular Terran strategy since the beginning of StarCraft, but in recent weeks, Terran players seem to have found a
particular
delight in cheesing Solar. Both Maru and INnoVation used such strategies in their IEM group stage wins against Solar, while DynaMite of all players (never qualified for Code S) managed to take an ace-match off Solar in the Gold Series Team Championship with a three-barracks varietal.
While one would think this bodes poorly for Solar as he takes on the most infamous proxy-raxxer of all, I don't know that this is a disadvantage. After all, Solar actually did fend off Maru's Bunker rush at IEM Katowice—he just got overpowered by Maru's Marine-Tank in the ensuing macro game. I actually see this as an opportunity for Solar—proxy-raxing just introduces needless variance in a series where Maru is already favored to win in standard games, and a fortuitous hard-counter from Solar might just give him the easy win he needs to build some momentum in the series. Can you imagine Solar just blind-countering an inevitable proxy-rax from Maru if the series goes to game five? It would be woe for Terran fans, but sweet justice for all of Maru's past victims.
All-in-all, I can't go against the Liquibets, the online betting odds (sponsor TL.net if you want a shout-out!), or what seems to be the collective common-sense of the entire StarCraft II community. Maru is going to win this match, but I do think Solar will make the games entertaining.
Prediction: Maru 3
-1 Solar
---