NationWars 2019: Round-of-16
Group A & C Previews
by TheOneAboveU
The round-of-sixteen continues with groups A & C, from which four teams will emerge with spots in the single elimination playoffs. Italy and Finland are the headlining countries in these two groups, but not necessarily because of their strength as teams. No, it's all about seeing how dominant Reynor and Serral will be after strong BlizzCon performances, and finding out if NationWars' hybrid proleague/all-kill format can prevent a one-man-army from carrying a team deep into the playoffs.
Ro16 Group A: Poutine some Cheese on Putin
Canada, Russia, Italy, Taiwan
Match time: Friday, Nov 15 5:00pm GMT (GMT+00:00)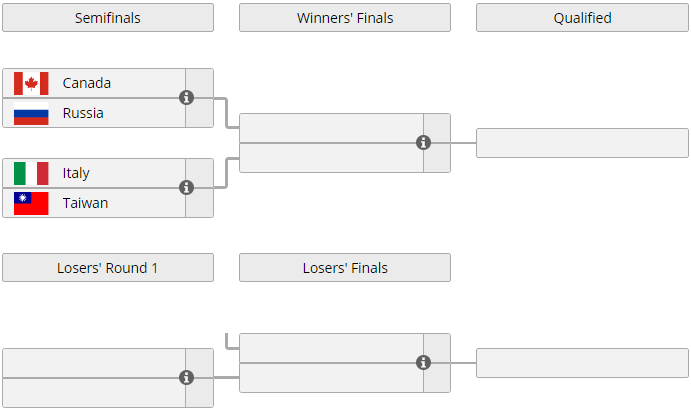 Canada vs. Russia

Canada
:

Scarlett
(5-0, 1 All-kill) |

THERIDDLER
(3-1) |

NoRegreT
(0-2)

Russia
:

SKillous
(7-3, 1 All-kill) |

MEDOED
(1-2) |

Vanya
(0-0)
Match History: No previous NW matches
Finally, we can settle the dispute about which giant, icy territory in the northern hemisphere that fancies itself as America's 'rival' is the best one (we all know hockey isn't skill-based enough to determine that). That's right: Canada and Russia are facing off in the opening match of Group A.
Russia stands out as one of the few underdogs to advance from what was otherwise a rather cut-and-dry Ro24. Facing an uphill battle against Poland and Sweden in the Ro24, Russia upset the Swedes with a victory in the ace match thanks to a brilliant performance by

SKillous
, who really stepped up to get his country into the next round.
Since then, the Russian team became embroiled in
some minor controversy
regarding the participation of MEDOED in the tournament. The streamer allegedly tried to sell his spot on the team, and it didn't help that the Russian community was already upset with a non-pro player being voted into the squad in the first place. Somehow, this caused

Brat OK
to
publicly resign from the team
, making space for

Vanya
instead. The atmosphere in the Russian team may be somewhat frosty due to these events, but Brat_OK's sacrifice will be appreciated. Before, SKillous looked to be overburdened in keeping team Russia afloat, with Brat_OK's zenith laying far behind us and MEDOED overwhelmed by his pro-tier opponents. While Vanya has yet to be make a splash on the WCS Circuit, he's currently the #1 ranked Russian player on Aligulac.com and has represented Russia in a previous NW tournament. If Brat_OK saw it fit to step down for him, one must surmise it's a move in the right direction.
All that said, the Canadians look like clear favorites in this first match-up.

Scarlett
has been a staple in the roster for many years, and though she's been somewhat inconsistent for Newbee in team competitions, she has been absolutely flawless for Canada in this edition of Nation Wars. She has yet to drop a single map, and scored an all-kill against Mexico which included two wins against SpeCial. It's doubtful that Russia has anyone that can match her in that ace capacity. The Canadian roster is not without weaknesses, of course.

THERIDDLER
is more known for his infamous mirror-match against avilo in WCS than his competitive success, but he did secure the Canadian victory over Singapore. Then, there is

NoRegreT
, who has been very candid about no longer being a full-time pro, with his energies focused on running the foreigner house, doing various SC2 shows, and casting tournaments. It shouldn't surprise anyone that he's 0-2 so far.
So, while Canada has the better star player, this isn't a total mismatch when you consider roster depth. Russia must embrace her underdog status and hope for another miraculous performance by SKillous (now reinforced by Vanya, at least)—otherwise the Great White North shall reign supreme.
Italy vs. Taiwan

Italy
:

Reynor
(6-0, 1 All-kill) |

Ryosis
(1-1) |

Ryu
(1-1)

Taiwan
:

Has
(4-1) |

Nice
(3-2) |

ButAlways
(3-2)
Match History: No previous NW matches
If you like Zerg vs. Protoss, then this match will be a special treat for you as a swarm of Italian Zerg players takes on the brave party of Protoss players from Taiwan. Of course, no one actually likes ZvP in the current patch, which means the only redeeming part of this match will be the gourmet cheese tasting party the Taiwanese team is sure to prepare.
When talking about the Italian squad, everything clearly centers around WCS Global Finalist

Reynor
. He's not just the best player for Italy—he's one of the top players in this entire tournament as we learned from his impressive run into the finals of BlizzCon 2019. If you want to beat Italy, you must defeat Reynor on the battlefield (or
tilt him by defiling sacred pasta recipes
; seriously, he's actually the perfect representation for Italy). This reality alone makes Italy favored over most other nations in this competition, but of course it's also a risk: if the Zerg prodigy does have a bad day at some point, it would be game over for the Italians. His teammates

Ryosis
and

Ryu
, who may just be Reynor in disguise (really, Italy, three Zerg players starting their nicknames with 'R' and including 'y'?), actually did hold their own against Norway, contributing to a flawless victory over the former Nation Wars champions. They did, however, crumble against higher level competition from France and left the heavy lifting to Reynor. Fortunately Russia and Taiwan do not have the roster depth of France, so I can actually see both Ryu and Ryosis making positive contributions here.
The question is: are they ready? Can one really ever be ready for Taiwanese Protoss players? The three Protoss
formaggiaios
took out both non-Serral players against Finland, as well as the entire Peruvian squad to advance from their Ro24 group.

Has
, of course, needs no introduction: the foreman of fermentation secured Taiwan's advancement into the Ro16 by establishing once and for all that his cheese powers are far beyond CatZ', defeating the Peruvian ace decisively in two games that were as opposite to standard play as humanly possible (we're still waiting for AlphaStar to be trained exclusively via Has replays, but sources tell us the AI might just go mad if this was attempted, so it's better to be safe than sorry).

Nice
is very much capable of playing as chaotic as his more famous colleague, but between the two players he possesses the much better macro gameplay—he even defeated the likes of GuMiho in macro games in the recent season of the China Team Championship—making him a very flexible and dangerous opponent. Completing the tangy Taiwanese trinity is

ButAlways
, a relatively new addition to the most elite spheres of the Taiwanese scene: he was able to win two WCS Oceania/SEA qualifiers this year and was trusted by his team mates to go up against Serral two times during their match against Finland, so he's clearly held in high regard. These three Protoss players have a lot of upset potential, but Reynor may end up shredding them nonetheless. But while
pasta al forno
may not be on the menu, Canada and Russia may still be vulnerable enough to go home with the fetid taste of cheese boba in their mouths.
Prediction:
Italy
and
Taiwan
to advance.
Ro16 Group C: The White Death's Prey
Poland, France, Finland, Croatia
Match time: Thursday, Nov 14 5:00pm GMT (GMT+00:00)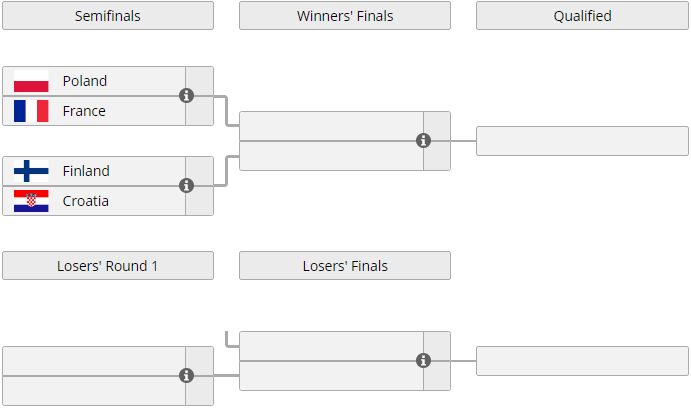 Poland vs. France

Poland:

Elazer
(5-0, 1 All-kill) |

MaNa
(3-1) |

souL
(0-2)

France
:

MarineLorD
(4-1) |

Clem
(3-1) |

PtitDrogo
(3-2)
Match History:
Poland 3-4 France (NW 2, 3rd Place Match)
Poland 4-2 France (NW 3, Group Stage, Winners' Final)
Poland 4-2 France (NW 4, Group Stage, Losers' Final)
Two European countries with a long and strong tradition in StarCraft 2 will face each other in Group C. The tournament's host nation, France, is out to prove itself after a rather inglorious exit at the qualifier stage in the last edition, seeking to once again reach the big stage in front of a home audience. Poland, also, had its worst ever finish in a Nation Wars tournament in the fifth edition after having landed three top-four positions in a row, and will look for redemption.
The Polish bring the same roster from last year, with the tried and tested veterans

Elazer
and

MaNa
, and EU ladder's practice beast

souL
. Unfortunately, souL hasn't been able to play up to his reputation in major tournaments and NationWars is no exception. So unless he figures out how to flip the switch, Elazer and MaNa will probably be left doing much of the heavy lifting. Luckily for Poland, they've fulfilled this responsibility with grace so far, with Elazer all-killing Sweden in a ZvZ bloodbath, and MaNa doing most of the work against Russia by taking out their ace SKillous in PvP matches. While the Polish group in the Ro24 wasn't the strongest by any means, their very comfortable first place advancement should give them some confidence. It won't get easier, though, especially now that Elazer's ZvZ will not be worth as much, with the only strong Zerg player opposing them in the group being Serral. No matter how good your Zerg mirror is, any non-Reynor player is going to have a
baaaad
time trying to beat the Finnish Phenom. Can souL step up at this crucial juncture? Because we all know the true battle in Group C is about taking the second place behind Serral and friends. The new format does favor depth a little bit more, but in the end there's still an all-kill phase which means top-heavy teams like Italy and Finland have a big advantage. Poland should be favored against Croatia, so their hopes on advancing might end up hinging on how well souL performs against a formidable French squad.
France has assembled a strong team once again:

MarineLorD
, having returned from retirement, has been incredibly motivated to repeat his famous Nation Wars performance from years ago and his excitement seems to have infected his colleagues, with both

PtitDrogo
and young

Clem
contributing to the effort. They do lack a Zerg player, which can be viewed as a critical flaw these days, and they paid for it against Italy with no one to challenge Reynor. But they did play flawlessly against Zerg-heavy Norway—not that beating Norway is necessarily a benchmark of success these days. But again, ZvZ won't be much of a factor in this group anyways, and whichever Zerg France could have fielded would've had a hard time against Elazer and Serral. Besides, MarineLorD and Clem both pack some amazing TvZ anyway—France shouldn't have to rely on coin-flipping in ZvZ to get by tough opponents. For me, it honestly looks like a very close match-up between the two nations, but I'll give France the benefit of the doubt for now as souL has not showed up so far,
Finland vs. Croatia

Finland
:

Serral
(7-0, 1 All-kill) |

ZhuGeLiang
(1-1) |

TheMusZero
(0-2)

Croatia
:

Blask
(6-2, 1 All-kill) |

goblin
(3-3) |

Ptak
(0-3)
Match History: No Recorded Matches
In the biggest David vs. Goliath situation since Croatia vs. Korea from the Ro24, we now get Croatia vs. Finland, which could actually be a pretty close fought match—would that

Serral
not exist. Alas, he does, and so poor Croatia again faces an uphill battle with only minimal chance of survival.
One has to hand it to them for their perseverance, though:

Blask
, who had already carried them through the qualifier, actually took a map off of the Koreans, and again contributed to the victory over Australia, securing the second place behind the juggernauts from Asia. Croatia's former hero,

Ptak
, who famously took out both ByuN and Zest in Nation Wars 4 (Korea and Croatia are tied together by destiny in NW, it seems), couldn't live up to his reputation this time and remains without a single map win so far. Fortunately,

goblin
stepped up against Australia and made up for his lackluster performance in the other matches, taking three wins against Seither and Probe to advance Croatia to its best result yet in any international competition. To survive another group stage and make it to the playoffs this time, however, seems like a fever dream. A single match win isn't going to cut it anymore, and the competition at this level is just too high to simply get lucky and stumble forward another round. Croatia would need another miracle performance by Ptak to eliminate Serral in a couple ZvZ matches. Call me a pessimist, but there isn't enough luck on this entire planet to make that happen. This is the end of the Croatian run—goblin isn't yet the monster player
Rotterdam
some think he may become, Ptak hasn't married Lady Fortune and enlisted her into his service for eternity, and Blask may have already emptied his arsenal to get his team this far.
No, Serral-land is going to make Croatia face the hard, cold reality of things. I'll make this brief: Serral's loss in the BlizzCon semis to Reynor does not mean he's bad, or in a slump, or he's going to lose motivation. All this loss did was to make him angry and even more motivated, and I truly pity the countries of Croatia, France, and Poland, because Serral is going to take out his anger on them like punching bags.

ZhuGeLiang
will be cheering from the sidelines, and

TheMusZero
will be holding Serral's water bottle and golf clubs. In the middle of the match they'll leave, fire up the sauna on Serral's plot of land in Pornainen, and then come back to escort him home after he's dismantled all opposition.
The Croatians may well be able to take down some Finns during the match, at least matching their end score against the Koreans and keeping their honor intact. And, honestly, France and/or Poland could be able to do the same. ZhuGeLiang and TheMusZero are the underdogs in any of the matches they'll play all tournament long from this point—excluding the matches against Croatia, which should be pretty even. But the consistency of Serral (which showed some cracks online this year, to be completely fair) is just mind-boggling. Of all the players in the group, Elazer probably stands the greatest chance of upsetting him. But can he do it more than once? Unlikely.
Prediction: Finland
and
France
to advance.
---
Credits and acknowledgements
Written by:
TheOneAboveU
Editor: Wax
Images: O'Gaming