Interview conducted by WaxTL.net interviewed #4 Circuit seed

SpeCial ahead of the 2019 Global Finals, talking about the value of GSL-style preparation™, sharing strategies with TY, and how he prepares for BlizzCon. Also, just a liiitttle chat about balance. Just a little. I promise.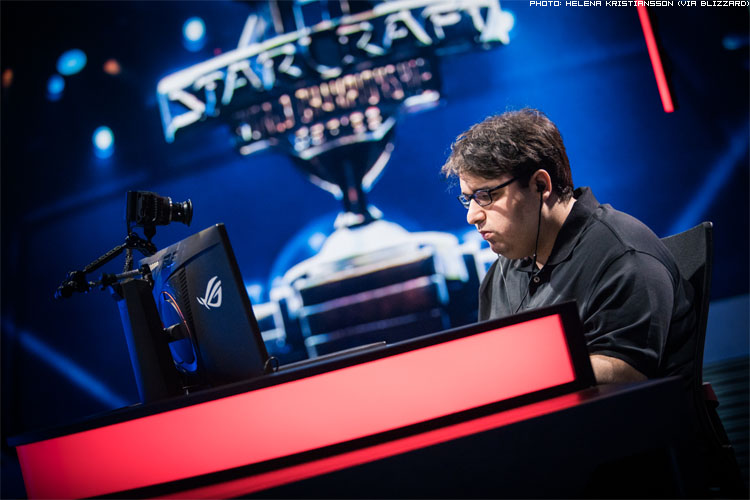 *This interview has been edited and condensed.
Wax: You've been very good at previous BlizzCons, advancing past the group stage in 2017 and 2018. Do you think you can do it again?
SpeCial: Yeah, yes last two times I advanced. One time I advanced in first, second time I advanced in second so, maybe, I hope I can do the same again. I mean, I'm starting to play better right now
[note: interview was conducted shortly after Super Tournament II]
, and that's good because the tournament is not so far away. So if I can maintain... if I can maintain my pace and keep [improving], I think I can do it.
It's not... I'm not going to say I'm going to advance 100%, but I'm always going to try my hardest. I don't know! I think there's a chance.
You always say you play better when you have time to prepare for specific opponents like in the Global Finals.
Yes, that's the reason I think I always do well in the groups. Not only the groups, but even the first match. For the round-of-eight, there's also like, five days to prepare for that match. For example, the first year I beat Miko
[Elazer]
. Year two, I lost to Stats 1-3, but those games were actually insanely close. Like, the result doesn't tell the story. So I feel like, if I at least have some days to prepare, I think I can do well, regardless of who I play.
How specific is your preparation? A build or two for every map?
Yeah, that's pretty much it. Every map I have a build, or have a response to what he does, or what I think he will do. That's exactly how I prepare.
Has your experience from previous BlizzCons made you feel like you can start planning ahead for the later rounds where there's no time to prep?
No, I don't like that. I think that's a bad mentality to have. Because, if you lose in the group, it doesn't matter what you've prepared for the rest. I think it depends on the format, of course. Because, not to s*** talk, but let's say I play WCS, and I'm playing someone that's not a top Zerg. Then, of course, I can save stuff. But here, everyone is good, you know?
Does the change to best-of-five it harder for you this year?
Yeah, I think it's harder for Terran right now to win a BO5 than a BO3, but it's not impossible. How do I put it... Right now, the map pool is not very favored for Terran, so you're going to end up with some maps that are hard to prepare on. And BO5 is just in general, it tends to... normally favor like the better player, no matter what? I don't know, it's hard to explain. But it's still possible.
I think it's worse in general for everyone that's not super godly mechanically like Maru or Serral. It's bad, but it's not like you can't win, that's not how it works. You can still win.
Speaking of mechanics monsters, what did you think when you saw players like INnoVation or Maru just bringing a couple of builds to a series and bulldozing guys with mechanics?
Nowadays, actually it's rare to see that. I don't think I've seen that anymore, it's too easy to blind counter right now. They try to mix stuff up nowadays. For example, if you saw TY play the Super Tournament, he basically mixed his up his build every single game. I feel that's the biggest strength that I have right now. That's also why, for example, Maru won GSL's. He mixed up everything, and he played well.
Yeah, but TY was always like that. INnoVation has been notable for just playing the same build.
That was like, Heart of the Swarm, was that? He'd play Widow Mine against Zerg and he'd never lose. It was different back then. And also, people were worse at preparing back then, I think people are so much better now. Like, I like to put Zest up as an example. Before last year, he was still playing like one build every match-up, and he was so good on ladder, but he used to do really bad in tournaments.
Then, he started mixing stuff up, and he got like GSL finals, he went to BlizzCon. You know? That's one of the players who started mixing stuff up and started getting better results.
How closely do you collaborate with TY on strategies these days?
Consider that I just gave him like three builds against herO [in the Super Tournament], I would say really close. I was actually surprised he went mech, I didn't know he would go mech. But I gave him the openings. I just told him herO is weak against proxy because he always goes like one base.
Was the late mech a surprise?
We used to do that, it's not that bad. The problem is it only works on map like... It was very good on, for example, New Repugnancy or Kairos, because those maps are small. The smallest map right now is Winter's Gate, I would say. It makes sense on that map, but if you try on a bigger map, it doesn't really work. Protoss is really rich and there's no place to attack for you.
How do you discuss strategies? I know you have some decent game-related Korean.
His English is good enough now, he studies English. It's not super fluent, but it's good enough. And I know a lot of Korean game stuff, so it works.
Are you surprised at how historically bad Koreans have been at scouting the foreigners and their strats? There are some exceptions, but it's felt like you could do a ladder strat and catch someone off guard.
Yeah, I think it's dumb. I think there's no reason not to do the research. You can always learn from anyone, no matter who, you know? For example in BlizzCon 2017, the build I used to beat TY was from a 5.9K player. I played on ladder, I almost lost to it, and I thought, I can make this better. And I did, and it was a good build, man.
How do you feel about the progress you've made as a player since 2017?
I think after 2016 was s*** for me, at the beginning of 2017 I told myself I would go to Korea, and if I failed I would probably stop playing. So after that change of mind, I think my results have been mostly stable. So I'm very happy about that.
Any frustration about the pace of improvement slowing down, or are you just happy to be consistent?
Of course I would like to win, obviously. Who doesn't want to win, right? I think being stable is just as important as winning. If you're not stable, at least, you're not making any money so it's not worth it. Obviously I want to win, and I always aim to win. But if I can't win, at least I want to be stable.
I guess Serral existing is the biggest reason other players can't win.
Ehhhh... I don't think so. I think if we had time, like GSL, it would be easier to beat people like that. Zerg benefits the most from tournaments like [the WCS Circuit.]
That's a thing you've said for a while. Terran benefits the most from being able to prepare.
Yes, I've been saying that before Serral was dominant. I said that when Neeb was winning everything, remember back in 2017? I always said like, if I had time to prepare I could win this tournament, but... I mean, it's not an excuse, but it's just the way I feel. If I win one day, great. But I'll still think if you can prepare as Terran, it's just miles easier and better for you overall.
I mean, I'm not saying if I prepare I'm going to beat Serral every time, that's not what I mean. I'm probably gonna put up a better fight than when we played in the finals. Even though I lost 4-0, I feel like I played good in some games. But I feel like if I had time to prepare, I could make the score at least closer.
Let's talk about the Zerg is OP in late-game meme. You seem to think they're just OP in general?
The Overlord speed buff gave Zerg the option get free intel basically, and even if they don't get it... It's not like Terran can know if they're getting the OL-speed upgrade or not, because there's so many Zerg openings. Even if they don't get it, it already crosses out a lot builds for Terran, just because if they get overlord speed—ripperino, not good, you know?
And also, I feel like doing damage early on against Zerg nowadays is very hard because of maps. Just the way Zerg players got better at defending stuff. I feel like you always enter the mid-game in a disadvantage you know. I feel like, there should be some stuff changed about the way Zerg works. Some drastic change, I think. I don't think it's particularly fair that creep gives vision, for example. I think that's really dumb.
And this map pool is particularly bad?
Yeah it's terrible. It's just big. There's no good pushing spots. They're just wide open, there's no real harassment options, kind of. I think it's just not good for Terran in this scenario. When one of your best maps is Thunderbird, you know something is wrong. That map wasn't event hat good last season.
What's your goal for the global finals?
As I always say, my goal is to win, but I take it round-by-round. The first thing is advance from your f***ing group. If I advance from the group, I'll think about round-of-eight.
But my goal is always to win, doesn't matter, the tournaments I really care about, I always try to win.
Any final comments to your fans?
As I always say, I'm trying my best here. I really try to do well for myself and for my fans, obviously.
Keep the good vibes, and the Doritos will come, I promise. Well I don't promise, because I never promise. But they will come.
---
You can follow SpeCial on Twitter at @SpeCialsc2 for quality Pokemon and StarCraft II content. SpeCial will play in his WCS Global Finals group with Dark, ShoWTimE, and soO on Thursday, Oct 24 3:00am GMT (GMT+00:00)