China Team Championship: Season 2
Playoffs Preview
by TheOneAboveU
At long last, we've arrived at the grand finale for the China Team Championship Season 2! After five weeks of regular season matches in online play, five teams have earned the right to contend for the championship in Shanghai.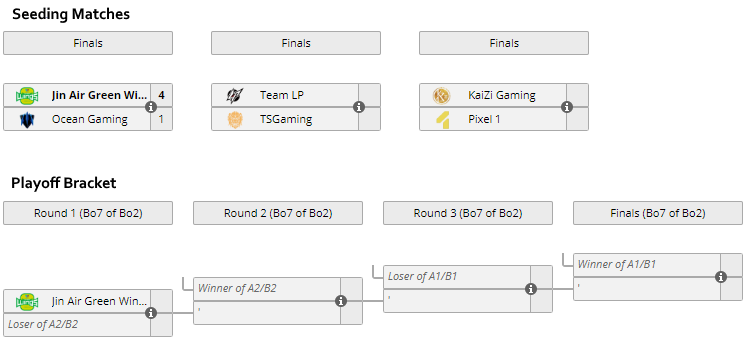 The playoffs will begin at
10:00 GMT (+00:00)
on Friday (11. Oct.) with seeding matches, featuring Team LP vs. Triumphant Song Gaming, and KaiZi Gaming vs. Pixel 1.
The gauntlet/king-of-the-hill bracket will begin on
10:00 GMT (+00:00)
on Saturday (12. Oct.) with the loser of LP and TSG facing Jin Air Green Wings. Whoever loses that match will be eliminated, while the survivor advances to face the winner of LP vs. TSG in the second match of the day.
The playoffs will conclude at
10:00 GMT (+00:00)
on Sunday (13. Oct.), with the final three teams playing out the remainder of the bracket.
Wardi
will broadcast in English.
And with that, it's time to introduce the teams.
Jin Air Green Wings - Playoff Wildcard Match Winners

Terran:

Cure (4-0),

Maru (2-0)


Zerg:

Rex (3-7),

Rogue (3-1)


Protoss:

Creator (0-0),

sOs (3-1),

Trap (3-4)

One would have expected Jin Air to dominate their group and earn a rather comfortable ride to the playoffs, but things panned out a bit differently as both Newbee and KaiZi took 4-2 wins over the last defenders of the KeSPA Proleague legacy. Both times, it was JAGW.Trap's failings in PvP that led to Jin Air's shame, with the two-time GSL Code S finalist being defeated by both Newbee.Dear and KZ.Super.
The fact that Jin Air is here as a mere wild-card reveals a stark truth: their line-up is more vulnerable than it appears on paper. Trap's inconsistency in PvP is but one reason—the need to continuously field JAGW.Rex is obviously the other one. Yet, the Taiwanese Zerg player partially redeemed himself toward the end of the regular season. Not only did he take some maps and contribute toward his team's victories, but he also surprised everybody by decisively defeating OG.SpeCial to close out the wildcard match. Like it or not, Rex is one of the most important pieces in Jin Air's championship campaign.
Furthermore, one must wonder if Jin Air will figuratively 'flip the switch' for the playoffs. Jin Air seemed to conserve their strength during the regular season, juggling their star players in and out (perhaps to let them concentrate on their GSL Code S matches) while Cure ended up being the workhorse. If Jin Air's star-studded roster brings their Code S level of play to the CTC playoffs, they're the favorites to win, despite starting on the bottom rung of the playoff ladder.
Team LP - Group A 2nd Place

- None



Impact (10-2),

QzDdb (0-0),

Wanted (0-0)



Jieshi (3-7),

Patience (4-6)
Team LP may as well change their name into 'Impact and friends' or something similar. TL.net
named Impact the regular season MVP
for good reason—he went undefeated in the last three weeks of the regular season, even securing an ace win for his team in that timeframe. Continuing on to the playoffs, one has to imagine Team LP's success hinges on Imapct continuing to play at that level. Conversely, any team playing LP should prepare something against the Korean Zerg, as taking him out might well prove to be the key to victory.
While LP may have been highly dependent on Impact over the season, it would be foolish to overlook LP.Patience. The infamously cheesy Protoss player could go off at any point, winning a few crucial maps to nudge LP closer to the championship. Even if he's been poor so far this season, it would be a dire mistake to dismiss him out of hand.
LP.Jieshi also may not boast the greatest record, but he was one the few Chinese players who actually showed up to contribute to his team when it really mattered: he took a map off KZ.Bunny to help defeat KaiZi, and most importantly took a map against Newbee.Dear in the last week of the regular season, when pressure was high on LP to win without going to an ace match.
Don't get me wrong, LP have been very reliant on Impact so far. But if they've made it this far as mostly a one-man-show, then imagine what they could achieve if the supporting cast shows up? LP thrived at underdogs in season 1, so underestimate them at your peril.
Triumphant Song Gaming - Group B 2nd Place

- None



EF (0-0),

Solar (9-2)



Cloudy (0-0),

herO (9-2),

Nice (3-8)
Triumphant Song Gaming have certainly played the role of defending champions quite well so far, going undefeated in the group stage. In fact, they only ended up in second place from their group due to the odd scoring system in CTC, where their 5-0 series score wasn't enough to secure 1st place. Regardless, TSG are one of the favorites to win the championship, fielding two of the best players of the season in TSG.Solar and TSG.herO.
The duo already carried TSG to their title in Season 1 and have not missed a beat so far, proving to be incredibly consistent in their CTC performances. They haven't revealed any egregious weaknesses or particularly vulnerable match-ups, making them a hard nut to crack—though the GSL Super Tournament showed they can be beat by the very best Korean players in BO5's. Yet, it's not just the Korean duo that makes TSG so strong. Taiwanese Protoss Nice has proven himself to be quite helpful as well, bringing in important map wins on several occasions (with his macro win over GuMiho to secure TSG's win over PSISTORM Gaming being the highlight so far).
TSG aren't as deep as Jin Air, but they're deep enough to be deadly in this tournament. Beating just one of herO or Solar just isn't enough. With a highly successful trio of players with great consistency across the board, TSG rightfully enter the playoffs with a good chance to defend their championship.
KaiZi Gaming - Group A 1st Place


Bunny (5-1),

INnoVation (6-2)



Misaki (2-8)



Super (6-0)
Despite only adding juggernaut INnoVation in week two, KaiZi still managed to top group A in the regular season. In fact, INnoVation wasn't even particularly
great
(still very good), losing 0-2 to LP.Impact in a team loss to LP.
All that goes to show how KaiZi is much more than a one man team. The duo of KZ.Super and KZ.Bunny—originally the only two Koreans on the team—did a good job at dividing the labor and providing support to INnoVation. Bunny played Weeks 2 and 3, while Super jumped in at exactly the right time in Weeks 4 and 5, managing to go undefeated over the course of the season. Super took very strong wins over BSG.Dream, Newbee.Scarlett, and JAGW.Trap, and heads into the playoffs with a 6-0 record. Such flexibility could prove to be a very valuable asset against teams like TSG and Pixel 1, who may have superior players in paper, but are predictable in who will be fielded.
Talking about predictability... there is KZ.Misaki to consider. By this point, everyone should know Misaki is one of the cheesiest players in the league. He's taken maps off BSG.Hurricane and LP.Patience with his aggressive tactics, so it's hard to imagine anyone will fall for the same tricks in the playoffs. Yet, the history of Koreans vs foreigners in SC2 is littered with moments of gross overconfidence, and the history of Proleague has featured many underdog snipes. Watch out: Misaki may still find an opportunity to shine.
Pixel 1 - Group B 1st Place


FanTaSy (9-1)


None


Firefly (4-7),

PartinG (8-2)
We couldn't blame you for doubting that P1.FanTaSy and P1.PartinG could lead a playoff caliber team in the CTC, especially given their results in GSL Code S. Yet, their respective records have surpassed even the most optimistic projections, suggesting that players fully locked-in for the CTC are just as good, if not better, than any 'star' player. Neither of the two veterans have lost a series outright, forcing at least a 1-1 tie at worst.
P1's success does not belong to the Korean duo alone, however. P1.Firefly also just lost a single regular series (against Chivo.soO) and outside of that always managed to take a map. It's true that he did lose the ace match against TSG.Solar in the last week of regular season play, but the rankings were already locked by this point, and his appearance was supposedly due to the team's decision to give him some more experience.
That speaks a lot about the climate in this team: they all seem to get along very well, being open to such little jokes for the sake of popularity, and trusting on each other, which is really cool to see. Yes, Pixel 1 absolutely had to play Firefly every week, because he's the only Chinese player on the team, but honestly if you had the choice between playing Firefly and LP.Patience or BSG.Armani every week… I'd choose Firefly. He contributed his fair share of map wins and was more consistent than some top players in the league, such as Newbee.TIME.
So shocking as it may seem, if everyone can continue this level of play, Pixel 1 actually stand a chance to win the championship. PartinG played well in the Super Tournament, FanTaSy has been a beast online, and Firefly really has improved alongside his teammates. Pixel 1 really encapsulates what's so great about team tournaments: a well-prepared player can overcome any disadvantage on paper, and
group
of well-prepared players can be greater than the sum of their parts.
---
Credits and acknowledgements
Written by:
TheOneAboveU
Editor: Wax
Stats: Aligulac.com
Images: SCBoy