Still Sexy
by Mizenhauer
What are we to make of
Rogue's
long-awaited
Code S championship
, especially considering
he admitted Zerg is overpowered
soon after the match? It would be simple enough to discount Rogue's victory when the power level of the brood lord-infestor composition and the versatility of the nydus worm definition harkens back to the brood lord infestor era of 2012 which many consider to be StarCraft II's
low point
.
Maybe you'd consider Rogue, and all other Zergs for that matter, the beneficiary of Blizzard's incompetence. Maybe you could even go so far as to denounce Rogue as a
patchzerg
.
While both conclusions would be grounded in some degree of truth, they'd be unfair to Rogue and the last four years of his career. Rogue's understanding of the nydus worm, his affinity for the swarm host, and his ability to expertly navigate the late game have been constants throughout his career. Whether it was mass vipers against mech in 2015, two-base swarm host in 2017, or nydus all-in's in 2018, the foundations for Rogue's Code S championship were being laid for years.
*****
Let's begin this story from the start.
After making his broadcast debut in StarCraft: Brood War during the
2011 Proleague Season 1
,
Rogue
was an undistinguished member of the KeSPA legion that made the abrupt change to StarCraft II in 2012. The ability to quickly transition could look like a crapshoot. KeSPA giants like Flash and Bisu struggled to adapt to the new game, while up-and-comers like sOs, INnoVation and Soulkey made an immediate impact. In this one regard, Rogue could say he was like Flash.
After a dismal 2013 Proleague campaign in which Lee Byung Ryul went
8-17 under the ID Savage
, he finally started to turn things around. Under the new ID of Rogue (with a brief stint as 'Climax,' a historically bad ID), he cemented himself as Jin Air's third star, going
17-13
during the 2014 Proleague season and recording the fourth most wins among Zergs. He was less successful in individual leagues, however, winning but one game across two seasons in
Code
S
. (Rogue did make it to the semis of the kinda-major
MSI Beat IT
in Taiwan, but his 2-2 record against Korean competition fell along expected lines for someone who was still a ways away from becoming a legitimate championship threat.)
After concluding the 2014 season 62nd in the
WCS standings
(not separated into Korea and World at the time), Rogue surprised us all by reaching dual quarterfinals in the first seasons of
GSL
and
SSL
in 2015. Rogue went on to reach three more quarterfinals in Korean leagues that year, but failed to advance to the semifinals in any of them. When it came to a high pressure best-of-5 series against elite competition, he wilted. Defeats at the hands of herO, Stats, Curious, Rain and Maru, in conjunction with his
26 wins in Proleague
, the most of any player not named Zest, Maru or sOs, painted the picture of an elite player—albeit one with glaring flaws preventing him from becoming a true championship contender.
Still, it was career progress, a level up from being just another solid contributor in Proleague. In particular, Rogue's cunning, creativity and ability to think outside the box earned him a reputation as a dangerous wild card. He may have lacked INnoVation's overwhelming macro or Rain's adamantine defense, but he became a must-watch player in his own right.
A game against
Classic
during the 2015 Proleague summed up Rogue rather neatly: having
both
his natural and third base cancelled by cannon rushes, Rogue improvised by walking four drones across the map and calmly planting two hatcheries in Classic's main.
herO
, still a top-tier player at the time, was made to suffer Rogue's creativity as well. When the swarm host was drastically reworked in the
2.1.9 balance update
to send short-lived groups of high-damage locusts instead of an endless stream of free units, Zerg players worldwide deemed the unit to be utterly useless (supposedly, Life went so far as to remove the unit from his hotkeys). Rogue thought otherwise. He knew the new flying upgrade for locusts (yes, you needed to research this) gave Swarm Hosts the potential to be a deadly harassment unit. Upon further consideration, it also became clear that Zerg already had the perfect unit to enable them: the nydus worm. And so, in a regular season
Proleague match against herO
, Rogue became the first Korean player to research flying locusts in a broadcast game, using them in tandem with mutalisks to pick apart the CJ ace.
Rogue wasn't done with the three time IEM Champion. When Jin Air later faced off against CJ Entus in the
semifinals of the 2015 Proleague playoffs
, they shocked everyone by calling upon Rogue rather than Maru or sOs in the crucial ace match against herO.
It was a baffling choice on paper. But, what the Jin Air coaching staff knew, and what we were about to find out, was that Rogue had cooked up something special just for CJ's best player. Fully aware of herO's mastery of +2 blink stalkers, Rogue defied convention, opting for a practically unheard of hydra/ling composition rather than the
optimal
roach/hydra force herO had been dissecting throughout the year. The choice served Rogue well. He stunted herO's early aggression, earning himself enough space to power up to 80 drones.
If herO was perturbed by Rogue's unconventional tactics, he wasn't showing it. He confidently (or perhaps stubbornly) continued down his tried and true tech path. With his fourth nexus under construction and his supply nearing 200, herO executed the same sort of timing that had won him many a match. Only this time, instead of Rogue ceding the field like so many helpless and frustrated Zergs before him, herO walked straight into a buzzsaw.
herO's army disintegrated in the blink of an eye. Jin Air fans roared in delight. CJ supporters sat in stunned silence. herO looked as if he was questioning every decision he had ever made in the booth. Years later it remains one of the iconic moments in Proleague history and, undoubtedly, the highlight of Rogue's burgeoning career up to that point.
Even in defeat, Rogue had a penchant for playing stylish games against herO. He defied conventional logic in their
game on King Sejong Station
by assembling a composition that looked more at home on the packaging for Heart of the Swarm than in a competitive match. At the 17 minute mark Rogue's army contained four mutalisks, five ultralisks, five swarm hosts (the old, annoying variety, not the fun kind he used on Deadwing), one viper, nine queens and a bunch of zerglings (he unsurprisingly lost that game).
All the progress Rogue made throughout the year seemed to culminated at the
2015 WCS Global Finals
, where he made it past the quarterfinals and reached the top four. Though he was swept by teammate and eventual champion sOs in the semifinals, a bright future beckoned.
2016 and Legacy of the Void brought disappointment and a fall back to earth. Whatever magic had made Rogue such a dynamic player in the final year of Heart of the Swarm disappeared. He was still managed to stay productive in Proleague, going
13-9
(much aided by his 7-0 record in ZvZ). Yet, he failed to reach the round-of-8 in GSL or SSL, and didn't win a game at the
2016 KeSPA Cup
. Needless to say, a return to the Global Finals quickly went off the table. The crown jewel of Rogue's maiden voyage into Legacy of the Void ended up being a semifinal appearance at
HomeStory Cup 14
, with a rather unflattering 17-13 record in games along the way.
The early months of 2017 weren't all that different. He went 0-4 in the
first season of Code S
and failed to qualify for
IEM Katowice
despite participating
in
three
qualifiers
.
However, things began to change as winter gave way to spring. Rogue returned to the playoff stage of
Code S season 2
and, while he dropped out in the most quintessential Rogue fashion, losing all composure after a
fortunate queen spawn
saved soO's workers from certain death in game four, he was finally back on even footing.
The end result may have been less than he would have hoped, but Rogue's play that season was far more promising than anything he'd shown since the end of HotS. His matches against Dear and Zest in the Round of 16 saw him employ the full Zerg arsenal. His use of overlord drops, lurkers, mutalisk play and even a
13/12 speedling attack on Whirlwind
was reminiscent of the varied playstyle which had made him such a lethal opponent in 2015.
Rogue's performances that season hinted at a revival, but how much more could we really expect from Rogue? For a year and a half, it seemed as if Legacy of the Void had stripped him of his eccentric genius. He was finally recovering the braggadocio and flair which had made him a crowd favorite years ago, but nevertheless, here he was, bumping his head against the same ceiling that had practically given him a concussion two years earlier.
A little less than two months removed from suffering his sixth defeat in the quarterfinals of a Korean league, Rogue made the trip to China for
IEM Shanghai
. Rogue was as close to an afterthought as you could get in a field featuring soO, Stats, INnoVation and Maru, all of whom had appeared in offline finals that year. Where those players had ascended into legend through consistency and spectacular performance on the grandest stages, Rogue had never made the finals of a premier event in his life. He had never even reached the semifinals of a Korean individual league. Rogue had made a living of being good, but not good enough. Yet, as the five day competition reached its end only two competitors remained herO, the former CJ ace who was experiencing a resurgence after a dismal 2016, and Rogue, who, for the first time in his career, had a chance to be the final player standing in the spotlight.
It wasn't even close. Rogue dropped the first game to an adept all-in he probably should have seen from a mile away, but he recovered and won the next four in dominating fashion. Rogue's ability to harass, defend and crush large scale engagements with the popular hydra/bane composition left herO grasping at straws. Game five came to a fitting end, with an observer-less herO forced to watch helplessly as lurkers ripped his defenses apart.
Rogue's journey over the following five months was as close to a fairy tale as anything we've seen in StarCraft II. Winning IEM Shanghai had given the Jin Air Zerg the tiniest chance of returning to the WCS Global Finals, but he would have to be nearly perfect to make good on that opportunity.
The old Rogue would have fallen flat on his face 100 times along the way, but this by the time Rogue defeated herO in the finals of the second
Super Tournament
to win his second weekender in as many tries and clinch himself a place at BlizzCon the narrative was in place.
Rogue, who for so many years had relied on trickery and deception to win games, who had crumbled under pressure time and again, who had played third fiddle to teammates Maru and sOs for his entire career had been reborn as the best player in the world. He was as mechanically sound as INnoVation, as ruthless as Dark, as industrious with his harassment as Life and as patient and calculating in the late as anyone we'd ever seen. Rogue may have garnered the
least WCS points of any Korean heading to BlizzCon
, but when it came time for the TL.net writers to rank the 16 hopefuls, only
INnoVation
was given a better chance of walking home a champion.
Rogue appeared to have reverted to his old, fumbling self in his opening match of the
WCS Global Finals
. Heralded as the best late game player in the world, Rogue unravelled in the closing moments of a 52 minute game against
Neeb
on Mech Depot where a
historically bad engagement
spilled the Korean Zerg into the losers match.
However, Rogue righted the ship against Nerchio and ultimately got his revenge on Neeb in the group decider match, closing out their series by abusing Acolyte's terrain with Swarm Hosts and Nydus Worms.
"Rogue crafted a beautiful strategy here"
said the casters in admiration. Indeed, it was almost as beautiful as it had been nearly two years prior.
From there onward, Rogue was unstoppable. His historic dominance against herO continued in the BlizzCon quarterfinals as Rogue recovered from a game one loss to complete the gentleman's sweep once again. He was brought to the brink of defeat against TY in the semifinals, but Rogue's newfound clutchness, combined with TY equal anti-clutchness, gave Rogue a spot in the finals opposite the greatest ZvZ player of all time in
soO
. soO, whose form had submarined in the latter portion of the year, was playing as well as ever, but Rogue was simply too much. He fell behind 2-1, but won three straight from there to complete his improbable run and earn the title of WCS Global Champion.
Much was made
about Rogue's transformation from proleague sniper to the best player in the world in the days and weeks that followed. In retrospect, some of the narratives may have been misguided. The results told us Rogue had changed. The manner in which he had overcome adversity told us he had changed. But in a lot of ways, Rogue was still the same Rogue he had always been.
About nine weeks before winning BlizzCon 2017, Rogue had taken on Stats in the
Round of 8 of GSL Season 3
. It's
one of the most typical Rogue series you'll ever see
.
Game one took place on Acolyte, a large map with an in-base natural that played host to a number of very long games. Stats, whose ability to harass effectively and deny his opponents expansions while claiming ground of his own and assembling the golden armada, was considered the best Protoss in Korea in those type of encounters and seemed perfectly content to play conservatively and take the game to that stage.
For all of Stats' pedigree since the launch of Legacy of the Void—the GSL title, the SSL title, the ten additional semifinal appearances—he was totally outmatched by Rogue in the late-game. Again, one could look to Rogue's past to see he had the answers for this test all along. That's because Rogue had been schooled in a different era. Stats' skytoss play was fearsome, but Dark, Rogue and other Zergs eventually cracked the code on how to beat the golden armada. It was nothing compared the peak of turtle-mech in 2015, where countless Zergs had charged to their deaths against an entrenched tank line or a fleet of battlecruisers and ravens protected by unlimited point defense drones.
Rogue, however, saw things other Zergs didn't. This was perhaps no better illustrated than in a pair of games against one of the greatest mechers in
Bbyong
(before he was permanently banned for match-fixing, anyway).Their
showdown on Cactus Valley
was emblematic of the times, but even then it had a unique flavor thanks to Rogue's insight. Rogue attempted to limit Bbyong's growth with mutalisks, zerglings and other forms of harassment while Bbyong was content with sitting back on four bases and accumulating an unstoppable army. Things were going exactly to plan for Bbyong, who, at the 30 minute mark found himself on the doorstep of Rogue's natural after demolishing Rogue's army on numerous occasions. Against all odds, Rogue survived. Burrowed roaches were never going to wipe out Bbyong's sieging army, but the threat of a sneak attack convinced the CJ Terran it was a good idea to pack up and head home up 40 supply.
Rogue's economy was in shambles, and would be for the rest of the game, but Bbyong's conservative move gave Rogue a second chance. He took a number of cost effective fights, picked off stray units and chipped away at Bbyong's production and economy rather than trying to reach a brood lord based composition. After a frenetic period that saw both players reduced to less than 25 workers, Rogue walked away victorious, his 11 hydralisks proving to be too much for Bbyong's four banshees.
Rogue's foresight and tactical acumen had given him the advantage on Cactus Valley once the game broke down, but his pregame strategy and approach to the matchup was what had given him the edge when they faced off in Round 4 of Proleague on Terraform two weeks earlier.
Bbyong approached their game on
Terraform
much as he would any game against Zerg on such a wretched map. He expanded slowly, worked his way towards the gold base, hunkered down and waited for to fend off the inevitable brood lord-corruptor army. Sadly for him, Rogue had no intention of cooperating. The aforementioned Zerg composition was the races objectively most powerful, but it rarely worked as well as the Zerg hoped. Rogue knew this and, instead of bashing his head against a wall of steel, he built and unheard of 11 vipers and laid siege to Bbyong in a different way. Every time one of Bbyong's vikings tried to pick off a brood lord it was greedily abducted into a host of hydralisks. Unable to engage Rogue's army, Bbyong found himself in the position of the Zerg, forced to counterattack and try to limit his opponent's economy. Bbyong killed a number of Rogue's bases, and eventually his standing army, but when Rogue finally played his hand and transitioned into 90 supply worth of ultralisks, Bbyong had no answer and was forced to type out.
Given the calculating patience, ability to assess situations on the fly and create a nuanced gameplan Rogue demonstrated in 2015 it's no wonder he laid waste to Stats to take a 1-0 lead two years later. Rogue's late game prowess had always been one of his understated abilities, but his most lauded trait, his creativity, was on full display later in the series on
Odyssey
.
Let's be clear, Rogue got obliterated this game, but that's only because Stats called an absurdly elaborate bluff.
As anyone who plays poker learns, bluffing isn't just about shoving your chips in when you don't have anything. Bluffing is a protracted gambit where a player commits to telling a story that makes sense given the context of the hand. Rogue's story was that he was greedily double expanding to both golds. Stats' most likely response from there would be to open with a similar level of economic greed, which would play perfectly into Rogue's actual build—a proxy hatch all-in.
This is where the genius of Rogue's plan came in. Rogue knew that Protoss players were wary of shenanigans on Odyssey that Stats would scout with a probe after making his first gate. Instead of building his pool where every Zerg in the history of the game had before him (on creep in his main), Rogue sent a drone to an out of the way corner of his base, made a hatch, canceled it and built a pool in its place. This way Stats would come in, see no pool and assume the gold bases had been taken. By the time Stats had checked the first of two gold bases, Rogue's proxied hatchery was already nearly completed.
Sadly Stats never played along. He never expanded, simply made ground units and easily rebuffed Rogue's attack with stalkers and immortals. One still has to admire, however, that Rogue went so far as to construct his roach warren in the same out of the way location he had put his spawning pool despite Stats already having sniffed out his strategy.
]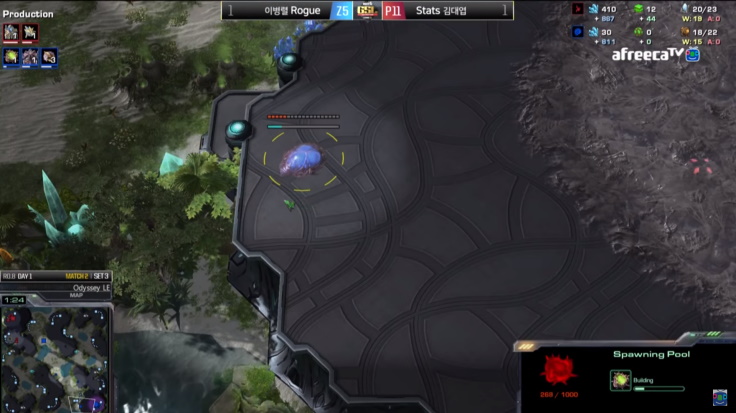 The best laid plans of mice and men...
Finding himself one game from elimination in the Round of 8 for what must have felt the millionth time, Rogue had one more card up his sleeve. Rogue's early lair on Ascension to Aiur sent a blaring siren that Stats should anticipate a nydus worm, but instead of planting the nydus in Stats' base as had been the custom for all seven years of StarCraft II, Rogue distracted his Protoss opponent with an overseer, allowing Rogue to plant a nydus just outside Stats' natural.
Stats was surely expecting some kind of desperate attack, but what he got was a protracted siege where Rogue bought enough time with queens, roaches and spore crawlers to tech up to lurkers. Had Stats encountered this build before he might have responded better, but he had no idea what was coming and remained unwilling to commit his forces. By the time he spied seven lurkers planting themselves just outside his base, Stats had no choice but to act. He threw his army at Rogue in a last ditch attempt to break the unconventional siege, but it was to no avail. Two years had passed since Rogue caught herO by surprise on Deadwing, but once more the world's best Protoss had been picked apart by Rogue's mad genius.
Rogue's 2017 had ended on such a high note that we shouldn't have been shocked when he fell back to earth during the winter of 2018. He entered the year's first Season of Code S as a heavy favorite, but dropped out after losses to aLive and Scarlett. He would later go on to admit that his focus on the game had waned in the months following his victory at the WCS Global Finals and vowed to renew his efforts and return to his place as the best player in the world.
Rogue's exit from the Round of 32 had been the biggest surprise of the first Season of Code S. While he was left on the sidelines, Dark, Classic and Maru had been wreaking havoc in various qualifiers as well as Code S. The unmistaken
crème de la crème
, they were given far better chances to emerge victorious at
IEM Katowice
than the beleaguered Rogue, who had been invited to the event by virtue of winning BlizzCon the year before rather than earning a spot in the cutthroat qualifiers.
Placed into a difficult group that contained Serral, Zest, Impact and Neeb, Rogue would have had little to no chance if he brought the same lackluster play that had gotten him ousted from Code S to Poland. Losing to Serral in the opening match was an inauspicious start but, as he had so many times the year prior, Rogue found another gear.
He won his next four matches by a 9-1 game score, earning himself a spot in the Round of 12. Rogue made quick work of Hurricane before facing off against TY in the quarterfinals. TY held a lead in the series, but an ill-conceived attempt to break Rogue's contained shattered his composure and sent Rogue to the next round.
There Rogue faced Maru. Rogue, who had watched as his teammate
shatter Solar's will
with practically uncounterable raven play less than 24 hours earlier, seemed to enter the match planning on doing whatever it took to avoid such a scenario. Maru took game one with incisive bio play that had Rogue on the back foot, but Rogue was in complete control from there. Rogue's all-in failed in game two, but a ravager timing and nydus worm tied the map. By the time the series turned to Backwater for the deciding game, Rogue was completely in his teammate's head. An early pool didn't do as much damage as Rogue would have hoped, but mutalisks and zergling run bys decimated Maru's economy, allowing Rogue to overwhelm Maru's army and take the match.
Unlike Solar, Rogue knew he wanted nothing to do with this nonsense
Rogue picked up right where he had left off in the finals. Classic was widely considered the best player in the world heading into the event, but Rogue never allowed him to get comfortable. Rogue set the pace with a nydus worm in game one, battered him into submission with mutalisks and demoralized in a lengthy affair in game three. By the time game four came around Classic had no idea what he was doing. He completely crumbled on Abiogenesis, and with that Rogue was the IEM World Champion. He had risen to the game's Zenith once again by dictating the terms and forcing opponents to play by his rules. His ability to out-scheme opponents pregame and overwhelm them technically and tactically in game had once more proven to be too potent a duo for challengers to overcome.
Rogue's performance the rest of 2018 was respectable but not spectacular. He looked on the verge of repeating his BlizzCon triumph eight months after being crowned champion of Katowice, but was dethroned by a virtually invincible Serral.
*****
2019 saw Rogue lose in the round-of-8 of SSL/Code S for the tenth time (eight consecutive time in Code S), after which followed a disastrous spring slump. Only in the past few months, in
Season 3 of Code S
, did he recapture his championship quality.
He breezed through the Round of 32 but got placed into the most stacked Round of 16 group for his troubles. Facing off against Stats in the opening match, he pulled out an old classic of his, swarm host-nydus harassment off two bases. Successive buffs to both the nydus worm and swarm host had made it a deadlier and more streamlined harassment tool than ever before, and Rogue frankly made it look easy to beat a player who rated as the best PvZ player in Korea. Stats tried to take matters into his own hands in game two with cannon rush/proxy robo cheese, but Rogue easily shut down the imperfectly executed all-in and went on to the winners match.
There, he faced Solar, a player on a hot streak after Assembly Summer. Their series was a back and forth affair with mutalisk switches in all three games, but a timely nydus worm unloaded 11 lurkers into Solar's main which quickly elicited a concession.
After such a decisive Ro16 showing, Rogue's match against Zest in the round-of-8 was surprisingly sloppy, with Zest finding a way to force the match into the mud as he so often does. Rogue was fighting his own personal history, having lost in the Code S round-of-8 on every previous occasion. Zest built a 2-1 lead, but a tragically bad cannon rush (
evocative of Zest's game against Trap in the 2016 Proleague finals
) meant Rogue prevailed in the quarterfinals for the first time in his career. The monkey off his back he prepared for a round-of-4 ZvZ with Dark.
Dark won game one, but a 12 pool drone pull evened the series. From there Dark spent the next three games scrambling all over the map in an attempt to deal with one nydus worm after another. He defended as best he could, remaining nearly even in supply at the 14 minute mark, but some well placed biles and mutalisk harassment put dark in a hole from which he could not recover. Dark hung on for another few minutes despite the writing being on the wall. He eventually tapped out, giving Rogue a berth in the finals.
On the other side of the bracket Trap barely broke a sweat against Maru, setting up a ZvP Code S final for the second straight season.
The Season 2 final between Dark and Trap ended 4-2 in Dark's favor, but this time the newly crowned best Protoss in the world couldn't even manage to take a game. Rogue slapped him down with early nydus all-ins in game one and two and then peppered the map with them in game three. Trap obviously would have liked to be the one pressuring Rogue's bases, but he spent the majority of the game chasing down infestors and watching helplessly as they tore through his bases and army. In the end, Traps carrier's stood no chance against an ungodly amount of infestors. Trap typed GG and suddenly Rogue was a Code S champion.
Genuine greatness or Brood lord/infestor?
If I had to classify Rogue, I'd compare him to soO and INnoVation. He might not resonate with the fans in the same way, but the manner in which he's stuck to his guns over the years is reminiscent of the pair. soO and INnoVation thrived when the game rewarded greed, early-game defense, and unrelenting mid-game macro. In Rogue's case, he succeeded when StarCraft II favored Zerg creativity and late-game mastery. In his time, he's been a terror in Proleague, an IEM World Champion, WCS Global Champion, and at long last, a GSL Code S champion.
It's likely Rogue's career will follow this same pattern going forward. He'll rank among the best in the world at times, and slip a rung or two down the ladder at others. Yet, no matter where Rogue stands among the hierarchy of Korean StarCraft II, a few things will remain constant. He'll always be daring. He'll always be innovative. He'll always
go straight... then turn right
. Bottom line: Rogue will always be fun.
---
Credits and acknowledgements

Written by: Mizenhauer
Editor: Wax, Ziggy, TheOneAboveU
Images: AfreecaTV, SpoTV