[한국어 / Korean Translation]
+ Show Spoiler [한국어 보기] +
*역자주: 영어 인터뷰를 진행했을 때의 느낌을 살리기 위해 의역한 부분이 많습니다.

여섯 번째 서킷 대회 우승한 소감은 어떤가? 질리지도 않냐?

세랄: 우승하는 것이 질린다고 할 수 없지만, 레이너가 지난 두 번의 대회 우승해서 느낌이 달랐다. 아, 연달아 두 번은 아니지만, 어째든 올해 두 번 우승했을 내줬으니 내가 작년만큼 압도적이지 못했다. 그래서 적어도 마지막 대회 만큼은 꼭 우승해서 서킷 1위를 차지하고 보다 좋은 블리즈컨 시드를 확보하고 싶었다.

어째든, 우승이라... 뭐 느낌은 언제나 같다. 그래도 이번은 특별히 뜻깊었던 것 같다.

레이너한테 결승전에서 두 번 진 것 때문에 마음가짐이 좀 달라졌나? 동기부여가 더 되었나?

물론 그렇다. 가끔 진다는 것이... 내가 매번 우승하면 좀, 연습할 필요를 덜 느끼지 않을까? 그래도 내가 작년에 쭉 우승하고 있을 때도 연습은 항상 많이 했다. 하지만 2년 동안 싹쓸이 했으면, 좀 좋지 않은 영향이 있지 않았을까? 그래도 난 운좋게 항상 동기부여가 되어있고... 잘 모르겠다, 몇 번 진게 연습시간을 좀 올려줬던 것 같다.

그래서 나태해진 것까지는 아니고...

그렇다, 난 게으른적은 없었다. 그래도 져서 동기부여가 된건 맞다. 사실 내가 레이너에게 졌던 경기들은 저질러서 안될 실수들 때문이었다. 내가 연습과 경험을 더 쌓아서 게임을 더 잘한다면 고칠 수 있을 거라고 생각했다.

레이너는 뭘 다르게 하길레 다른 서킷 선수들과 다르게 널 이길 수 있는가?

뭐, 일단 실력이 굉장하다. 아마... 확실히 두 번째로 잘하는 것 같다. 그 것만으로도 당연히 나를 이길 가능성이 더 높다. 그리고 올해 초에는 이상한 빌드도 많이 쓰고, 올인성, 도박성이 짙은 전략을 많이 썼다. 요새는 정석적으로 많이 하는 것 같다. 그냥 다른 선수들보다 잘하는 것 같다, 특히 저저전에서. 다른 종족전은 비교적으로 약하지만, 저저전 만큰은 굉장히 쎄다. 그리고, 뭐 잘 모르겠지만, 내가 방심한걸 잘 노리는 경우도 있고, 내가 실수를 할 때도 있다. 한 가지 요소가 때문에이기는 건 아니다.

항상 닙, 히어로마린, 쇼타임 같은 서킷의 탑 선수들을 많이 칭찬한다. 그런데 대회에서 경기를 치루면 너무 일방적으로 이기는 것 같다. 다른 선수들이 너랑 경기 할 때 실력을 발휘 못하는 이유가 있나? 위축되어서 게임을 하는가?

솔직히 나를 두려워하는지는 모르겠다. 그냥... 많은 선수들이 대회에서는 평소 때 보다 게임을 못하는 것 같다. 아, 못한다기 보다는 그냥 이상한 실수를 더 많이 저지른다. 그래서 대회에서는 상대의 실수를 유발시키는 경기 스타일이 연습 때 보다 더 좋은 것 같다. 내 상대들이 나를 두려워하는 것 같진 않지만, 그냥 대회 중 매 순간이 평소와 다를 뿐이다. 나 또한 대회에서 실수가 더 잦다. 누구나 다 그렇지만... 난 그래도 남들에 비해 평소 경기력을 대회에서 잘 낸다.

2018년이랑 2019년에 많은 국제 대회에 참가했는데, 어느 해에 한국 스타2가 더 강했다고 생각하나?

큰 변화는 없었던 것 같다. 팬들은 당장 GSL 대 월드 결과만 놓고 한국판이 약해졌다고 하지만, 운이 좀 작용했던 것 같다. 우리 편에게 좋은 대진이 많이 걸렸고, 그로 인해서 외국 선수들이 많이 올라갔던 것 같다. 그래도 난 한국판이 작년이랑 비슷한 것 같다. 솔직히 별로 변한 것 같진 않다.

그럼 외국판은 어떤가? 작년에 비해 강해졌나? 블리즈컨에서 그대월 처럼 이변을 낼 수 있을 것 같나?

레이너가 작년에 참가하지 못했는데, 올해는 출전할 것이며 잘할 수 있을 것 같다. 아쉽게도 지금까지는 한국인이 참가하는 대회에서 많이 부진하고 있다. 그런데 난 레이너는 한국 선수들을 이길 수 있는 실력을 가지고 있다고 확신한다. 그래서 가장 주목해야 한다고 생각한다. 물론 스페셜도 아주 좋은 성적을 낼 수 있다. 지난번에도 플레이오프에 진출하지 않았는가? 레이너, 스페셜은 진짜 잘 할 수 있을 것 같다. 스페셜은 준비 기간이 있는 대회에 강하고, 서킷에서 못 잡는 레이너를 그대월에서 압도하면서 이를 증명한 것 같다. 물론 일레이저에게도 가능성이 있다. 모두에게 이변을 낼 잠재력이 있지만, 지금 언급한 선수들이 가능성이 가장 많은 것 같다.

올해 블리컨 우승 확률이 어떤가? 또 50-50라고 하진 않겠지?

맞다. 50-50이다. 우승하거나 지거나. 간단하다.

양심적으로 60-40이라고 해야 하지 않냐. 우승도 많이 했는데...

아, 확률을 올리기는 무섭다. 한국 선수들에게 자신들만의 스타일과 전략도 있고, 조가 결정되면 준비할 시간도 많다. 꾀 무섭다. 그래도 내가 우승할 확률도 괜찮다고 생각한다.

요새 저테전 후반전에 대한 말이 많은데, 본인의 생각은 어떤가? 전태양 선수는 세랄 상대로 답이 안나온다고 하고, 조성주도 강민수랑 한판하고 후반을 포기 한 것 같던데.

음, 내 생각에는...

지금 저테전, 저프전 후반전을 놓고 보면, 저그가 완벽하게 게임을 하면 저그가 반드시 이겨야 한다고 생각한다. 그런데 요새 EMP충격파 버프도 있고, 한번 잘못 걸려서 감영충이 다 맞기가 너무 쉽다. 그 순간 그 경기는 바로 지는거다. 진균이 있어야 유령이 상대가 되는데, 한 2마리 정도는 항상 필요하다. 잘 모르겠다. 그렇게까지 상태가 나쁜 것 같진 않다, 특히 감염충 너프를 고려했을 때. 저프전의 경우에는 이제 대량 감염충에만 의존할 수 없다.

그래도 저그가 완변하게 게임을 한다면, 저그의 후반이 테란의 후반보다 확실히 강하다. 저프전 후반은 아직 경험이 부족해서 말하기 애매하다. 감염충 너프 이후 경기를 많이 못했다. 후반전은 한 다섯 판 밖에 못 했다.

마지막으로 하고싶은 말이 있다면?

모두가 응원해줘서 고맙고, 연습해준 선수들에게도 고맙다. 연습해준 사람은 너무 많아서 일일이 언급하진 않겠다. 연습해준 모든 선숙, 나를 응원하는 팬들, 그리고 팀 ENCE에 고맙다고 전하고 싶다.

역시 성공의 맛을 본 세랄은 많이 거만해졌군. 작년이었으면 연습 상대들을 일일이 호명하지 않았을까?

[세랄이 반박하기 전에 인터뷰 컷.]
TL.net's Wax talked to

Serral shortly after his 4-1 triumph over Reynor in the finals of WCS Fall. Serral discussed the meaning of his sixth Circuit title, the state of Circuit vs Korea in 2019, late-game Zerg power, and other topics.

*This interview has been edited and condensed.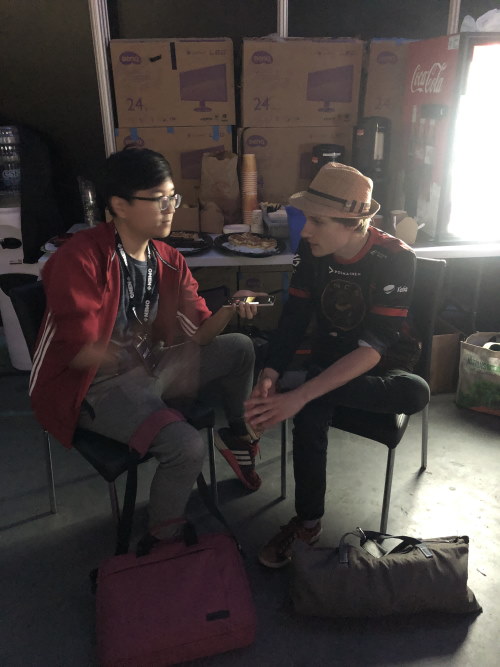 Photo: Nav
Wax: How does it feel winning your sixth title on the Circuit, and whatever number this is overall? Does it feel any different? Can you ever really get tired of winning?Serral:
Well I don't think I can say I can get tired of winning, but obviously it feels slightly different since Reynor took the last two. Well, not the last two, but two WCS stops this year, so I wasn't as dominant. So I really wanted to take the last one at least, so that I would secure my first seed in WCS rankings and get a better seed for BlizzCon.
But, at the same time, winning, I mean... the feelings are around the same anyways. But this was more meaningful, for sure.
So you think losing to Reynor at WCS Winter, and then again at Summer... it changed your mindset? It made you more motivated?
Yeah, sure. Obviously, losing sometimes... If I would win every time, it would probably be, it would take some of the practice needs away. But I think, even when last year when I was winning a lot, I still practiced a lot, and I kept going. But if I would have won everything for two years, I would maybe have been a bit worse? But luckily I have kept my motivation, and... I don't know, I think losing a couple of times for sure raised my practice times a little bit.
So it wasn't like you were getting lazy...
Yeah I wasn't lazy, never, but I still lost, and it for sure gave me more motivation. I felt like the series I lost were because of the kind of mistakes that shouldn't have happened really, and I felt that if I just played better, with more practice and experience, I would be able to fix that.
What do you think Reynor does different from other Circuit players that allows him to beat you?
Well, I mean, he's very skillful, first off. I think he's probably one of—probably the second best for sure right now, and that's already gonna give him a better shot. And, I mean, at the start of the year, he was doing a lot of strange builds and kind of all-iny, gambly stuff. Lately he has been playing pretty normal, I feel like. I would just say he's a bit better, especially in ZvZ. He has some weaker match-ups, but his ZvZ is very strong. And, ionno, he gets me off guard sometimes, and I make some mistakes as well. But, I don't think there's anything too specific.
You always give a lot of other players credit for their skill, like Neeb, HeRoMarinE or ShoWTimE. But once you get into a tournament match against them, it often looks like a stomp. Is there something that changes in a tournament match, that maybe they're afraid of you, something that causes them to not play as well?
Well, I'm sure if they're too scared of me honestly, but... I do feel like a lot people tend to play a bit worse in tournaments. Well, not worse, but they make more weird mistakes. And I feel like, that's why I feel like mistake-reliant styles are way better in tournaments than they are in practice. I don't think they're scared, it's just that tournament moments are always a bit different. I think I also make more mistakes in tournaments. And everyone does that, but I still manage to bring pretty close to my [normal] game.
You played a ton of international tournaments in 2018 and 2019. From your experience, which year do you think the Korean scene was stronger?
I dont think there's too much of a change. I think people tend to say that Koreans are weaker right now after the GSL vs. The World result, but I think that was partly a bit of luck. I think we got a lot of good match-ups, and that way we got pretty far with a lot of foreign palyers. But
I would say the Korean scene is around the same as last year. I don't think it really changed too much in my honest opinion.
How about the foreign scene? Is it stronger comapred to 2018? Do you think they could surprise the same way like GSL vs. The World at BlizzCon?
Obviously Reynor wasn't in last year, and he's gonna be there this year, I think he can do good. Sadly for him, he's been doing pretty bad in tournaments where Koreans are actually in. But I think he has the skill, absolutely, to win [against] them, so he's probably the biggest one to look at. But obviously Special can do very well as well, he got to the playoff bracket already last time. I think Reynor, SpeCial, can do really well. SpeCial is good in preparation tournaments, like he already showed at GSL vs. The World, where he took down Reynor pretty convincingly, which he normally doesn't do in WCS events. And obviously, Elazer has a shot... I think everyone has a shot, but those are probably the biggest ones.
So you think you have your usual 50-50 chance of winning BlizzCon again?
Yeah, sure... 50-50. It's win or lose. It's very simple.
You sure you don't want to make it 60-40? You've been winning more than 50%...
Well... it's very scary to raise it, it seems. Koreans have their own stuff, and when they get preparation time, like out in the groups already, it's pretty scary. But obviously, I think I would have a decently good chance to win.
What do you think about ppl saying late-game ZvT is OP? You see guys like TY saying he tried everything against late-game Serral and it didn't work, so there's no chance.
Well, I think...
I think ZvT and ZvP late game, I would say if Zerg plays perfect, then Zerg should always win late-game pretty much. But with like the EMP buff and that kind of stuff, it's very easy to get caught off guard with your infestors, and the moment that happens you kind of auto-lose the game. Since you need to fungals to beat ghosts, and you kind of just need a couple of infestors, at least. I don't know, I don't think it's TOO bad, especially with the infestor nerf right now—I don't think we can rely on mass-infestors anymore in ZvP.
But I would say, if Zerg plays perfect, Zerg late game is stronger than Terran late-game for sure. And with ZvP I can't tell exactly because I haven't played enough, but it feels... it's very hard to say. I don't know, ZvP I can't say too much about because I haven't played with the infestor nerf all too much, I played like five late-game games.
Any final comments or shoutouts?
Just the normal thanks for your support, shoutouts to everyone for helping. All the fans, obviously all the practice partners as well. Not gonna name any, there's too many of them. Yeah, thanks to everyone who practiced and helped me prepare for this, and all the fans supporting me, and my team ENCE.
And that's how we know success has changed Serral: he refuses to name his practice partners when he would have gone through all of them one by one last year.
[The interviewer fled before before Serral could offer a retort.]
---
You can follow Serral and ENCE on Twitter at @ENCE_Serral and @ENCE.