Code S Season 3 - Quarterfinals Preview
by Wax
Code S Season 3 speeds ahead with nary a moment to rest, with the playoffs beginning just days after the conclusion of the Ro16. Like WCS Fall, it's not just the prestige and prize money of THIS tournament that's on the line anymore—there are also big Global Finals qualification stakes for some of our quarterfinalists.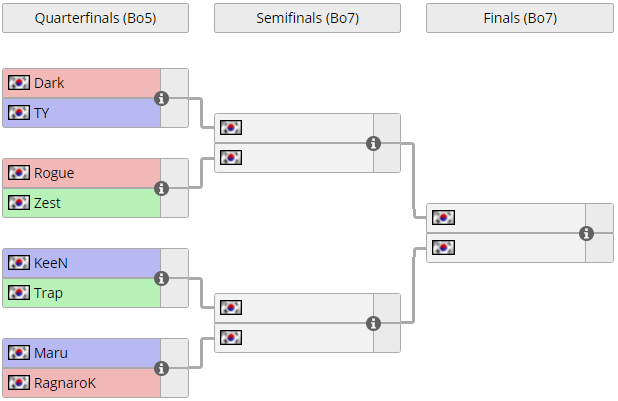 Quarterfinal #1: Dark vs TY
Tuesday, Sep 10 9:30am GMT (GMT+00:00)
It's do or die time for
#9 ranked
TY
, who needs all the points he can get from GSL Code S if he's to feel at all safe about his Global Finals chances (though Super Tournament II remains). Unfortunately, he's headed up against an opponent who
should
mash him when we look at their
head-to-head records
:
Dark
has an overwhelming 18-7 match score against TY over the years.
However, given recent circumstances, I get the feeling that historical precedent may not matter much.
As someone who's touted the
"Dark is the greatest late-game player in Korea"
line for years, I'm freely casting doubt on whether or not that's true anymore. If Dark's ability to juggle complex unit compositions used to be peerless in all of StarCraft, now even Dark fans have to admit he's become rather inconsistent (maybe that's what watching Serral matches will do to you). From his
earlier struggles
to overcome GuMiho's mass BC's with Infestors, or his
upset against KeeN's Ghost-mech
this season, he's struggling in late-game scenarios that are supposed to be an auto-win for 'top' Zerg players. Scenes where he
annihilates FanTaSy's Thors with BL-Infestor
are an illusion—that's just FanTaSy being a stubborn player with a fatal attraction to death traps (or he's a benevolent older brother falling on his sword to earn Zerg nerfs for his Terran brethren). Even ZvZ tells a worrisome tale, with Elazer—not THE paragon of fantastic spellcaster usage in Europe—managed to win the Viper duels against Dark in GSL vs the World.
That's not to say Dark has become a chump or anything—he's the Code S champion, for god's sake. His all-around stability and defensive ability were on point during his title run, while his uncanny sense for when to go all-in was razor sharp. I'm just saying that the notion that this will be a
"ZvT late-game LUL"
type match could be unfounded.
TY? I like to think that out of Serral's Terran punching-bags, he made
Serral's fists hurt the most
. That's right, I'm using relative success against Serral as a measuring stick for skill—it's only fair after we did it for Maru during his period of utter dominance. Not getting TOTALLY destroyed by Serral basically counts as a win against a merely good player (though, I must admit, Stats' Ro16 failures showed us this can be a flawed way to rate players).
I have to wonder is how often TY will actually WANT to play longer mech-style games (even with the Ghost buff), and how many plan B's he'll have if he deems Zerg late-game to be unbeatable halfway through the series. Maru shrewdly threw all his mech preparation in the garbage once he made that realization against Solar and was victorious because of it—TY might also need to make that move if he finds that the 'real' Dark is back and spreading the horrible blight of BL-Infestor even further. Given that TY has been historically quite adept at bunker-rushing and executing mid-game timings, I get the feeling he'll be well-prepared for all contingencies.
There's one final factor that makes me think this match is in TY's favor: the stakes. TY desperately needs the extra WCS Korea points from advancing extra rounds so he doesn't have to place all his chips on one miraculous Super Tournament II run. It isn't like Dark is notorious for becoming complacent after success, I have to imagine he'll be just
slightly
less driven after winning his first Code S championship and having his Global Finals spot set in stone.
Prediction:
TY 3
- 1 Dark
Quarterfinal #3: Trap vs KeeN
Tuesday, Sep 10 11:00am GMT (GMT+00:00) (Note: matches are not played in usual GSL sequence)
KeeN
is the unusual underdog that no one wants to kick—he's not being called the symbol of skill-decline in GSL, a beneficiary of balance changes, or a ninja who slipped in through an easy group's back door. Basically, we're not treating him like Hurricane.
It's largely because he announced that he's being whisked off to fulfill Korea's mandatory military service at the end of the season, with even Super Tournament II participation out of the question (he admitted to some clerical errors on his end that made his conscription so abrupt). When we realize a journeyman player is at the end of his road, when we remember his prodigious skill was only lost inside the roaring sea of his fearsome peers, when we confront the fact that this man spent his youth in service of our entertainment, we finally extend him some kindness and appreciation. This match could very well be the last hurrah for KeeN, a player who was one of the more notable ones at the start of Wings of Liberty, kindling a
mini-rivalry with Brood War legend NaDa
, regaled us with
victory pop-offs
that briefly became mainstream memes, and placed 3rd in this very website's
proprietary, premiere-tier tournament
(remember that?).
We're also extending KeeN some respect in this match due to his performance in the round-of-sixteen. Sure, any one of SpeCial, KeeN, and FanTaSy could plausibly have won the TvT shoot-out for second place in Group A. But KeeN actually took a map off Dark by outplaying him in the late-game where Terrans are supposed to be powerless—perhaps his most impactful game in years.
Alas, KeeN must now move on from TvZ to TvP, that TvP being against an opponent who holds a ridiculous
13-2
match record against him.
Trap
has won his last seven matches against KeeN, and it looks like a damn lock that it's going to be eight very soon. He's
6-0 in PvTs after the patch
(with a 15-5 map score), while he's an absurd 52-11 for the entire
2019 competitive season.
While KeeN said he hoped for a TvT in the quarterfinals, he also mentioned that TvP was somewhat playable afte rthe patch. I would have brushed that off as a smirk from a man walking to the gallows, but Maru's newfound confidence in TvP gave me pause. Maru is one of the extreme examples of how progamers always complain about how their race is weak, and their admission that a match-up is 'balanced' probably means that it's 70:30 in their favor. What do Korean Terrans know that we don't? Are all of them capable of the late-game, multi-nuking acrobatics that Maru pulled off against Stats?
Upon examination of KeeN's stats, I'm tempted to break TL.net's no-meme rule here and just post the Nick Young with question marks around his head meme here. Since the patch, his PvT record shows that he's lost to foreign Protosses DnS and Gerald (0-2 against both). For the entire competitive year, he's
actually SUB 50% in TvP
. So, uhh... yeah.
With Trap already mathematically locked-in for the Global Finals spot on points, it would be a great, feel-good story with only minor fallout for Trap if KeeN could somehow pull this upset off. Top eight is his previous best result in Code S—it would be fantastic if he could set a new career-best before bowing out. Unfortunately, there's no reason for Trap to show him mercy. As fans, we want epic series and heartwarming moments. Trap? He's got money to make.
Prediction: Trap 3
- 1 KeeN
Quarterfinal #2: Rogue vs Zest
Wednesday, Sep 11 9:30am GMT (GMT+00:00)
It's time for GSL
Rogue
, baby!
We do a lot of navel-gazing here at TL.net, where we re-hash popular narratives, drive them into the dirt, and then pretend we're introspective enough to recognize the flaws in doing so. Rogue's quarterfinal curse in Code S provides us an amazing opportunity to indulge in this behavior again.
What does one do when confronted with Rogue's 0-8 record in Code S quarterfinal matches? One might shrug it off as a product of simple variance—another one of those unlikely coincidences in life that we foolishly rush to assign deep meaning to. Or one could say that if something happens TOO many times, there MUST be real meaning behind it, and even if it used to be mere happenstance before, it's become a real obstacle in the mind of the player (the 'soO phenomenon').
Regardless of which point of view you have on Rogue, you have to feel pretty good about his chances of finally ending that losing streak. He seems to have overcome his spring slump, quietly racking up impressive online results before surprising everyone by winning the Code S Ro16 group-of-death (wins vs Stats and Solar). Even better: his opponent is none other than
Zest
, who's here after losing to RagnaroK and beating Dear twice in the Ro16.
Given that we already know Zest is an amazing PvP player, plus the fact that he had a
17-4 career record
against Dear before the matches, I won't pretend those wins even tangentially matter here (not even in terms in of 'momentum' and what not). What we DO have go by is two lackluster losses to RagnaroK, where Zest got totally rocked by swarms of Ravager-Baneling in game one, and then couldn't overcome Nydus-Swarm Host tactics in game two. There wasn't much redeeming about Zest's play in those games, even if you try to hype RagnaroK as a better-than-you-think player. In contrast, Rogue breezed by a red-hot Stats in the Ro16, deploying a Nydus-Swarm Host strategy of his own as well as deflecting a cannon rush. Yeah, it's looking rather grim for Zest.
And personally, I think the mental block theory for Rogue's struggles in the Code S Ro8 is a bit overblown. When you break down his losses, the only 'bad' losses are a 0-3 to Classic in 2015 and 1-3 to Neeb in 2018. Otherwise, he's generally played amazing players such as soO and Maru at the top of their games, and he's often forced the series to go the full five games. I'm ready to call Rogue a Code S choker IF he happens to blow this series to Zest here, but I seriously doubt it will happen.
Prediction: Rogue 3
- 0 Zest
Quarterfinal #4: Maru vs RagnaroK
Wednesday, Sep 11 11:00am GMT (GMT+00:00)
At the time of writing, Liquibet users are favoring
Maru
over
RagnaroK
by about a
13-to-1 ratio
. You don't really need to do an Aligulac.com deep-dive to find out why—four Code S championships to zero kind of seals the deal. But since lopsided stats are funny and really help hammer the point home, here are those numbers anyway: Maru is 8-1 against RagnaroK in career
head-to-head
matches with a combined 14-2 map score. For the 2019 WCS Season, Maru has a
28-6
record in TvZ matches for an 82.35% win-rate, while RagnaroK is
35-21 in ZvT
which comes out to a 62.5% win-rate. As the kids these days say it, that's a 'big oof.'
While I didn't particularly want to make an underdog argument for RagnaroK, I'll do so anyway because I don't want to ask myself existential questions about why TL.net previews exist at all.
The last time Maru and RagnaroK faced off in GSL, it was in the Ro32 of Code S Season 1. You may not believe it, but RagnaroK
ALMOST stole game one of the series
. Okay, I'm playing it a bit liberally with the word "almost" here (kind of like Blizzard with the word "soon"), but just bear with me here for the sake of this argument. RagnaroK somehow managed to hold out against a constant barrage of attacks from Maru–a more INnoVation-like parade push than even INno himself was capable of—surviving until he squeezed out the Brood Lords needed to send the Marines and Tanks packing. At that moment, I thought
'Wait, what? Did RagnaroK just take the advantage?'
Indeed, with Brood Lords on the field and Maru scrambling to put together any counter, it seemed like the hard-stuck-in-Ro32 Zerg actually had a chance to win. Mind you, this was Maru at the peak of his powers, during the season where he won his fourth straight Code S title. It was amazing that a player of RagnaroK's low repute survived to reach Hive tech at all.
Of course, then RagnaroK proceeded to throw the game by attacking into Maru's fourth base without any anti-air units of his own, wasting time nibbling away at a Planetary Fortress before losing everything to Vikings being produced five at a time. Alright, now you see why the word ALMOST was a bit of a stretch.
For me, this comes down to which of RagnaroK's traits I want to weigh more heavily: the macro, the micro, and the reaction-time needed to survive Maru's parade pushes and reach his end game composition? Or the bone-headedness of donating all his units for free at the most crucial juncture of the game? Personally, I believe enough in the former to at least predict a non-sweep, but that's about as much credit as I'm willing to extend RagnaroK.
I'll conclude with a musing about Maru, since this preview has been a bit light on his end. Honestly, there's not much I want to get into at this round of the tournament. He got humiliated last season in the Ro32, nearly had that happen again this time around, and then he proceeded to rip Stats limb from limb a few days ago. And yet, no one seems surprised at all. He's up in rarefied air alongside the likes of Flash, where no matter how many losses he eats, no one would bat an eye if he returned to put in a world #1 performance. That kind of class really does negate previewing or analyzing these matches too much, because everything can be boiled down "he's f***ing Maru."
Prediction:
Maru 3
- 1 RagnaroK