At Long Last
by Mizenhauer
I've been looking forward to writing this article for a very, very long time.
Hell, I'm sure a lot of

soO
fans have been waiting to read it for even longer. This is a moment we've all been praying would arrive for years. It's a moment, I think, a lot of us were starting to doubt would ever arrive at all.
In 2013, soO lost his first GSL Code S finals, which marked the start of StarCraft II's greatest tragedy. In the following years, soO would reach six more major tournament finals and lose in every single one of them. When he lost to Rogue in the finals of BlizzCon 2017, it seemed like the story would end for good. Yet, each of the six times soO had been knocked down, he had picked himself up to fight again. The seventh time around, he rose as a champion.
When you trace soO's story back to its roots, the defining emotion is disappointment. As much as we admired his play and consistent excellence, it was the tragedy that drew us to him. I wrote articles to share his experiences with anyone who would listen. Other fans added to his myth with memes and nicknames. We respected and supported him, but we mocked and teased him as well. What better way to cope with being a fan of StarCraft's most tragic star than with gallows humor?
Disappointment might have been the defining emotion around soO, but we all imagined a world where it was replaced by triumph. We dreamed about that long awaited moment, but even tens of thousands of hopeful fans could not will it into reality. We knew that only soO was capable of ending his nightmare.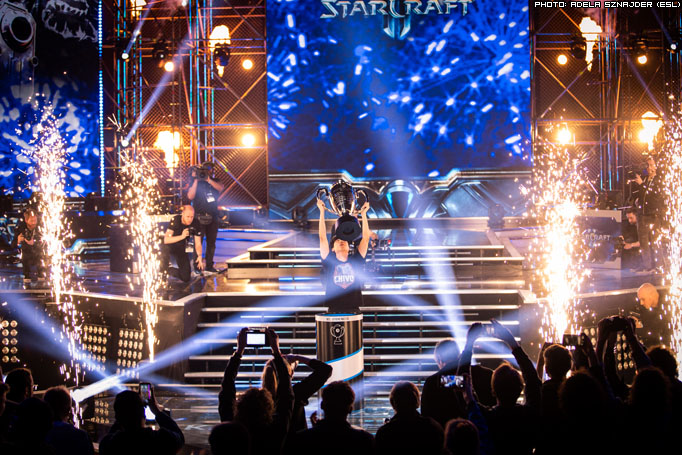 I first spoke to soO in November of 2016, a few weeks after I started writing for Team Liquid. At the time, Maru was my favorite player. I had followed competitive StarCraft II from the beginning, but 2015 had been the first year I watched Proleague. I had become a full blown Jin Air fan boy—a devotee of Rogue, sOs, and even Cure.
soO had crept up on me as a close second, though. I had always been impressed by his four consecutive GSL finals appearances in 2013-2014. I couldn't fathom how someone had been so incredibly consistent and had remained at the top of a hyper competitive scene for so long. As a Zerg player, it was impossible not to admire his prowess. His peerless inject timing, the brazen way he'd take fights, and his wide breadth of strategies made him the perfect Zerg in my eyes.
I started talking to soO by sending him a Battle.net message out of nowhere. I told him I had written a
preview article
predicting that he would sweep the upcoming Olimoleague finals. Surprisingly, he replied in decent English. Even more surprisingly, he told me he had noticed the article. After a month or so of talking, I became a moderator during his very first Twitch stream. It wasn't long before he replaced Maru as my favorite player. As our conversations began to frequently drift to topics other than StarCraft, I started to feel that maybe, I wasn't just a fan, but also a friend.
The link between fan and athlete is tenuous. Their life stories are presented to us for our entertainment, but what do we
really
know about them? Few fans ever get to meet their heroes in person, or talk to them as anything but as representatives of a multi-million dollar industry. In a way, they're more idols and ideals then people. The more soO and I talked the more I got a glimpse into his life, learning about the things that sparked happiness and those which caused him grief.
When I visited Korea in the summer 2017, I decided I'd use the opportunity to interview soO in the week leading up to his final against GuMiho. I was thankful for the opportunity to help
tell what I considered to be the most compelling story in esports
, but I also ended up hanging out with him on a purely personal basis.
soO took me out to a Korean BBQ joint in Gangnam, manning the grill personally for his foreign guest. Later, I sat in on a practice session, talking to him during breaks between ladder matches. He asked me if there were any builds he thought he should try against GuMiho. I told him that GuMiho loved unorthodox tank pushes and that he'd try to take advantage of the low-ground nook on Odyssey. I said the best thing to do would be nip it in the bud and proxy hatch him first. soO nodded, not revealing his hand. Imagine my surprise when a few days later, he dropped a proxy-hatchery at GuMiho's third base on Odyssey, winning his first map of the series.
I still can't quite believe he took time out of his GSL finals preparation to hang out with someone he'd never met before, or that he even gave my opinions a fair hearing out. But the moment that resonated most from my stay in Korea was a moment I didn't even experience in person. That was because I stormed out of the AfreecaTV studio immediately after soO surrendered the last GG to GuMiho in the finals. As I saw later through VODs, soO stood there, watched GuMiho kiss the trophy, and then took the mic. The entire build-up to the finals had focused on soO and his sixth runner-up finish, and the audience had more pity for soO than enthusiasm for GuMiho. soO reminded everyone that the moment belonged to GuMiho, who'd finally won the first championship of his career. I had run away because I was too scared and angry to watch soO fail again, but soO had stayed and congratulated the player who had taken away the thing he wanted most.
People talk about progaming as being this blessed
dream job
we all wish we had, where you get paid to do what you enjoy. Maybe it actually is that way for the preternaturally talented. But soO's job is testing the limits of his mental endurance amid unforgiving competition, and endlessly practicing in the face of seemingly inevitable finals defeats. His job is assessing his own inadequacies with brutal honesty and trying to overcome them. His job is knowing that failure awaits all but one player in the end, but still thrusting his charred hands into the fire to try and pick out an ember of triumph.
Many fans said they would have loved to have had soO's success (nearly $400,000 in prize winnings alone before IEM), or that the majority of players would have gladly swapped places with soO and his decorated career. Then again, only soO knew the pain of coming close to a championship and failing so many times.
"If anyone gets second place five times in a row they would understand what it does to you. Getting second place once didn't affect me that much ... But once it started piling up, the suffering increased tenfold. I began losing faith in my skills and my self-esteem plummeted ... Before, I believed becoming a good player alone was enough to garner respect from the fans. Instead I received their insults and pity."
Simply being a progamer was soO's dream when he began his career, and it still is today. But as time went on, it must have been harder and harder to go back to that well of naivety for solace.
Yet, soO kept picking himself up over and over. Instead of falling into a pit of defeatism or self-pity, he grew even stronger. Every time soO lost a final I felt like I'd been punched in the gut. It must have been a thousand times worse for him. But he was always there in the next tournament, head held high, even joking about his finals losing streak like it was nothing. He kept chasing a goal that so many of us would have long since given up on. In doing so, he became an icon, a beacon of perseverance and hope.
I was ready to count soO out early on in IEM Katowice, when he started the group stage by losing his first three matches. Just a year ago I'd watched as he failed in the IEM Katowice Open bracket, even though he had entered that tournament as one of the favorites. Another failed campaign in 2019 would have just been par for the course—he would persevere, learn, and try again.
It just goes to show that you can never be certain how a story will end. After losing the first three matches of his group, soO swept his last two matches and squeaked into the Round of 12. His playoff draw was unfriendly, but I was starting to feel those old vestiges of hope.
I was worried he'd have trouble with Zest, though those fears turned out to be totally unfounded with the series ending in a 3-0 sweep. With his old nemesis out of the way, I was actually pretty confident soO could take out Serral. soO's ZvZ was one of the strongest match-ups in StarCraft history (his
67.9% win-rate is the seventh highest
of any player in any match-up in Code S), and one finals loss to Rogue at BlizzCon had not diminished that fact. But even in my wildest dreams I didn't expect he'd do so in such spectacular fashion.
Serral's ascent had suggested that good old fashioned Korean ZvZ had stagnated in its isolation. soO dispelled that notion, playing a relentlessly aggressive style of Hive-less Zerg focused on producing Roaches and taking constant engagements, rather than out-executing the opponent with advanced tech like lurkers and vipers. The non-stop fighting consistently ended with soO escaping with a small advantage over the Global Champion, with Roaches seemingly favoring their true master. Game three was the crown jewel of them, an encounter which had soO joking he'd never make a Hive again.
The semifinal was brief and anticlimactic in comparison, with the wild-card herO having no chance against the combined forces of soO and destiny. After a year and a half, soO had made it to another finals. I remembered seeing soO taking center stage after losing to GuMiho. I remembered how he scratched his head in stunned silence after losing to Rogue at BlizzCon. When I saw him take the stage to face Stats in ANOTHER final I wasn't just awed—I was inspired. But I also had a voice in my head that was saying "This is where everything goes wrong."
I've said for a long time that when soO wins a final it won't matter who he faces off against or how well they play. The enemy has always been the finals itself. It's always been about himself. After two quick, brutal games soO found himself down 0-2. We had been thrust back into the same nightmare all over again. Two years ago, he'd lost three straight maps against Stats in their Code S finals encounter. As game three began I couldn't banish the feeling of emptiness that I had been left with after that final. I had blankly stared forward and told myself that he'd be okay.
'I'll get over it.''He'll find a way to get over it.''We'll all move on.'
I readied myself for what was coming next.
But he won game three. Then he won game four as well. I had turned off the sound—I couldn't bear to hear someone else remind me about soO's history of failure—but I could tell something seismic had shifted. soO was putting together the perfect compositions. He was defending harassment smoothly and counter-attacking at the exact timings he wanted. He was scouting meticulously, sniffing out Stats' every move.
As I watched him take a 3-2 lead I started to believe I wasn't watching the same soO who had lost all those finals. I never actually believed soO was a choker—I've always made the paradoxical claim that soO was a winner who loses finals. I'm not a very spiritual person, but I believed that soO's collapses on the biggest stage couldn't just be the result of mere human frailty—there had to be some kind of cosmic force fighting against him.
This version of soO was a revelation—unburdened and in total command of his craft. This was the soO who has gone 13-1 in Code S quarter and semifinals, the soO who'd
beaten Life
and
Zest
at their absolute peaks in some of the most breathtaking series in StarCraft history. This was the soO who had shown me what the perfect Zerg player should be.
Game six was on Year Zero, the biggest map in the pool. The stage was set for Stats to patiently force soO into a split-map situation, where he would have a clear advantage against a notoriously poor late-game player. That's how it goes, right? Even if this was truly a different soO, fate wouldn't let things be easy. I'd be forced to sweat it out until the very end, with one, final game seven filled with all my dread and hope.
The game went by in a blur. I remember Stats marching across the map. I remember checking soO's supply and seeing his uncomfortably thin lead as the all-in knocked on his door. I remember the force-fields, my anxiety, the way my hope swelled and crashed back to earth with every warp in.
'He's really doing it, isn't he?'
I realized as Stats retreated the tattered remnants of his army beneath a lonely Warp Prism. soO's ragtag army closed in and dealt the final blow. I still couldn't believe it, not even after the final GG was typed.
I had shouted like a mad man when soO beat TY in GSL Season 1 2017, and I cheered like crazy when soO made the finals at BlizzCon later that year. This time, there wasn't any of that.
I imagined I'd freak out and start shouting like I did when he beat Serral, but I simply didn't know what to say. I had always believed soO could win a championship, but even seeing it with my own eyes, I could barely believe it. It was the closest I had come to understanding progamers when they say their mind goes blank after winning a championship, unable to process what they've just accomplished. I felt numb as I did when he lost, but without the crushing sadness. Instead, it was jubilant disbelief. I was just so happy for him.
This wasn't Maru making history by winning Code S for the third straight time or Serral breaking the mold by winning BlizzCon. It wasn't about being excellent at StarCraft II, or really even about StarCraft II at all. This was about the simplest and most relatable of all struggles, the one we go through every day. It was about confronting fear and doubt, and knowing that the chance of failure is never a reason to stop chasing joy.
When I spoke to soO a few weeks before IEM Katowice, I got the feeling that while he still wanted to win a championship as badly as ever—and it was the main reason he was continuing his progaming career—a part of him had come to peace with the idea that it might never happen. It seemed that he had gotten enough out of StarCraft that he'd be able to reflect fondly on his time playing the game, even without that crowning moment.
He had made his first final all the way back in 2013. After losing, he had been convinced he could make it back, and win another final if he kept his nose to the grindstone. He managed to make it back on multiple occasions, only to earn embarrassment and grief instead of trophies.
I like to think that soO's trials and ordeals transformed him into the man he is today. soO might not see it that way, but it's the story I've been spinning for more than two years. Maybe the idea that we can learn important life lessons from sports is somewhat contrived, but my respect for his perseverance is 100% real.
The brash twenty-one-year-old who proclaimed he'd beat Dear 4-0 grew into one of the most respected figures in the scene. He could have packed it up and gone to military after 2016, 2017, or 2018. He could have moved on, content that he'd lived out his dream for more than a decade. Instead, he became the icon who stood on stage and reminded us that even in this tiny video game where he looms so large, the triumphs of others should never be overshadowed by his struggles.
On March 3rd, 2019, soO became a StarCraft II champion, but I had admired him long before that for his grace, tenacity, and bravery that transcended StarCraft. Whether soO is remembered as a Kong, a champion, or the paragon of perseverance isn't what's important. What matters is that he's happy. I felt so sad and empty every time soO lost, but I never cried. This time, though, soO, me, Smix, you, we all had tears in our eyes. GG. Take a moment to let it sink in. soO's finally a champion.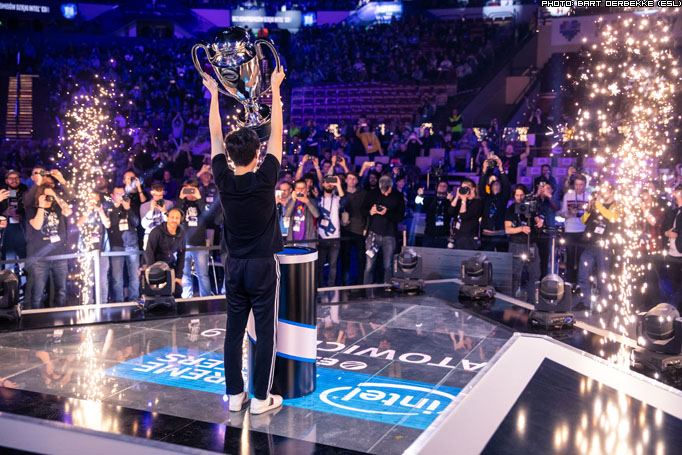 ---