Best Games of July 2018
Compiled and written by Ej, Elentos, and Durn
Best Games of the Month returns with its July edition, and it's a weird one. Has' black magic stole the show at WCS Valencia, but TeamLiquid.net's crew of hardcore fans discovered matches that challenged Has in terms of sheer weirdness as they scoured every corner of the internet. We hope you enjoy their findings!
The Best Games of July 2018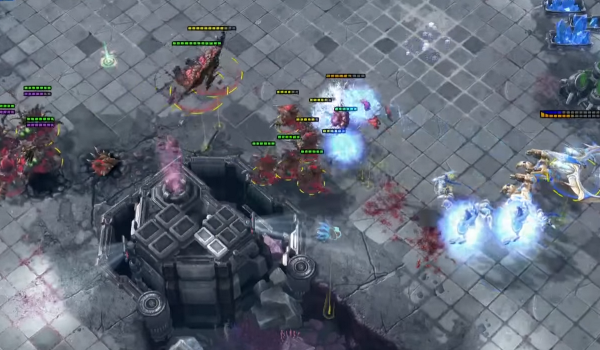 Who's chasing who here?
What other way to open this list than with the most talked-about game of July? Coming fresh off the foreigner boat, most people gave Reynor very little chance to make RO16. And indeed, Classic straight up bopped him in their opening series. However, the young Italian made quick work of Ryung and came back for a rematch. After a masterfully held roach timing, Classic was in a prime position to take the best of 3 to the third map. However, Reynor did his best not to let him. With constant counter attacks, hydralisks, roaches, zerglings and corruptors ravaged Classic's economy. With both of them out of bullets, it came to a stand off between the tattered remains of the Zerg and Protoss armies.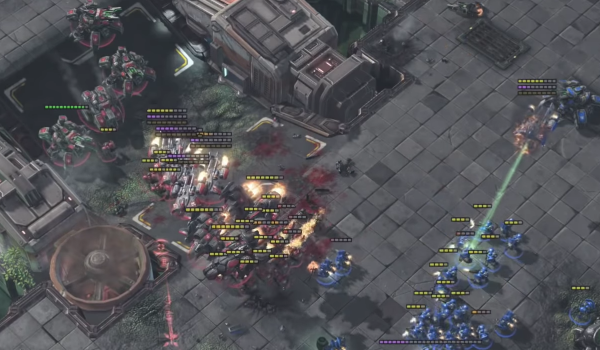 Oh, marine/tank mirror, how much I have missed you.
There's nothing flashy about this game. There isn't an unusual build, jaw-dropping micro or a crazy turnaround. It's not a fancy dinner. This game is a rare steak. A solid piece of TvT meat. A solid 25 minutes of marine/medivac/tank versus marine/medivac/tank. Bases are being pushed, production is being dropped on, all that amidst the constant movement of siege lines and marine forces on the map. And nobody gets to comfortably max out. It's why we love Starcraft. It's a bloody game, rich in RTS flavor. And you should savor every little piece of it.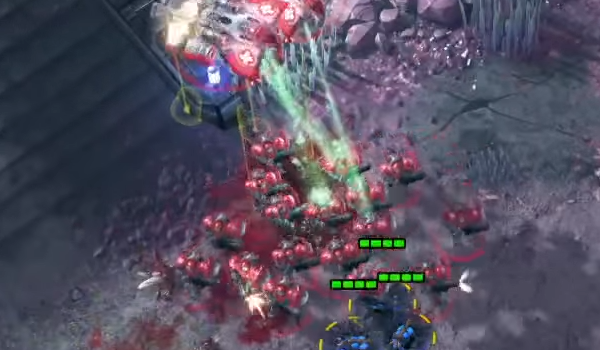 There was no way any other screen-cap of that game was making it here
To feature any other ZvT over Leenock vs Maru would be a crime. This game was Leenock's masterpiece. He anticipated every single of Maru's moves and thwarted all of them. The 2/1/1? Easily deflected. The trademark 2 tank push follow up? 0 damage taken. Drops? Shot down with hydras or blown up by baneling mines.
And in lategame, where Maru would usually make a comeback with his near flawless spellcaster and army control, Leenock's grip didn't loosen one bit. Back-to-back GSL championships be damned—Leenock slowly picked the Jin Air Terran apart. This was a ZvT of the highest order.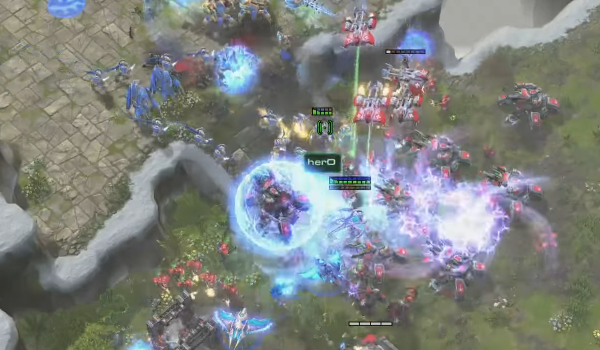 JoonHoBang?
While siege tanks are a powerful unit against Zerg on this map, you don't really see them versus Protoss. So of course, GuMiho would be the one to go for a tank push. Having lost a warp prism full of high templars, herO had no way of contesting the army and the siege of his natural base began. However, powered by the unscouted gold base, the ROOT player waited for his moment. Giving up his gateways and his robotics facility, he retreated deeper into his base. And when the moment came, Kim Joon Ho made our jaws drop once again.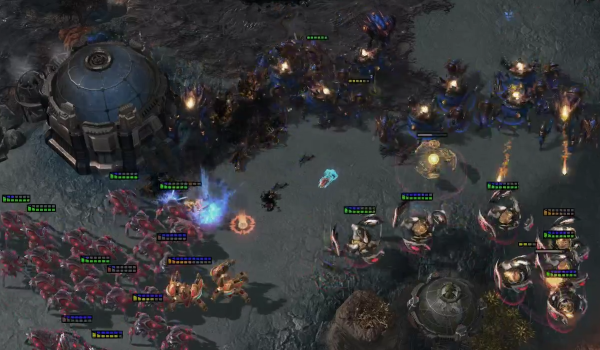 I know how this one ends.
With how many tournaments Impact plays in, it's quite surprising he makes this list for the first time. Accompanied by Trap, who was last featured here 4 months ago. Nevertheless, they made it. And what a game it was. After Trap's gladept pressure did essentially nothing, it looked less than comfortable for the Jin Air Protoss. He proceeded to go into double robo, but still lost his 3rd base to the roach/hydra/ravager attack. And with the Zerg comfortably sitting on 4 bases, all Trap had was his disruptors and blink stalkers. Didn't look promising. Especially after he lost 29 probes to a zergling counter attack. But Trap, summoning forces not seen since Heart of the Swarm, knew he still had a chance to turn things around.
The "Has" Award for Indescribably Weird Games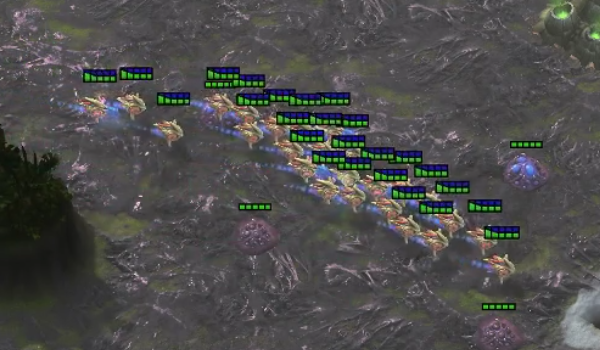 The Zerg will never find these.
Look, I know how much you all wanted us to put Has' WCS Valencia run here. We really get it. But this is the point where we get all elitist and tell you
we watched more games than you
and we know that Has doesn't deserve this own award this month. While Has' games were unusual, aggravating and sometimes straight up repulsive, they weren't all that weird. Just a tad cheesy.
THIS game, however, is weird. Very weird. I can't even begin to describe it without spoiling the fun, so open the VOD and hop in for a ride.
More recommended games from July 2018
We highlighted the most notable games above, but there were plenty of other great matches played in July. Thanks for reading, and we hope you enjoy these games. Check back next month for all of the best games from August!

TY vs

Rogue on

16-Bit - VOD


Impact vs

Dear - Entire Best of 9 - VOD


SuperNova vs

FanTaSy on

Acid Plant - VOD


Trap vs

GuMiho on

Lost and Found - VOD


INnoVation vs

soO on

16-Bit - VOD


INnoVation vs

Solar on

Catalyst - VOD


souL vs

Lambo on

Darkness Sanctuary - VOD


Dark vs

herO on

Lost and Found - VOD
---
Credits and acknowledgements
Writers: Ej
List committee: Ej, Elentos, Durn
Editor: Wax
Photos: Andre Hainke (via Blizzard)