RedBull BattleGrounds
Atlanta
Brackets and standings on
Liquipedia
Red Bull Atlanta Preview
by XXTN and Zealously
If you're down in Atlanta this weekend and want to do more than just visit generic tourist attractions, then sign up for the huge Red Bull Battle Grounds open tournament. That's right: anyone from Bronze to #1 in GM is eligible to participate. There are absolutely no invites and no seeds. The first of two open tournaments planned by Red Bull, Atlanta allows up to 128 players to participate in 32 groups of four with the top two in each group advancing to the bracket stage. Furthermore, the top 32 will finish in the money and the top 16 will receive WCS points. With a $25,000 prize pool and a paid trip to the Battle Grounds Grand Finals for the winner, we could see a surprise name among the list of prize winners.
Red Bull Atlanta also represents the first premier tournament to feature the new Season 3 ladder maps. These maps will bring new strategies as well as a breath of freshness to the game. Combining the three-player dynamic of Merry Go Round with the central gold bases synonymous to Habitation Station, Foxtrot Lab features short rush distances and tight chokes that could promote Protoss timing attacks. Catallena (the other three-player map) is much larger and filled with ramps, cliffs, and dead space that allow for various avenues of attack. As for the two four-player maps, Deadwing essentially replaces Alterzim Stronghold and is geared towards macro play, while Nimbus encourages mid-game aggression with its aggressive expanding patterns.
It'll be interesting to see how the favorites plan to adapt, given that the maps were released just this week. The overall lack of experience with the map pool levels the playing field at this huge open tournament by just a bit, which means our favorites could drop out quickly if their instincts are not razor sharp. With new maps and a format we haven't seen since 2011, Red Bull Atlanta promises to be an entertaining tournament regardless of its player list.
For a more detailed analysis of the Season 3 map pool, see TL Strategy's article.
One Life to Live
To find the last 64-man single elimination SC2 tournament, we would have to journey back three years to the GSL Super Tournament. Featuring the top 64 players in Korea at the time, the GSL ST was far more stacked compared to RB Atlanta. So far, there are four guaranteed Super Tournament survivors who will participate in Atlanta this weekend – HuK, viOLet, Bomber, and the champion, Polt. Other ST participants such as Ryung, Revival, NesTea, and Alicia (who finished top 8) are currently playing in the WCS NA region and could potentially appear as well. Coming to Atlanta will surely invoke some feelings of nostalgia for these guys, but there's little to be gained from experience in these types of tournaments. With single elimination superbrackets unpopular with fans at the time, this presents an interesting return for the format as we could see one or two surprises make it among the prize earners.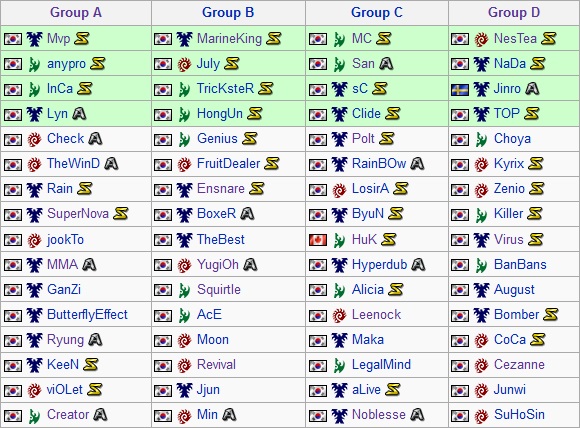 Min vs TheBest on Crossfire, never forget
To add to the volatility inherent in single elimination, the new maps should give underdogs some pause. It's the perfect opportunity to pull out a wacky cheese or two to knock out a favorite, and unpredictable gameplay is one strong strategy to make it far in these formats. Will we see a mystery knight come to the fore like Sjaak at DreamHack? Will Polt repeat his 2011 Super Tournament performance? Can Bomber build on his 2nd place at WCS America? With few confirmed Koreans and a slew of local heroes present, will we finally see a North American champion?
Playing in the Pool
As expected, the player pool mainly consists of NA players who jumped at the rare opportunity to compete in a WCS tier one event. Perhaps by the end of the weekend, one of them may even get picked up by a reputable team. Even more exciting is the possibility that RB Atlanta will become the first premier tournament won by a foreigner in 2014. Some notable foreigner signups include HuK, puCK, Suppy, hendralisk, and TooDming. Of course, they'll be challenged by the Korean favorites in Bomber, viOLet, and Polt. One interesting thing to note for the foreign hopefuls is that Toodming - the sole Chinese representative - actually beat Bomber 2-0 in their first match in WCS AM a mere week ago before Bomber went on to win the rematch and place second in the tournament. But a single victory does not a championship make, so while we wait to see which other big names decide to show up, let's first take a look at some of the guys who RSVP'd.
As the only SC2 pro-gamer to be sponsored exclusively by Red Bull,
Bomber
will proudly bear the red and gold flag into the Battle Grounds of Atlanta. Having signed with the popular energy drink company earlier this year, Bomber has been a regular at NA weekend tournaments. Bomber's switch to WCS America has also earned him a respectable second place finish in Premier League, his best result of 2014. Many would consider this a great accomplishment, but not to someone who wants nothing short of gold. In typical Bomber fashion, he managed to throw away a commanding 3-1 lead against Pigbaby to lose 3-4 in the grand finals. On the bright side, he has moved up to #11 in the WCS standings and has a chance to build on that at RB Atlanta and DH Valencia next week. As one of the oldest and most experienced players present in this tournament, Bomber just needs to trust in his instincts and that flamboyant, aggressive Terran style to go far. As long as, mind you, his instincts do not suffer a tragic breakdown as they sometimes do. Though he was previously susceptible to cheese, Bomber has shown great resilience and adaptation throughout the WCS season, especially in the past weekend. For Bomber, a title at RB Atlanta would wash away a little bit of that bitter, heartbreaking loss in the WCS America finals and perhaps signal the beginning of a third Bombing Run.
A Georgian resident who also happens to be the GSL Super Tournament champ,
CMStorm.Polt
is yet another player looking to rebound from a disappointing WCS weekend. Bowing out 0-3 in a premier tournament is absolutely unacceptable for an elite player like Polt. Though credit should be given to HyuN for playing an amazing series, Polt simply did not bring his A-game. Make no mistake, this is not something we're used to seeing from one of the game's most consistent players. A 2-time WCS America champion and an owner of the exclusive Triple Crown, Polt is one of the most accomplished players in both WoL and HotS. Though Polt has been doing well recently, finishing 2nd at both Battle Grounds NA and MLG Anaheim, he has yet to capture a major title in 2014. Polt mainly relies on clever army movements and guerilla tactics to pull his opponent apart. He's also excellent at reading the game and making clutch decisions under pressure situations. But beyond all this, his most distinctive quality might be his strength when playing from behind. So good is he at calculating risks and fighting from behind, that "behind" often feels synonymous with "ahead" for Polt. These attributes contributed to Polt's GSL ST title run through one of the most monstrous brackets of all time, and they will certainly help him navigate RB Atlanta.
Currently rooming with Polt in Atlanta, Georgia,
viOLet
will gladly make the short trip down to Center Stage Theatre to attend Battle Grounds. Coming off a 4th place finish at Battle Grounds NA, 3rd at MLG, and top 8 in WCS AM, viOLet is currently playing in the best shape of his HotS career. I guess that's what happens when you live and train with Captain America. Provided he doesn't encounter an elite Korean early on, viOLet is poised to make another deep run in this open tournament. What viOLet lacks in mechanics, he makes up for in his deadly multi-pronged aggression and tactical prowess. Look for him to exploit openings with run-bys and hit squads to throw off his opponents. Like HyuN, viOLet can also try to end the game quickly by catching greedy players off guard with large amounts of roach/hydra. viOLet may have peaked in 2012, but he has bounced back well in 2014 and is once again on the rise, seeking greater highs.
A New American Hero?
Next to
LucifroN
, eternal loser of Dreamhack's infamous coinflip, which player first comes to mind when thinking about those having ended up on the wrong side of the format stick? Hint: if your answer isn't
puCK
, you're probably wrong. In the Red Bull Battlegrounds NA tournament that took place just under a month ago, we were treated to two things:
1) A three-day gauntlet featuring
Scarlett
,
Polt
,
MajOr
,
viOLet
,
puCK
and
HuK
where each series lost meant one less life and losing three meant elimination. Prize money was shared between remaining contestants after each day and thus anyone eliminated on day 1 missed out on the money.
2) A full evening of watching puCK fight for his life against every player present. Why? Because they all picked him. The result? Elimination at the hands of Polt in the very last match with a final score of 3-3 in matches, defeating Violet (who had beaten him 2-0 earlier), Major and Scarlett.
While the event was unquestionably entertaining, one cannot help but feel for puCK, as his final elimination saw him fall just short of the money while players who played worse (players he had beaten) overall were rewarded for their efforts. Coming into Red Bull Atlanta, with no pucked up format to artificially obstruct his way to a potential championship, puCK has to be looked at as one of the foreign representatives' greatest hopes. Playing as well as he did for six series in a row with no significant rest in between speaks volumes of puCK's skill; whether it was a once-in-a-lifetime hot streak or a display of what he can do given the chance, we cannot deny him credit. His performance in Santa Monica a month ago was impressive, but whether or not he can follow it up with another showing in Atlanta, where the line-up is similar in strength, determines his lasting power. It has been a long time since anyone from the North American continent could hold a claim to Scarlett's throne, but perhaps this is puCK's time to challenge her?
Prediction? Expect A Few Surprises
Given the volatility of the format and the incomplete player list, it is very difficult to predict who will win Red Bull. Based on the information we
do
have, we have to pin the regular suspects Bomber, viOLet, and Polt as the heavy favorites. However, notable foreigners such as HuK and puCK can also make things interesting. In addition, they could be joined by last weekend's WCS playoffs participants, maybe even some other WCS NA regulars. We also can't rule out the high possibility that certain European players may be attracted to a WCS tier one event, even if it takes place overseas. Finally, we have to consider how much impact the new maps will have on potential upsets. Whoever can best adapt to these conditions (and summon a little bit of bracket luck) will likely emerge as champion of Atlanta and join PartinG, sOs, Trap, and Scarlett in Washington D.C for the Battle Grounds Grand Finals.
Since Blizzard revamped the WCS system to encourage more global events, Red Bull has stepped up big by providing us with this awesome tour around the US. They help grow the SC2 scene by continually exploring new ideas such as the challenges/lives format in Battle Grounds NA and now this open tournament in Atlanta. This is the first of two open tournaments planned by Red Bull and it's shaping up to be an epic show. With WCS on hiatus, July becomes a month jammed pack with tournaments starting with Red Bull and followed by Dreamhack and IEM. Let the binge watching begin!