The Start of an Era: HotS
By lichter, contributing writing by Christelle, DarkLordOlli and Waxangel.
2013 was certainly a year of drama. The WCS system came under fire, the Korean scene took blow after blow, and many beloved teams and players decided it was time to take their leave. But let's not let the drama overshadow one important fact: 2013 was a year of great games.
At first we thought we could get away with a shorter list
than in 2012,
but as we reminisced on our favorite moments and tournaments, it became clear that we were doing Heart of the Swarm an injustice. The expansion had fixed the kinks in WoL
*cough*
BL-Infestor
*cough*
, and progamers had continued to elevate their play to higher levels. 2010 and 2011 were formative years. 2012 was a year of contrasts, where we saw both the best and worst StarCraft 2 could be. Cautiously, we can say 2013 was a year of maturity. It might be hard to tell with nostalgia glasses on, but never have there been so many consistently good games to watch. Things may not be perfect on the industry side, but the gameplay itself has never been better.
Before we begin, here are some disclaimers:
The best games ranking is a compromise between the opinions of several writers, ensuring that not even the writers are happy with the end result.

Context was weighed in. A game in the GSL finals would rank higher than if the exact same game had been played in the first round of Code A.

Only HotS Games have been included. Click here to check out the best Wings of Liberty games of 2013. Gumiho commands it!

TeamLiquid is not responsible for rage or rage related injuries suffered as a result of reading this game ranking.
The elfi vs. Life Honorable Mention Awards for Really Weird Games That Are Weird
Oh, before we go on to the main list...
After watching hundreds, if not thousands of games this year, some have remained fresh in our memories while others have become faint recollections. Though most great games are played at a high level, a game need not be particularly well played to be fun.
We couldn't honestly call the following six games the 'best' of 2013, but they should still be watched. Some because we never saw anything quite like them before, others because of their historical context, and some games just for their utter lunacy. In honor of the king of bizarre games that are oddly memorable, these six games shall henceforth be known as the winners of the
elfi vs. Life Honorable Mention Award for Really Weird Games That are Weird
. These games may not have made the top 40, but we might remember them for longer than some of the games on the big list.
#6.
Happy vs.
HyuN on Frost - HomeStory Cup VIII (November 15) - VOD
You couldn't really blame HeroMarine for being bored out of his mind as he casted this game. People fell strictly into two camps as they watched HyuN run around the map and try to reestablish an economy for twenty minutes after a base trade: the people who thought
'This is so f***ing stupid,'
and those who thought
'This is SO f***ing stupid, it's actually awesome.'
Watch this game (or don't) to find out which side you fall on!
#5.
Ryung vs.
TheStC on Akilon Wastes - WCS AM Season 3 Challenger League (October 31) - VOD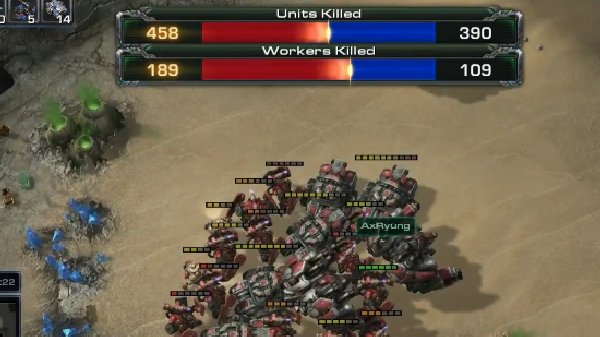 The game would go on for another 10 minutes and 30 more SCVs would die.
Back during the height of HellbaTvT, it was tough being an SCV. Two seconds away doing something, and boom, 20 SCV BBQ. It was soon nerfed, to the delight of Terran workers everywhere. This game will allow you to relive the trauma of the worst SCV slaughters in history. The game opened up with Hellions on both sides and transitioned into a mech vs. mech battle, with constant runbys, drops, and back and forth positional battles. Going on for over an hour with Akilon Wastes getting almost completely mined out, the two Terrans fought over the last remaining base to decide the outcome of the game. Combined, Ryung and TheSTC would lose over 150,000 worth of resources. Combined, they would lose 320 SCVs. Think about that for a second: each player lost about 160 supply worth of workers. Ouch.
#4.
uzer vs.
Bly on Bel'shir Vestige - WCS EU Season 2 Challenge League (July 10) - VOD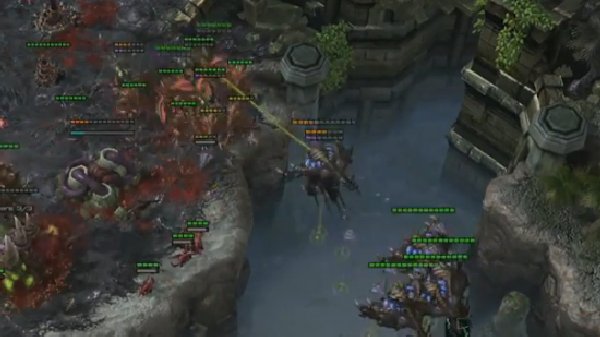 I don't even know how this game makes sense.
Some games are ridiculously good. Some games are just ridiculous. You'd never expect a game between Bly vs. Uzer to ever reach a list of the best games of the year, but this game had
everything
and I'm not exaggerating. It saw every single Zerg building and unit built in a 30 minute game where no one went above 150 supply. It had Brood Lord and Ultralisk abductions, blinding clouds on Spine Crawlers, Ultralisk cleave killing Swarm Hosts without detection, fungals on Banelings and Mutas, Nydus Worms, and transfuses on everything. The only things we didn't get to see were Baneling landmines and drops, but I'm sure those would have happened as wel if there had been some more time. Rarely do we get to see ZvZ's that don't devolve into never-ending Roach wars, and this game showed that with a little creativity and a little insanity, even our least liked match-up can be a joy to watch.
#3.
Dayshi vs.
Harstem on Star Station - ASUS ROG Summer (August 1) - VOD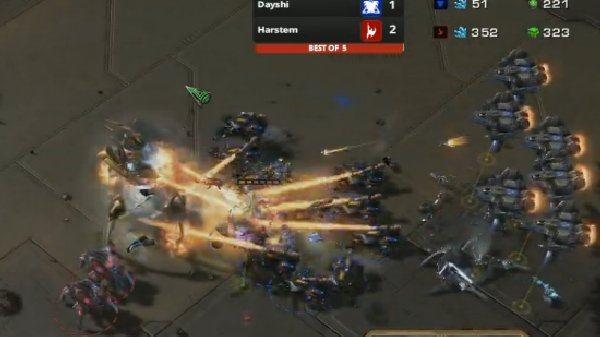 The French eat frog legs, so why not Colossus legs?
It takes a lot of balls to use a strategy that is universally panned by pros as useless. Mech vs. Protoss hasn't been viable since the beta and the Warhound, yet we still sometimes hear of players using it on ladder. That Blizzard has constantly tried to buff it and try to find a way to make it work, yet somehow is unable to, speaks volumes about how fragile the composition must be. This game was one of the few times that someone actually dared to use it in a high stakes match, and the results were... pretty funny.
Opening with Hellions into more Hellions, into even more Hellions, Dayshi caught Harstem completely off guard, roasting a good number of Probes with his runbys. Harstem opted for a Stalker-Colossus composition which countered Dayshi's Hellions on paper, but instead Dayshi just surrounded around the army and burned it down with brute force and sheer numbers. The French Terran eventually transitioned into Tanks, while Harstem moved onto Immortals and Archons. That went exactly as you'd think it would. "glhf darling" indeed.
#2. Shine vs. Innovation on New Fighting Spirit - SK Planet Proleague 2013 Round 6 (June 13) - VOD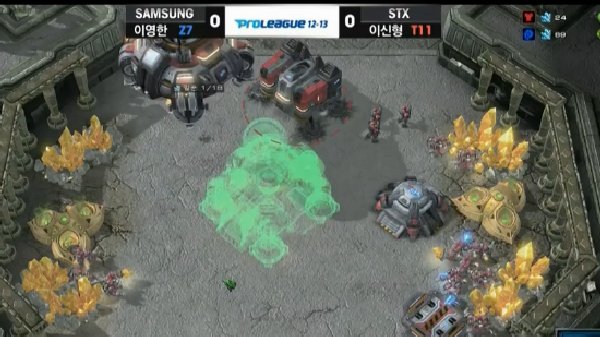 If you know Kespa maps, you know this is totally standard.
Parmesan or Mozzarella? Between arguably the two most popular cheeses, I'd be hard pressed to choose only one. 6pool or 2rax? Well, apparently 6pool wins. Kespa maps have often resulted in odd games, but this one took the cheesecake. Both players decided to end things early, but Shine's cross scouting Overlord spotted Innovation's 2rax at the gold. Forced to abandon his plans and already with 1 rax in the middle of the map, Innovation did what any rational Terran would do: Float everything to the gold. Unfortunately for Innovation, whose lactose INntoLerance is well known, Shine simply built up a force on two bases and busted his makeshift base.
#1.
Bisu vs.
Shine on Bel'shir Vestige - SK Planet Proleague 2013 Round 5 (May 12) - VOD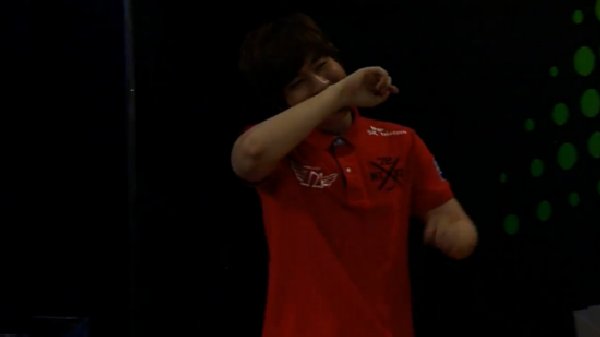 Bisu: "No Hydras??"
One of the funniest rivalries in Brood War
Bisu vs. Shine
has no equivalent SC2. Ridiculed as a cheesy and mediocre player in BW, Shine had a tendency of knocking Bisu out of OSLs despite the latter being a far superior player.
Their May 12 game on Bel'shir Vestige would break their tied record of 5-5, and would be their only meeting ever in SC2. And it would not disappoint. The game reached the 4-bases stage as both players were content to just sit back and relax, which was a surprise in and of itself. Things started to go crazy as Shine transitioned into Mutas after rushing for Ultralisks. A base trade ensued, leaving Bisu with his natural and Shine with a distant fourth base. Instead of feeling satisfied with the reset, however, Bisu pulled all his Probes to try and eliminate Shine, despite having 800 minerals in the bank. The fate of their rivalry came down to just a single building on either side.
The PartinG vs. MKP Award For Games That Are Memorable For The Wrong Reasons
Just one final thing!
In honor of the infamous disconnect game between PartinG and MarineKing that cost Startale the GSTL championship and finally got Blizzard to implement resume from replay a year too late, we've decided to single out the games from 2013 that we're going to remember for all the wrong reasons.
FireCake vs.
MaNa on Akilon Wastes - WCS Season 3 EU Challenger League (October 22) - VOD
The longest game in professional StarCraft 2 history. Don't watch it.
IdrA vs.
Polt on Daybreak - WCS Season 1 AM Premier League (May 8) - VOD
The game that got IdrA fired.
Okay, it's a bit more complicated than that.
Going up against Polt on Daybreak, IdrA found himself in a half-map situation with a maxed out army of Ultralisks, Brood Lords, and Infestors, as well as several thousand minerals and gas in the bank. With the game looking like it could go on for a very long time, IdrA abruptly decided to quit the game after getting hit by a single seeker missile shot.
Though it was a surprising move even for a player as infamous for surrendering early as IdrA, no one could predict the chain reaction his biggest ragequit would trigger. Becoming the target of even more intense scrutiny than usual, IdrA saw his
completely unrelated but very unfortunately timed post
become the center of attention. Combined with other behind the scenes factors that will never be disclosed in a million years, Evil Geniuses made the painful decision to cut ties with the first and biggest star of StarCraft 2.
The Best Games of 2013
40

Grubby vs. duckdeok
WCS EU Season 2 Premier League, Red City (August 11)
Click to Watch


PvP is a strange match-up. Half of the time it's exciting, short and sweet mayhem. The other half of the time, it's a predictable Zealot-Archon-Immortal show. You know the match-up is in a strange place when games with cheese get higher ratings than ones that are 'standard.' Three years after release, we still commonly see in base proxies, 1-base builds, and all manner of all-ins. In this peculiar game, we saw two ninja expansions, one for each player.

WCS Season 2 was duckdeok's season, his crowning achievement in an otherwise vanilla career. Though he would receive fans' scorn after beating fan favorite after fan favorite, his winner's ceremony would endear him to us all. Before getting there, however, he would have to beat Grubby who had been getting magnificent results in PvP.

With the decrease in the Dark Shrine's gas cost, DT expand had become a fashionable build in the match-up as it was both safe and dangerous. duckdeok would choose this route on Red City, but Grubby's perfect timing on his Observer shielded him from any damage. duckdeok would be the first to grab a ninja expansion, using the boost in gas to fuel a subsequent attack with two Colossi. Fortunately for Grubby, he was able to scout it with an hallucinated Phoenix and deal with it as duckdeok marched across the map. Unable to repel the Duck's army and reduced to a single base, Grubby took a page from his opponent's playbook and took his own ninja base at his third...

39

Polt vs. TaeJa
WCS Season 2 AM Premier Leagu, Neo Planet S (July 23)
Click to Watch


TaeJa and Polt have clashed dozens of times since their WoL days, and each time they've made a strong case for why Marine-tank TvT is the top entertainment to be had in StarCraft 2. But of out of all their meetings, their game in the group stages of WCS America Season 2 might have been the best.

The arena was Neo Planet S, a map that received plenty of criticism during its WCS run. Balance concerns aside, its limited expansions and narrow, two-path structure made the map feel cramped and restrictive. However, while those qualities might have made some of the other match-ups dreary to watch, it was a perfect battleground to show off the Terran mirror and its focus on positioning and area control.

Polt and TaeJa had to tackle to the difficult problem of taking and holding the key positions located all over the map, forced to make split second decisions on how to divide their forces between the two main corridors. With it being impossible to move out on one side of the map without leaving the other flank under-defended, positions ended up being captured, lost, re-captured, and lost all over again.

All in all, an excellent start for TvT on our list of the best games of 2013, and yet more support for the case that TvT – not TvZ – is the best match-up in StarCraft 2.

38

Flash vs. FanTaSy
SK Planet Proleague 2013, Neo Planet S (June 13)
Click to Watch


If you're facing Hellbats while going bio, how do you defend? According to Flash: Siege Tanks. Though they only deal 15 damage against light units, they have twice the DPS of a Marauder.

If you're down in TvT against a complete Sky Terran army, how do you come back? According to Fantasy: Widow Mines. Air units tend to clump, and while Thors can often be used as makeshift anti-air, their immobility and cost make them an inefficient solution.

In what appeared to be a classic mech vs. bio TvT, Flash threw the first wrench in our predictions by going for 14 minute double Battlecruisers. Yes, someone actually used a Battlecruiser-centric build, and it had to be Flash. His early Siege Tanks were not only a solution for Hellbats, but were intended to help him defend as he rushed to get his BCs. This completely unexpected build caught Fantasy unaware, and once he realized that he would never reclaim air superiority against the KT Ace's Starport count, he decided to work with what he had. Multiple reactored factories, which had been building Hellbats until that point, quickly switched production to mines.

It didn't look like an elegant solution at first, but with Flash's lack of ground support, the Widow Mines had free reign to get into any position they wanted. By occupying Flash's air army with his vikings, Fantasy's mine's were able to scuttle under the BCs. It resulted in glorious, fiery death. Sure, the game wasn't as high level as some other TvTs we've seen, but this was the very first time we saw mines countering Sky Terran, and the first time that BCs engulfed in flames didn't make us cringe.

37

Bomber vs. Goswser
MLG Winter Championship, Whirlwind (March 16)
Click to Watch


There are games that are defined by a single moment.

The early stages of the game did not look good for Goswser. Despite doing some damage with a roach bane attack, his inability to take care of drops proved costly. He would lose his main Lair and over 30 Drones for the price of only 10+ SCVs. He did still have a 3 bases, but with no upgrades and a severely hampered economy, he was nearly down and out for the count.

Fortunately for the American, this was a time when Zerg's still knew how to make Infestors, and with a few crucial fungals on a cornered but defensive Terran army, he was able to win a major engagement and stage a comeback. The situation had completely reversed as Goswser ransacked Bomber's expansions, but the Startale Terran had one more trick up his sleeve. Up against a corner, facing a 30 supply deficit against of Ultras, lings and Infestors, Bomber spread his forces, which included Ravens, for an unlikely defense.

It was a move never before seen in a televised match: Bomber targeted his own Medivacs with Seeker Missiles, dallied a bit to time it right, and boosted them into Goswser's army. Everything exploded, and everything burned. From then on it was a slow march to victory as a shellshocked Goswser failed to muster another force. It was a moment of brilliance that proved creativity can lead directly to victory.

36

Grubby vs. HasuObs
WCS EU Season 2 Premier League, Whirlwind (August 5)
Click to Watch


Much is yet to be discovered about the very latest stages of PvP. Even in WoL, PvP was the one match-up that was still evolving towards the end of the expansion. Grubby and HasuObs found themselves in a similar spot in WCS Europe. Their first game on Whirlwind started off like any other big map PvP, with both players safely taking bases and building up large ground armies. Similar to TvT, Grubby and HasuObs transitioned to air tech to try and trump each others' ultimate ground armies. Once Grubby took out HasuObs' Tempests, he started adding Carriers to his army. Wait, what?

However, Carriers are just part of what made this game special. It's hard to pinpoint the exact moment where things REALLY started to get out of hand, but after lots of fighting and base trading, both players found themselves trying to rebuild their economies in entirely new main bases, all the while using recall and DTs to try and hamper the other. Oh, did we mention the game was an hour long?

Anyway, the Carriers did end up playing a somewhat meaningful role in the game. Have you ever seen Carriers harassing over the cliffs of Whirlwind to buy time for... ...more Carriers?! That's when you realize that you've never seen a game like this before.


35

PartinG vs. Soulkey
WCS Korea GSL Season 1 Code S, Akilon Wastes (May 13)
Click to Watch


Sometimes we see games that make us wonder how the metagame got to a certain point in the first place. The openings on Akilon Wastes in this Code S round of eight encounter is one such situation. Parting had begun with a completely acceptable gateway expand inside his main base, but Soulkey decided that he was having none of that and built a swell of lings alongside an early speed upgrade. This caught Parting off guard and unable to wall off in time, causing the SKT Protoss to lose everything in his natural. It was such a devastating but not exactly unexpected (back in 2010-2011) move that it made you wonder why more Zergs didn't take such risks.

It looked like it was game over with Tastosis already writing PartinG's obituary, but the Soul Train conductor stayed in the game despite his tragic setback. By 18 minutes Soulkey had already built up a powerful Roach-Hydra-Swarm Host-Viper army, with creep spread gooing up Parting's doormat. However, PartinG turtled successfully to 200, and channeling the spirit of IntoTheRain, pushed right down the middle of Soulkey's defenses in a desperation hanbang attack.

Though Spine Crawlers and poked with malice, and Roaches and Hydras spat in disdain, the Protoss deathball shrugged off the haters and kept on rolling. After looking like he had an easy win in the early game Soulkey would be engaged in a fight for his life before it was all over.


34

MC vs. Jaedong
WCS Season 2 Finals, Whirlwind (August 23)
Click to Watch


For all the hype we throw at big name clashes, more often than not, the games end up being disappointing. The old GSL Finals curse is one big example of how anticipated meetings can turn into duds. Cynics expected this series between two of SC2's most popular players, The Tyrant and The Bosstoss, to be forgettable. Maybe some Roach-Hydra aggression, an all in or three – a bop one way or the other. Fortunately for us fans, game two turned out to be as vibrant as the personalities in the booth.

There were early game shenanigans aplenty, as a clever 2-probe scout from MC bamboozled Jaedong into a sense of security as he launched a sinister cannon rush on Jaedong's third base. Too late to save the expansion, Jaedong opted to cancel and re-expand to the opposite third, allowing the game to normalize.

Well, it was normal until MC decided to 6-gate, but Jaedong would not be fooled twice. An early Roach Warren, burrow research, and a runby to destroy the Artosis pylon powering all the gateways gutted MC's plans.

Jaedong looked like he would stroll to victory as he rushed to Hive for Vipers and Ultras, but a horribly wasteful attack up the Protoss ramp gave MC the foothold he needed. MC would soon be threatened by Jaedong's trademark Mutalisk switch, but showed uncanny perseverance to defend and subsequently drag Jaedong down into a fight in the mud. With both players dropping below 100 supply, the outcome of the game was anything but certain as the game reached its dramatic conclusion.
33

INnoVation vs. Curious
IEM New York Qualifiers, Akilon Wastes (September 23)
Click to Watch


There are games that are good as a result of the hype and circumstances surrounding it. We're all familiar with games in grand finals causing extreme disappointment or severe exaggeration. It's only natural, given the greater emotional investments fans have in such games, and context matters just as much as the actual game to many of us. Story lines, personalities, big stages and prize pools all affect our perception of a game, creating at atmosphere that a mere online game cannot hope to match.

There are some games, however, that transcend all of that. They require no context, no back story, no hype, no fluff to be appreciated. These games stand out on game quality alone, and even replacing the names with barcodes or removing the casters entirely would make but a small difference. This game between Curious and INnoVation is one of those games. And with no story to tell and no situation to describe, giving you a play by play of the game feels like robbing you of all the pleasure. So go watch it!


32

TaeJa vs. FanTaSy
WCS Korea GSL Season 1 Code S, Daybreak (April 11)
Click to Watch


Pirate Terran, meet the Terrorist. Bio, meet Mech.

Taeja is well known for carrying Team Liquid in team leagues, earning the titles of Mustache Terran, LiquidSucksBallsWithoutMe, and the aforementioned Pirate Terran. FanTaSy on the other hand earned his nickname because fans accused him of 'terrorizing' leagues by eliminating popular players back when he was a no-name of his Vulture control back in BW, as he would raid base after base and instill fear in the hearts of Probes everywhere.

The two would face off in the very first group stage of WCS Korea Season 1 to determine who was the scariest Terran menace in SC2. Taeja would be the first to go on a raid as his initial Marine and Reaper got the upper hand on Fantasy's matching duo of units. A Widow Mine drop arrived soon after, but with a good split and use of Hellion splash, Fantasy was able to defend with ease. FanTaSy would try to return the favor with Hellbat drops, but his attempts at harassment would also prove ineffective.

In the lull that followed, both players to developed their economies and started building up their different army compositions. Despite facing a 150 degree arc of bio, FanTaSy smashed Taeja's attempt to bust his crucial fourth base and jumped ahead. However, Taeja was building starports and readying a Sky Terran army back home, and ripped his way back into the game with banshees. The SKT Terran would eventually find himself camped at Taeja's natural as the latter cleared up every expansion, and like many FanTaSy games, both players went down to less than 50 supply as they tried to force the final GG.

4/5 TaeJa claps.
31

Maru vs. duckdeok
Blizzcon, Akilon Wastes (November 9)
Click to Watch


Shown only on the second stream was one of the most lopsided series of Blizzcon – or so people thought. I mean, duckdeok was not even supposed to be there, right? He should have lost to Innovation, right? Maru's TvP was the best in the world, surely he wouldn't have trouble beating duckdeok... right?! Wrong.

Game one on Akilon Wastes started off similar to any other series featuring duckdeok. Artosis and Apollo asked the same question as all the viewers at home, opening their their cast by asking themselves what kind of "aggressive opening" was duckdeok going to pull out of his hat. The answer? duckdeok did the safest build known to Protoss, a 1-gate expand into Robotics Facility, transitioning into the most standard chargelot/Templar midgame you could think of.

Noting Maru's quick double Tech Lab variant of the 3-rax -> Factory -> Starport TvP, duckdeok decided to add a number of Immortals into his army and Chronoboosted out a Warp Prism. Casters and viewers alike found themselves surprised by duckdeok's lack of corner cutting.

With some nice control, Maru managed to pick off duckdeok's initial Archon and a Sentry. That small skirmish ended up immediately throwing the game into chaos as duckdeok was unable to defend his third base. Maru even suicided a big chunk of his army into duckdeok's natural nexus, taking it out as well. At the same time, however, duckdeok was warping in a big round of Zealots in Maru's main to hack apart the SCVs. duckdeok was left with a single nexus and a lot of Probes whereas Maru had two bases with only a few SCVs. Their armies were about equally strong.

The game took off from there with both players being forced to re-evaluate their advantages over and over while trading and receiving blows, re-stabilizing and then fighting again.

30
How many of you remember Ensnare? How about Virus? Let's be honest here! Most of us have heard the names, but do any of us even remember a single game of theirs? Or any specific result? While they were both mainstays in Code S for the majority of 2011, it was hard to be remembered as a Terran in 2011 without winning a championship.

While several of those Terrans have since retired or moved on, one name that used to be mentioned in the same breath as the Hyberdubs and LiveForevers has stayed with us: SuperNova. Though he has never felt the warmth of gold, his persistence is rivaled by few. Eight consecutive Code S appearances brought him agonizingly close to claiming a NesTea Award, but even the punchclock Terran could not survive against the wave of BL-Infestor using Zergs.

However, HotS gave SuperNoVa the boost he needed to get back on his feet. Bringing unorthodox strategies and making the most of the new medivacs, the ex-oGs Terran would make it all the way to the WCS Korea Season 2 Placement matches. SuperNoVa faced the intimidating Soulkey in the first round, a player who had toppled INnoVation just a season before. Good play from SuperNoVa allowed him to take a map, forcing a third and deciding game on Star Station.

SuperNoVa opened with his signature strategy in HotS – a tank for safety into a well timed bio-bat strike. Solid defense from Soulkey saw the game normalize, and afterward it began to look more like Soulkey vs. INnoVation than Soulkey vs. SuperNoVa. SuperNoVa's unrelenting 4M parade was matched by equally unyielding defense from Soulkey, with neither player player able to take a decisive lead.

A colossal Baneling landmine would bring SoulKey an inch away from victory, but SuperNova somehow recovered from the blow and fought his way back to even footing. As both players started to run out of steam, their resources dwindling without any new bases coming, SuperNoVa found his second wind. He had changed his team and changed his face – all that remained was to change what people thought of him.

29

Dear vs. HerO
WCS Season 3 Finals, Bel'shir Vestige (October 27)
Click to Watch


Of all the races to benefit from HotS, Protoss might have gotten the best overall package. BL-Infestor was destroyed, the PvT deathball was preserved, and PvP isn't quite as bad!

Where WoL PvP was filled with 4-gates and other such one base all-ins to make expanding a risky proposition indeed, recent PvP's frequently reach the middle phases of the game. And while the WoL PvPs that went long were all about colossi, HotS PvP allows for a variety of different army compositions and strategic options.

This meeting between HerO and Dear from WCS Season 3 Finals illustrated just how far the Protoss mirror had come since the darkest days of WoL. Starting from wildly different robo and stargate openers, Dear and HerO would play a lengthy game that saw them use almost the entirety of the Protoss arsenal.

Dear was looking to use a stronger mid-game ground army to allow him to take an economic advantage before he made the transition to his final tech, while HerO tried to buy time to build up an efficient, high-tech army from less bases. This meant that HerO rushed way up to Tempests first while Dear set himself up with a strong Colossus/Archon/Immortal army much more quickly.

Though Dear kept HerO down to three bases, three bases was still good enough for HerO to make his final army, capable of altering the outcome of the game in an instant. With a key snipe on Dear's Mothership Core, HerO forced Dear to go heads up with all the chips on the table. What followed was one of the most satisfying battles in all of HotS.

28

sC vs. MMA
GSTL Season 1, DMZ (April 20)
Click to Watch


Oh, Marine+Tank, how long have we known each other? We've been watching you grow up since 2011 at the height of GomTvT. When HoTS arrived and you were threatened by the emergence of Hellbats, and we all cried as the greatest mirror match-up in all of Starcraft devolved into Hellbat madness. But even during that time of depravity, some brave, noble Terrans were determined to play it the good old-fashioned way, the way we had learned to love.

This game by old timers sC and MMA demonstrated just what makes Marine+Tank such an enjoyable composition to watch. Never was there a moment when units weren't trying to sneak behind enemy lines, drop sneakily onto expansions, or break down imposing tank lines. DMZ may not have lasted very long in the map pool, but its unique map architecture of hills and troughs emphasized the importance of high ground positioning, scouting and army movement in this game. sC and MMA fought back and forth, left and right, circling the center of the map over and over, trying to find a way to break their opponent and start their GSTL day off with a win.

Never change Marine+Tank, never ever change.

27

Dear vs. Maru
WCS Season 3 Finals, Bel'shir Vestige (October 28)
Click to Watch


One of the best things about sports is its ability to create lasting and relevant rivalries that pique our interests and stir our emotions. Even audience members that don't consider themselves fans of any particular side involved usually garner extra enjoyment from watching two rivals try to best one another. One of the best rivalries to emerge in 2013 was Maru vs. Dear, following their successive semifinal bouts in WCS Korea and the WCS Season 3 Finals.

Though Dear would end up taking 6-2 map lead against the then-Prime Terran, the games showed the two players to be much more evenly matched than their records would suggest. Their series at the WCS S3 Finals in Canada will be remembered as one of the finest TvP's we've ever seen, with their game on Bel'shir Vestige showing exactly why both players were the breakout stars of 2013.

Maru would be the aggressor for most of their game on Bel'Shir Vestige, opening up with Hellions and mines in an attempt to destabilize Dear in the early game. Though his initial drop and runby failed to do any damage, an unexpected second runby with six Hellions was able to cremate fourteen Probes. The game heated up yet again when Maru caught Dear out of positioning posturing on the map by shattering his third at the cost of a chunk of his army. Dear would return the favor immediately at Maru's third with death rays vaporizing a group of SCVs. Both players would keep trying to surpass each other in both stylish and effective play – Maru with 2 robo snipes and constant multi-pronged attacks, Dear with a three-ramp flank – and it was impossible to tell who was the superior player as they fought back and forth to the finish.


26

Scarlett vs. Dream
IEM Singapore, Polar Night (November 30)
Click to Watch

Baneling, Baneling, bursting bright
In the middle of a fight,
what impressive splitting style
could dodge thy green acidic bile?

One one distant Polar Night
spawned a Terran bottom right.
To what mischief did he aspire?
Only but to earn Scarlett's ire.

And what units and what force
Could fend the Terran from her fourth?
And when that fourth began to beat,
What dread attack; what dread retreat?

What the Mutas? what the lings?
In what comeback could she win?
What the upgrades? Stimmed Marines,
Dare to drop her bases clean?

When the Mutas threw their glaives
And hasten'd CCs to their graves,
Did she morph her banes to see?
Did she who made the ling morph thee?

Baneling, Baneling burrow right
in the middle of the fight
What observant sense or eye
could dodge thee, undetected lie?

25

PartinG vs. Flash
WCS Korea GSL Season 1 Code S, Daybreak (May 2)
Click to Watch


PartinG, Flash, INnoVation and Life. You would not be remiss to think that this was a list of semifinalists in a tournament. Each player was considered top three at their respective races at the time, and each had a reasonable claim to be the favorite to win WCS Korea Season 1. Instead, this was Group B in the Round of 16, and this particular game came in the losers' match with elimination on the line.

How was this even possible? Well, GomTV's group selections have always found some way to give us a group of death each season, with one or more players somehow deciding it would be a good idea to pile all of the championship candidates into one group. This time around PartinG and Life were the culprits, creating this unimaginably tough group. There was a secondary plot as well, as it would also be PartinG's first televised SKT vs. KT match. The rivalry between the two teams was Brood War's most storied, and it continued on into SC2.

On Daybreak, it would be the KT Rolster Ace who played the part of the initiator, as he was in PartinG's face all evening. In a precarious dance of death, Flash split and kited his way to a 30 supply advantage as he took out PartinG's vital third base. But in true PartinG style, the Soul Toss defended steadfastly while upgrading his units and gathering enough AoE to move out and reclaim his territory. With the noose off his neck, PartinG split the map in half and took it to the super late game, a scenario where he was brimming with confidence. Both Battlecruisers and Tempests would be seen before the game came to close.

This game was a beautiful introduction for PartinG into the telecom rivalry and game worthy of the group of death.

24

Jaedong vs. Maru
Blizzcon, Frost (November 10)
Click to Watch


In the biggest tournament of the year, two generations clashed in a semifinals worthy of such a grand stage. Maru went into the match as arguably the best Terran in the world as well as the youngest player in the tournament. Jaedong, the greatest Zerg of Brood War, came off a tremendous, earth-shaking victory over Dear and had all the momentum in the world behind him as he sought his first major title in StarCraft 2.

Up 2-1 in the series, Jaedong decided to take a risk on the fourth map of Frost and sent an early Drone to his third base to set himself up for a 3-hatch before pool opening. His first Overlord however found Maru in close positions and ran straight into a Marine. Not only did this prompt Jaedong to abandon his plan – he quickly threw down a late pool and extractor – but his initial Overlord also fell victim to the Marine, while Maru got a complete scout of Jaedong's base with an SCV.

Going back to his Prime Terran roots, Maru decided for an extremely aggressive strategy to decide his fate as he put down a second factory and started blue flame research to go for a massive Hellion runby. Jaedong however spotted Maru's factories in time to react, and a quick block with a Roach Warren sealed all of Maru's Hellions away from his precious Drone lines. Not doing any economic damage but having traded somewhat efficiently against Jaedong's Zerglings and preserving his Hellions, Maru settled in for the long haul as Jaedong geared up for a series of massive Roach-baneling attacks.

What followed was a seemingly endless stream of attacks as Jaedong flipped the ZvT equation around, battering Maru as he dared him to make the one mistake that would bring everything collapsing down. But Maru would not be so easily bullied, and as bruised and bloodied as he was, he would hold out well enough to make one final push...
23

HerO vs. RorO

SK Planet Proleague 2013, Korhal Floating Island (May 20)


Click to Watch


Of all the nutty maps that Proleague decided to torture us with, Korhal Floating Island had to be the most interesting. Its two completely different spawning patterns basically made it two maps in one, and incredibly enough, both versions were playable and allowed for diverse strategies. Close air spawns were ideal for aerial harass and turtle builds, while long spawns resulted in more traditional games. This game involved the latter spawn, but the resulting play was anything but traditional.

A cannon rush kicked off the proceedings to force a Hatchery cancel from RorO, but both players were content to lay back play a macro game despite showing signs of early aggression. Things started to get screwy when they mimicked each others' tech path of choice: HerO choosing a triple Stargate Phoenix build while RorO played Muta-Corruptor.

The air battle drew to a stalemate as the two players chased each other around Korhal Island for 10 minutes, sniping workers, bases, and key units while being fearful of committing to any decisive engagement. However, the use of ground troops by both side to harass expansions meant that both players were soon running out of resources.

With both players having difficulty securing more bases and with their units spread out all over the map, it was only a matter of time until someone found themselves out of position. When RorO landed a gigantic fungal on HerO's phoenixes, it looked like he might have forced the fight he had needed all game. But he wasn't prepared for the weather.

22

INnoVation vs. SuperNova
GSTL Season 2 Grand Finals Super Ace Match, Whirlwind (November 21)
Click to Watch


SUPER. ACE. MATCH!!! It sounds incredibly epic, and most of the time it is. Though some fans complained about the lack of a complete best of three, no one could deny that the Super Ace Match of the GSTL finals upped the drama to stratospheric levels. After ending the season with a 7-1 record and +14 map differential, Axiom-Acer looked like a freight train headed straight to podium station. Azubu, on the other hand, had finished second on the back of some strong performances by their core of Symbol, RagnaroK, SuperNova and new kid on the block Patience. The ragtag group of castaways would shock once again, as they stomped Axiom-Acer in the first match of GSTL Season 2 Grand Finals in a 4-1 victory. Azubu then came within a map of claiming the title by taking Axiom-Acer to a game seven in the following match, but INnoVation would defeat SuperNova in the regular Ace Match to force a final, Super Ace Match with the championship on the line.

The Super Ace Match featured a rematch between INnoVation and SuperNoVa, and it would not last long. However, it did live up to its grandiose title. SuperNova's one base timing attack put the crowd immediately on edge, as his Widow Mine drops attempted to deny INnoVation's natural. It looked like INnoVation had defended well, but SuperNova's clever factory placement lulled his opponent into a false sense of security. INnoVation did not realize he was up against a follow-up all-in until SuperNova had sieged his tanks at the second ramp, and the natural was forfeit. Unable to dislodge SuperNoVa from this entrenched position, INnoVation sent a double drop to SuperNova's base to force a tense base trade. With the title on the line, Acer's Super Ace, who had already won Proleague as STX's Super Ace, would show his decisiveness in the most dire of circumstances.

21

Polt vs. HyuN
MLG Spring Championship Final, Akilon Wastes (June 30)
Click to Watch


A late game slugfest is something that sounds good on paper but rarely works out that well in practice. Sure, there's something exciting about those rare moments when you actually get to see units like Battlecruisers or Carriers come into play. However, they're often the products of tedious and plodding build-ups, coming after excruciatingly passive play on both sides.

Polt and HyuN's first game at the MLG Anaheim grand finals was a thrilling exception to the norm. The early and middle phases of the game offered the kind of great play expected from two championship caliber player, with Polt's infantry and HyuN's roach-bane force engaging in series of close, back and forth engagements.

The game had already been good up to the midway mark, but it was elevated from good to great by both players' remarkably seamless transitions into late game tech. With barely any lulls in the fighting, Battlecruisers, ravens, and Ultralisks slowly began to appear on an increasingly chaotic battlefield. The end result was some of the most unique and memorable battles in all of HotS, making Polt vs. HyuN a must watch for all fans of StarCraft 2.


20

jjakji vs. Maru
WCS Korea GSL Season 3 Code S, Frost (October 4)
Click to Watch


In the midst of a Code S round of 8 filled with stars and darlings of the community, there was one name that stood out for a different reason.

Not long after winning the Code S November in 2011, jjakji proceeded to fall completely off the map. After many wasted months where he failed to achieve anything of note, jjakji finally made a return to Code S in the final WCS Korea season of 2013.

Blazing through the group stages with excellent play, jjakji was pitted against defending WCS Korea champion Maru in the quarterfinals. The highlight of this battle between old and new champions came in game two on Frost. Jjakji had lost game one in disappointing fashion, and opted for a hidden Factory AND a hidden Starport, resulting in a strong Banshee-Tank contain outside of Maru's natural. With Maru's first expansion being significantly delayed, and Jjakji's en-route to full saturation, this cheesy opener seemed to have been enough to secure a victory against the Prime Terran. 

Unfortunately for the former Champion Jjakji, Maru proved that he was indeed good enough to fit in the big shoes left behind by MarineKing as he mounted a determined comeback. Holding off all of jjakji's aggression, Maru turned things around with a strong doom drop in jjakji's main. From there on out it was anyone's game, as jjakji tried to salvage his crippled infrastructure and Maru went for the throat.


19

jjakji vs. Trap
WCS Korea GSL Season 3 Placement Matches, Frost (October 8)
Click to Watch


Due to the odd format of Blizzard's World Championship Series, we were treated to an extra mini bracket from each region every season in order to determine the 5th place player. The four players defeated during the quarterfinals would get a lifeline to make it to the season finals as they faced off against each other for the final free ticket.

jjakji, a one-time GSL champion known for his frenetic and aggressive style of play, enjoyed a small resurgence in the final season of WCS Korea. He defeated First twice, and then beat INnoVation and soO to advance to the quarterfinals before losing to Maru. Even though his GSL journey ended in the Ro8, he would have a chance to continue his revival abroad in Canada if he could just get past Trap in the fifth place match.

Their entire series ended up being a highly entertaining demonstration of scrappy fighting, and their match on Frost was the best single game. jjakji tested Trap's defenses with his aggressive, almost reckless unit movements. Playing a Ghost-heavy composition, jjakji constantly scanned for Observers and looked to take advantage of Protoss' fragile detection situation. Trap's fourth base was where the game was eventually decided, with the two players scrapping it out in a series of desperate fight.


18

INnoVation vs. hyvaa
GSTL Season 2, Tristram (September 10)
Click to Watch


Hyvaa became one of 2013's most beloved bad guys despite being possibly the cheesiest player of the year. Maybe it was because his cheeses were so shamelessly predictable? Or maybe it was the fact that he was surprisingly good at macro games when he tried? In any case, as many fans found hyvaa endearing as those that found him intolerable (SC2John also endorses hyvaa hate 100%.).

Going into this match, SouL had something to prove against their former ace, who had jumped ship for the cash and overseas opportunities. With hyvaa netting two improbable wins against MMA and Alicia, SouL finally forced out INnoVation from Axiom-Acer.

The much maligned Zerg tried to pull off the full miracle on Tristram, but instead of a 6pool or banebust, hyvaa played a macro game. Yes, a macro game against a player that had been dominating the match-up during this time. It was an unlikely scenario that even Wolfdor could not understand, but hyvaa shut up the doubters by playing a spectacular ZvT. His good use of Spine Crawlers and intuition on when to squeeze out Infestors allowed him to hold off Innovation's famed 4th base aggression for just long enough until he could get Ultralisks out. hyvaa pushed the Terran forces all the way back to INnoVation's doorstep, but a brutal Widow Mine shot while drones dared to transfer in the middle of battle crippled him in the meanwhile. Both players were bleeding profusely, but for the first time since Sniper or RorO, the bad guy looked to be good value to win.

Sure, hyvaa will always be remembered as a villain, but only because we need great villains to keep the story chugging. hyvaa played his part masterfully, and hopefully we'll see someone rise (or fall) to fill the void he has left.

17

Polt vs. Sage
WCS AM Season 3 Premier League, Whirlwind (September 24)
Click to Watch


Crux Whirlwind is often cited as the biggest map that has ever been used, but that's actually untrue. Calm Before the Storm, Star Station, Anaconda, and the new Alterzim Stronghold are all larger than Whirlwind. Maps such as Newkirk Redevelopment Precinct, Frost, and Metropolis come a few pixels shy as well. In that regard, it's humorous to think that Whirlwind was originally poorly received as being too large and too good for Zerg. It's withstood the test of time, and has created more great games than any other map.

If there is one type of game that Whirlwind seems to lean toward, it is the base trade. With the map being so wide open, it's all too easy to miss the opponent's army, whether by design or accident. Such base trades challenge players to try and control chaos, pushing their multitasking and decision making abilities to the limit.

Why, that sounds perfectly suited for SC2's Genius Terran Polt! This game against ROOT's Sage was one of the craziest from WCS AM Season 3. Opening with two oracles to mask 3 quick bases, Sage would pull ahead economically in the early game forcing Polt to go on the offensive or fall irrevocably behind. They would both threaten a base trade at least twice in the mid game, until both finally committed to a race of destruction.

16

INnoVation vs. Flash
MLG Winter Championship, Whirlwind (March 17)
Click to Watch


By March 2013, INnoVation was on the brink of becoming a household name in the StarCraft 2 world. He had just reached Ro4 and Ro8 finishes in the last two Code S tournaments, showing he was one of the few competitive Terrans at the end of WoL. He took to HotS like a fish to water, making a tremendous run though MLG Winter (3-0 vs. HuK, Leenock, and Rain) until he finally collided with the God of BW in Flash.

At the time Flash was still struggling in individual leagues, despite being a top Proleague player and having undeniable talent. The advent of HotS gave him an opportunity to finally take a title and start his dynasty in StarCraft 2. As for INnoVation, he was neck and neck with Flash in Proleague and outperforming him in the GSL. It was time to dethrone Flash as the best Terran in KeSPA.

Game three of their series took them to Whirlwind, where they would play their best match. Both players immediately looked to take advantage of the newly improved Medivacs on offense, but neither seemed to fully grasp how to handle them on defense. Innovation dropped the main for 15 SCV kills; Flash dropped the third and killed 20. Innovation doom dropped into Flash's main over missile turrets; Flash returned the favor with the same exact move. Flash expanded everywhere; Innovation too.

It would take almost 30 minutes for the two players to separate themselIves from each other, and it would again involve doom drops. Flash would eventually win the series and show he was still at the top of the Kespa heap, but it would not be long until the legend of INnoVation overshadowed all of SC2.

15

Polt vs. ByuL
WCS AM Season 3 Finals, Derelict Watcher (October 21)
Click to Watch


There will always be some controversy around WCS and whether its rules are helping esports or not, but there was at least one undeniable beneficiary in 2013. That, of course, is Captain America himself, CM Storm Polt. SC2's full-time student Terran was dominant on home soil, taking back to back WCS America titles and proving himself to be the best player on the continent.

In the grand finals of Season 3, he took on ByuL, an overlooked but very talented Zerg player from IM. He was the next in Incredible Miracle's line of championship contender Zergs after NesTea and Losira, and as a late transferee to WCS America, he looked to show everyone what it meant to be a Code S class player. ByuL went through a gauntlet of tough opponents to reach the finals, where he would throw down against America's defending champion.

Game four on Derelict Watcher started off as a typical TvZ, with Polt marching waves of marines and mines towards ByuL's fourth base. But because of ByuL's diligence in placing spinecrawlers and catching reinforcing units, he held off the attacks repeatedly. Unable to gain enough momentum to win with a direct push, Polt would diversify his offense by hitting two remote expansions at the same time. With the key expansions lying on ends of the map, the players were forced to scramble back and forth as they attempted to attack and defend simultaneously.

ByuL would continue to fight valiantly in the first final of his career, but Polt proved to be too strong for him to overcome. It was a good end to 2013 for the IM Zerg, and now that Losira has left IM and NesTea continues to sleep, ByuL has become IM's de facto Zerg ace. Both he and his team will hope that he takes his strong form into Proleague and WCS 2014.

14

TRUE vs. FanTaSy
WCS Korea GSL Season 1 Code S, Whirlwind (April 11)
Click to Watch


There are some games that don't really start until both players reach 200 supply. Especially on a map like Whirlwind, where it's too easy for both players to make a gentleman's agreement to sit back for 15 minutes and build 80 workers before having one huge fight to decide the game.

This encounter between Fantasy and TRUE is kiiiiinda similar. Just like the aforementioned games, it took about 15 minutes for this one to really start, as well as 80 workers. But instead of 80 built, we're talking about 80 SCVs killed.

Anyone who followed Brood War knows about the FanTaSy GG Timing. Basically, it's when you don't GG until you have five supply of units, several floating buildings, and a negative chance of winning. On the other hand, anyone who has followed SC2 knows Fantasy's macro is atrocious. He has a tendency to float 1k/1k resources twelve minutes into the game and forget about building units while inexplicably finding ways to win at the front.

A player profoundly used to having no bases and no units, this crazy game on Whirlwind displayed Fantasy at his best. TRUE's opening baneling bust reduced Fantasy's economy to shambles, but it turned out to be a blessing in disguise as his lack of economy meant he could spend all his time microing multiple drops and small armies.

He would spend the next 25 minutes chipping away at TRUE without ever reaching 3 digit supply again. Tastosis could not believe the come back that Fantasy was attempting to pull off, and it became one of the rare times when his "never gg" attitude looked like the appropriate state of mind.

13

EffOrt vs. Trap
WCS Korea GSL Season 1 Code A, Akilon Wastes (May 13)
Click to Watch


Swarm Hosts are a difficult unit to use, and an even more difficult unit to like. It's one thing to set them up and stall your opponent forever, it's another thing altogether to use them to their full potential. Bad Swarm Host games are slow and plodding, making you wish the units had never been added to the game. Good Swarm Host games let you really appreciate the strategy and tactics involved in StarCraft 2.

Yes, this game is really long. It IS a Swarm Host game.

The first 40 minutes of the game will satisfy those looking for build orders, mind games, and positional battles. The game would open standard, with Trap attempting a Phoenix/Zealot attack at the Zerg third. But EffOrt's vigilance in scouting and studying of his opponent – Trap had become famous for his 2-base PvZs – clued him into Trap's plans, and he put down a Roach Warren early. Trap would choose to abandon his plans, and the game would normalize and eventually reach the late game. EffOrt's army of Swarm hosts, Corruptors and Infestors reached a familiar stalemate against Trap's Void Rays, Colossi, Tempests and Templar.

When the two forces finally engaged, it was a glorious mess of green goo and lasers. They ended up about even, but the game rapidly changed in complexion as both forces had lost critical mass. Small packets of units fought across the map for control of expansions, with a semi-base trade was thrown in for good measure. Before the game was over, we would see almost every unit in the match-up built – even two motherships! – as both players refused to leave the game. After all, no one wants to be stuck in Code A forever.

12

INnoVation vs. Soulkey
WCS Korea OSL Season 2, Newkirk Redevelopment Precinct (July 23)
Click to Watch


For much of early Heart of the Swarm, Innovation vs. Soulkey was Starcraft 2's Premier rivalry. Terran vs. Zerg has always been the focal point of the series' lore (sorry Protoss fans), and it is appropriate that the match-up has always been considered one of, if not THE best ones. The clashes between these two players basically wrote the book on how to play ZvT in 2013, and no single rivalry has come close to defining TvZ as much.

If you've followed SC2 at all this year, you should know how this went: 4M vs. LingBlingMuta; Innovation pressuring Soulkey's 4th while he counterattacks outlying bases; Terran hitting 3/3 while Zerg tries to survive until he can get to hive or better tech. Unlike most of the games in their duels, Soulkey was actually able to survive until Ultralisks by delaying Innovation's infantry pushes with his sublime Mutalisk control and movement. However Innovation only had eyes for the Zerg's fourth base, and it would be the engagements on the ground that would determine the game. RoBogus would eventually go on to advance from this OSL Round of 8 encounter, but every time these two meet, we still anticipate a titanic encounter.

11

INnoVation vs. DongRaeGu
WCS Korea GSL Season 3, Whirlwind (September 9)
Click to Watch


Once considered the heir to NesTea as the world's greatest Zerg in 2012, DongRaeGu didn't have the best of times in 2013. Despite a respectable start to the year with a 2nd place finish in Iron Squid, he looked lost ever since the start of the HotS era. For someone known most for his Muta control and S-class mechanics, adopting the methodical and lumbering BL-Infestor style had already been painful transition. The shift back to Muta-Ling in HotS should have triggered a resurgence for DRG, but it did not come. With no significant results for the first two seasons of WCS Korea, everyone had written off DRG off by the final season of the year.

That is, until he faced the TvZ monster INnoVation in Season 3.

DongRaeGu didn't do anything revolutionary – he stuck strictly to the 4M vs. LingBlingMuta rubric that had been established over the first few months of HotS. However, level of control, patience, and planning that DRG displayed in holding his vital fourth base was truly next level. Almost ten minutes of constant engagements ensued in the top right of Whirlwind with neither player able to take an edge, and it was the first time we had seen any Zerg able to trade so evenly against the robot death march.

In terms of standard, textbook TvZ with no special twists or turns, this game was the finest of the year. If you're looking for double masterclass in ruthless efficiency, this is the game to watch.

10

Suppy vs. Heart
WCS AM Season 1 Premier League, Bel'shir Vestige (May 6)
Click to Watch


Can we apply the term 'hot mess' to StarCraft 2 games? If so, then no other game deserves that title more than this one.

Suppy and Heart seem a bit out of place amidst all of the championship players on this list, but you don't need to be a world champion to play a game that provides world class entertainment. In fact, perfect play is sometimes a detriment in terms of pure entertainment value, as the first player to take a lead will inevitably win as long he doesn't slip up. As impressive as it is to watch INnoVation mow down his opponents with mechanical perfection, it also makes his play seem sterile and robotic at times.

Suppy vs. Heart looked like it was going to be another mundane TvZ in WCS America, until the game went absolutely haywire following a few misplays during a base trade. Neither player was really able to find his bearings as the game became progressively stranger, taking many unpredictable twists and turns as it led up to an explosive ending.

Mistakes were made in Suppy vs. Heart, and some of those mistakes were undeniably horrific. But it was those mistakes that let the game venture far off the beaten path of TvZ, giving us a uniquely fun, frantically back and forth game when every single TvZ seemed to be following the same pattern of "Terran attacks, Zerg defends."

No, Heart and Suppy definitely did not play their best in this game. But even so, it was their best game of 2013.

9

RorO vs. PartinG
WCS Korea GSL Season 1 Placement Matches, Whirlwind (May 22)
Click to Watch


Poor, poor RorO. Despite being the best player in the world at the end of Wings of Liberty, he had the misfortune of being another Zerg champion in the era of BL-Infestor. ZvZ was considered everyone's least favorite match-up, and no one wanted to watch RorO vs. Symbol in the finals after Sniper had taken the title just a season prior. Everyone just wanted to get WoL over with.

To make things worse, RorO quickly fell off the face of the Earth once HotS was released, and fans hurried to use brain bleach to forget that he and Sniper had ever won GSL titles. However, RorO left us with a couple of excellent games in HotS before his slump fully set in. In WCS Korea's first season, he fought his way to the placement matches where he would face PartinG for the right to represent Korea in the Season 1 Finals. Meeting on Whirlwind, they would go on to play one of the most memorable base trade games in history.

After opening with roach ling pressure, RorO transitioned quickly into Mutalisk-Corruptor, a composition that he had been favoring during this time. PartinG would counter that with Anion Pulse Crystals and Phoexixes, and as we've seen earlier (in Hero vs. RorO), those sort of all-flier games can cause all sorts of funky situations. Throw Whirlwind into the mix, and you can guess how things ended up.

With PartinG maxing out on three bases, a daring move out onto creep flipped the base-trade switch. After trading their fourth bases with each other, the two armies met each other in a bloody battle that resulted in a massacre on both sides. As the dust settled, the two players realized one last mining base would decide the game. They mustered the haggard remnants of their forces and gave them their marching orders, sending them to one of THE best endings in the history of SC2.

8

SjoW vs. Life
DreamHack Summer, Star Station (June 17)
Click to Watch


This wasn't supposed to happen. No way this could have ever happened. Scarlett or NaNiwa? Maybe. But Sjow? No offense to the Swede, but we've seen his Aligulac graph.

The fact that SjoW scored a massive upset against Life is remarkable in itself, but the way he beat the multi-time champion makes it one of the greatest games of 2013.

While some internet pundits would have called for Sjow to try and luck his way through the series with a 2-rax or some other cheese, we saw three quick CCs instead. Against a famously aggressive player in Life, it was SjoW who was out constantly out on the map and applying pressure with Marine and Hellbat drops. It was hard to believe what was unfolding before our very eyes: SjoW was winning. His pressure kept Life at bay, and he took a fourth base faster than the Korean prodigy. It looked as if he had summoned the spirit of Fantasy, somehow finding a way to push through Life's defenses despite floating 1k/1k.

And yet, no one ever felt it was safe for SjoW. There was always the chance that he could make one mistake, one false step that would allow Life to set everything back in order. That moment seemed to come when Life survived Sjow's aggression and began to camp his production facilities. But with a superior economy and marine splits that earned the roars of the crowd, the foreigner was able to finish his unthinkable upset.

A standing ovation well deserved.

7

Mvp vs. INnoVation
WCS Season 1 Finals, Akilon Wastes (June 9)
Click to Watch


Writing about Mvp is hard. We've exhausted all of the angles and talking points about this player who has done it all. He was a great early adapter. He was the first dominant player in the scene. He was the veteran who fought through injury and won through sheer force of will.

Mvp's famous comeback against INnoVation in the WCS Season 1 Finals wasn't anything new. We've been trained to believe that anything is possible when Mvp is playing, and that nothing should shock us. But that doesn't make it any less impressive to see Mvp work his magic.

Down nine SCVs to thirty against the best Terran in the world, the rest of the game seemed like mostly a formality before Mvp typed GG and went down 0-2 in the series. Ah wait, it's Mvp. Despite failing to equalize the SCV count with Hellbat drops, Mvp would still find a way to turtle to 200 in a classic Mech vs. Bio dispute.

Yet, Mvp was far from being back in the game despite managing to turtle up on four bases on Akilon Wastes. He was unable to exert any pressure on the map, and equal trading only favored INnoVation and his superior economy. With his four bases starting to mine out, Mvp had no choice but to push down the middle for one last, desperate attempt to break his opponent.

Though Mvp would decline as the year wore on, he's probably inside his medical machine waiting for 2014. Another comeback? Yeah we're probably going to have to write about that again.

6

Dear vs. Maru
WCS Season 3 Finals, Frost (October 28)
Click to Watch


Yup, Maru vs. Dear was so good we had to include BOTH games from their epic WCS series. This one was slightly better than the last.

When Maru demolished Rain with aggressive timings to win WCS KR Season 2, opinions were split. Some thought that Rain's vaunted defensive play was surgically sliced in half, while the others believed that Maru was a cheesy SOB. Some were disappointed in Rain's inability to handle the pressure, while others were impressed with Maru's micro and unshakable composure.

With TvP degenerating into SCV-pull mania during the summer months of 2013, Maru came along as the unlikely hero to set things straight. Many thought Maru would be at the forefront of that cheesy, aggressive style, but they couldn't have been more wrong. Maru didn't just love aggression, he loved sustained aggression. It wasn't his style to wager everything on one all-in blow (well, except when he went for proxy 2-rax). Instead, he wanted to treat his Protoss opponents like other Terrans treated Zergs, pounding away at them with an endless stream of infantry until they were forced to submit.

This game against Dear at the Season 3 Finals is the quintessential Maru TvP: action-packed, dizzying, and played on a knife's edge. Maru was everywhere, dropping the main, sniping the third, running by into the natural, dropping the third, dropping the main again... It was a high risk, high reward style of play that few players could even dream of attempting, and it didn't always work for Maru either. But both Protoss and Terran players could agree on one thing: it made for some damn good games.

5

First vs. KeeN
GSTL Season 1 Grand Finals, DF Atlas (July 20)
Click to Watch


We all have fond memories of GSTL, from DRG's breakout performances, MadBull's silly ceremonies, to Gumiho vs. MMA on Antiga Shipyard. Though it's often a testing ground for B-teamers and up-and-coming players in the league, it has also provided a lot of amazing games. MVP and IM may have jumped ship to Proleague later in the year, but they left the GSTL a fine parting gift in the form of a great final. IM was riding high on some unbelievable momentum having all-killed Azubu and Axiom-Acer in the playoffs, but MVP still boasted the best record from the regular season. They had also beaten Incredible Miracle 4-1 during the group stages, with KeeN closing it out with two wins, but it would be different in the finals.

The first game in particular was exceptional, as we saw Ghosts and Templar drops dictating the pace of the game. While Protoss players have become accustomed to Storm drops, Terran players have yet to get the hang of shuttling their Ghosts around. KeeN, however, showed he was ahead of the curve, consistently erasing half of First's AOE by boosting in after spotting lagging HTs with scans. First was able to hang on somehow despite the MVP player's aggression, even after being forced to relocate his entire base to a different starting location. Squirtle would finish the series and earn IM the championship, but it was this first game that was truly memorable.

4

Dream vs. Scarlett
ATC Season 1, Red City (August 18)
Click to Watch


War is chaos, and few players understand that better than Dream. His drops continue on even in the face of Mutalisks, and his Barracks rally never ceases to find a new target. As such, his games have a tendency spiral out of control quickly with the fighting spreading to every corner of the map.

While most Terrans prefer to play a more direct style that emphasizes pushing at a Zerg's fourth base, Dream's main army often acts as a distraction for his drops. While most Terrans play the slow attrition game by taking small, efficient trades against the Zerg army, Dream chooses to go directly for the Drones.

It is a style of play that has seemingly lost favor with the best Terrans in lieu of Innovation's 4M TvZ style, but it is one that fans remember fondly from the the glory days of Gumiho and MMA in WoL. Dream's recklessness leaves both his opponent and himself off-balance, but by maintaining just a little bit more composure than his opponent, Dream is often able to take the victory.

Dream's game against Scarlett on Red City from the first ATC Finals started off like any other TvZ with both players trading blows and pushing back and forth in the middle of the map, but it didn't take long for Dream to put his signature stamp on the game by dropping multiple bases at once. As Scarlett spread herself out more, Dream's drops had even more chances to shine. However, Scarlett was no slouch with harassment herself, and her deadly Mutalisk ball appeared every time Dream tried to secure new resources. This game of constant economic denial would end up with both players starved to single mining bases, and their armies eroded to below 50 supply. Single units would decide the fate of this match between the Queen of Blades and the Prince of Chaos. It turns out that chaos, at least in SC2, is beautiful.

3

Curious vs. INnoVation
IEM New York Qualifiers, Frost (September 23)
Click to Watch


When Korean pros talk about how much they practice on ladder, you have to wonder how many amazing games occur between top players that we will never, ever see. The same thing goes for unstreamed online qualifiers, or qualifiers that just don't get the proper spotlight: we might be missing some of the greatest games ever played.

Fortunately, more than a few people saw this amazing series between Curious and Innovation in the IEM New York qualifiers. And if you haven't, stop reading RIGHT NOW and watch this game.

Meeting in the losers' final of the Asian Qualifiers, they would slug it out in an hour long Bo3 series. You've already seen game one of this series lower down on the list. Game two on Frost is the absolutely stunning continuation.

Always building enough defenses just in time, Curious was able to hold off the Innovation parade of death until he reached Hive tech, all the while finding the breathing room to send Mutalisks and Baneling detachments to harangue his opponent.

But anyone who has seen the Acer Terran's TvZ knows that whether it's his first push or the 20th, he can make game winning attack came come out of nowhere. For all his amazing play, something had to give on Curious' end. His fifth base would be where the two players came together to decide a winner.

As part of an online qualifier, this game was just one among many games that didn't have the biggest long term effect. But we would have missed one hell of a game if it had not been streamed. Just imagine all the other beautiful games we might be missing.
2

Scarlett vs. Bomber
Red Bull Battle Grounds New York, Habitation Station (November 23)
Click to Watch


One of the best and most surprising rivalries to form in 2013 was Bomber vs. Scarlett. Though the two players competed in two different leagues and were separated by an ocean, they played amazing series whenever they had the rare occasion to meet. Their first clash in the WCS Season 2 Finals ended in a narrow 3-2 victory for Bomber and his retro-Terran strategies. Despite losing in that high stakes encounter, Scarlett would have a chance to get her revenge at Red Bull Battle Grounds in New York. The rematch was even fiercer than their first meeting, culminating in a win-or-go-home game three.

The strange new map Habitation Station influenced the game heavily, with the dangerously placed gold bases forcing the two players into constant battles over control of the resources. After a long tug of war, Bomber's impeccable macro and endless stream of infantry seemed to get the better of Scarlett. It would take a desperate drone pull at Scarlett's third to push the Terran infantry back, and Scarlett's economy started to fall into ruins. Still holding a gold base and able to make Marines, Bomber finally gathered enough troops to kill off Scarlett's last mining base.

However, Scarlett had preserved a deadly flock of Mutalisks despite losing her income, which allowed her to cripple Bomber's economy in turn. SCVs fell, but more importantly so did Orbital Command Centers, leaving Bomber unable to strip mine any hastily take base. Both players were left to scrounge for whatever resources they could long-distance mine.

In such a situation, it seemed that the supreme cost efficiency of 3/3 Marines would lead Bomber to victory. However, Scarlett had one last trick up her green sleeves.
1



The Number One Game
INnoVation vs.
TaeJa
WCS Season 2 Finals, Newkirk Redevelopment Precinct (August 23)
(Click to Watch)
For most of 2013, INnoVation reigned supreme. Breaking through the group of death in the first WCS Korea of the year, he went from Terran contender to one of the top players in the world. Though he would collapse in the finals to SoulKey after blowing a seemingly insurmountable 3-0 lead, he refused to be held back. Looking even more powerful at the Season Finals, INnoVation tore through the competition to take the title, validating all of the hype around him. His dominant aura even seemed to drive his teammates to play better, as STX SouL transformed themselves from being Proleague's last place team in WoL to the eventual league champions.
Though INnoVation never clinched the gold again, he never dropped out of the discussion of "who's the best player in the world?" Even without any more gold, he had plenty of top podium placements, a killer win-loss record, and stomped his opponents in more one-sided games than any other player. However, he did reveal one real weakness in TvT, as his record took a tumble after the Hellbat patch. After his 0-4 loss to Maru in the OSL semifinals, his aura of complete invincibility was lost for good. Still, the imperious nature of his play has granted him a reputation as a cold blooded killer, nay, a RoBogus fueled by gold and the screams of Zergs everywhere.
TaeJa was the other great Terran of 2013, but his path was markedly different. His year started off poorly, exiting the GSL in the Ro16 before switching regions to WCS America. A few slow months had some writing TaeJa off as a contender in HotS, at least until summer finally came around. His Ro4 finish at DreamHack Summer would be the start of a string of incredible performances: First place at HSC7, ASUS ROG Summer and DH Bucharest, alongside top four finishes at WCS America and the WCS S2 finals. TaeJa remained red hot well past summer, and ended the year with two more championships at HSC8 and DreamHack Winter. His five major titles in a calendar year was a massive achievement, bested only by Mvp's historic 2011.
Inevitably, the two players would cross paths several times over the course of the year. Sometimes online, sometimes in team leagues, and sometimes in front of huge, raucous audiences. When the two met at the WCS Season 2 Finals in Cologne, their fortunes had already begun to change. TaeJa was just coming off his first two championships of the year and a semifinal in WCS AM, while Innovation had just fallen flat against the rising Maru, exposing his TvT vulnerability for the first time. It was an unofficial battle for the Terran Crown, and INnoVation refused to hand it over easily.
After splitting the first two games 1-1, they met on Newkirk Precinct for one final showdown. Despite choosing different openers – Innovation with gas first for two reapers and Taeja with rax before gas into a Banshee – the game was fairly calm before the twelve minute mark. During this time both players were building up their infrastructures to take them down two different paths, with Innovation opting to go mech while TaeJa prepared his trusty Marine-Tank. It was not until the two players had already built their fourth CCs that a major engagement first occurred, with TaeJa laying siege to INnoVation's third base. What initially looked like an even trade ended up becoming a disaster for TaeJa after the last few volleys of Siege Tank fire wiped out his army.
Without the numerical advantage, Taeja would have to rely on the mobility of his army to try and outmaneuver INnoVation. A daunting task against such a methodical and mechanically proficient opponent, but not one that was beyond TaeJa. The next forty minutes were some of the bloodiest in StarCraft history. Everyone who had thought Newkirk was fundamentally a turtling map was proven wrong, at least for one game. Every little hole in defense was immediately pounced upon as both players pressed the attack. Supply counts barely meant anything as the advantage would swing back an forth with each battle, a single volley of siege tank fire enough to change the outcome.
And the DROPS. INnoVation never had the breathing room to establish a defensive viking force, while TaeJa was forced to up his marauder ratio to combat INnoVation's tanks. That meant that there was barely any way to corral the medivacs zipping around the battlefield, dropping Hellbats on SCVs or marauders on unsuspecting tanks. There was never a moment of peace because there was nothing to be gained from a stalemate. All TaeJa and INnoVation could see was targets and fights they were confident they could win.
In the hands of these two contenders, the weaknesses that we often attribute to their compositions went unnoticed. Innovation's speed let mech keep up with bio, and his Hellbat drops made him the more effective harasser. On the other hand, TaeJa's intelligent selection of battles meant his bio had all the efficiency needed to keep up with mech in direct confrontations.
The game would finally come to a head when expansions started to mine out and both players went straight for each others' last mining base. After a game that saw countless armies produced and expended, it would come down to what the two players could do with their final armies.
It was the finest display of skill we had ever seen in the game of Starcraft 2, and it was contested by two of the best and most successful players of the year. It is only fitting that the best game of the year was between two of its greatest champions.