MC
and
StarDust
Advance
by Plexa
While most fans would have predicted MC and Stardust to emerge from Group H, it was anything but a given for Stardust after the first match of the day. Stardust dropped the first series to Kas and was relegated to the losers match. He eliminated Firecake there and met Kas in a rematch, who lost to MC in the winners match, for the final series of the night. Stardust was able to overcome his earlier problems and advance to the RO16.
Detailed results from the live report thread by Lorning
+ Show Spoiler +
MC vs FireCake
MC
<
Akilon Wastes
>
FireCake
MC
<
Bel'Shir Vestige
>
FireCake
MC
<>
FireCake
MC wins 2-0!
StarDust vs Kas
StarDust
<
Akilon Wastes
>
Kas
StarDust
<
Bel'Shir Vestige
>
Kas
StarDust
<>
Kas
Kas wins 2-0!
Winners' Match
MC
<
Akilon Wastes
>
Kas
MC
<
Frost
>
Kas
MC
<>
Kas
MC wins 2-0!
Losers' Match
FireCake
<
Derelict Watcher
>
StarDust
FireCake
<
Akilon Wastes
>
StarDust
FireCake
<>
StarDust
StarDust wins 2-0!
Final Match
Kas
<
Akilon Wastes
>
StarDust
Kas
<
Whirlwind
>
StarDust
Kas
<>
StarDust
StarDust wins 2-0!
---
MC and
StarDust advance to WCS EU Premier RO16!
Firecake vs MC was expected to be one of the most one sided series in the Ro32, however Firecake held his ground and dragged MC into two very long games. Firecake established that he was most comfortable with longer games as he strove for ultralisk/swarmhost/vipe with support from ling/hydra/corruptor in both games. In the first game MC traded against this composition, giving Firecake the time to transition into mass mutalisks. Ultimately, MC was able to slowly whittle away Firecake's bases and prevent him from expanding any further allowing him to take the game. The second game reached the same lategame situation, except this time MC was able to break through Firecake's swarm host/ultralisk/viper army and carried that through to a win. In the other series, Stardust was unable to find an answer to Kas's drops. In both games Stardust tried to take the match into an even midgame but was unable to find an answer to Kas's drops. Kas opened up a supply lead which kept growing until Kas maxed, moved out Innovation style, and annihilated Stardust with great viking positioning and bio control.
In the winners match, Kas played a very similar style to his first games of the night -- drop harassment into a massive maxed push with SCV support. MC did a better job than Stardust in defending the drops, and more importantly, controlled his army much better (in particular protecting his colossus from vikings better) than Stardust when the big push came. This gave MC a 1-0 edge in the series. MC opened the second game far more aggressively with a proxy oracle strategy. MC drew about even with the harass and both sides stabilized. Kas attempted to go for the same approach as before but MC had no intention of letting him get there -- he executed a well timed 2 base colossus push which rolled over Kas's army just before it got to a point where it would have been unmanageable.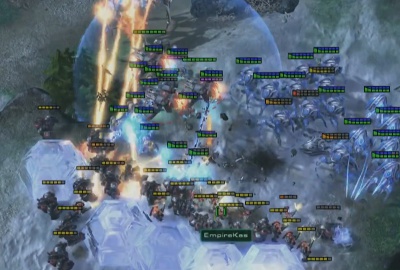 MC's push cuts down Kas
Stardust had no intention of letting Firecake play from his comfort zone in the first game of their series. Stardust was able to do a lot with some very ordinary gateway pressure after nexus -- where 'a lot' in this instance was delaying Firecake from mining his third for some time, killing a queen and making Firecake overproduce units. Stardust followed this up with a variation on the soul train, to which Firecake had no answer for. Stardust was unable to opt for the same aggressive strategies in the second game as Akilon generally favors macro oriented play. Unlike the first series of the night, Firecake opted for banelings to accompany his swarm hosts in the late game. This decision proved to be his undoing as his melee upgrades were lacking by the time Stardust's maxed push came. Unable to take out the key units from Stardust's army, Firecake struggled on hopelessly for a while until he conceded.
This set up a rematch between Stardust and Kas to decide who would advance to the RO16. Stardust had seemingly learned from their first encounter as he successfully deflected all of Kas's drop attempts without taking any damage. But with that said, Kas didn't lose anything by doing those drops either. However this time when Kas's big push came Stardust was even in supply and was able to successfully hold the push sending him 1-0 up. The second game looked inspired by the second game from the MC-Kas series as Stardust opted for a 2 base colossus push. Unlike MC, he was unable to win right then and there with the push but was able to take out 30 SCVs (which Kas had pulled to hold the attack). Amazingly, Kas pulled the game back from this deficit, winning several crucial fights in the process. While Kas arguably outplayed his opponent through the midgame, it was clever templar split which decided the game. Kas didn't expect Stardust to split his templars from his main army and to flank his army with storms. Kas was unable to split against these storms and had no choice but to watch his weakened maxed army melt to colossus fire. Kas's comeback was not to be, and Stardust goes to the Ro16.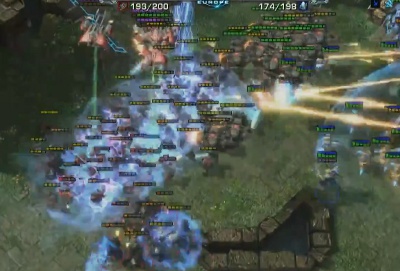 These storms ended Kas's WCS season
Group A Preview: Happy, Targa, Stardust, Welmu
AKA the group of "Who advances?"
by Zealously
RO16 Group A goes live in
The offline section of 2013's final WCS EU is upon us, with the playing field more even than ever before. With no group clear-cut, the sought-after top 4 spot is seemingly open to every player in the remaining 16 given a good run.
Speaking of good runs, Happy exists. Having advanced from the Ro32 with crisp and all-around good play, the Russian Terran once again looks to play with the hearts of his fans. He was so close to that Season Finals spot in Season 1 before self-imploding and dropping out just before he could reach that goal. Back in the Round of 16 and having looked like a true championship contender just a few weeks ago, I feel the need to once again back Happy and repeat myself for the eleventy-billionth time: this is the guy to look out for. Going 4-0 against Sase and duckdeok (although the two may not have displayed the best play of their careers) bodes well for Happy going into a group with two Protoss players, neither being particularly famous for their PvT. If Happy can stay on the level he sometimes reaches when he plays in his comfort zone, neither Protoss should prove much of an issue. Although, with Happy's history of inexplicable failures at bad times, there are still some clouds in the skies for Happy.
Targa, on the other hand, should be feeling pretty satisfied with getting past the Round of 32 by eliminating Naniwa and ToD. On the average day, Stardust is a lethal foe for any Zerg player and with jet lag not being a factor, Targa will have to have something prepared for the mYinsanity Protoss, just in case they do end up meeting. Against the other two players in the group, Targa is a little difficult to judge. Him getting past Naniwa's strong PvZ in the Ro32 leaves me with the feeling that there is a lot more to the Norwegian Zerg than his results say, but the question is whether or not he can display that level of play consistently.
The same goes for Welmu. Beating down Bling and Thorzain to advance from the Ro32 showed that there's certainly some potential to the Finnish Protoss, but with few top opponents having recently tested his skill in a LAN setting recently, there isn't much to go on for Welmu. Perhaps the thing that speaks most to his benefit is a 1-2 loss against DH:Bucharest champion Taeja, notably being one of the few players to even take a map off the Summer God. Happy is by no means a slouch in TvP, but if Welmu brought the kind of play that allowed him to take a map off a Taeja on fire to Cologne, he could be a favorite to at the very least beat Happy. Having mostly played random European Zergs over the last two months, his PvZ in relation to the players in this group is as hard to accurately judge as Targa vs. Happy.
Though in fairness, Stardust is and will remain the sole favorite to advance from this group. He fell out relatively early in Bucharest but there is little to indicate that his early elimination wasn't just a hiccup in a string of otherwise consistently good performances since early summer this year. Stardust's PvZ is lethal and matched by few players and his PvT, although not as renowned as his vZ, might be almost as good, with the Korean-turned-European Protoss sporting a 16-4 record over the last 20 games. It wouldn't be a stretch to say that Stardust is favored against all three opponents in this group, but with a field as even as this WCS EU's and with how many upsets took place in the Ro32, I'm not sure that Stardust is as safe in this group as name alone would imply.
PredictionHappy
> Targa
Stardust
> Welmu
Happy
> Stardust
Welmu
> Targa
Welmu <
StardustHappy and Stardust to advance.