Multiple sources have confirmed to ESFI that AZUBU are planning to announce the signings of former SlayerS players Jung "Genius" Min Soo, Kim "Eve" Shee-Yoon and Kim "Sleep" Seong Han. Former oGs and apeX players Song "InCa" Joon Hyuk and Kim "TOP" Jung Hoon are also in discussions with AZUBU and are possibilities to join the team.

The new players will join Kim "viOLet" Dong Hwan on the roster, who has been one-manning AZUBU's StarCraft 2 presence since August. AZUBU also have two top League of Legends teams, Blaze and Frost.

In mid-October, AZUBU hired former MBC Game caster and former Brood War pro Mr. Sung Choon 'IntoTheRain' Im as the team's head coach, a strong signal that AZUBU was preparing to bring on more StarCraft 2 players.
AZUBU StarCraft 2
Genius (P)
Eve (P)
Sleep (Z)
viOLet (Z)

Genius, who joined SlayerS in July after leaving MVP in June, is most known for his runner-up finish in GSL 2012 Season 1, where he lost out to DRG in the final. Eve was taken into SlayerS by the team's manager Jessica, and became the first female StarCraft 2 player to compete in an official GSL match (the team's last GSTL match versus MVP).

Also a former SlayerS member, Sleep left his most recent team, CheckSix Gaming, on July 14th. CheckSix disbanded one month later.

After representing the now-defunct Korean team Old Generations, both InCa and TOP were picked up by apeX eSports, together with VINES, jookTo and MorroW. The relationship only lasted three weeks. The team's four Korean players were left "angry and disappointed" after being forced to pull out of DreamHack Bucharest after team management failed to book flights and hotel. The trio of InCa, TOP and VINES left the team officially on October 25th.


Source: http://esfiworld.com/news/azubu-set-expand-starcraft-2-roster

And saved the best for last....
+ Show Spoiler +

NADA!!!!!!!!!!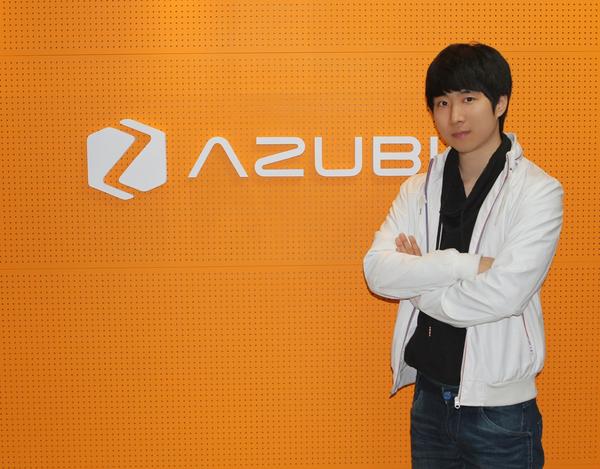 Source:

His role be the SC2 manager and for more information, please watch the interview below.



viOLet is no longer alone

UPDATE: 26 Dec 2012
On December 27 2012 12:18 Fionn wrote:
So Azubu is now:

Genius, Eve, Inca, Vines, San

Violet, Sleep

TOP


Source: http://esports.dailygame.co.kr/news/read.php?id=71272



On December 24 2012 10:53 Iodem wrote:

Judah ‏@Ethan_Ahn

Hyung Tae 'Iris' Byun joins AZUBU. He is the coach of AZUBU SC2team. GL #SC2

http://twitpic.com/boo9f8