GORDON HAYWARD SPEAKS
Starcraft, Basketball, and IPL
INTERVIEW BY TEAM LIQUID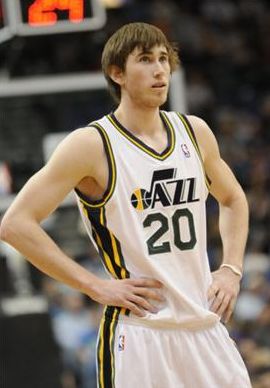 Gordon Hayward is a professional basketball player for the NBA's Utah Jazz. In college, he led his team the Butler Bulldogs to a runner-up finish in the 2010 NCAA Tournament and was selected with the ninth overall pick in the 2010 NBA Draft.

This past summer, he streamed himself playing StarCraft 2 and TL responded with an 800-page Live Report Thread. Recently, it was announced that he will attend the IPL3 Finals in Atlantic City as an open bracket player.
Hi Gordon! How did you get into StarCraft?
I was an avid gamer growing up -- I played almost every sport growing up, but when I wasn't playing sports, I was playing video games. I'm such a competitor that it's just another outlet where you can compete, and it's another social thing where you can play with your friends and talk to your friends.
Which games did you play?
Originally I was pure console. I got Xbox right when it came out. I was big into Unreal Championship and when the Halo series came out, that was my game. My friends and I started our own team and we won some local tournaments and money playing that. Halo is up there, probably one of my favorite games.
When did you start playing StarCraft?
I started playing StarCraft: Brood War in high school. The first RTS game I played was Red Alert, and I really enjoyed that. My friends were telling me about StarCraft, saying it was so much better than Red Alert, and I said "alright I'll check it out." So, we started playing Brood War, and when we did that, it was just my high school tennis buddies, and they only did like Fastest Possible Map, and all we did was that and Sunken Defense and I just had fun doing that.
You played Brood War on battle.net? Ever LAN with your friends?
We actually got in huge trouble at school, I was in a programming class, I don't know how this kid did it but we got it on the server at high school and we were playing it in class. They were super pissed at us over that. We just did it for fun (laughs).
Did you know anything about the Brood War professional scene?
I don't know everything then, but now I think it's pretty cool. I know some players are like rock stars and they have TV stations dedicated to StarCraft, and they treat it professionally.
What about StarCraft 2?
We were all anticipating it. And I played it throughout the year last year, I'd just play with my friend Boris (Nitride) and we would play when I was on the road, and as long as we had internet. I never went out so we'd just play it's a good social thing to keep in touch.
How did you start to notice the competitive StarCraft scene?
The best way to get better in anything is just to watch the best. And somehow we both got to your website (TeamLiquid.net) and just started watching streams all the time. I'd lay in bed before going to sleep and I'd just watch. We watched anything and everything, mostly the featured players. I liked playing every race, but I like Terran the most so I'd watch those and he'd watch Protoss. One day we got the bright idea to stream. It was just going to be me and my friends to watch, I didn't think anyone would care. I tweeted about it and then we had like 2,300 people watching and then it just went on from there -- IGN contacted me, and it's been going on ever since.
http://www.youtube.com/watch?v=cMsc2jlN-6A
We saw the decision video, it was pretty funny.
We did that a month ago, and it was fun and some light humor.
Do you watch the GSL? Who are some of your favorite players?
Yes, I have watched the GSL. That's when our eyes were opened up, because we didn't realize how big StarCraft was. And then we went to your website and started reading everything and it was kind of like a snowball effect. As for players, I like watching Jinro play, and I like watching MarineKingPrime, those are two of my favorite players to watch.
How would you compare basketball and StarCraft?
It's very different obviously one is much more physical. But there are a lot of similarities, both require extreme mental preparation and I think the best basketball players in the world are one or two steps ahead of their opponent, they always seem to know what their opponents are going to do before they do it, and I think the same thing can be said for the best StarCraft players in the world. They're always one or two steps ahead, and reaction is a big thing for both. You have to be able to react to what another player does on the court, and the same can be said for StarCraft.
Basketball is a team sport, and StarCraft is more individual.
Well, the best thing I love about basketball is the team aspect. Coming from Butler we were all about team. I think teams win championships, that's why Dallas won this year. But I also was really big into tennis in HS, I was probably better at tennis than basketball, but when you play singles it was very individual, I loved that. It's just you out there and you're the one that is accountable for the mistakes but you're also the one who gets all the glory at the end. So I like that aspect of StarCraft.
Do any of your teammates play? Would you want them to?
Kyrylo Fesenko played a little bit of StarCraft, I kinda got him into it a little. He had played before. Andrei Kirilenko is big into WoW, not that that matters, but he's like really big into it so that's just a little tidbit about NBA players. I think it'd be cool if we can play StarCraft. But a lot of those guys have never played StarCraft. I guess I could hustle them a little bit.
Which NBA players would make good StarCraft pros?
I would say point guards would probably be the best to be able to play StarCraft because I think they need to know where their teammates are going so they can make a pass even without them looking, so I think that point guards generally have good basketball IQ and know about the game more in the mental aspect. So guys like Steve Nash, Deron Williams, Chris Paul, guys that know what's going to happen before it does, I'd say they have a good mindset for it.
What is your favorite race to play?
I play as all the races. But I'd pick Terran because I like the fact that they are humans, and I'm human, so it's my duty as a human to protect our race. I like the units, but when you start losing you think "dude I need to switch races, I suck" but I definitely like Terran the most.
What's a bigger accomplishment, winning IPL3 or winning an NBA championship??!
Obviously, as far as what I would want to do, winning an NBA championship is my ultimate goal and dream. But winning IPL would be a big accomplishment just because basically if you put it into basketball terms, I'd be like a high schooler playing against NBA players. These are professionals and I probably have no shot at even winning a game, so winning the whole thing would be a miracle. These guys are professionals, they do what I do in basketball but they do it in StarCraft, they do it for a living.
What are your goals for the tournament?
I think my biggest goal is to go in there and get some respect and kind of raise awareness that pro athletes recognize what these guys do and the skill and talent for what they do, and for progamers to realize professional athletes are not just dumb college dropouts or whatever, and hopefully just go in there and compete a little bit, not get embarrassed.
What league are you in now? Do you have more time to practice now because of the lockout?
I'm just slowly working my way up. When I first streamed I was like silver. And now, well I just went on a losing streak so I was just #1 on Platinum. The lockout, well it sucks. Everyone wants to see us play basketball, I still train twice a day and I'm still a devoted NBA player -- that's my profession. I work out and play basketball probably 6 hours a day now. But the beautiful part about it is that I can decide what to do outside of that, and StarCraft is probably going to take a lot of that time.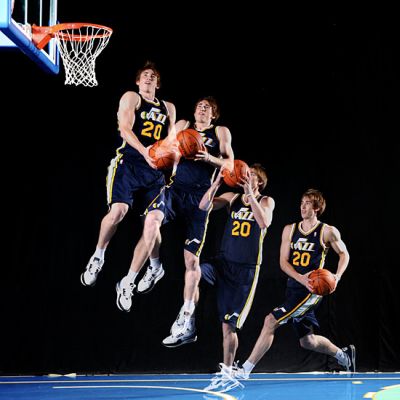 One of the Liquid players, Tyler, went to Duke, and they have a pretty good CSL team.
(Laughs) I'm going to go to Butler tonight and recruit some players and maybe we can beat them.
Do you feel pressure now that people are looking forward to see you play?
I think that tournament settings are the best ever. I've never played in a StarCraft tournament but I've played in Halo ones. Just like sports tournaments, everything is intensified up a notch because it's win or go home. It's a lot more fun. That being said, I'm going in there with no pressure. I just want to have a good time and earn some respect.
Do you read what fans say about you? Our community is especially passionate.
As far as reading what these guys are saying. There's always so much stuff of what people post on every single website that it's hard to look at. But I know for a fact that I have some friends who are dedicated to going on Google and they definitely let me know and I'll have some fun with it.
What do you think about current SC2 pros? Besides Jinro and MKP, do you follow any?
I watch their streams and I watch some of the tournaments but I haven't taken an in depth look at it. I know that Idra seems like he's strung kind of tightly and he's ragequit some games. I hear he rages pretty hard. I think it's kind of funny how they react, I think that's another similarity. When you're in an intense competition, when you see guys in the NBA but they definitely rage pretty hard too in the NBA. So there's definitely similarities. Maybe they should have a technical foul system.
Most tournaments don't allow trash talking in game.
Well I think ... that kind of takes away some of the game. That's part of the game is getting into the opponent's head and making him do some irrational things just based on talking. That's a big thing in basketball if you have a player that you can get inside their head and take him out of the game that's definitely important.
Are players BM to you on the ladder?
I don't get that much on the ladder. Actually, there was a game I was playing and a guy was trash talking the entire time. I'm barely good enough to play, but when you start chatting you forget to do stuff, and I'm pissed at this dude and I start tapping back, but I forget to do other stuff. It definitely messes me up but at the level I'm at they don't trash talk as much because they're just learning like I am.
Do you ever offensive GG?
Is that where you're on the attack and you're the one that says "good game"? Yeah my friend does that all the time and I hate that.
What about if you played Kobe and you're about to beat him, would you offensive GG?
(Laughs). You know what, I might have to do that. I would definitely offensive GG.
If he asked for a rematch? You'd "gg no re" right? He wouldn't be able to let it go.
(Laughs) That's right. For sure.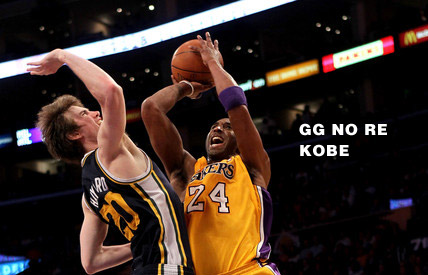 What is your favorite match up?

I like TvP the best just because I like cannot play against Zerg. I just suck so bad against Zerg. And then Terran vs Terran always takes an hour and a half to get done. So TvP I tend to win quickly or lose quickly, so that's my favorite part.

Favorite unit?

My favorite thing about Terran is siege tanks, I guess. When someone blindly walks into them and when you take out their army.

Favorite map?

My favorite map is original Xel'Naga Caverns, because it's simple and I don't have to scout that much, I'm not good at scouting. You know where your opponent is and you don't have to search as much.

Do you cheese often?

I don't cheese that much. The only time I cheese is sometimes I do bunker rushes... but what do you consider cheese?

Well, bunker rushes are just pressure...

That's what I would say, what other cheeses would you do as Terran?

You could proxy some barracks and attack with your SCVs.

The only thing I'd ever do that I guess would be cheese is sometimes I 2-rax all-in and send all my SCVs.

That's definitely cheese.

(Laughs).

How do you feel after winning with an all-in?

If I win, yeah I'm satisfied. A win's a win. You can't say "aw you can't win without cheese." Whatever dude. A win is a win.

Do you know what a 1-1-1 is?

Yeah, I do that a lot actually. But see, I watch these videos and I mean I'm sure it's just like people watching us play basketball and we probably make it look easy, but I watch pros play and they do this 1-1-1 strategy. I'm like OK that doesn't look so hard, and when I do it I have nowhere near what they have. There's such a big timing difference. It takes a lot of practice.

If the lockout goes on, will you be going to more events?

Yeah for sure. I hope this lockout ends soon, but if it doesn't end I'll definitely be at these events.

Any last words for your new fans from the StarCraft community?

Thanks for all the support. I think it's very cool what you guys do. The whole StarCraft community is huge and I would've never thought it was this big... also to let everyone know like what I said in the beginning: us basketball players aren't just dumb athletes, I'm just a gamer like you.

Thanks for taking the time to talk to us.

Alright. Thanks man, Bye.


For information on IPL 3 Finals, go here.