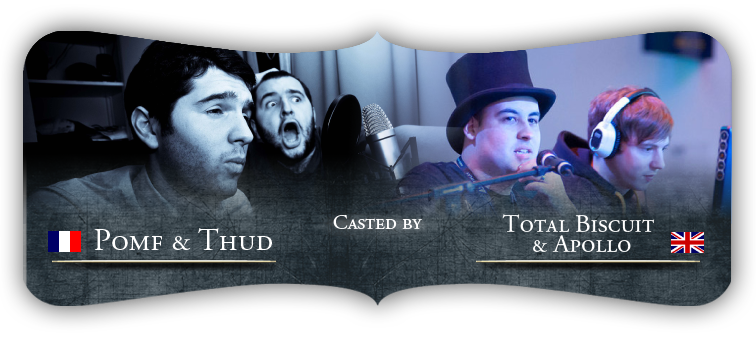 Group B of

Iron Squid will be live on March the 14th with

TotalBiscuit &

Apollo and

Pomf et Thud , here is the program:




Preview :
By LeLfe



Group B:

After a very entertaining group A with a tense final and an undecided qualification before the very last game, it is now time for group B. If group A was good, the second group brings The Iron Squid one step further in awesomeness. The best player of 2011, his Protoss arch-rival, two of the best foreigners and the winner of the first qualifier are going to fight for the first two places.




Symbol's time to shine

Except for the ones following the Korean scene with attention, "Symbol" was probably not ringing a bell before a few weeks ago. Not only has the Zerg won a very stacked qualifier and his slot in The Iron Squid, taking down well known players such as Polt or BBoongBBoong, he has also recently gone through another tough bracket to get his first GSL Code A spot. Symbol has being doing fairly well in team leagues, it is now his chance to reveal himself as an individual great Zerg. His group offers him a perfect opportunity as he will face two foreigners who are used to play Koreans, and two of the best of his fellow Koreans. If Symbol can get through this group, he will definitely make a big splash in the StarCraft world.

Two foreigners who can win

It is a fact, since the Korean progamers are playing the international events, foreigners have trouble winning anything relevant. The few players who manage to pull out a win are on a short but prestigious list. Fortunately for Iron Squid, two of them are in this group.




The will to win again

ThorZaIN was revealed to the world's eye in the best possible way. As a former good WC3 player, he transitioned pretty well intoto SC II and managed to qualify for the TSL 3, although he was not expected to do much at this event. Yet the Terran played amazingly through the whole tournament showing he was both a great strategist and an artist when it came to creating tailor-made builds to beat his opponents. With his very good preparation he multiplied the upsets and managed to win it all by defeating his country mate NaNiwa in an epic final. Since he won the TSL3, the Swede is acknowledged as being one of Europe's finest players, but is yet to get his grasp on another trophy that he really craves. Iron Squid is a tournament where he is in his comfort zone as he knows his opponents and has time to prepare each game. A situation where he can play at his best , which will be necessary to get through this group.




Iron Squid, a tournament for the Gracken

It is always tough to try to predict which IdrA will show up at a tournament as he is fairly moody and his level of play depends a lot on his state of mind. The American can play stellar games but can also let his bad temper overtake him and tilt himself to the elimination. To compete in the Iron Squid, IdrA is in quite a good atmosphere: training in Korea and surrounded by the SlayerS house's members to help him prepare his games. A preparation he will need to face very tough opponents. After two disappointing runs in GSL and IEM, IdrA has to show his fans he is everything but done. MC and Mvp are not out of his league, but beating one of them would be a really good performance. One he needs to advance.



A matter of prestige

The three players we just introduced could easily hope to achieve a top2 in any group of nearly every competition. But one shall deserve an Iron Squid title. So to wrap up this group B, we have two of the world's best players: together having won a total of 5 GSL titles and a multitude of other titles everywhere around the world, Mvp and MC are true heavy weights of the StarCraft II scene.




An injured world champion

With 3 GSL titles, a Blizzcon, an MLG and the WCG, Mvp has won the most titles on SC2 and is still considered as one of the best players, if not the best. Unfortunately, the Korean does not always fight with the same chances as his rivals as he suffers from CTS on both hands. A situation that causes such pain that he sometimes cannot apply any force to his mouse. In spite of this handicap, Mvp manages to remain in the Korean elite and to destroy his opponents when his hands give him a break. During The Iron Squid, he will be able to schedule his matches whenever it is convenient for him and hopefully be able to play at his best. The Terran is a true artist of StarCraft II: he is able to play every style at every degree of aggressiveness to outplay his opponent. In any group he plays, Mvp is always the favorite to advance.




A new campaign to run for the president

After a few bad months, MC is back and hungry. In addition to being a stage monster –which his fans love- MC is a fierce competitor who does not shy away from taking huge risks to win. Just after winning the IEM World, the Protoss started a new quest: to become the Iron Squid champion. MC has not shown any sign of weakness lately, but the President will have to be careful not to fall in the overconfidence as ThorZaiN, IdrA and Mvp have already beaten him in live tournaments. He shares, with Mvp, the status of group B favorite and it is not far fetched to imagine him on the big stage in Paris. Up to him to please the crowd.

*VOD's Changes*

We are going to change our VODs release schedule. VODs will be release 2 days after the 1st broadcast starting with the Group B.
For Group A VOD's, there are already on our page more information on : Iron Squid Homepage



___________



Follow us on Iron Squid Facebook
Follow us on Iron Squid Twitter
Follow us on Iron Squid homepage