Introduction
Before reading this guide, we recommend you listen to this:
TvT has seen its share of glory in the spotlight since the dawn of SC2, boasting some of the most breathtaking series ever played. Due to the complex strategy behind army movement and positioning, the matchup is often is often likened to chess. Marines are the front line unit, the pawn. They can be used to defend a base from within a bunker, used aggressively with medivacs to drop the opponent, and used to buffer your army to support your more expensive units because of their cheap cost and dispensability. Tanks on the other hand are much the opposite of marines; the rooks. They aren't immediately available, are slow, require time to siege up, and losing all of them can immediately result in a loss. However, tanks bring a lot of positive to the Terran arsenal as well. They provide massive space control with their long range, huge area of effect damage, and can use these to buy time by for reinforcements by repelling enemy forces. These two core units define TvT, necessitating a meticulous and balanced approach to playing the matchup. Each player has the leeway to take expansions, but must remain careful about defending timing attacks and doom drops.
The early days of TvT consisted of much less aggression early on in favor of getting map control and establishing your economy and production. A common strategy in those days was to set up your siege line outside of your opponents base, and deny them from expanding or moving out on the map. This contain strategy could be circumvented by drops, teching up (often to cloaked banshees), or exhibiting superior tank micro. Throughout the years TvT has evolved and devolved into and from macro games; while macro was favored in Wings of Liberty with most players trying to outplay their opponent in the mid game using marine/tank, in Heart of the Swarm players prefer more aggressive openings to try to end the game early. From the early days of GomTvT, to the chaotically aggressive openings of the recent, this guide will cover most, if not all, of the current TvT builds.
Early Game
Generally, barracks and gas first openings are superior to command center first openers due to the myriad of early aggressive options at each player's disposal. The reaper in particular is a unit that poses a massive threat due to its ability to win 1v1 vs. marines and kite SCVs endlessly. With the popularity of gas first builds and reaper expands, you run into the risk of falling far behind with a CC first against multiple openers capable of dealing massive damage. The potential economic gain from CC first compared to a barracks or gas first build is quite small and easily outweighed by its vulnerabilities. Overall, you want to get starport tech as fast as you can because it allows you the flexibility for not only many aggressive openings, but also allows you to react to the aggression on the way. In the wise words of Iaguz: "Just remember that TvT early game can be summed up in three points:
1) consider expanding
2) make a starport
3) figure out what he's doing with his starport then adjust accordingly"
With that in mind, this guide will cover the many openings available, from gas first, to CC first, and all the way to proxy marauder cheeses and more.
Gas First
The most common opening for a long time running, gas first allows for a plethora of aggressive options. Early gas allows for quicker tech units such as hellions, banshees with or without cloak, medivacs and tanks, and can result in a quick win if the opponent is not prepared. With going gas first however, this ultimately delays your second command center compared to some barracks into gas builds, which results in the latter having more mineral income heading into the mid game. Because of this, doing some sort of early damage between the six and eight minute mark is important. This damage can be dealt by killing SCVs off, delaying their tech or expansions, and most importantly, forcing them to use scans, taking away from their economy.
Cloaked banshee
Good against:


no turrets

no viking

bio openings (1 rax FE into 3 rax, reaper expand into 2 rax)
Neutral against:


2-3 Turrets

marines

raven without viking support

2 OC

cloaked banshee
Bad against:


turret/raven + viking

randomly placed widow mines
Going for a cloaked banshee is the most common follow up to a gas first opening. The popularity of the banshee is by merit of its versatility in both offense and defense. Typically used offensively, the goal of the banshee is to eliminate workers and/or marines, and to force scans and static defenses. Any resources not invested into economy or tech by the defensive player translates to an advantage for the banshee player as they can get ahead in either of these aspects of the game. Depending on the build of the opponent, such as a quick drop, the banshee can be left at home for defense and cloak can be cancelled. While not being able to do any damage while defending, they can still be used later in the game for harassment. Generally, if you've scouted your opponent went for a fast expansion, it's safe to continue banshee production after one. If you are unsure of what your opponent is doing, make one banshee followed by a raven for safety.
The standard response to a banshee is to drop three total missile turrets; any more and the defensive investment is too great to continue into the mid game with a lead. The best thing you could hope for with opening banshee is going up against a bio opening. Banshees are fantastic vs. marines alone, and should they not have a starport out, they could suffer some serious losses. A common style we see out of Korean Terrans is the continued production of banshees, even against a raven opening. They rely on their micro to still get damage done, while trying to catch their enemy off guard and force extra turrets. Being a gas first build, there are many follow-ups to the cloaked banshee involving counter cloak defense, 1 base all-ins, and macro builds. The skeleton to this build is as follows:
10 supply

12 gas (make with 11th scv rallied from CC)

13 barracks (non-stop marine production on completion)

16 OC

16 factory (tech lab once starport is 1/2 done)

19 gas

21 starport

@100% tech lab, switch factory and starport, start cloak then a banshee
There are many follow-ups to this build. The standard ones include continuous banshee production into an expansion, while others are situational such as a raven after the first banshee and cancelling cloak. Ideally, the first banshee should be sent over to the opponent before they can raise any detection and defense to try to get as many worker kills as possible. If the opponent fails to scout the cloaked banshee, they can easily lose so long as the banshee player is vigilant and micros properly. Not having a turret or raven forces the defending player to save energy for scans, which are unreliable at best with their small detection duration and range, and also take away from their mineral income. Almost all defensive builds incorporate a raven or turrets in case of cloaked banshees, so this scenario is unlikely. You will commonly run into turreted mineral lines or a raven in the air ready to ward off your banshee; sometimes getting immediate damage is not possible. The primary focus of the banshee is to stay alive and to look for holes in the enemies defenses in order to pick off stray workers and units. Unless there are two turrets per mineral line, damage can still be done. The most effective way to fend off banshees is with a viking; turrets do not cover a large enough area with their attack range, and marines can be kited to death. Additionally, it's worth noting that the fastest possible banshee results from making one marine into a tech lab, and building the starport directly on that tech lab. The banshee will be out a few seconds faster, but this is extremely vulnerable to a reaper.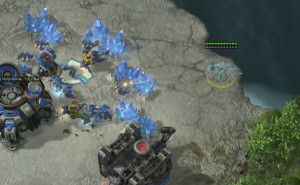 Figure A. A banshee is able to skirt around the back of the natural minerals, staying out of missile range from the turret and picks off some SCVs.
Figure B. Even with a more centralized turret, the banshee is still able to stay out of missile range and harass the SCVs. Note that in both images, the banshee is within detection range.
INnoVation vs Center Proleague 2015 R1
Cure vs Bomber G3 RBBG Grand Finals
Cure vs Polt G1 RBBG Group Stage
Reacting to the banshee
Upon scouting cloaked banshees, the correct reaction is to drop a missile turret in each mineral line and a missile turret on your production facilities. While not covering every hole in your base, three turrets will cover the essentials and make any follow up easier. The earliest that cloak research will complete is at 6:50, although a banshee without cloak can arrive as early as 6:30 in your base. Assuming you went with a starport build, start making a viking and rally it to one mineral line, and send your marines to the other. Having a widow mine burrowed in a potential banshee path could also fend off the banshee. It won't kill the banshee, but it will put it in the red, and with this amount of HP left there is no way it can get any damage done without risking immediate death. Another quick trick is to hide a widow mine behind a refinery or structure, which could outright kill the banshee should it be damaged from a previous source. If you didn't go for a quick starport, you might want to invest into more than 3 turrets, and start saving scan energy to snipe the banshee with your marines.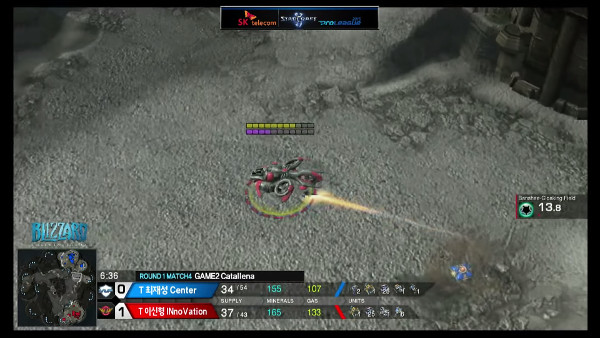 Attention must be on the banshee at all times, or this can happen
Another way to prevent from a banshee is to open with an aggressive build that will keep the banshee pinned in its base, while you prepare for its eventual arrival. A marine/hellion drop that hits just after six minutes forces the banshee to stay at home to defend the earlier pressure and gives away the cloak intentions, giving the aggressive player time to put up anti-banshee defense. Typically, a viking is made after the first medivac in case of a banshee from the opponent.
More Banshee Builds
Here at TeamLiquid we know that you guys love builds, so why not have a bunch more? These are specific circumstantial builds, and will have a little description for each describing the key differences, with some pros and cons. Click on each banshee picture for a different build!
The even more banshees build

10 supply

12 gas

13 barracks (5x marine)

16 OC

16 factory (tech lab once starport is 1/2 done)

19 gas

21 starport

@100% tech lab, switch factory and starport, start cloak then a banshee

@5 marines, reactor on barracks

31 widow mine

@100% banshee, make another

@400 minerals, start 2nd CC

This is probably the most common variation of all the banshee builds. Early marines to prevent cheese, quick cloaked banshees to try to get damage done, and a widow mine for drop defense. After five marines you can drop a reactor on your barracks, as any proxy barracks timings would have already hit. Keep the marines nearby your mineral line, and place the widow mine either within the mineral line or around the gas as to keep it hidden; this is the target location for any drops or a banshee so having your units there is key to holding and aggression. After two banshees, you can either continue producing banshees, or you can swap the starport and factory and start making tanks. The latter is more commonly seen as banshees are normally followed up with an expansion, and the early tanks help with spread out defense among two bases. Depending on what you've scouted, you might also want to consider making a raven before swapping addons, or extra widow mines in case any one-base play comes your way.

Dream vs TY GSL 2015 Code S Ro32 Group DMaru vs TY G1 SSL 2015 Ro16 Maru defends with the bansheeMaru vs Dream G1 SSL 2015 Ro16 Maru follows up with 3CC

The Innovation Build

The INnoVation build:

10 supply

12 gas

13 barracks (3x marine then tech lab)

16 OC

16 factory

19 gas

21 starport

@100% tech lab, switch barracks and starport, start cloak

22 hellion

26 marine

28 banshee

31 marine

33 widow mine

@5 marines, reactor on barracks

@100% banshee, raven

CC after raven

This build has some interchangeability; you can either continue to produce marines and make the tech lab off the factory, or make a hellion instead and make the tech lab on the barracks. A hellion must be made if you choose not to SCV scout, and its purpose is to see what the opponent is doing. After this, the build plays out the same as other banshee openings, with a cloaked banshee going out and many follow ups possible. The raven is made after the first banshee to counter a cloaked banshee build out of the opponent, and the mine and marines complement this. The reactor on the barracks will allow for more marine production, the mine can take a potshot at a banshee, and after the raven is done you can either go for more cloaked banshees and try to get more damage done, or for a viking if you feel you need extra banshee defense.

INnoVation vs TY Proleague 2015 R1Bomber vs Polt G2 RBBG Semi finalsYoDa vs TY G1 GSL 2015 Code S Season 1 Ro16

bunny build follow-up

MMA vs Jjakji G3 DH:Winter LR2TaeJa vs Jjakji G1 DH:Winter LR4




Cloakless Banshee

Cloakless banshee:

10 supply

12 gas

13 barracks

16 OC

16 factory (tech lab)

21 starport

@400 minerals, CC

@100% tech lab, switch factory and starport, start a banshee

This build has all the perks of a cloaked banshee minus the cloak; it can force static defense and a raven out of your opponent, it can still get a large amount of harass done, and has the early defense to defend cheese. By not taking a second refinery, you will have far more minerals to work with, which are usually put into a greedy third command center. Alternatively, you can go straight into a second and third barracks followed by stim. The second gas is normally taken around 6:00, after the command center and banshee is started, so you can still respond to a cloak banshee with a raven and start your own tech relatively quickly as well. If your opponent does drop static defense, it's already a win because of the lack of cloak, and if they don't, you can still get a moderate amount of damage done.

Bomber vs Polt G1 RBBG AtlantaBomber vs Cure G2 RBBG Grand finalsBomber vs Cure G4 RBBG Grand Finals

hellion wall with barracks/factory

Bomber vs TY G1 GSL 2015 Code S Season 1 Ro32
Raven
Good against:


cloaked banshees in conjunction with a viking
Neutral against:


Bad against:


drop play

early expansions
Another common follow up to a gas first opening, the raven opening is an anti banshee build. With cloaked banshees being so common, players will naturally want to counter them as quickly as possible. A raven opening opens up many possibilities including siege tank pushes supported by auto turrets, and early air dominance à la the
iechoic build
. The initial raven is normally followed up with a viking for the synergy, but can also followed by cloaked banshees. However, banshees are more rare as a follow up and require proper scouting before they can be committed to. The natural continuation after the raven is an expansion, which can be easily defended with the established production capabilities and the great defensive potential of the raven. Even if the opponent doesn't invest in a cloaked banshee, a raven still has a lot of utility with its auto turrets as well as its ability to use double seeker missile on sieged tanks. Auto turrets can be used in conjunction with the main army while pushing, or the raven can be harassing with them in the opponent's mineral lines. The seeker missile is mainly used on sieged tanks because of their inability to move; saving them requires an incredible amount of micro involving unsieging them and loading them into a medivac, and unsieging the tanks results in no damage output and exposes them. Lastly, the PDD is an all around great ability that can absorb missile shots (vikings, banshees, marauders). Its use in the early game is normally in small viking vs viking battles, and in the late game can be spammed all over the place to absorb everything. All in all the raven is a great support unit, giving detection and useful spells.
10 supply

12 gas

13 barracks

16 OC

16 factory (tech lab)

19 gas

21 starport

@100% tech lab, switch factory and starport, start a raven
This follows same pattern as the cloaked banshee build, the main difference being that a raven is produced instead. You can follow up the raven with a cloaked banshee yourself, start viking production, or the much more common follow up, swap the factory and starport to begin siege tank production. There's a synergetic timing with the initial raven and follow up tanks that involves auto-turrets and tons of marines supporting the siege tanks, and can demolish anything your opponent has on the front lines. As with most Terran builds, you initially want to make at least four marines before you make a reactor so that you have your factory to make units out of. Having these early marines are necessary to fend off reaper harass, and other forms of early Terran aggression (see: cheeses). Following that number, you can begin constructing your addons in preparation for the differing pushes you can use with a raven. Depending on if and what you've been able to scout, you can either hop straight into siege tank production, or for safety get the viking anyway. The latter seems to be the more common option, as a play involving banshees or drops win the risk/reward fight over going straight into siege tank production; it's better to have the viking in case a banshee or drop does come, rather than risking starting siege tank production immediately and eventually being caught with limited units to defend. On your barracks, you should have reactored marine production already on the go, and your expansion should be started. If you've scouted double gas, keep your marines in your mineral along with your raven and wait for your viking to finish; getting a widow mine wouldn't hurt either, place it along a common banshee path.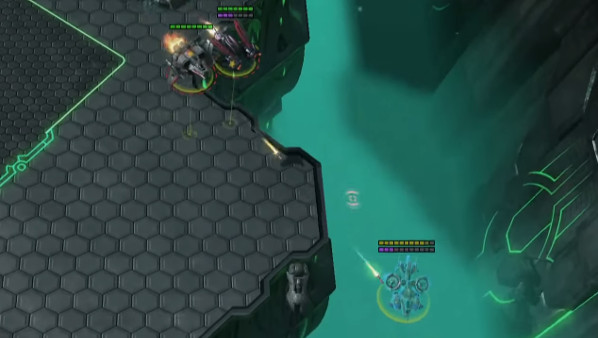 Catching a banshee with your viking/raven
TY vs Maru 2014 Proleague R4
MajOr vs Bunny G1 WCS 2015 Season 1 Ro32
Here at TeamLiquid, we still know that you guys love builds, so why not have even a bunch more? Like the banshee part, some are circumstantial, and each have a little description. Click on each raven picture for a different build!
A reaper in the raven

A reaper in the raven:

10 supply

12 gas

13 barracks

16 OC

16 factory (tech lab)

18 reaper

19 gas

20 starport

@100% tech lab, switch factory and starport, start a raven

You might ask yourself, what's the difference between this and a normal raven build? The only difference is making the reaper. It's used as a scouting tool, in order to get some quick intelligence on what the opponent is up to. Not always will you find use out of it; it may be picked off by patrolling marines on the high ground, but on the off chance that it does scout your enemy's entire base it could very well be worth the early investment, especially on three player maps. The downside to making the reaper is the early gas cost; the 100 gas required for a factory comes a little bit later than usual. Another consequence of making a reaper will be having two marines less than standard, as the reaper takes approximately this long to produce.

TY vs INnoVation Proleague 2015 R1TY vs Guilty Proleague 2015 R1 both players with the same build

Viking before Raven

10 supply

12 gas

13 barracks

16 OC

16 factory (tech lab)

18 reaper

19 gas

21 starport

28 viking

switch starport onto tech lab, start a raven

This build has a very similar opening to that of the standard raven build. The first deviation comes in the making of a viking before raven. As with most Terran builds, there is much interchangeability in the earlier stages; you can get the reaper depending on the map and preferences for early scouting, or you can continue to make marines. Stylistically as well, you can choose to make the tech lab on either the factory, or on the barracks. Hellions are better for map control and pinning your opponent to their base; marines on the other hand, are better at warding off drops. When your starport finishes, instead of swapping it to the tech lab, you immediately make a viking. There are a couple of reasons behind this. The first is that you can catch any early drop plays heading towards your base mid map, and prepare accordingly if they circumvent your viking. The second is to catch banshees without cloak; your viking will be able to intercept a banshee headed towards your base before cloak is done, and with proper micro, you can kill it before cloak finishes. Following the viking, swap the starport onto the tech lab and get the raven out in case there is cloaked banshees on the way. This build is the modern way non expanding mech openings handle cloaked banshees.

another effective way at deflecting a banshee, viking/turret combo

Flash vs TaeJa G2 IEM Toronto Ro4

tech lab on barracks, hellion follow up

Flash vs TaeJa G3 IEM Toronto Ro4ForGG vs MMA G2 DH: Stockholm Ro8 MMA vs Jjakji G1 DH:Winter LR2

The Bunny build

The Bunny Build:

10 supply

12 gas

13 barracks (8x marine)

16 OC

16 factory (tech lab on this)

19 gas

21 starport

@100% starport, swap starport and factory

27 raven

@50 gas, reactor on factory

@400 minerals, command center

@finished reactor, swap barracks onto reactor

@finished raven, swap factory onto tech lab

2x siege tank out of factory

2x medivac out of starport

More of a timing build, this aims to hit the opponent with three auto turrets, eight marines and two siege tanks in the form of a drop or a natural bust. There are three "stages" to this build:

Survive early pressure

Siege tanks in first, out first

Camp opponents production

Pretty straightforward, but let's talk about them anyway. The first stage is simply to survive any potential aggression thrown at you by your opponent. Ranging from cloaked banshees to marine/hellion elevators, this build allows for adequate defense given proper scouting and reactions. After holding off any attacks, the second stage is to get aggressive. The key behind this is the siege tank. You need to have a conscious micro decision here to load one siege tank per medivac, and both have to go in first, followed by the marines. Why you ask? Simple answer, so that they unload first, and thus can get the quickest possible siege. It's vital that you get the fastest possible siege off, so that you can start blasting away at any marines, SCV pulls, or other units that your opponent uses to defend. Should the siege tank be last out of the medivac, it has to wait until four marines before it drops out, and at this point it may be too late to even get a single effective shot off against anything. Unload the drop away from cliffs, as it will be vulnerable to a low ground flank. Lastly, you want to drop on your opponent's production facilities. With the massive range of a siege tank, you can get them in the middle of their structures and in turn blast all of their reinforcing units to pieces when they pop out. Drop auto-turrets with your raven, siege up the production facilities, and laugh as your opponent can't do anything about it.

Bunny vs Polt G1 IEM Toronto group stageBunny vs Polt G1.5 IEM Toronto group stageBunny vs TaeJa G1 IEM Toronto Group A Both players with the same buildJjakji vs TaeJa G1 DH:Winter LR4 1-base variation
Hellions
Good against:


marine based compositions

no wall
Neutral against:


Bad against:


bunkers

usage in low numbers

walls
Massing hellions, a strategy popularized by ForGG, doesn't seem viable on paper, but somehow it works. The hellion is a more polarized version of the marine – not really good in small numbers, but once you reach critical mass, you can plow through anything. That number is around 30, and at this number your hellions start to splash damage onto everything while taking up enough space so as to not die too quickly to tank splash damage. Traditionally used as a runby unit or for drops, and in mech used as a buffer unit, the hellion can now be used right off the start in large numbers to decimate any combination of marine, marauders and siege tanks. Not only are they useful in the regular hellion form, but with the addition of an armory hellbat transformations give even more options throughout the game. Timings can vary between frontal hellbat pushes and drops, and having this variety of possibilities makes it even more difficult to defend against. With their mobility, they can also be used to quickly cover a base in reaction to drops or aggression, mainly to buy time for the heavier hitting units to arrive. The hellion retains its typical roles, but en masse gain altogether new abilities that broad their use and give more opening options.
10 supply

12 gas

13 barracks (1x marine, 1x reaper)

16 OC

16 factory

19 gas

20 hellion

23 starport

tech lab on barracks

24 hellion

Swap starport onto tech lab, start cloaked banshees

reactor on barracks

33 command center

@150/100, 2nd factory

reactor on barracks

swap 2nd factory onto starport

swap starport onto 2nd reactor
The premise behind this build is maximum flexibility early game, while typically leading into cloaked banshees. Starting with a marine into reaper, it's a mostly defensive beginning intended to defend against marine + reaper or double reaper pokes from the opponent. Depending on what you scout with the reaper, you can save making the addons until later in favor of getting earlier units to defend a potential push. This build plays out just like the cloaked banshee build, with little deviation until after the banshees start. It's worth separating the two due to the nature of the builds; without hellion support, you'll want to look for damage purely through banshees while teching up to stim, and expanding behind it. With hellion support, you'll want to be much more aggressive in the map control, and you'll be looking to run past their walls/bunkers at any opportunity available. This of course means that at home, you'll have much less defense than the standard banshee builds, and this is why being aggressive is important; keep your enemy pinned in their base while you control the map. Following the cloaked banshees is where we start to see the deviation. Instead of swapping the factory onto the tech lab and starting tank production, we use that tech lab for a second factory and in turn, blue flame. The reactor is used for our first factory, to begin pumping out hellions en masse. The barracks is used simply to make extra addons, and later for spotting potential drops. Another key difference between more standard builds is the lack of medivacs entirely. The starport is initially used for a couple of banshees, and following that, double viking production. You don't need a crazy amount of vikings, just enough to get air superiority going into the mid game, to defend drops. Following the vikings, land the starport back onto the tech lab, and continue banshee production. The synergy between the hellions clearing the marines, and the superior viking count leads to your opponent not being able to kill the banshees in the air, no matter what they have on the ground.
ForGG vs Polt G1 DH:Stockholm Ro16
ForGG vs Polt G2 DH:Stockholm Ro16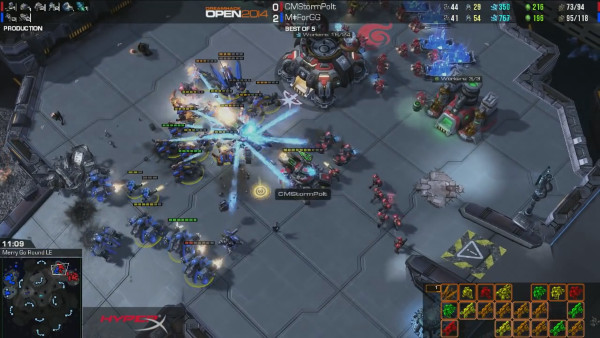 You can literally run into anything with this many hellions
Medivac Based Aggression
Another possible set of openings, which has been gaining much more popularity in the recent months, provides a nice alternative to the standard banshee/raven builds. Coming in the form of drops, these timings are designed to hit around the time a banshee pops out, forcing your opponent into either keeping the banshee at home, sacrificing harass damage, or go across the map with it, leaving little at home to defend in its wake. Not only does a drop force your opponent into making tough decisions, it also leaves you free to do whatever you want behind it. There are multiple variations of these early drop; some require you to elevate units into their base, others combine a drop with a runby. The core of these builds already incorporates early defense with continuous marine production, and once the factory finishes, hellion or widow mine production as well. Following the early opening, a hellion is typically made for scouting purposes, and after that either continuous hellion production or a widow mine to hit a drop timing. These timings hit at the same time, with different payloads. Furthermore, depending on what you scout, an engineering bay can be incorporated after the first hellion for banshee defense while you wait for your viking to finish. In general, the counter to cloaked banshees is to start your engineering bay at 5:45, followed by three missile turrets (one at each mineral line, and one on your infrastructure). The most common follow up to the drop is a command center immediately after you send your drop out, although one base play is possible as well.
1 mine, 6 marine drop
10 supply

12 gas

13 barracks (6x marine)

16 OC

16 factory

21 hellion

23 starport

26 widow mine

30 medivac

34 command center

tech lab on factory

reactor on barracks

@150/75, viking
Good against:


Neutral against:


Bad against:


defensive openings

reactored hellions

6 marine, 3 hellion

8 marine, 3 hellion
A common theme between these drop builds will be the similarity between what units you have, and the timing of the medivac. The build starts out with a gas first, and quickly deviates from the standard two gas banshee builds, when it opts to skip the second gas. Instead, the SCVs normally on the second gas will be mining minerals instead, allowing you to drop an earlier command center. Not only will your expansion be down faster than two gas builds, but your aggression will also be out faster. First, start by producing six marines. These will serve multiple purposes: defending against early aggression and reapers, and being used in the drop later on. The factory follows, in which we first make a hellion before the widow mine for map control and scouting purposes. It's easy to get it caught out of position by opposing hellions, so just try to poke around with it instead of committing to a hard scout in which it could easily be denied. The widow mine, meanwhile, will be used in the drop with the six marines. Following the factory comes the starport, and out of the starport we immediately produce the medivac, which times up nicely with the amount of resources we have. The medivac finishes at approximately 5:40; boost the medivac upon completion and pick up the mine and marines, and head out to drop your enemy. In general, it's safe to build add ons after your initial aggressive units are finished as you will be on the attack, pinning your enemy to their base. A safety viking is a good idea to create in anticipation of banshees, and can also be used as a ground unit in defense of a counter drop. As for the drop itself, aim for the mineral line, and as with the bunny build, make sure to load the widow mine in first so that it's out first. Avoid any enemy widow mines and drop behind their mineral line, and pick off as many SCVs as you can. Keeping the medivac alive is the most important part of this drop, as you can use it later on for continued harassment. This drop is used in conjunction with two hellions, which are used to runby into the natural, and if there is no hellion wall at the front, into their main base.
Maru vs TY G2 SSL 2015 Season 1 Ro16
cloaked banshee follow-up
Polt vs Cure G3 RBBG Grand Finals Group Stage
TY vs Maru G1 SSL 2015 Ro16
Bomber vs Polt G4 RBBG Semi-Finals
YoDa vs TY G2 GSL 2015 Code S Season 1 Ro16
raven follow-up with counter cloak
3 hellions, 6 marine drop
10 supply

12 gas

13 barracks (6x marines)

16 OC

16 factory

21 hellion

23 starport

26 hellion

30 medivac

32 hellion

37 command center
Good against:


banshees

gasless builds

6 marine, 1 widow mine

raven openings
Neutral against:


Bad against:


reactored hellions

8 marine, 3 hellion
This is similar to the six marine one widow mine drop, the difference being that the former incorporates a widow mine in the mix, while this variant has continuous hellion production. With more hellions than usual, you can initially be much more aggressive on the map. With this build, you can try to pick off any enemy units out on the map while your marines wait back home, acting as a line of defense while you wait for the medivac. The main concern with the attack is the cargo space available; only eight slots are available, and you will need twelve total slots. This means that you will have to elevate two groups of units in when dropping. The downside, of course, is that the units in their base are vulnerable while you elevator the second group in, while the upside is a much harder hitting drop. Use the medivac to try and find a blind spot in your opponent's vision to drop your army. This is a little less dependent on getting immediate damage done, as you will have more longevity with this attack compared to the widow mine drop, and you will be able to get into their mineral line without much trouble, even if you start out at the edge of their base. The timings are the same; the medivac finishes at 5:40, the command center starts around the same time, and addons can be added immediately after your units finish.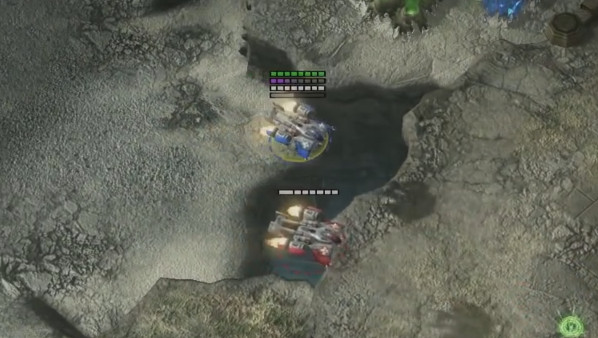 DROPS EVERYWHERE
TaeJa vs Polt G1 RBBG Detroit Finals
Polt vs Bomber G4 RBBG Semi-Finals
TaeJa vs Flash G3 IEM Toronto Ro4
Polt vs TaeJa G1 DH:Winter Semi-Finals
Polt vs TaeJa G2 DH:Winter Semi-Finals
Polt vs TaeJa G5 DH:Winter Semi-Finals
reactor variation
Polt vs ForGG G3 DH:Winter WR1
reactor variation
3 hellions, 8 marine drop
10 supply

11 gas

13 barracks

16 OC

16 factory

@50 gas, reactor on barracks (prioritize marine production over hellions)

20 hellion

22 starport

25 hellion

29 medivac

31 hellion
Good against:


banshees

gasless builds

6 marine, 1 widow mine

6 marine, 3 hellion

raven openings
Neutral against:


Bad against:


reactored hellions

cheeses
This is the most unique out of all of the drop builds. Right out of the gates there's a deviation involving an immediate reactor on the barracks before any marines (following a rule of thumb which will be discussed later). Rather than a twelve gas, we need to get an eleven gas so that our gas timings line up perfectly to make a reactor at the same time as the factory goes down. To send the drop out as fast as possible, we need to sacrifice some mineral income in favor of the earlier gas. Even with the earlier gas, we will be slightly short on minerals to make the starport immediately, which will result in our medivac being finished at around 5:45-5:50. Regardless, this timing still lines us up perfectly for a slightly more powerful drop, which hits at a slightly later time as previously discussed drops. Even if your opponent goes reaper, your first two marines should finish right around the time that the reaper hits your base, giving you enough defense early on. Your factory will make three hellions, and the starport a medivac. Just as before, the hellions should take map control early on. Denying your opponent's vision can also help with the surprise factor of the elevator, and you'll need them at your opponent's base in time for the elevator. One plus side to the early addon is the addon itself; you don't need to invest time after your aggression into making a reactor as you already have one, and as such you will have extra production in case of a counter drop. You can keep the reactor on your barracks, or you can swap it to your factory and start churning out double hellions.
ForGG vs Polt G1 DH:Winter WR1
Polt vs TaeJa G1 RBBG Detroit Finals
reactorless build
Polt vs Bunny G1 IEM Toronto group stage
reactorless build
Barracks followed by Gas builds
The other most common build, barracks before gas, is more of a defensive build. The gas timings after a barracks are normally on twelve or fifteen, and open a reaper or marine respectively. Almost never will you see a gasless expand because of the tech limitations naturally imposed on no gas; it's too hard to defend tank pushes and banshees without some form of tech. With the reaper opening you will want to drop a command center after the reaper, and use the reaper to scout where the enemy is if not a two player map, as well as what build they are using. It's usually safe to drop a reactor after the reaper completes because the reaper will keep any marines pinned to their base, and the only thing that poses a threat is a proxy barracks. With a fifteen gas, you will want to start making marines, followed by your command center and at 100 gas, your factory. As a general rule of thumb, either make two or marines then your reactor, or go straight into a reactor; one marine into a reactor will not be enough to hold off a reaper or an early marine push. Both the twelve and fifteen gas can allow for either one base or two base play, with the former naturally taking an aggressive stance over fifteen gas because of the earlier tech, and the latter being a more defensive opening, which can still allow for starport tech to be out in time against cloaked banshees and other forms of aggression.
Reaper into CC opening
Good against:


Neutral against:


Bad against:


siege tank pushes

higher reaper counts
10 supply

12 barracks

12 gas

15 reaper

16 OC

17 command center

17 reactor

19 factory

26 starport
Probably the most common build out of all the barracks into gas builds, this build gives you early access to a scout, and starts your economy up right off the bat. It also provides an early reactor, which can be used for either marine or hellion production. Of course, some maps are better than others for a reaper opening, but either way it's still a great scout for those starport timings, and gives you time to react accordingly. Use the initial reaper to see what your opponent is doing, and with that information you can either straight away drop a bunker in your natural in reaction to a hellion build, or delay it in favor of dropping earlier infrastructure. The utility a reaper provides allows you to drop an early command center; you'll have time to react to any proxy cheeses, early drops or banshees, as well as other timings. Following the command center comes the factory and starport. Once the factory is complete, you have the option of swapping it onto the reactor for double hellion production over marines. You'll want to keep up marine production if you scout two gases and a potential cloaked banshee build, and if you only scout one gas, stick the factory onto the reactor and pump out hellions in defense of a drop. Marines alone won't be able to hold off the drop play, and vice versa with hellions vs. a banshee.
The key with an early command center is to maintain your economic advantage going into the mid game. It's normal to stay on one gas with a reaper expand for quite a long time, even up until siege tank production starts. The extra minerals you are gathering will be cut into heavily by double SCV production and getting early defensive units out as fast as possible. Depending on what structure you placed on your reactor, you can go for various drops as discussed earlier (six marines and one widow mine, six marines and three hellions) while dropping the rest of your addons for further tech. An engineering bay can also be incorporated early on in response to a cloaked banshee build. If you stay on one gas, you'll have to rely on turrets and a viking to ward off banshees because you won't be able to afford a raven yet. With that in mind, you'll have plenty of scan energy as a result of the early second command center, and you can afford to use scans to fend it off. An important note here will be if you decide to SCV scout. If you see your opponent going for a gas first build, it's safe to stay on one reaper and immediately start a reactor on the barracks. If you see your opponent also going for a reaper, make a second reaper and supply depot before your second command center for safety's sake.
Bbyong vs BrAvO Proleague 2015 R1
Flash vs BrAvO Proleague 2015 R1
engineering bay added
TY vs Maru G2 SSL 2015 Ro16
Dream vs Maru G1 SSL Ro16
early bunker in response to pressure
Polt vs Cure G2 RBBG Group Stage
Double reaper variation into cloaked banshees
Cure vs Polt G2 RBBG Group Stage
Triple reaper variation into raven
Bunny vs TaeJa G2 IEM Toronto Group A
Cloak banshee follow-up
MMA vs Jjakji G2 DH:Winter LR2
Polt vs MajOr G1 IEM Toronto qualifiers
two reaper variation
15 gas
10 supply

12 barracks

15 gas

16 OC

19 command center

20 reactor

21 factory

27 starport
A more economic focused opening, the 15 gas is a slight variation on traditional gas after barracks builds. With a later gas, you have more minerals initially to spend on your supply depot and command center, resulting in a quicker expansion. Consequently, compared to the reaper opening, your reactor will be a little later. Not to worry, we're still following our rules of thumb and can get two marines before the reactor. The resulting infrastructure is the same as that of a reaper build; the command center is down, the barracks has a reactor, and you can transition from there. As with the reaper build, you can swap the barracks and factory and start churning out double hellions, or you can continue on with the double marine production depending on your defensive needs. A downside to this build compared to the reaper build is the reaper itself; you won't have access to an early scout, and will have to rely on SCV scouting and scans. Other than that, there are no differences; the distinctions between the two builds lie in the first few minutes.
As for defenses against later pressure (banshees, drops), defender's advantage will play a role here. Although you get a much later gas than a gas first build, the time it takes for the attacker to put on the pressure is enough time for you to adequately prepare to defend with the correct units. We are only 50-100 gas behind a gas first build, and that's plenty of time to bring up your own starport tech and respond with a viking and turrets if necessary. The difference comes with the gas; gas first builds normally incorporate another gas for the added tech, while barracks into gas builds rely on only a single gas until much later. While we don't have the same tech capabilities as an opponent with two early gases, we can make due with simply having more basic units and structures than them.
Polt vs Bomber G3 RBBG Atlanta
TaeJa vs Bunny G2 IEM Toronto Group A
TaeJa vs Polt G3 DH:Winter Semi-Finals
Jjakji vs MMA G2 DH:Winter LR2
ForGG vs Polt G3 DH:Winter WR1
Gasless 1 rax CC into 3 rax before gas
Good against:


Neutral against:


Bad against:


drops

siege tank pushes

hellion builds
10 supply

12 barracks (5x marine)

15 orbital command

15 marine

16 command center

19 barracks

21 barracks

22 2x refinery

@100 gas, double reactor on barracks

@25 gas, tech lab on barracks

@100 gas, stim

@50 gas, ebay

@100 gas, factory

@100 gas, +1 weapons

@completed factory, starport + reactor on factory

Swap factory and starport, start 2x medivacs
Although the build was popular at the end of WoL and start of HotS, it is now an outdated and figured-out strategy. So, you might ask why it's in this guide. This is one of those "high risk, high reward" strategies that you will almost never see, and because they are so rare, no one expects them to happen and thus can be used to steal a win. Completely forgoing early gas and defense, this build aims to hit a massive mid game timing. Although there is no gas early on, ironically it plays the biggest role in the build; it's as cookie cutter as you get on gas timings, and each building should finish/start within the second of collecting that last four gas. +1 Weapons start as soon as you have 100 gas, you have 150 gas as soon as your factory finishes for a starport/reactor, and you have 200 gas when your starport swaps onto the reactor. With this build, you get the earliest possible command center without going command center before barracks. Following that, you stay on as few marines as possible, while you build up your initial infrastructure; your three barracks will be the key to your timing. Only five marines are made before all addons are dropped; you'll need to start pumping out as many marines as you can, as early as you can to hit the timing. With having so little ground army, you are prone to many forms of drop play and siege tank pushes. Bunker down your natural, and pull SCVs if you have to.
After establishing your expansion and three barracks, now's the time to drop the first two gases. Each gas timing is fine tuned to the second and lines up almost perfectly with the next. After the first five marines, you'll want to drop the two reactors before the tech lab because of the construction time, and following the tech lab completion, start stim packs. After stim packs, at 50 gas, is when you drop the engineering bay. An engineering bay takes approximately 150 gas worth of time to complete. In other words, you'll be able to drop your factory when you hit 100 gas, and then start +1 weapons when your engineering bay finishes. Following the factory is the starport + reactor on your factory; meanwhile, you should be continuously producing marines and SCVs. Swap the factory and starport, and begin two medivacs. This is where the timing begins. Take map control with your large marine ball, and boost the medivacs across the map. Your +1 weapons should finish around the time your medivacs reach the enemy base. From here you have a couple of options: the first is to stim into their natural and try to kill everything. Even with siege tanks and marines, with good enough splitting, you can still deal a killing blow to them if they do not react perfectly. The second option is to split off with a drop, and go for a two pronged attack. This requires a bit more micro and situational awareness, and in turn can pay off with killing off two mineral lines at once. Either or, this is a very strong timing, and with the tech heavy routes and relatively little defense people are currently playing with mid game, this has huge potential to outright kill your enemy.
CC First
Good against:


no aggression

two gas builds
Neutral against:


Bad against:


The command center first is a rarity, and for good reason. As you forfeit an early barracks in favor of a slight economic lead, a CC first can die to many things. You should only take the risk off CC first as a meta play against an opponent who will not be aggressive early. A reaper first opening can deal a significant amount of damage to your SCVs because your marines won't quite be out yet; in small numbers, marines can be seriously threatened by even a single reaper. One gas and gas first openings can also wreck this build with good micro and positioning; any of the early drop builds can circumvent any bunkers and deal quite a lot of damage. Against two gas builds, you'll have a bit of an easier time surviving since your gas timings relative to them aren't that much later, and will be able to grind out your tech in a reasonable amount of time while maintaining an economic lead. Overall though, there's a lot of ways to die opening with CC first, and some of them you really just can't do anything about it. With that being said, there are two variations of CC first. One being a barracks into gas, and the other being double barracks before gas. Needless to say, the gas variation goes for starport tech much earlier, while the latter is a more defensive one with heavy marine production. Both have their perks and disadvantages, but we will only discuss the former.
CC first into 1 rax gas
14 command center

15 barracks

16 gas

18 OC

18 marine

19 OC

19 bunker

21 factory

25 gas
This build is without a doubt the better of the two variations, this build incorporates gas into it for the superior tech route. This build allows for some interchangeability; you can continue producing marines to fill the bunker, or you can stop at two and drop a reactor down to line it up with the factory timing and transition into early hellions. It's important to get the gases down early on as to start those gas heavy buildings, and their succeeding units. It's a relatively safe build at the start with the bunker down at the natural preventing any early aggression, and sets the economy up early on while sacrificing tech timings. Vision control of your base will be huge here, and especially early on to see those drops coming as soon as possible. Scatter the supply depots out, and react to each form of harassment accordingly by repositioning your units. Getting a wall at the ramp is important to eliminate some of the ground based attacks that your opponent could do, although a siege tank push will most likely force you to forfeit the ramp. Overall, command center first doesn't really put you that far ahead over a standard timing command center, and is very open to potential damage and has vulnerabilities everywhere. For the sake of variety it's included in this guide, but should only be used in extremely specific circumstances.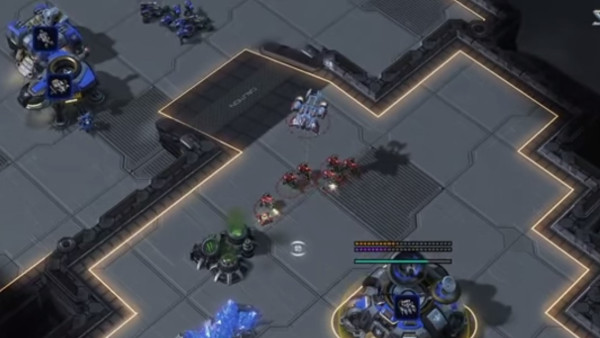 CC first is prone to many forms of aggression
TY vs Dream G2 GSL 2015 Code S Ro32 Group D
Bomber vs Polt G1 RBBG Semi finals
Cheeses
Good against:


Neutral against:


Bad against:


Unfortunately, Terrans don't have as much fromage potential as the other races. With our production being limited at only one unit per cycle, executing cheese is extremely difficult. Most, if not all, cheeses can be stopped with a single bunker, and of course if it is scouted than it's pretty much game over. But for the connoisseurs of the lactic derivative, here are a few builds that could take a quick win off an unsuspecting opponent.
Proxy Marauder
Build order:
10 supply

11 barracks

11 gas

14 tech lab

14 orbital command

14 marauder

16 concussive shells

23 gas
A much more common cheese in wings of liberty, made unpopular by the introduction of widow mines, the proxy marauder build can still win games if your opponent doesn't react correctly to it. The timing lines up nicely with two marauders out when concussive shells finishes, while pulling SCVs is also optional but not recommended unless you aren't confident you can't transition into another attack. Initially, use the proxy SCV to scout the top of the ramp of the opponent. Should they be making a bunker, attack with your first marauder. Otherwise, wait until you have two marauders out. Pay attention to your marauders with continuous micro, while trying not to get surrounded by pulled SCVs. And if you have top three control, try to focus fire down the marines before the SCVs as they are the biggest damage dealers. Without the marines, SCVs helplessly chase your marauders, and won't be able to kill them fast enough before they take too many SCV losses. The common follow up to this proxy is a starport; with the right amount of damage done, you should be ahead on economy, and will only have to worry about defending a counter attack. On the defending side of things, you'll want to pull SCVs immediately after you see the marauders while dropping a bunker at your ramp, and keep your marines alive for as long as possible. It essentially becomes a game of cat and mouse with each players taking turns, with the defending player not straying too far away from his mineral line and reinforcements with their SCVs, and with the attacker continuously firing off as many shells as possible, without getting surrounded by the SCVs. The early investment in gas means that starport tech will be out much later than your opponent, resulting in you having to be on the defense while you wait for your infrastructure to finish. It's imperative to keep all of your marauders alive, as your production will be momentarily halted while you wait for your factory/starport to finish up, and your barracks floating back home. A counter attack could instantly kill you if you have no defenses at home.
Heart vs Bomber G1 WCS 2014 Season 2 Semi-Finals
Maru vs Flash Proleague 2014
Supernova vs GuMiho G3 Olimoleague #15
Mass Reaper
Build order:

10 supply

12 barracks

12 gas

14 barracks

16 OC

make 5 or 6 reapers total

23 CC
This cheese is somewhat more common than the proxy marauder build, especially on three player maps, but nonetheless is very rare. The second barracks is a
makarax
so that the opponent has trouble scouting it, or can be proxied all together. There are three tells of this build even without scouting the second barracks. The first method of identifying this build is a delayed orbital command being made compared to a normal 12 rax. It will be significantly delayed by about 20 seconds. The second method is even more difficult: counting the SCVs. With a single SCV missing, you can never be sure if it's just a scouting SCV, or an SCV making another barracks, and this comes down to luck (seeing the scouting SCV out on the map). Regardless, at this timing there will always be three SCVs in the gas and either ten or eleven SCVs on the mineral line. The third and last method comes a bit later, with seeing a delayed supply depot. Similar to the delayed orbital command, this supply depot will be around 20 seconds later than normal. Once your second barracks is done, you're going to want to prioritize reaper production over SCV production, which results in a little time in between an SCV or two. Send in the first reaper to do basic scouting and minor harass, and from this, gauge if you should continue with non-stop reaper production. Once you have three reapers out, it's time to bring the pain train to your opponent. The big reaper attack hits at around 4:45-5:00, and depending on the positioning of your opponents units, will either begin marvelously or horribly for you. If you can get in without taking any initial damage and get into a good position, your reapers will be able to get a large amount of damage done. Try to keep picking off units with your initial reapers while you wait for the last of them to finish producing, and keep the initial ones alive with their regenerative abilities. If you jump in where there are already units, you'll take hefty damage and probably lose at least one right off the bat. It's a bit of a gamble, and instead of jumping right in you should get as close to the ledge as possible as to see if there are any enemies idling that will attack your reaper, giving away their position. This build isn't as all in as the other cheeses, and it leaves you with multiple transition options. An expansion is possible, or you can drop another gas early on and follow up with cloaked banshees or a tank drop.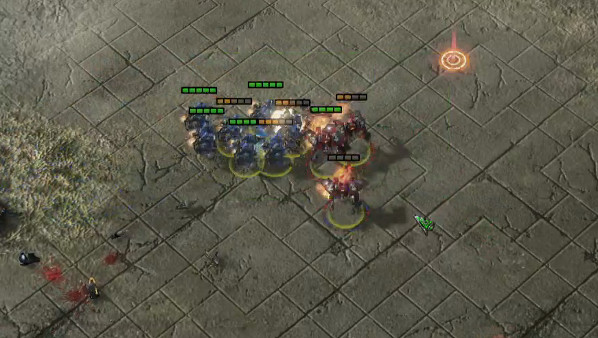 sometimes, just sometimes, the cheddar works
Bomber vs Polt G2 RBBG Atlanta
GuMiho vs TOP G1 HLK
Early transition out of reapers
9 marines 12 SCVs at 4:30 minutes
10 supply (stop at 12 SCVs)

11 barracks

12 barracks

12 barracks

15 orbital command (call down supply)
Perhaps the cheesiest of all Terran builds, this one stays true to the term of "all-in", courtesy of Geiko. This build relies on luck, in that if your opponent scouts you it's game over. A single bunker with a few SCVs repairing it will hold off this push with ease. As for the build itself, it's very simple. Cut SCVs at twelve, make three barracks and start pumping out continuous marines. It's important to stack SCVs on the closest mineral patches to receive the most income; this could mean the difference between having nine or ten marines for the assault, which could make or break the push. At 4:30 game time, pull
ALL
the boys with your marines, and charge for the win. With the rest of your OC energy, call down mules, and either continue marine production, or try to get bunkers down in their main base, preferably next to production structures.
Conclusion
To summarize early game TvT, you want to establish starport tech as soon as possible, and remain active with your scouting. TvT has a wide variety of different builds, most of which have little deviations compared to others, but can make a world of difference in their timing attacks. Your builds will allow you plenty of time to react accordingly to what's thrown at you, requiring only minor adjustments to different situations. Knowing what's coming is paramount, so don't be afraid to drop scans in order to be absolutely sure about what your opponent is doing. HotS TvT is pretty much figured out by now, and this will be your guide to the general style and strategies of early game TvT. Thanks for reading!