Strategy Spotlight: TAILS' 7:22 Dark Templar Drop with FE
From: TAiLS vs. Ryung, 2013 GSTL Season One - Team MVP vs. Axiom-Acer - VOD (pay only)
Introduction: PvT in HotS and other relevant things
PvT in HotS
The release of Heart of the Swarm changed every Starcraft II match-up and PvT is no different. The unit compositions and overall feel of games have remained similar, with Terrans usually going for bio and focusing on harassment while the Protoss defends as he techs to a fearsome colossi/templar army. However, the specific builds and flow of the match-up have changed entirely.
Terran drops are more powerful thanks to the medivac afterburners and most Protoss players are having having a hard time dealing with them. It's not just direct drop defense that's troublesome—securing a third base at an appropriate time to match the Terran economy is difficult as well, for fear of spreading oneself too thin against drops. The older Protoss standard, passive macro build of 1 gate FE into 3 gate robo into a tech of choice (forge/twilight, forge/colossus, or double forge) now struggles with Terran's stronger aggression. Thus, many Protoss players are eschewing 'standard' play, instead focusing on entering the mid-game in an advantageous position through early aggression (MC's stargate play comes to mind), or on preventing drops through harassment and map control.
The TAiLS Factor
Before we can begin to explain this strategy, we first have to account for
TAiLS
factor. Save for perhaps
GuMiho
and
YongHwa
, TAiLS is perhaps one of the biggest GSTL specialists there is. After all, TAiLS is not a GSL mainstay by any means. But what he lacks for in GSL results, he more than makes up for in his GSTL accomplishments. In the last season of GSTL, TAiLS ended the season with a 6 - 2 record, the fourth best in the entire league.
Almost more impressively, TAiLS did this almost exclusively with sniping builds. TAiLS is known as a genius in creating builds tailored to abuse his opponents' more predictable play patterns, or undiscovered quirks on a newly introduced map. When TAiLS was chosen as the second player for MVP against Axiom-Acer last week, the viewers and the casters knew we could look forward to a unique new build. After all, TAiLS' talent for constructing builds would certainly shine even more during the dawn of a new expansion. But before TAiLS could prepare an appropriate build, he would have to learn a bit about how Terrans were opening in HotS.
Terran Openings in HotS
For Terran, 15CC/1rax FE followed by 3 barracks into medivacs, by far the most common openings in WoL, still exist and remains a powerful builds, especially with the new turbo-vacs. However, those builds seem to be eclipsed in these early days of HotS by a fast CC build with a widow mine drop behind it. The widow mines incorporated into this build allow both for a better defense, and even a better early offense in combination with drops. This kind of widow mine drop isn't the fastest possible, but it can catch players off-guard, forces Protoss to play with such a possibility in mind, and more importantly gives the Terran plenty of scouting information.
This opening still transitions into 3 rax plus a reactored starport, but a key trade-off is that this build can't hit a stim-upgraded infantry drop timing as fast as the older 1rax FE because of the delayed natural expansion, smaller marine count, and later upgrades. Instead of the common 10 minute timing we would see with the old, direct-to-3 rax medivac build, stim+medivac drops will usually hit around 11:30 with the widow mine expand build. TAiLS' build was tailored specifically to counteract this new modern standard Terran opening, focusing on the HotS changes and new units such as the mothership core and cheaper dark shrine.
TAiLS' answer
While widow mines and booster medivacs seem to be two enormous upgrades to the Terran arsenal, Protoss also got some notable, albeit less glamorous and less talked about improvements. The two important ones here are:
The Mothership Core: With the photon overcharge ability, a mothership core provides a much needed anchor to Protoss defense. Though it's far from one-stop solution against multi-pronged drops, it can almost completely shut down early frontal aggression by itself.

A cheaper Dark Shrine: In HotS, the cost of the dark shrine was reduced from 100/250 to 150/150. A much cheaper dark shrine allows dark templar builds, especially dark templar-rush openings to be much more viable.
Taking these two points into account, TAiLS carefully constructed a HotS build that would surgically take Ryung apart, bit by bit.
The Build
As far as we can deduce, this is the exact build TAiLS used, give or take a few chronoboosts that appeared off screen.
Constant probe production
is assumed, except where specifically stated. There is
no probe scouting
with this build.
9/10 Pylon

Chronoboost Nexus x2

13/18 Gateway

15/18 Assimilator x2 (Cut probes briefly if necessary)

16/18 Pylon

Chronoboost Nexus (3)

Put 2 probes on each assimilators once they complete.

Chronoboost Nexus (4)

18/18 Cybernetics Core

20/26 Zealot*

22/26 Cancel Zealot right before completion.

21/26 Mothership Core and Warpgate research as soon as Cybernetics Core completes.

Chronoboost Nexus (5)

23/26 Nexus at natural.

Add 1 probe to each assimilator to bring them to full mining.

25/26 Robotics

Cut Probes

25/26 Twilight Council

25/26 Pylon

Resume Probes

26/34 Stalker

30/34 Warp Prism

Chronoboost Robotics Facility (6)

32/34 Dark Shrine

Start double probe production once second Nexus completes.

Chronoboost use seems to be flexible from this point/not enough information from VOD.

36/44 Gateway

36/44 Observer

38/44 Pylon

41/44 Stalker

45/52 Double gas at natural

47/52 Dark Templar x2 (7:22)

As you see fit from here on out, depending on what kind of damage you deal and what kind of scouting information you gain. TAiLS went up to 6 gateways while getting double forge, colossus tech and charge.
*The purpose of the fake zealot is to show opponent that you are building from your gateway, and dissuade him from using an Engineering Bay to block your natural expand.
Going over the build, there should be something that immediately jumps out at you:
TAiLS barely makes units.
The key point to take from this build is TAiLS' cut units very hard, relying on a combination of his mothership core, his knowledge of the metagame, and mind-games to defend against all potential early game aggression. His first stalker starts at 5:20, almost two minutes after the normal time. In total, TAiLS makes only two gateway units before his first warp-in of dark templars. The final result is that TAiLS had a DT drop in Ryung's base at around 7:20, only about
10 seconds slower
than a normal one-base DT build would have had in WoL.
TAiLS declined to scout at all, playing
totally blind
for the early minutes of the game. He was banking on Ryung going for the default build that was being used in over 50% of TvP games lately, and his guess proved to be right on the money. Ryung went for the widow mine drop - expand build as expected, allowing TAiLS execute his plan exactly the way he wanted.
TAiLS' plan to deal with the widow mine drop was clear: don't let it happen at all. The DT drop hit at a timing when the Terran player
must
have his army at home to defend or take severe damage from the Dark Templars. If Ryung had gone for the widow mine drop anyway, the fast observer, pair of stalkers, and mothership core would have been enough to defend the push with acceptable losses while his DTs wreaked havoc. TAiLS would also be totally fine with his opponent leaving his army behind to defend. It would pin the Terran player inside his base, while giving himself the breathing room to transition into a macro game.
Ryung had indeed scouted the drop with a small marine poke earlier on, just as TAiLS' warp prism was flying past his natural. His reaction was to go for textbook, solid play, as he backing out and getting detection up instead of being overaggressive against a seemingly exposed opponent. However, Ryung still didn't have quite enough advance notice to have scans banked up or turrets completed in time for the DT drop, and the DT's dealt decent damage and bought enough time to put TAiLS in a game winning position, even if that damage was just 5 SCV kills.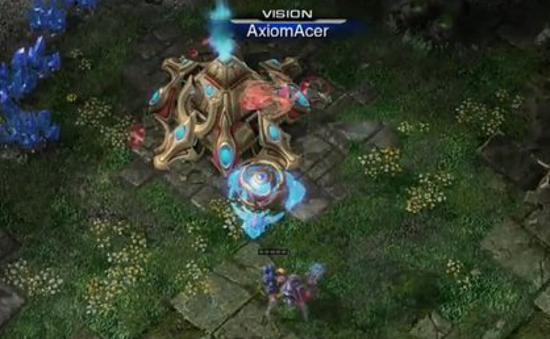 TAiLS' warp prism is scouted by Ryung's marine poke
The midgame: TAiLS' followup
7:55 Forge x2

8:40 Gateway x4

9:10 Robotics Support Bay

9:40 Zealot Charge research

11:10 First Colossus finishes

11:50 Charge research finishes
TAiLS' followup to the DT drop took advantage of his existing tech and map control very well. He knew that Ryung was contained because of his dark templars. In addition, any light aggression could be held off easily with a photon overcharge. Thus, TAiLS was still able to cut units in order to reach full two base saturation very quickly, and utilize his very solid economy to invest heavily in both tech and production. Another example of his solid transition is that instead of rushing directly to colossi after his DT drop, TAiLS padded his late game advantage even further by squeezing in double forges, delaying his colossi for as long as possible. In fact, both his first colossi and his charge upgrade finish around the 11:30 mark, the standard timing for a stimmed marine-maruader push/drop with Ryung's build.
Indeed, the game at the 9:30 mark looked quite favorable for TAiLS: he had double forge, 6 gates and colossus tech coming up, while Ryung was stuck with a handful of marines that had a long time to wait for stimpak, combat shields or +1 attack to complete. Ryung did have medivacs, but they had other use than for scouting, or an extremely speculative drop with no-upgrade marines. More importantly, TAiLS had 47 probes to the 34 SCVs and 2 CCs of Ryung.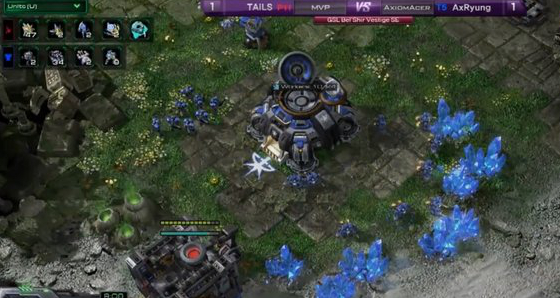 TAiLS' economy is much better as Ryung is forced to play defensively
Ryung used his medivacs to scout and bait out some MSC energy. He was successful at that goal, and was able to scout the two forges. Realizing how far behind he would be if he played a macro game, Ryung decided he needed to try to hit a two-base timing to kill TAiLS before his tech and upgrades paid off. Instead of building an extra CC, he upped his barracks count to 5 and pumped pure units from all of his production facilities, sacrificing upgrades and economy to get a powerful army as soon as possible.
Meanwhile TAiLS' midgame build was also differing from what used to be standard in WoL. Older colossus builds used to get 3 colossi with range as well as blink before switching back into high templar tech, or a single colossus with no range with very fast templar tech. The first option gave the Protoss quite a strong short term army, but it opened up a strong timing for Terran to attack with 2/2 infantry and a solid Viking count, before the switch into Templar tech was ready. On the other hand, the second option was very deceptive, strong defensively, and had templar tech fast enough to be considered more of a templar build than a colossus build.
TAiLS decided to do what many Protoss players have been doing lately, going for something of an in-between of those two extremes. He skipped blink and the third colossus (while still getting colossus range) in favor of zealot charge and a faster templar archives while still on 2 bases. A very small group of stalkers and the mothership core's purify was used to defend the colossi from vikings. This plan offered the best of both worlds: TAiLS had access to the brute-force strength of ranged colossi and was able to force viking production, but was safe from viking-heavy kill-timings and had a very well developed tech tree.
Anti Drop Defense
Throughout the midgame, TAiLS also remained on top of his scouting. Utilizing hallucinated phoenixes, he spotted no third CC, while noticing that bio units were being active on the map. He was thus able to correctly deduce that Ryung was gearing up for heavy aggression. The hallucinations also allowed him to make just two observers as opposed to the more standard three to four, allowing him to invest more heavily in army and tech.
It's important to notice how TAiLS split his army once he knew Ryung could start dropping stimmed infantry. Previously, a group of 6 stalkers in position was enough to defend most drops, as they would be able to two-shot a medivac flying in. TAiLS, on the other hand, chose to keep two stalkers, a sentry for guardian shield and 5 zealots as his main-base defense force, a substantially bigger force. Only with this bigger force and his nexus cannon was he able to repel Ryung's double drop easily—a small group of stalkers would have been crushed.
All in all, this phase of the game is more unforgiving for Protoss compared to WoL, as expensive units such as colossi, sentries and high templar will have fewer support units around them. TAiLS however showed how solid play can be enough to overcome the highly mobile Terran force.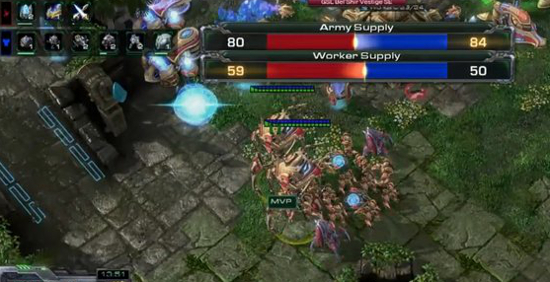 TAiLS' tech and upgrades pay off as Ryung is unable to do any damage
The end of the game: Ryung's all-in fails
After this first round of aggression failed to do any sort of damage, Ryung was in an unwinnable position. His opponent had been on a full two base economy for longer and had 2/2 upgrades (with 3/3 on the way) versus 1/1 with no armory even started. Additionally, the Protoss had completed both charge and a templar archives while Ryung desperately tried to up his viking count to hit his all-in timing.
Realizing his dire situation, Ryung pulled every SCV at his natural in a desperate, final attempt to take the game. However, but the combination of heavily upgraded zealots, colossus fire, and Ryung's own low medivac count proved too much to overcome. With most of his SCVs dead, Ryung did not have a single hope of beating a fully upgraded Protoss army with a wholly developed tech tree, and he GG'd shortly after yet another lost engagement.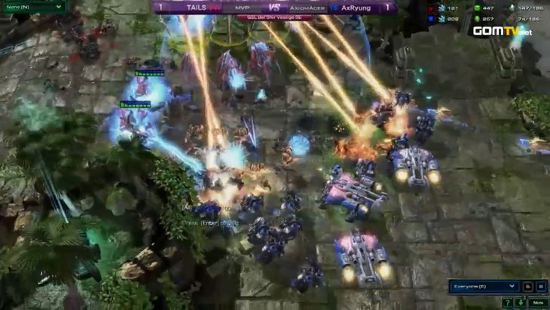 Ryung GG's out after his final attack fails.
Parting Thoughts
One-hit Wonder or Lasting Hit?
Things worked out very well for TAiLS against Ryung, with his opponent going for the exact strategy he wished to face. However, you have to wonder how this strategy would have fared if Ryung had tried something different. In fact, in the very next game of the series, TAiLS went for the same build against another Terran in
AX.Heart
, only to be smashed by his proxy-factory widow mine rush (albeit, his defensive execution was not TheBest). Heart's build showed how weak TAiLS' build could be against cheesy Terran openers, and one can imagine that a proxy 11/11 rax would be an instant GG.
At the same time, you have to keep in mind that TAiLS did, in fact, try to use his build again, despite having revealed it just one game before. While it could have been part of a "he couldn't possibly do it again" mind-game gambit, you could also think that TAiLS felt confident enough in his build to use it against Terran's other, non-cheese openers. A big thing to consider is that the DT drop is very likely to give you good scouting information, and allow you to adjust accordingly. Against Ryung, TAiLS knew that the stim-medivac timing would be late, and that allowed him to squeeze in double-forge before colossus tech. TAiLS must have faced a variety of Terran openers in practice, and would know how to adjust his tech follow-ups accordingly.
Already in WoL, we've seen FE openers with DT drops/observer-pylon warp-ins used successfully by a variety of Protoss players. TAiLS' optimized, corner-cutting version could very well be the next step in its evolution. On the other hand, it could also just be a one-off, used successfully for a vital GSTL win and then discarded. Only time will tell which one it is. Happy experimenting!