Reflection Symmetry vs. Rotational Symmetry

This is a discussion of the use of reflection symmetry vs. the use of rotational symmetry in the making of 4 player 1v1 maps. We will discuss the differences and their advantages and disadvantages in balancing. First of all, let's examine what Reflection Symmetry and Rotational Symmetry mean and how they pertain to map making.

Reflection Symmetry (Wikipedia entry)
Reflection symmetry, also known as mirror symmetry is when a figure (or map in this case) is reflected along an axis such that both sides appear the same. If you'd like to tell if a map is symmetrical by reflection, then all you must do is find the axis of symmetry and draw a line down it. If you then mentally fold the image along the line, the two halves should match up where they touch. You can see this type of symmetry in maps such as Lost Temple or Metalopolis.

Example of Reflection Symmetry: + Show Spoiler +


Lost Temple with highlighted axis of symmetry: + Show Spoiler +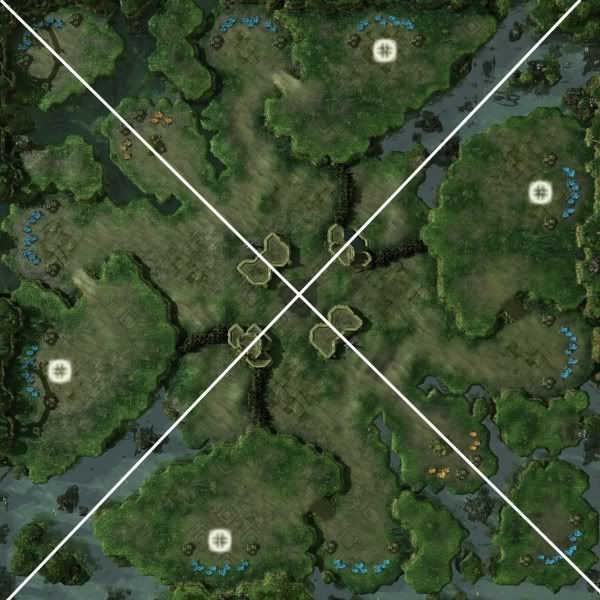 Rotational Symmetry (Wikipedia entry)
Rotational symmetry, I've seen described as "pinwheel" symmetry, is when a figure can be rotated by a certain amount and appear the same. If you'd like to tell if a map is symmetrical by rotation, then all you must do is rotate it at the center until it matches the original. Generally in 4 player maps, you just rotate the map by 90 degrees and the everything should be the same. You can see this type of symmetry in maps such as Delta Quadrant.

Example of Rotational Symmetry: + Show Spoiler +


Delta Quadrant with lines to highlight rotated sections: + Show Spoiler +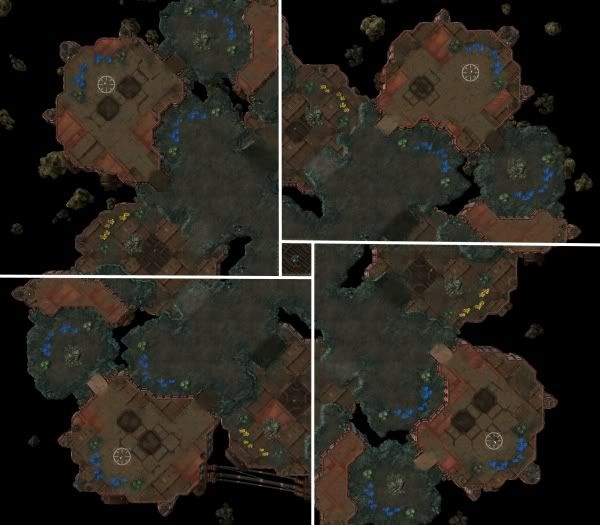 How does this affect map balance?
Here comes the discussion part and where I'll share with you my opinion on the subject.

The way that this affects map balance is in 4 player maps, is with positional balance with regard to spawn locations. With a 1v1 game played on a 4 player map, the spawn locations of the players are variable. Therefore, balance consideration needs to be taken into account such that all possible variations of spawn locations for the two players are equally balanced. When using one of the two types of symmetry we've seen earlier, the considerations are different, and rotational symmetry is considerably more difficult to balance. The biggest area of concern, in my opinion, would be expansion placement when considering expanding patterns.

When using reflection symmetry, the designer is actually inherently given a balanced map. When looking at Lost Temple, if it were perfectly reflected, then no matter where the players spawn, they are both given the same advantages and disadvantages. If they spawn close positions, they both have to contend with being unable to easily expand to a third base. No matter where the players spawn, they are given the same choices for expansions and their expansion patterns are the same.

When using rotational symmetry, the designer must contend with inherent imbalances. Unless the players spawn in cross positions there are going to be imbalances. Much care and consideration are needed in order to make it balanced. It may look balanced since it is symmetrical, but don't let that fool you. In order to discuss some of these imbalances I'm going to use an example map.

I chose the Starcraft 2 remake of Fighting Spirit by prodiG because it's good but you can still see some of these imbalances. An image of Fighting Spirit for reference: + Show Spoiler +


With spawn positions at 2, 5, 8 and 11 o'clock, let's use the top spawns at positions 2 and 11 for our examples. From the very start of the game, you'll notice the positions of the natural expansions. When spawning at the 2 o'clock position, taking your natural expansion, you expand towards your opponent at the 11 o'clock position, while they take their natural and expand away. This does not seem like much of an imbalance yet, but when looking at the air attack paths, a straight attack path from 11 to 2 has the player traveling over the 1 o'clock natural, where it does not travel over the 10 o'clock natural. Of course, this wouldn't stop you from expanding at your natural since the benefits of the close natural outweigh these imbalances.

But when choosing a third expansion, this may not be as easy a choice. The player at the 1 o'clock position could take a third at the 3 o'clock position and they would safely be expanding away from their opponent. Unfortunately, the player at the 11 o'clock position could not expand to the same relative base at the 12 o'clock position and gain the same safety. They would be expanding towards their opponent and decreasing the opponent's attack distance. Fortunately, there is another viable third expansion for our 10 o'clock player would be the third at the 9 o'clock position which is of similar distance away from the natural.

Fortunately, the designer of Fighting Spirit is quite good and was able to account for the inherent imbalances with good expansion placement, but in the hands of inexperienced map makers, rotational symmetry's imbalances could be amplified. When doing rotational symmetry, there are a lot more things to consider other than just giving each player the same number of expansions. The positions of these expansions and how they relate to each spawn point needs to be considered.

These are my thoughts. I would love to hear yours.