http://youtube.com/watch?v=1Dtki_hiEPU



Two months ago the masses waited for the announcement code named "Ambition". Hundreds of people frantically F5'd their browser in hopes to grab a first look at "Ambition" hoping it would not disappoint like so many announcements before it. Due to the sheer number of refreshes in the space of 30 seconds, teamliquid was flooded and temporarily crashed. After that small detail was fixed, the public saw something revolutionary. Something so important for the foreign scene but had been put off for so long by too many people. This was the Teamliquid Starleague.

With an epic prize pool of $10,000 thanks to our sponsors, Razer, interest in this tournament skyrocketed. This was clearly not 'just another tournament' as one prolific person commented. The ladder phase saw the participation of hundreds of gamers bring out new talent like the Russian Terran giant BRAT_OK, bringing the old gosus from yesteryear like Nazgul and Legionnaire. The community was revitalized for the brief three weeks of ladder play - the TSL was a smashing hit. The qualifiers were ruthless. Players were dropping left right and center and very shortly the player pool of 48 was whittled down to the top 16. Then the real tournament took off.

The first broadcast was aired on Saturday 10th May to an amazed audience. For the first time they saw the infamous TSL probe (as featured above) and Yannis' sick TSL intro video. The production quality astounded the public and rival sites alike. Coupled with the manly voice of Manifesto to open proceedings, this day was monumental in the history of Starcraft. After three weeks of watching the best duke it out in perhaps the best tournament ever, there are only two competitors left. And only one will walk away with the $5000.




Draco and IefNaij have separated themselves out from the rest and are one step away from being able to claim the title. They have endured through the ladder phase and both ended up in the top 16 of the rankings. They both went on to qualify first in their groups into the Razer TSL Ro16. From there they defeated each of their opponents to this point, where they stand face to face with one battle left. Not only is their pride and a title on the line, there is $5000 up for grabs, something which both gamers eagerly desire. So let's meet out beloved finalists and see what motivates them;


---
Made with balls.
---

3rd place, GGL AmeriCup
1st place, TANL-3
1st place, Rymarov Spring 2007
2nd place, ToT invite.
2nd place, Eurocup.
1st place, WCG Poland 2006
1st Place, DreamHack 2006
1st place, ESPGL
2nd place, WCG Poland 2004
2nd Place, TANL-2
1st Place, Rymarov Spring 2005
1st Place, Rymarov Summer 2005
1st Place, Warsaw Game Show 2005
3rd place, PGR21
Former Progamer for OnGameNet Sparkyz

Draco is perhaps the person to beat in this tournament. He entered as one of the two strongest candidates of this tournament, and he has not disappointed in living up to this reputation. He has defeated all his opponents with rather convincing score lines - only White-Ra giving him serious trouble. All this is not surprising seeing as he is the only person in this tournament to have the benefit of 8 months of full on training in Korea; which undoubtedly has given him a huge leg up over all his opponents.

Draco has an interesting style because not only does he have sound mechanics but he is perhaps one of the most varied and creative protoss in the free world. Let's take a trip back to when Mondragon was the undeniable god of foreign starcraft. Having defeated Zeus at the Mystery Map Invitational, his ZvP was considered to be unbeatable. Then Draco came along, with some inspired builds such as his speed shuttle strategy borrowed from Nal_Crayon to defeat Mondragon. Of course that was not the last we heard of Draco either - he went on to dominate tournament after tournament as his results sheet shows. His gift to vary it up lead to him defeating Midas at WCG and has given him great results in this tournament thus far. In PvP Draco has remarked that he prefers to vary it up because playing the same build repeatedly tends to result in losses.

Throughout this tournament Draco has been inseparable from his claim that he never practices. Many people have seen this as disrespectful to the tournament and the players, but this is nothing new. Draco is notorious for not practicing for his games - take last years PGL for example, in a prematch interview he stated that "To be honest I didn't prepare at all. I played few games on the ICCUP ladder to just remind me of the mouse and keyboard control.". Does that sentiment sound familiar? Whether or not he practices or not is irrelevant at this point in time, he is on the verge of success in this tournament and with everything on the line - the ball is in his court.


IefNaij is the antithesis of Draco in almost every way. This is his first major tournament despite being ranked as one of the strongest players outside of Korea. Thus the lack of tournament placings above this paragraph. That being said, there is no better way to start his tournament placings than with #1 TSL. IefNaij broke out onto the scene during the old PGT seasons when he placed very highly. He then went on to dominate in multiple clanwars and developed into a Protoss killing machine. He has been a force ever since, dominating many top tier players all over the world. Despite the lack of premier tournament experience, he has torn through this tournament and is on the verge of something big.

IefNaij is the foreign god of the Reaver. He is one of the very few people who can command the reaver like an extension of their own body. Another notable player with this talent is the micro god IntoTheRainbow. When asked about why he uses this units with such mastery he simply responded "I just use them very often, and cannot play without them". His use of the reaver has significantly contributed to his success in this tournament using them both offensively, defensively and for harassment.

Of his three matchups, IefNaij believes that PvP is his strongest but Draco will be no pushover. There is a recurring theme in IefNaij's interviews of respect and fear of his opponents and as the pressure has risen his concentration and dedication has risen to match. Each game is treated as a new hurdle to overcome, a new barrier to smash, a new opportunity to showcase his talent. On the subject of Draco he commented "I know he's a excellent player and arguably the most experienced player in the foreign scene, it will be a tough fight.". IefNaij will be bringing the fight to Draco this Sunday night.


Razer Teamliquid StarLeague Grand Finals
June 1 - 16:30 EST/22:30 CET/5:30 KST
Draco
vs
IefNaij
Game 1 -
Othello
Game 2 -
Blue Storm
Game 3 -
Wuthering Heights
Game 4 -
Zodiac
Game 5 -
Othello


This is it. Five games to separate two of the greatest Protoss outside of Korea. This is a protoss civil war; this is the Aeon of Strife. To attempt to predict this game is rather futile as both gamers are well prepared to take this - and with $3000 separating 1st and 2nd both will be eager to edge out the other. The only thing assured in this game is that both players will be seeded into the next TSL which im sure is a relief for both players.

Draco holds an impressive 80% win rate in PvP in this tournament with stats 8-2 while IefNaij is sitting on 66.67% with stats 4-2. Both players have had good results on all four maps with no map standing out as a weak point for either. IefNaij has commented that he likes Zodiac, as it suits his style, so that could be a useful factor for him. Draco on the other hand has no map preference, seeing as he doesn't know any of them well.

Early on in the tournament we remarked that IefNaij had nerve trouble in his match with Cloud - over the course of this tournament he has mastered those nerves and is now in control of himself. Draco has nerves of steel, as he has proved time and time again against in a number of situations. No clear advantage can be given here, except for the fact that Draco has played many more tournaments and been in this situation before a number of times while this is IefNaij's first.

As to who will take this series? Asking around the staff gives no clear result, neither do the top tier players that frequent this site. While Draco is arguably the favorite due to his experience, people realize that this match is so close in terms of skill that its impossible to be sure at this point. The deciding factor may be the support shown to each of the players - so voice your support here or in the hype thread before time runs out!

Speaking of hype, there have been some awesome images made and some of my personal favorites are;



By Phoned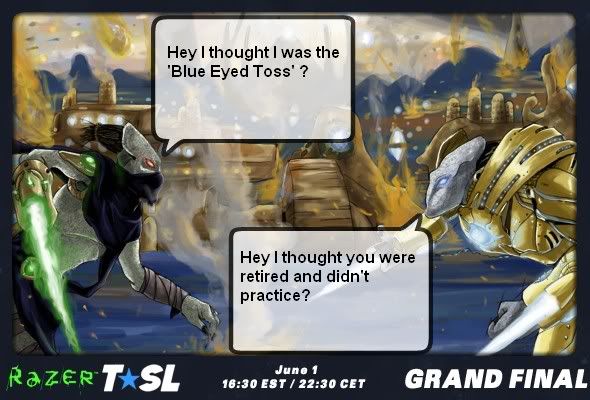 By Nightmarjoo



By DanceCommander

Head over to the hype thread and add yours and join the lolz

Don't miss this momentous occasion tomorrow as the Razer TSL comes to its conclusion. The Aeon of Strife will have its victor in little over 15 hours and one person will be $5000 richer. Also, all the official images in this post are available in much higher resolutions - just click the image to get the high res version

Enjoy the finals and spread the word!!


---
Thanks to Sigrun for the Aeon of Strife image
Thanks to d.arkive and pachi for the player pictures
Thanks to affla and pachi for the probe image
Thanks to Yannis for the probe intro
Thanks to Gosugamers for the statistics on each player
Thanks to myMyM for this interview
Thanks to starcraft.gamesport.net for this interview
Thanks to Razer for making this event possible with their generous sponsorship
Lastly, thanks to you, the viewers and readers, for making this tournament such a success