.D
IEM World Championship - Day 3 Recap - Group D
Photo Credit - IEM
Day 1 Recap - Day 2 Recap - Day 3 Recap - Day 4 and 5 Recap - Photo Gallery

Kingdom Come

Rumors of
LG-IM_Mvp's demise have been greatly exaggerated. The King of Wings may have ended his WoL career with an ignominious banishment to Code B, but he started his HotS career strong by going 5 - 0 in his group at the IEM World Championship. Mvp's early elimination from the GSL may actually have been a boon heading into the new era of HotS, as he looked well versed in the new strategies and tactics. Afterburner medivacs only served to make Mvp's harassment favoring style more powerful, while he deployed widow mines effectively to both control space and win straight up battles.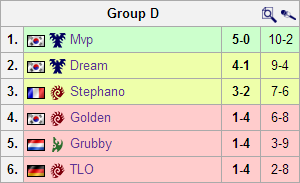 Group D end standings.
As Mvp's 10 - 2 map score demonstrates, he was rarely troubled in the group. The player who put up the best fight against him was
Dream, the talented young Terran from Team MVP who ended up finishing in second place. Like Mvp, Dream had a relatively long amount of time to prepare for HotS, and was also able to effectively utilize the new units and abilities to make short work of the other players in the group.

The first game in their series (VOD) was a great example of how HotS TvT might play out between two skilled players, as widow mines added a new dimension to the early game harassment wars. Eventually the game stabilized into a macro battle, and Mvp didn't hesitate to go for his trademark mech play, now bolstered by battle hellions and widow mines. While Dream was able to stay even with Mvp's mech using a bio-tank composition, he found himself caught off guard by another signature Mvp tactic. Mvp transitioned into battlecruisers without tipping Dream off, and abused his opponent's lack of anti-air to take an impressive victory.

Mvp fell in game two when Dream simply out-microed and out-multitasked him in the early game, but hit back in the deciding game with early aggression of his own. Mvp's proxy starport, marine-hellion drop build was a classic from the WoL days, but the afterburner ability meant that no silly vikings were going to deny the constant ferrying of units into his opponent's main. Mvp took a game deciding lead, and safely rolled it into a victory in the mid-game.

For Stephano, real games and practice are one and the same.

Coming into the tournament,
EG.Stephano.RC mentioned several times that he was not very practiced in HotS. From the content of his games, no one can really accuse him of bluffing. Watching Stephano's games was a fascinating experience of seeing a player adjust on the fly, deciding to run with the new concepts that were easily understood while aggressively discarding the rest.

Stephano decided on roach-hydra-viper as the primary HotS composition he would go for, perhaps because it closely resembled the hydra-roach play he had experimented with towards the end of WoL, and perhaps because viOLet successfully used it to go 5 - 0 in the previous group. Each game ended up being a two-fold learning experience for Stephano, as he tried to figure out how to best use his new composition, while at the same time learning how to fend off the new forms of harassment that would prevent him from putting his army together in the first place.

Against Mvp, Stephano found himself getting cut apart by widow mines and drops, and was unable to make sufficient adjustments before losing 0 - 2. However, Stephano learned a lot from that losing experience, and looked much more comfortable against Dream. Despite losing several drones to an unexpected hellion drop in their first game, Stephano nearly rallied back for a win using some brilliant roach-hydra-viper engagements against bio-tank. Unfortunately for Stephano, he picked a fatally poor engagement afterward, sending him back 0 - 1.

In the next game, Stephano toyed around with a burrow roach rush, and was able to take the lead by delaying Dream's expansion severely. After building up a roach-hydra-viper composition again, this time Stephano was able to crush Dream convincingly with a superior economy and more great engagements.

With Stephano looking better at HotS in every game, it seemed like his third game against Dream would surely feature his best performance yet. However, Stephano's decision to go for three fast hatcheries, and Dream's following decision to go for hellion-banshee, turned the game into a retro WoL affair. After a lengthy build up on both sides, the game would finish with one of the rarer WoL endings, as seeker missiles tore through Stephano's brood lords and corruptors in the final battle.

HotS Notes

Another day, another set of reflections on HotS.

Stephano actually won both of his ZvZ series. Strangely enough, the new muta vs. muta standard seems to be helping the master of roaches so far.

Alongside Nerchio, TLO became the second Zerg of the tournament to go for a mutalisk oriented style in ZvP. The main difference was that TLO added in banelings to help his zerglings out on the ground.

Mvp played some TvZ games where he almost entirely replaced tanks with widow mines, while Dream played more old school, maintaining tanks as an important part of his composition.

Infestor-Brood Lord went 1 - 3. Whaaaat?
LG-IM_Mvp vs.
Acer.Nerchio or
mouz.MaNa

The Polish grudge match between Nerchio and MaNa will break IEM director Carmac's heart, but it's bound to be a great spectacle for the viewers. Nerchio comes in having gone 0 - 2 in ZvP in the Ro24, but keep in mind that both losses were to Yonghwa and PartinG, the two players who topped the group. Meanwhile, MaNa went 2 - 1 in PvZ, defeating Snute and VortiX while taking a loss to viOLet.

One thing to keep an eye on will be how Nerchio uses spire tech. Nerchio showed a strong preference for mutalisks and air units in his Ro24 matches, and surely MaNa will check up on the VODs of Nerchio's games. In turn, Nerchio will know that MaNa has scouted his games, opening up all sorts of devious mind games. We've seen plenty of Zerg players in WoL go for clever spire fakes, allowing their tech to be scouted but going for ground compositions instead. We've also seen some really nasty delayed muta strategies, with players going spire, declining to build mutas at first, and then going for a delayed air switch after the opponent has been confused.

In the end, MaNa vs. Nerchio might end up being just a formality, as the winner faces Mvp. Mvp looked barely concerned as he destroyed his Ro24 group, and it would be a surprise if Nerchio or MaNa became the first players to give him any real trouble. For what it's worth, MaNa and Nerchio did manage to defeat their Terran opponents in the Ro24, so they can't be too easily overlooked.



LG-IM_YoDa vs.
SKT_PartinG or
EG.Stephano.RC

While we'd have much preferred to have seen PartinG and Stephano face off at the peak of their WoL powers, any match between the two is still a treat. As far as the PvZ early game goes, it hasn't changed too much in HotS, and we could see conductor PartinG start up the Soul Train one more time. PartinG's famed immortal-sentry all-in has triumphed over every Zerg player not named ST_Life, and surely PartinG wouldn't mind adding Stephano's name to his long list of victims.

Oddly enough, Stephano might actually prefer that PartinG go for the Soul Train. At least that's a strategy he'll be very familiar with. If PartinG decides to go for the same three-base laser-toss strategies he went for in the Ro24, then Stephano will be very much out of his depth. Of course, Stephano has more than a fair shot of killing PartinG with waves of hydras and roaches before he can assemble his void ray and colossus composition. But at least going by PartinG's games in Group A, he's already become rather skilled at fending off attacks while he assembles a deadly colossus-void ray army.

In any case, the winner of the match will face a tough challenge in YoDa. While YoDa "only" finished with a 9 - 4 map record in the Ro24, he was still pointed out by viOLet as the player to beat in this tournament. Since viOLet himself is considered one of the top HotS players in the early going, we definitely have to consider the possibility that YoDa can play at a higher level than he's shown so far. The problem with YoDa is one that started in his WoL career: he's not consistent in important games. Sometimes he looks like a world beater, and sometimes he just falls apart. While PartinG and Stephano might be worse than YoDa at HotS, they hold an advantage in being players who play well under pressure.



LG-IM_YongHwa vs.
Liquid`Ret or
WW.Sting

Ret wasn't happy drawing a Terran opponent, which doesn't come as a surprise after he was ripped apart by YoDa's widow mine based harassment in the Ro24. Sting, too, seemed well acquainted with how to use widow mines to drive his opponents crazy, taking out Snute and VortiX in the Ro24. If Snute and TLO can't help Ret come up with a solution quickly, then his revival is going to be cut sadly short. In addition, Sting has been an avid fan of going for two-rax bunker rushes ever since the WoL days, which will make him all the more frustrating for Ret to deal with.

For the winner of Ret vs. Sting, Yonghwa must look equally tantalizing and dangerous. Despite being far from the most experienced HotS player, Yonghwa still went 5 - 0 in the group stage, and a tournament best 10 - 1 on maps. While he's had two days to talk to the other Koreans and learn more about HotS strategy, he may still find it awkward to deal with Ret's swarm hosts or whatever HotS specific 1/1/1 variants Sting surely has prepared.



Azubu.viOLet vs.
MVP.Dream or
LG-IM_First

First and Dream should be an amazing rematch from the IEM Katowice finals, where First triumphed 3 - 1. The two were top-tier players at the TvP match-up when they met in Poland, and they're sure to bring the same high level play to the rematch. In addition, both have looked very strong in HotS so far, which might make this the most skillful match this tournament has seen so far. It's only fair to favor First in this head to head as he won their last meeting, but it wouldn't be surprising to see this match go either way.

viOLet has gone on record saying he prefers to play ZvP, and he just might get his wish. However, he shouldn't be too displeased to draw Dream either. While Dream was able to defeat TLO soundly, he looked surprisingly vulnerable against an unpolished Stephano. Historically TvZ has never been Dream's best match-up either, so viOLet looks to be a decent position in this quadrant of the bracket.