Registration opens on Thursday, Dec 08 11:00pm GMT (GMT+00:00)
Tournament begins on Saturday, Dec 10 5:00pm GMT (GMT+00:00)
---
Team Liquid Map Contest TL Open (NA)
Casted by Orb
A few months ago, with the blessing of Blizzard, we ran a contest looking for
some new maps
. After a month of hard work and careful judging, we named
seven finalists
and now we are ready to show them off in a tournament. This TL Open will use exclusively these maps, giving a chance for people to show off their creations in a best-of-3 format. The maps (seen below) will be the only maps played throughout this event, even when picking for second and third games. There will be no ladder maps in the map pool.
Unlike previous TL Opens, best-of-3 matches will begin at the Round of 64. Rounds of 512, 256, and 128 will be best-of-1.
Structure will be the same as normal TL Opens - Bo1 until Ro16 and then Best-of-3.
Click here to view early registered players for this week
.
---
Team Liquid Map Contest TL Open Details
Registration for the tournament will open
Thursday, Dec 08 11:00pm GMT (GMT+00:00)
.
Check-in begins on
Saturday, Dec 10 4:30pm GMT (GMT+00:00)
.
Tournament begins on
Saturday, Dec 10 5:15pm GMT (GMT+00:00)
.
View details and register here
.
This tournament will have a prize pool of $2,000, with $1,000 going to the winner. The prize pool is sponsored by
The Little App Factory
.
Professional players can
PM Hot_Bid
for early registration. Please include Bnet NA id, code #, race, and country.
For those that haven't participated in a TL Open before, it's a great opportunity to play in a well-run event broadcast by some great commentators. If you'd like to help cast the earlier rounds of a TL Open, feel free to
apply here
.
---
The Maps
You can find these maps on NA/SEA/EU by searching for [TLMC].
Burning Altar
by Samro225am and TPW


- Features 3 bases per main, all spawn points enabled
- Xel'Naga towers do not give away too much information, a careful opponent can avoid its reach but a lazy opponent will walk in plain view
- When destroyed, rocks shorten attack paths to your opponents third, but also allow you to defend your own third quicker
- Map allows for both aggressive play and long macro games which means no strategies are eliminated on this map
Cloud Kingdom
by Superouman and ESV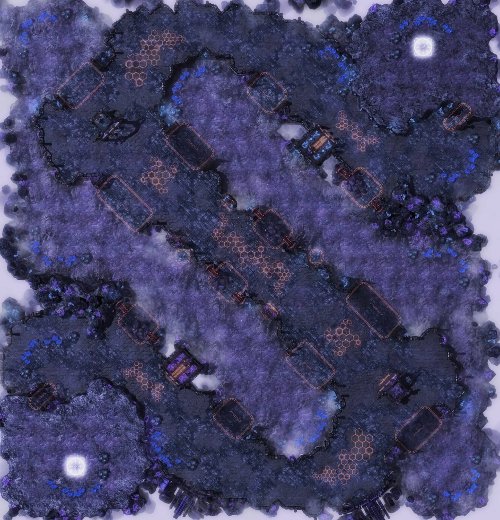 - 2 player map with an easy to defend natural
- Many variations in terrain make deciding where to battle a pivotal decision
- Expansions become progressively more difficult to take as the game progresses
- Allows for clever tactical troop management and makes for long macro games
- Affectionally named "Bobby's Flying Castle" during test games, upon playing the map this name should be clear
Havens Lagoon
by Timetwister22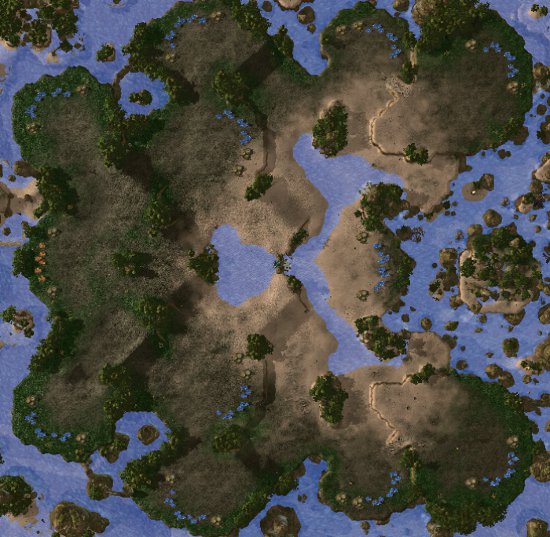 - Map increases in height as more and more expansions are taken
- Map emphasizes exploiting the height differences to gain an advantage
- Rewards players for controlling their units well and taking slightly longer paths for better position
- Allows for a variety of playstyles including air and harass based play due to the large space between mains
- One of the most enjoyed maps by playtesters
Korhal Compound
by monitor and ESV


- Formerly known as Daggoth Crater
- Features a natural flow to taking expansions
- Often results in split map situations where careful navigation around the middle is required
- The towers are useful in defence, but can easily be acquired by an attacker
- Usually results in long macro games
Ohana
by IronManSC and TPW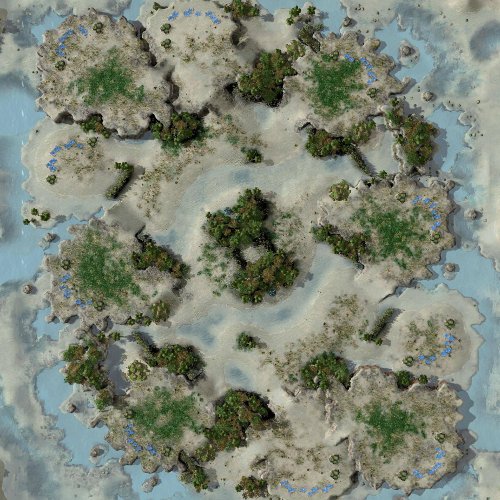 - Extremely technical map with many features
- Backdoor doesn't prove to be imbalanced as the second ramp allows you a second chance to defend
- Expansion layout only allows you to claim 4 bases with ease, you really have to work for the last base
- Many back passageways to allow players to do surprise attacks and counter attacks with ease
Sanctuary
by Grebliv and ESV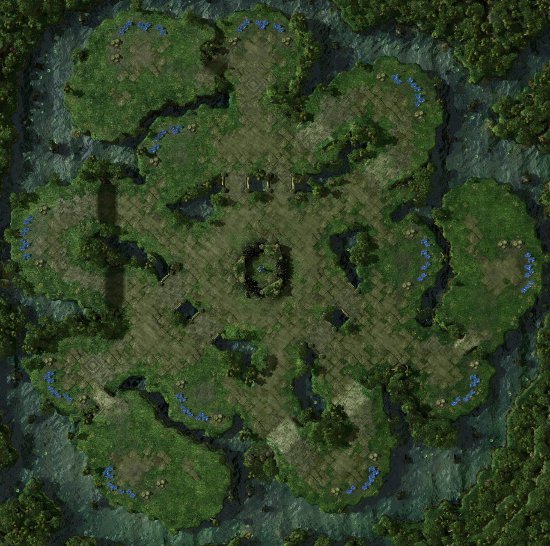 - Three player rotational symmetry with minimal positional imbalance
- Controlling the other main allows you to get an extra base in a split map scenario
- Map allows for standard macro play and key chokepoints around your third allow for good defensive positions
- An aggressive player can hold the Xel'Naga Watchtower and gain vision of the entire center, making this an important point to control
- Movement around the sides of the map can lead to surprise flanks
Twilight Peaks
by Ragoo and LoS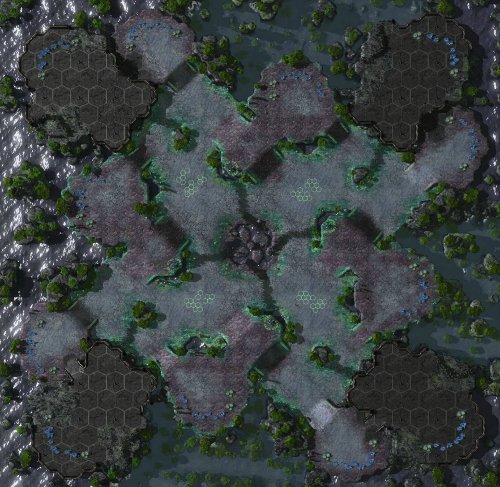 - 4 Player map with 3 bases per main, rotational symmetry with minimal positional imbalance
- The third looks easy to take on this map, but the towers give you a false sense of security and can lead to aggressive play off of two or three bases
- Once aggression has settled, players can easily obtain 5 bases and fight over the remaining 2 bases
- Allows for a diverse number of strategies to be played
---
Remember these maps can be found on NA/SEA/EU by searching for
[TLMC]
. Good luck and happy practicing!
If you are interested in sponsoring a Team Liquid Open or one of our other events, please see our advertising / sponsorship page.