TL Mafia 2 [GG]
Be patient people. It's like necessary in the actual game

On March 20 2008 21:32 smurfingchobo wrote:
Btw, was Inc's lynch just a random pick or was there a reason? Guess I'll read through some pages and see if I can find my answer.





On March 20 2008 22:15 BlindAlbino wrote:
huh? why was incontrol lynched I dont get it. hopefully you are better then that in the future ace



Ace explained it earlier, it wasn't a random pick. Incontrol was killed because he didn't vote at all for mayor and didn't post during Day 1.
On March 21 2008 20:12 Naib wrote:
Well, you can't just "do that" even though we got way less spam this time

(wait until next clues are out though, I'm sure that'll mean +20 pages under 5 hours

). Even though the Town has very few things to do atm, the Mafia needs a lot of time to organize (20 people in a PM madness can be pretty time-consuming

) So let's just wait and pray for our lives



+there are like 16 hours more before the deadline
Some of you people are sooo impatient

On March 22 2008 07:48 JeeJee wrote:


you sound awfully calm for a townie. maybe you know something we dont. and only way that happens is you being mafia. wanna come clean?



That would be a waste, since I'm as green as ever.

And you know, throwing accusations with little to no reason isn't a thing that benefits the town.
The whole thing about making a mark on somebody's head is taken from the movie Kill Bill, there was that scene during the wedding when Bill says something similar to what The Wolf said and shoots Uma Thurman in the head.
Movie references:

Eddie, Joe, Mr Blonde, Mr Brown, Mr White, Mr Pink, Mr Blue - characters from Reservoir Dogs

Sidewinder, Cottonmouth, Snake Charmer, Black Mamba - characters from Kill Bill

The Wolf - possible reference to Winston Wolf (almost always called Mr Wolf), a character from Pulp Fiction

King Brown Snake, Taipan Snake, Mr Red, Mr Black, Enigma - unknown




Notes:
- these are all Tarantino's movies if anybody didn't know
- the two snakes not in Kill Bill are both from Australia and are highly venomous, these 2 are the only Australian snakes of all mentioned
- the only "color guys" not taken from Reservoir Dogs are red and black, and among all countries from the world (according to wikipedia), only Albania has red and black as the only colours on their flag... too bad we don't have any Albanians playing


- Enigma is even more of an unknown (surprise!

)
- Mr Blonde from Reservoir Dogs and Sidewinder from Kill Bill were both played by Michael Madsen
- Mr White from Reservoir Dogs and Mr Wolf from Pulp Fiction were both played by Harvey Keitel

That would be all for now... Maybe I'll come up with something else later.
On March 23 2008 01:22 L wrote:
Wow, i'm bad at linking images.


yeah, you are



And really, I don't think the mood icon could mean anything, it's much more probable that it links to quote or abundant smiley use in posts.
On March 23 2008 02:15 Lysithea wrote:
*Mr Pink seems very brutal, holding on to the TOP of Mynocks head (the other part had broken off from the shot), even using it as a weapon tangled up in his hair... wtf? Oh, that also means Mr Pink got long hair I guess.



Nah, you're wrong. Mr Pink used Mynock's head like a flail, he was holding Mynock's long hair and hitting with his head (which was attached to his hair obv)
Oh, it just struck me - Mr Pink wasn't using Mynock's head like a flail, it was more of a meteor hammer, a weapon that was used in Kill Bill by Cottonmouth's main bodyguards. But I don't know what can we gain from this information :|
On March 23 2008 02:41 L wrote:
I hope i don't mess up my image linking..
+ Show Spoiler +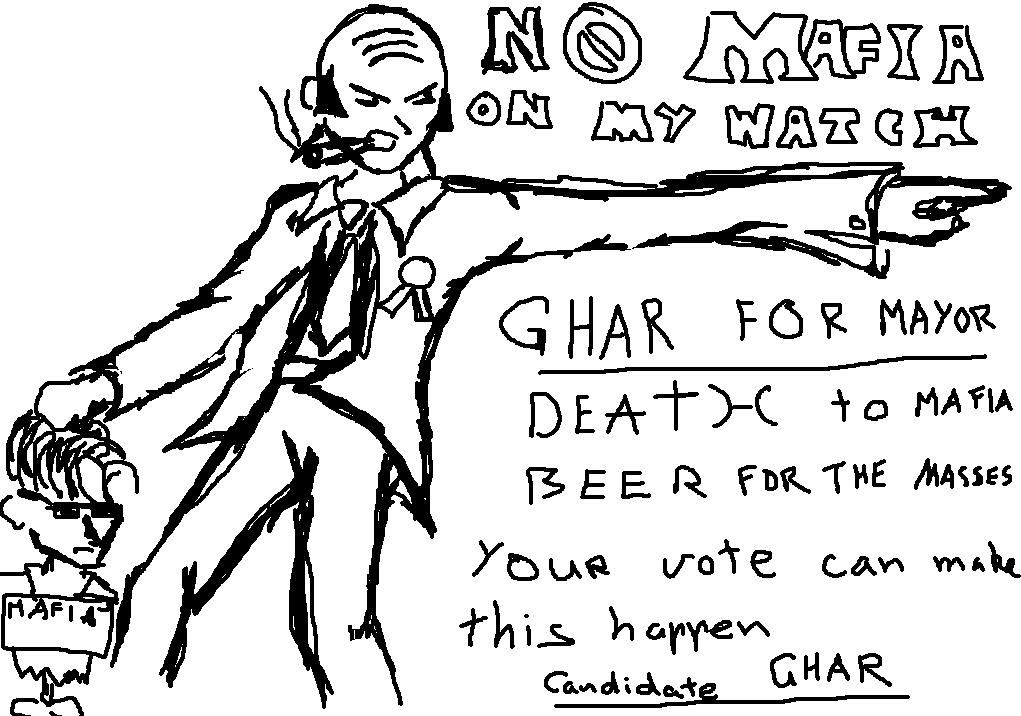 Now that I think about it. that's kinda blatant.




oh shit, nice find!

Could you point where is this post of Ghar located? Cause I read the whole thread, but don't remember that pic.
EDIT: nvm, found it
Wouldn't it mean too many threads on one subject in the General Forum?
I think Ace meant he is checking both Ghar and somebody else, and when he gets answers he'll tell us who to lynch. Also, he probably wants as many votes as possible on one target to spot/eliminate some mafia suspects (by asking with a detective how many mafia voted).

Still, I'm not abstaining yet - I think that in the case I forgot to change vote, it would be better to vote for Ghar than to abstain. And if there will be better subject, then I won't forget

On March 24 2008 06:29 Ace wrote:
If we lynch him and he turns out innocent, I'll just lynch the people that lied to me about him.


And how many is that? I don't think this information would benefit mafia at all, so you can tell.
Oh, and one thing - I'm not saying Ghar is innocent or sth, he's still worth investigating, but that clue with severed head doesn't necessarily point at him - it could just be a coincidence that he made similar drawing, and the clue is just another reference to Tarantino's movies and nothing else.
Ok, so it's probably safe to assume they say the truth - mafia probably wouldn't risk two of their members to get one detective, and it's even more unlikely to happen simultaneously with Mandalor surprisingly going AFK for many hours, especially since it's evening in Germany now.
heh, I type too slowly ;]
On March 24 2008 06:55 Empyrean wrote:
You guys, we still don't have absolute proof that Mandalor's mafia!

...

Yeah I voted for Mandalor.



You know that there is no such thing as absolute proof in this game?
(Well, except bodyguards being green, but that's given to mayor only)
On March 24 2008 07:01 Showtime! wrote:
Someone's sarcasm detector isn't working.



Blah, I got owned