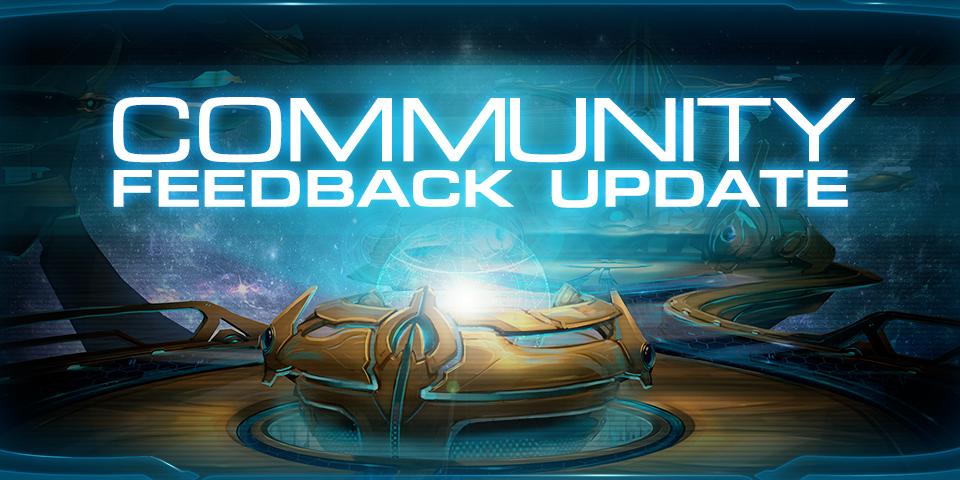 Before we begin, we'd like to send a shout-out to the highest level pro-gamers out there in Korea who are always looking to find new strategies, counters to those strategies, and doing all they can to find solutions to obstacles within the game. It is both inspiring and admirable to see top end players who work through significant adversity to adapt and find new strategies and tactics. In many of the top-end pro-level HotS games this week, we saw lots of interesting counters to certain strategies that were seen as unbeatable, and it was awesome to be reminded that there are players out there who will explore things to find their own solutions rather than immediately jumping to extreme conclusions.

Heart of the Swarm Mech/Swarm Host Balance Test Map
We've seen your feedback regarding TvZ mech play, and we agree that certain mech games are dragging on too long. We've seen a lot of potential in this area as well, as some mech games have been packed with action. These have cultivated in unique max vs. max battles with heavy tech switches on the Zerg side.

With that said, we're testing these Swarm Host changes:

Supply cost decreased from 4 to 3

Cost changed from 100/200 to 200/100

Locusts can fly without having the upgrade

Locust health down from 65 to 50


We believe this could be a good change that helps against Terran mech and against Protoss in a fun way. To reiterate, we don't want to jump to conclusions and we don't know if Zerg is underpowered against mech. With this test map, we can prepare a patch if that turns out to be the case. We'll try to get the test map up next week.

Now, let's talk about Legacy of the Void.

Protoss Feels "Gimmicky" Compared to Other Races
Thank you for discussions in this area this week. The main points that could contribute to the "gimmicky" feelings point toward offensive warp-ins, which should be addressed with this week's patch. So overall, this is potentially a non-issue if testing goes smoothly with the new changes.

We didn't quite agree with some of the other main arguments in this area. We feel that the consequences of not scouting if the opponent is going for Oracles or a Dark Shrine is just StarCraft II, not a case of Protoss being gimmicky. For example, if I'm going mech and I don't scout that the opponent is going fast Spire, I could be at a huge disadvantage because my AA isn't out yet. The same goes for things like proxy cloaked Banshee, Baneling bust, or any strategy any race can do that requires scouting and reacting. Scouting is a critical component of StarCraft II, and we want to increase its importance in Legacy of the Void.

Our goal is to give players plenty of strategically viable openers in Void in order to have more action throughout the course of the game. That's why we're adding tools to other races, including individual Overlord transport, Liberator harassment, Nydus changes, Siege Tank Siege Mode drops, and so on.

With that said, more options aren't always better. If a race just has so many options that they can't be effectively scouted, we would obviously look into ways to either increase scouting capabilities for the other races, or reduce some options on a race. We will definitely need to do a pass at this before the game launch, so please remember to not be too quick to judge. Previous experience has shown that learning to defend something takes more time than going on the offensive with new tools.

During beta tests, small groups of players often arrive at conclusions concerning a topic and, even though their assertion may no longer be the case, they just can't let go. We encourage everyone to be more open minded in actually discussing and testing changes during this beta so that we can work towards having the best possible StarCraft II.

It's one of the main reasons why we're communicating with you more than ever before—it's unproductive to focus on preconceived notions while not paying attention to the actual state of the game.

Mothership Core Photon Overcharge
We've been exploring a change to how this ability works based on your suggestions. Our current change is for the ability costs less, to only be cast on Pylons, and to no longer have siege range. We're seeing a lot more interaction with this ability use due to this change, because now there are lots of decisions to be made on both sides. For example:

How many Pylons need to be overcharged?
How many and what type of Pylon building placement is optimal in case Overcharge needs to be used?
Do you avoid their firing radius, kill the Pylon, or run away?

We haven't been too focused on this change recently, but we will continue testing and hopefully make a call before the next balance update.

Colossus
We heard your feedback that the Colossus nerf was too much, and regarding Colossi having a more general role like they do in Heart of the Swarm. We've been testing Colossus in combination with Disruptors and the results are cool so far. We started playtesting with their upgraded range back to 9, and the combination of the redesigned Disruptors supported by Colossi looks to be going well.

Adept
We agree that early game Adepts can be a bit too powerful, and we would like to see a greater variety in Protoss army compositions. We have been trying various suggestions internally, and are leaning towards changing their cost from 100/25 to 75/50. This will slow down how many Adepts can be massed early on, and in the later stages of the game, it'll be more of a commitment when going heavy Adepts. Another benefit that we're seeing in the late game is that the army composition becomes more diverse due to the minerals-to-gas ratio. We will continue reviewing this internally and hopefully get it out to the beta if testing continues to go well.

Carrier Interceptor Behavior
We'd like to thank you for your suggestions in this area. Based on your feedback, we've been exploring a change to issuing orders to the Interceptor. Even when Interceptors are starting to return to the Carrier, it is now possible to issue a new order to have them instantly attack another target without having to first return to the Carrier. We've put this change in this week's balance patch.

Immortal
We agree with your feedback in that the new ability is quite difficult to use for a majority of players, and this ability might only impact the highest-level of players out there. Therefore, we've been trying out having the ability auto-cast by default. We're noticing that this change is allowing Protoss to be able to focus on the more important parts of engagements, while Immortals continue to function at a high efficiency. At the same time, in order to use the ability for maximum efficiency, the highest-level players who have the extra micro to spare should turn this off. Thank you for this suggestion, and we will continue testing this change internally before making the call to have it go out to the beta.

Ravager Upgrade
We're playing around with a new Ravager upgrade internally that increases the cast range of Corrosive Bile from 9 to 13. The idea here is to have a stronger counter to Siege Tank and entice Terran players to use different unit compositions depending on how the Zerg is playing. For example, if Zerg is going heavy Hydra/Lurkers, units like Liberators or Siege Tanks would be stronger, whereas if Zerg is going heavy Roach/Ravagers, Siege Tanks or Liberators might not be as strong as other units such as Cyclones or speed-upgraded Banshees.

Further Learnings From Internal Testing
Finally, we'd like to talk about a couple major changes suggested by our community that didn't quite turn out to have as positive of an effect as we had hoped. We've been discussing and playtesting the following two areas internally, and have decided that both are not fit for beta testing.


Reducing the number of workers per base so that army sizes become bigger


When trying out this change, we determined that reducing the workers needed per base isn't good for the game because many of the coolest moments in StarCraft II come from worker harassment. With fewer workers, it was just too easy to rebuild after taking economic damage, making these moments less meaningful.

We also looked into feedback suggesting we reduce the efficiency of workers when more than 1 is mining at a single mineral patch. This was aimed at making expanding result in a higher income more often than not, even when on an equal worker count. What we found is that expanding quickly and often already feels like a big advantage in Void, so this change does not feel all that different in terms of when you want to expand. Also, when you do expand faster and have your workers more spread out, it's easier to replenish workers that you've lost to harassment. As we stated above, this is the opposite of what we're looking to accomplish with the economy changes.



Introducing auto-build on units


This changed up the game to such a great degree that the game didn't feel like StarCraft II anymore. It also wasn't as simple as it sounds. New issues kept popping up, including difficulties expanding or saving up resources, since float was automatically being spent.


Even though we won't be testing either of these changes in the beta, we wanted to get our results out to you for better communication. Thank you for your continued support during the beta, and please remember that while discussions are important, actually playtesting the beta is critical to the success of Legacy of the Void. Please check out the major changes that went into this week's patch in actual games, and continue giving us your feedback. We appreciate all the effort you're putting into making this the best version of StarCraft II yet.

Thank you. - David Kim

Source