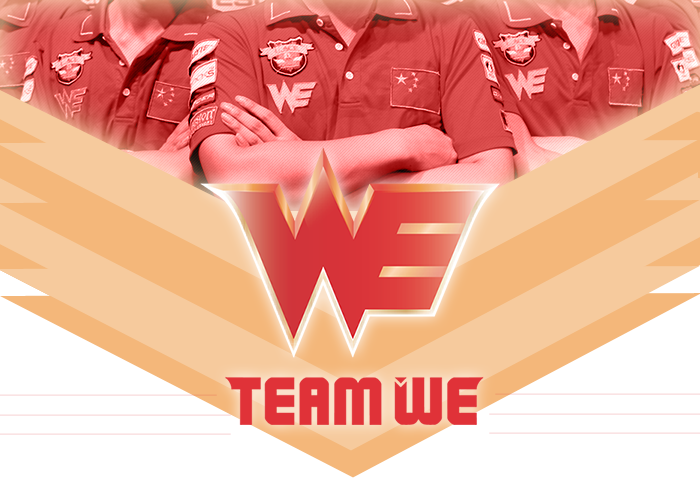 Royal Club bore the standard for the Chinese scene at two consecutive World Championship finals, while OMG became the first foreign team to take a BoX series off a top-tier Korean team (in convincing 3-0 fashion nonetheless) since IEM Singapore, or even IPL 5 depending on your definition of "Top Korean." Edward Gaming has dominated the Chinese scene since their debut, taking 8 out of 10 tournaments in 2014, including both LPL splits. Over the past two years, these teams worked to solidify China's position as one of the strongest regions in the world.
And yet, none of these teams can lay claim to the title of "Most Popular Chinese Team." That honor goes to a team who finished fourth, third, fourth, and fifth/sixth in the 2013–2014 LPL seasons, and who has made a grand total of one international appearance in 2013–2014, where they exited after a quick 0-2 in the group stages. Recently finishing eighth in LPL Spring 2015, even the name of Team World Elite seems to be but an ironic mockery.
For most of the western audience, "World Elite" is not a completely alien name by any means. The name is occasionally tossed off in passing when alluding to the giants of a bygone era, though the specifics are often elusive. What is much more puzzling for someone looking to understand the Chinese scene is the enduring popularity of a team that is, in its current form and until very recently, at best uninspiring and at worse inadequate.
BirthOnce upon a time, there was a legend...
Four years ago, Chinese esports powerhouse World Elite (known then as a prestigious Warcraft 3 team that is home to the likes of the legendary Sky) became one of the first organizations in China to venture into League of Legends. With an initial squad of Ayaya/Misaya/Joker/YJTM/if, WE quickly established itself as one of the premier teams in the fledgling Chinese scene, often trading tournament wins with Catastrophic Cruel Memory (which would later form the foundation of Invictus Gaming). The roster saw some changes, most notably Weixiao joining in August and Caomei joining in November. By the end of 2011, the roster had crystallized to the more recognizable Caomei/Misaya/YJTM/Weixiao/if lineup, with Weixiao and Caomei trading roles to become ADC and Top laner respectively (yes, you read that right: Weixiao used to be a top laner!). In October 2011, World Elite made its first international appearance, shocking most of the We stern audience by sweeping the group stages of IEM Guangzhou and defeating heavy favorites Counter Logic Gaming in the finals.
Sporting cryptic names like "YJTM," and "Wx," these Chinese upstarts threw a wrench into what was supposed to be an easy tournament win for CLG. Even here, we can already see sparks of the decisive teamfighting and top notch ADC play that would eventually become WE trademarks. Already popular as a top domestic team, WE's solid performance at IEM Guangzhou gave Chinese fans hope that one day, they too might compete with the likes of CLG, TSM, and Fnatic on the world stage.
RiseI dare you to let Twisted Fate through... Give me 20 minutes of farm and I'll give you the world...
For those of you who joined us after the Season 2 World Championship, an interesting storyline was the relative mystery of the Chinese teams (a storyline that was to be repeated in Season 3). Though now a household name, World Elite kept a fairly low profile on the international scene after IEM Guangzhou, with the exception of some lackluster results in showmatches and online tournaments. WE participated in OGN Champions Summer 2012, where they fell to CLG.EU in the quarterfinals. With the Season 2 World Championship looming and another disappointing result at the IPL Face Off tournament, World Elite moved quickly to add Clearlove and Fzzf to the roster, replacing YJTM and if respectively. This finalized the now legendary World Elite roster of Caomei/Misaya/Clearlove/Weixiao/Fzzf, and WE quickly entered into contention for "Best Team in the World" among knowledgeable Asian insiders on the back of strong performances in China and various online tournaments in Korea. Whispers from Korean powerhouses like Azubu Frost and Blaze pegged World Elite as a tournament contender, and Chinese fans held high expectations for their beloved team.
Seeded directly into the Ro8 as the top Chinese representative, World Elite played in only one series, against heavy crowd favorite CLG.EU. WE took a quick 1–0 lead, and was on track to close out game 2 with Madlife-esque playmaking on Fzzf's Blitzcrank and some creative laning that nullified Froggen's Cassiopeia pick, designed to counter Misaya's Ryze. However, the best laid plans of mice and men often go awry, and insurmountable technical issues forced a seemingly neverending series of rematches and remakes, with the day ending in a 1–1 scoreline. The series was ultimately finished up days later in a 2–1 CLG.EU victory.
It's difficult to express in words the feelings of a WE fan at the time, but suffice it to say many felt robbed of a potential World Championship title. Though international interaction between the Eastern and Western scenes was scarce, there was little doubt in most Chinese fans' minds that WE had what it took to compete with the best. To be blindsided by a quarterfinal exit facilitated largely by technical issues left a bitter taste in the mouths of WE supporters, further exacerbated by pre-tournament rumors indicating that the only team that matched up evenly against eventual tournament winners Taipei Assassins in scrims was WE.
WE themselves seemed unperturbed by this setback, at least in comparison to the ceaseless lamentations of Chinese netizens. After returning home from Los Angeles, WE continued to assert their dominance of Eastern Asia, taking home a slew of victories in offline and online tournaments against Chinese and Korean teams. By the time IPL 5, hailed by many as a tournament on par with the S2 World Championship, came around, WE was ready to definitively prove that they are the best team in the world.
With a field including recently crowned world champions TPA, Korean powerhouse Azubu Blaze, the perpetually threatening Moscow 5, two-time adversary CLG.EU, a resurgent Fnatic, and North American mainstays CLG.NA, Team Solo Mid, and Curse Gaming, the top of every single region was ready to deny WE the chance at a title.
Resistance proved futile, as WE swept their group by dismantling Fnatic and Blaze in rapid succession before going on to send M5 to the loser bracket in a 2–0 quarterfinal confrontation. The semifinal was yet another showdown with CLG.EU, where WE finally avenged themselves with another 2–0, featuring a swift and decisive game 1 victory and a nail-biting 70 minute game 2 showdown that was later crowned Game of the Tournament.
Fnatic made a solid dark horse run, with a 2–0 winner quarterfinal victory over TPA and a 2-1 victory against CLG.NA. WE dropped their first game of the tournament in the winner's bracket final against Fnatic, but still managed to close out the series 2-1. Fnatic 2-0'ed TPA yet again in the loser bracket final, but was ultimately no match for WE, falling 1-3 in the grand finals.
With an impressive scoreline of 10-2, WE clinched IPL 5. Today, three years after the tournament that is often referred to as the best tournament in competitive League of Legends history, WE remains the only Chinese team to win a major international tournament featuring top tier competition from all regions. For the first time in League of Legends history, the rest of the world was forced to acknowledge what Chinese fans have known for the past year – World Elite is the best team in the world.
FallHave you heard of 'WE?' WE was more than a team – WE was a belief, an era.
Unfortunately for WE, long-term dominance of a single scene paints a large target on your back. Over the course of 2013, WE saw its stranglehold on the Chinese scene slip. While WE was battling international opposition at the S2 World Championship and IPL 5, challengers new and familiar quietly emerged back home. OMG solidified its roster into the now renowned Gogoing/Cool/LoveLin/San/Dada7/bigpomelo combination, and WE's former B-team, WE.i-Rocks, rebranded into Positive Energy, led by star ADC Devil whom you now know as Namei. Longtime rival iG made a resurgence and had their best season against WE to date, which culminated in knocking WE out of a podium finish in the 2013 LPL Spring season after OMG defeated WE in the semifinals. WE managed to overcome OMG/iG/Royal to take the IEM Season VIII Shanghai title in summer 2013, thus securing a spot in the Season VIII World Championship to be held in six months time. This would prove to WE's last major victory, as LPL Summer 2013 once again saw dominance by OMG and PE.
OMG's renowned "Freight Train" composition was developed specifically to counter WE's preferred playstyle, which was to create space for all three carry positions to become dangerous. This was accomplished by exerting presence throughout the map, with the hope that one carry is always getting an advantage over the enemy counterpart. This strategy saw particularly success at IPL 5, and similar strategies took prominence in the Chinese metagame. The famed "Chinese aggression" came about in large as a direct response to WE's dominance as an entire scene adjusted its playstyle to combat a single team. Not content to get "out-macroed" by WE, Chinese teams became extremely adept at forcing hard and fast engages that spiraled rapidly into explosive teamfights. In addition, iG took poke comps to heights previously unseen in the Chinese scene, designed to negate WE's fearsome teamfighting.
Over the brief span of two seasons, the WE dynasty fell from its highest point to an average LPL team, finishing just shy of the Season 3 China Regional Finals and missing out on the Season 3 World Championship.
Throughout 2013, WE fans, which still vastly outnumbered any other fanbase, remained steadfast, firmly believing in WE's ability to reclaim the throne. Despite OMG and PE's strong performances, the voting for the All-Star 2013 tournament would've resulted in an all WE line-up were it not for 1. eligibility rules restricting each team to three representatives (XiaoXiao ended up replacing Fzzf) and 2. Caomei expressly asking his fans not to vote for him in an attempt to field the best Chinese roster possible.
DeathLet all memories of yesteryear fade with the wind...
In December 2013, a pair of announcements conclusively ended the WE dynasty: Misaya retired, and ClearLove and Fzzf were relegated to substitute positions before leaving WE to join the newly-formed Chinese super-team EDG.
The two 2014 LPL seasons was nothing short of a disaster for WE fans. A seemingly neverending series of roster changes ensued, with names like sukiM, Ruo, Sin, and OldB going as quickly as they came. Led by Korean coach Hiro, WE helped pioneer the process of importing Koreans, though at this point in time, it was incomparable to the Korean exodus we saw at the end of S4. A kaleidoscope of tournament losses would have discouraged any other fan demographic, but throughout all of this, support for Caomei and Weixiao never wavered. Despite a complete lack of results and notable accomplishments, Caomei brought in more votes for the 2014 All-Star than entrants from all other regions put together, a testament to what is by now an almost irrational loyalty to WE.
Another year passes, and WE only appears once internationally, at the IEM Season VIII World Championship, which the team qualified for thanks to the aforementioned IEM Shanghai victory. WE was the single biggest disappointment at the tournament, dropping games to C9 and Gambit and proving definitively that WE is no longer a contender on the world stage. Weixiao and Caomei finally announced their retirements from professional play, with the latter's choice motivated by longstanding but only recently announced changes in his personal life.
I am a WE fan, and like every other WE fan, I sighed. I waxed nostalgic for 2012. I loathed to confront a WE without Misaya, Caomei, or Weixiao. Seeing ClearLove and Fzzf find success on EDG is a cruel reminder of what was and what might have been for WE. And yet, I knew it was for the best. As long as Caomei and Weixiao remained on WE, both the team itself and the fans would be inevitably be haunted by WE's past greatness. By removing the last direct connection to the WE of Season 2, the team is finally free to forge a new identity and seek new successes.
RebirthThe wind has faded, but past glories linger still...
I see in the World Elite of 2015 hints of what I saw four years ago: a stylish ADC with an unparalleled playstyle that is constantly pushing the limits of the role; a Mid laner whose performance improves with every passing tournament; an explosive Jungler that can dictate the tempo of an entire game. I harbor no delusions that Aluka/Ninja/Spirit/Styz/Conan will become a copy of 2012-WE, but I am all the happier for it. For the past two years, WE has been etching out an existence in the shadow of a giant – its former self – but can now step out of the shadow of that giant and onto its shoulders.
I'm a fan, but I'm also a realist. The path to success will not be easy for WE. Styz's "oh my god how did he do that" moments are balanced by an equal measure of overextensions and blunders; Ninja has seen tremendous improvement since he first joined, but still has a ways to go before he can join the staggering list of elite Mid laners playing in LPL 2015; Aluka was arguably the most irrelevent member of LPL champions PE, whose role was to sit there and get carried by Namei; Conan proved adequate but unspectacular during his time with Weixiao, with a limited champion pool and complete lack of initiative when denied Leona.
I'm a realist, but I'm also a fan. WE's enduring popularity gives proof to the special place it holds in my heart, and the heart of all Chinese fans. In a league with EDG, OMG, and Royal, with LGD and VG, with more superstars than you can count, the LPL 2015 Spring Season opened nevertheless with Team World Elite vs. Invictus Gaming, the classic rivalry that was synonymous with "Chinese LoL" for years.
Even today, Misaya and Weixiao garner viewer counts in the 1,000,000 range on Chinese streaming platforms. For outsiders, this obsession with these relics of a bygone era might be puzzling, but it's simply impossible to overstate what World Elite means for the Chinese fans.
World Elite managed to accomplish what many other teams couldn't – to become more than just a banner under which individual players played. Audiences would cheer for World Elite as its own entity, divorced of its constituents, be they Misaya or Ninja, Weixiao or Styz, Clearlove or Spirit.
HopeTonight, we are all WE
Prior to their departures, Caomei and Weixiao left one last gift for Team WE. At IEM Shenzhen 2014, Weixiao put on one of the best tournament performances of his career, reminding everyone that he is rightfully considered the god of the AD carry position. Caomei and Weixiao teamed up to deliver to Team WE a ticket to the 2015 IEM Global Championship, to be held in eight months time in Katowice. WE's roster will see yet more adjustments before the team actually makes it to Katowice, with xiye and Mystic replacing Ninja and Styz respectively. Combined with an earlier adjustment bringing Yuzhe to the starting line-up in place of Conan, WE's 2015 roster is now brand new, without Conan and Ninja to connect it to 2014, let alone anyone to tie it back to the 2012-2013 golden age.
On the eve of Katowice, WE appeared doomed to repeat its inglorious 2014 IEM Global Championship performance, and I penned the following words:
At this point, I'd love to draw clever conclusions from WE's performance at IEM Shenzhen and the ongoing LPL season. I'd love to reveal some illuminating insight about the WE squad that will be playing in Poland. I'd love to, with dazzling rhetoric and irrefutable logic, explain how WE is actually the favorite to stage a darkhorse title run. But unfortunately, there is simply nothing here. What can you say about a roster that will be playing its first ever competitive matches at the IEM World Championship itself?
"Is there any hope Sheep? For World Elite?"
"There never was much hope. Just a fool's hope."
A fool's hope carried Team WE past Gambit Gaming and CJ Entus. It took Team WE out of the group stages and into the semifinals, and against all odds, into the finals. Though ultimate victory belonged to Team Solo Mid, the relief TSM fans felt upon receiving their first international victory pales in comparison to the unbridled ecstasy unleashed by WE's triumph over not one, but two Korean teams; not just any Korean team, but the top ranked Korean team in a best of three.
World Elite's IPL 5 victory ensured the team would persist as the most popular Chinese team for the ensuing three years; Team WE's 2015 IEM Global Championship second place will cement its claim to that title for all of eternity. Though other Chinese teams might well attain even greater heights in future tournaments, none of them will ever be as earth shattering as what WE has accomplished, instilling and validating hope not once but twice for an entire nation. For proof, you only have to look back to the Chinese netizen discussions on the night of Team WE's 2-0 victory over GET. In a region known for its fierce rivalries and savage fans, an oddly harmonious message emerged: "Tonight, we are all WE."
Upon their return, the new WE roster managed to steadily climb from its 12th place position and into playoff contention. For the past month, WE fans dared to hope again for the first time in years, only to be greeted with one last twist. Never willing to let fans breathe easy, WE, facing a need to 2-0 Gamtee in their last regular season series for any chance of a playoff spot, had yet another roster shuffle, bringing back Conan due to internal issues with YuZhe. Fortunately, WE managed to sneak into the playoffs, where they were eliminated in a dramatic 2-3 series against EDG, who had their own roster issues filled with dramatics. Disappointing, but ultimately, a better conclusion to the 2015 LPL Spring season than even the most optimistic of fans had expected.
2015 marks a new chapter on the storied history of Team WE, with a brand new roster and a reinvigorated presence. And while it is possible that WE will never again be the best team in China, let alone the world, Team World Elite – for despite the team's attempt to rename itself, this is forever how Chinese fans will view the team – will remain forever the hope and soul of Chinese League of Legends.
"Hope" is the thing with feathers—
That perches in the soul—
And sings the tune without the words—
And never stops—at all—