Dreamhack aims to set a new record as one of the fastest connections of the world with a 120Gbit/S 322 Terabit) connection

Dreamhack who currently holds the world record of being the biggest online event ever with nearly 14.000 computer hooked up to the internet during Winter 2010, beating the old world record of 11.000 computer which also was held by dreamhack is now trying to brake another world record. This time Dreamhack is trying to beat the world record in capacity usage. In order to do this they've invested in a 120 Gbit/s where the equipment and routers used with a speed of 322 terabit has cost around 45 million SEK (120 Gbit WAN speed (internet) 322 terabit LAN speed (local). Some people thinks this is cool while other people might wonder if the Swedes don't have anything more useful to spend their money on, and the answer is no. In Sweden Internet is everything, and Dreamhack is about to prove it.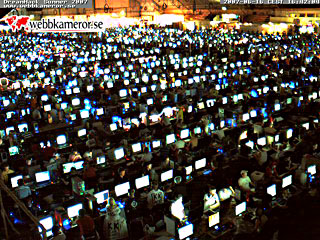 Dreamhack with roughly 14k computers.


However, to be able to reach the desired capacity 20.000 users are estimated to come to dreamhack, hook up their computers and start pirating and hopefully Dreamhack will then go beyond the earlier record which was set at 20 gigabit. Some people thinks that the amount users won't be enough to reach the new record. That the 20k people won't really make much of a difference. However, Dreamhack have said that they will "help" the attendants at Dreamhack to use as much bandwidth as possible. Dreamhack are dedicated to overload their internet as much as possible.



Regardless if Dreamhack succeeds with the new record or not, which can be viewed here:http://dashboard.dreamhack.se/ one thing is certain, The lagging that happened during the Starcraft 2 tournament earlier before this post was written were not due to Dreamhacks "poor" internet giving way under 20k viewers who were watching the tournament via Twitch.TV.