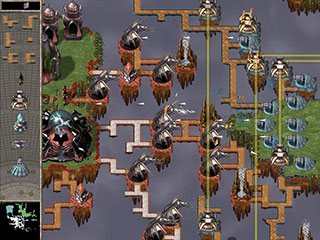 For those who don't know, Netstorm is a real time strategy game made abiout 10 years ago by Activision. The premise is that there is a world of nothing but islands floating in the sky, all fighting for control of "storm powesr" which is the only resource in the game. Each island has one high priest, who constructs the main buildings. The goal is to capture the enemy's high priest, and sacrifice him on your alter. (yes, you really do that! Although usually in multiplayer everyone leaves before that happens)

The thing that really makes netstorm unique among RTS games is that there are no units. Well, there are workers for gathering money, but those are the only units which you can actually control. Instead, all the fighting takes place from buildings. You can place these anywhere that is connected to your main island by a bridge. So, you spend most of your time placing bridges and plunking down buildings as fast as you can. It's one of the few RTS's I know with as much macro as Starcraft. Actually, it's sort of like a pure-macro version of Starcraft.

In order to create the fighting buildings, you have to construct a workshop with your priest. There are 4 types of workshops: Thunder, Rain, Wind, and Sun. Usually you only have one type of workshop, maybe 2, so you have to choose from the start what kind of units you want. I'm still pretty noob, so I can't really tell you whether all the units are balanced or not, but it seems fairly balanced to me. Thunder units are strong and expensive, Wind units are fast and do a lot of damage but die quickly, Sun units are very cheap, and Rain units have a lot of weird special abilities. Sound familiar?

So, anyone interested? Since Activision no longer supports the game, you can download it for free here. It's really fun and you can learn it very fast by playing the single player campaign.