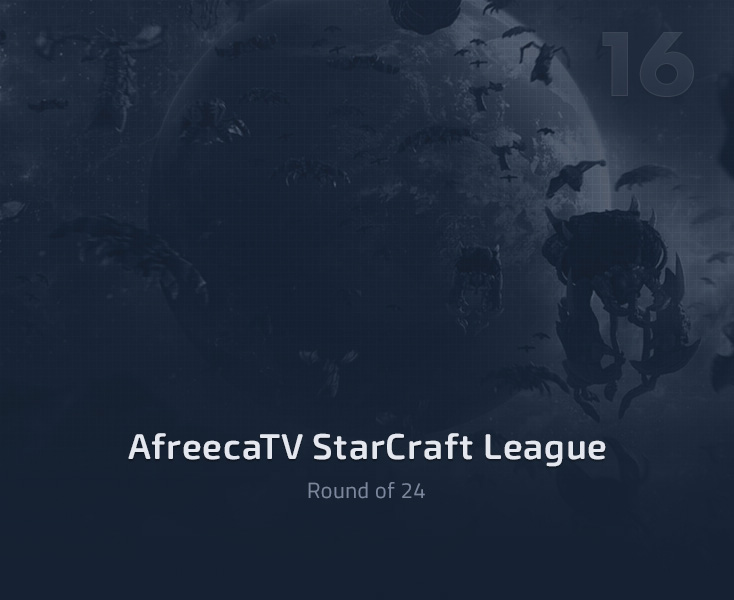 The first half of the Ro24 started off strong but then came up with some twists worthy of the ASL Ro24, Will the second half prove to be much the same or are we looking at smoother seas.

Simplistik details the choppy waters of the First half of the Ro24 while BLinD-RawR attempts to navigate through the second half.




Group A turned out as expected. In the first game, we got to see the usual Aggro-
Mini
, but with better defence than last season.
Leta
tried some vulture drops, using the interesting layout of Apocalypse, but Mini's reaction and micro were on point and he never lost a serious amount of probes. Once the fourth nexus started going up Leta was forced to push. Unsurprisingly, Mini decided that the best form of defence is offence. He loaded up two shuttle with expensive units and went straight for Leta's main. The reavers killed a large number of SCV's and sniped the com-sat, which reduced Leta to one scanner. This made it quite easy for Mini to defeat the tank push by rallying dark templars.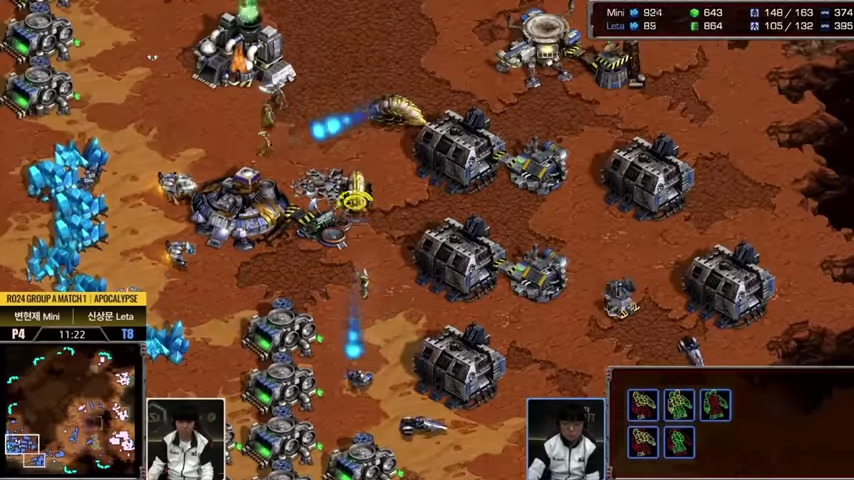 Classic Mini
In the second game we were treated to a fairly long ZvT.
Mong
survived the initial mutalisks and hung on for long enough to secure four bases. He decided that the best way to beat
Soma
in a long game would be a late game mech switch, which did alright for a while. A deep tank line behind mines tends to trade reasonably well against ultra-ling. Soma managed to catch too many tanks with mutalisks once, yet Mong clung on. But when Zerg grew to five and later six bases, holding on became increasingly difficult. In order to have a chance, Mong needed to make a counter-play, like a damaging drop into the Zerg main, a push to the natural or some successful harassment. But he never really tried. I can only assume that his attention was completely taken up with trying to survive. There is a certain recent fantasy game that might prove instructive on this point…
The Winners Match was an interesting tense ZvP, with both players making quality moves. There were some tense exchanges in the opening and Mini nearly got hydra-busted. But a well-placed storm, just in the nick of time, pushed the match into the midgame. What followed was a delicate, but deadly dance. Mini tried to keep his main army together for a big push, without getting flanked or surrounded, while defending his 3rd and 4th bases, while Soma tried to keep Mini's army from reaching his own expansions, with smaller counter-attacks and flanking manoeuvres. Eventually, both players were on four bases, with soma eyeing up a fifth. And then Mini mis-stepped, by pushing too hard into a well-defended position (spread out lurkers on a ridge), and getting his retreat cut off by a big hydra flank. Having lost his army, including the important goon core, Mini tapped out.
The Losers Match was amazing, but possibly not for the right reasons. Leta went for an aggressive opening. Mong saw it coming, and correctly decided to wall off his natural to buy time to get up some defensive tanks. But the wall wasn't vulture proof! I don't know if that edge can't be walled properly, but I doubt it. Either way, Mong's building was in the wrong place, or the gap wasn't plugged with a unit, for example his first tank. The vultures caused a lot of chaos, especially once mines came into play. Mong tried to hang on, but the combination of economic damage and pressure proved to be too much. And to add insult to injury, right at the end, he completely self-destructed.

If you haven't seen any of the games so far and you're wondering which VOD's to consume, I can wholeheartedly recommend… you just forget this group happened. Unless, of course, you love hydra-busts, or you are a
Sea
/
Rain
fan with severe masochistic tendencies. In that case, by all means, knock yourself out! If not, let me quickly run through the results, so you don't have to.
Soulkey
tried a 12-hatch build and got hard-countered by
Calm
's much earlier pool. Sea wrecked himself by poor defensive control, including accidentally cancelling his building CC, instead of pulling the SCV off the building bunker. Far behind, he then tried an early push, but Rain held it easily.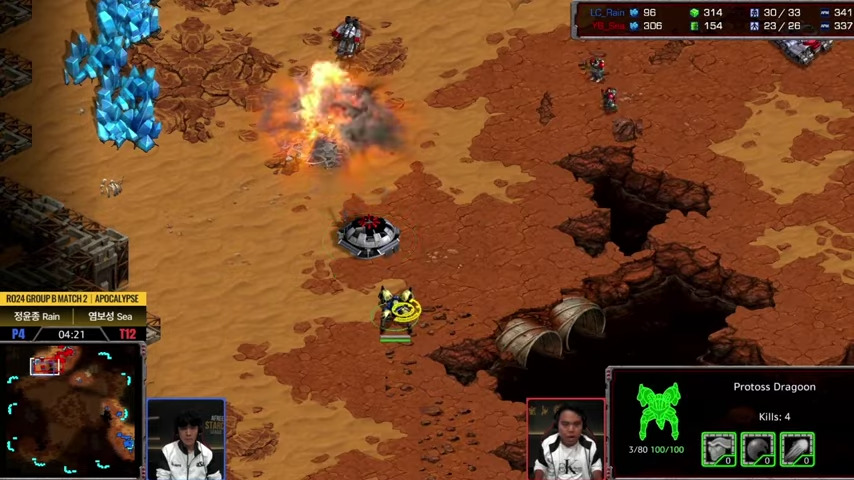 A fitting metaphor for this whole group
The Winners Match was probably the best of an underwhelming bunch. Calm basically got another build-order win, by managing to get away with a 3-hatch before pool build. Rain didn't manage to slow it down and then got rolled over by a big hydra attack before storm was ready. In the Losers Match, Sea tried a 2-rax all-in. It was fairly close, but Soulkey's micro was better and the game was pretty much over when Sea narrowly failed to kill the first sunken. And in the Final Match, Soulkey executed a solid hydra-bust.
"They can say it wasn't very good, but they can't say it didn't happen."
– Stewart Lee
Young Ho

If a favourite keeps getting knocked out in early rounds repeatedly, when does it stop being an upset? Yes, I am talking about
Snow
. He didn't even play
particularly
badly, but he was surely heavily favoured on paper. So what happened? In the first match, everything seemed to be going fine for the reaver god.
Killer
's early surprise Lurkers were scouted and dispatched expertly with some impressive DT micro. After that Snow managed to preserve his corsairs, got up to storm, took four bases and had some DT's roam around the map. This is a position from which we have seen Snow win plenty of games. The pivotal moment came when Killer's mutalisks managed to pick off several exposed high templars. Without storm support, Snow's army crumbled under a big hydra onslaught in open field. Entertainingly, the game carried on for a while because two DT's did mind-boggling amounts of damage. But typically Protoss doesn't come back from losing their main army, and neither did Snow.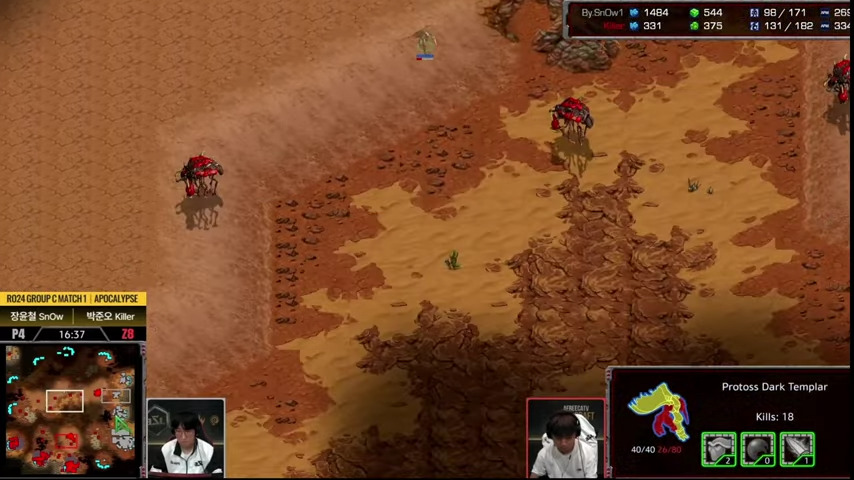 Zeratul in action
In Match 2,
Shuttle
brought out an old ASL classic: the aggressive proxy robo bust. He also warped in a shield battery, but I'm not sure he used it.
Royal
scouted the missing nexus and started a second bunker, but the reaver did too much damage. In the unexpected Winners Match, Shuttle got, you guessed it, hydra-busted by Killer. Yep, it appears to be that kind of season.
In the equally unexpected Losers Match we got treated to a pretty crazy, long and messy PvT, which really should've happened much later in the tournament. But beggars can't be choosers, so we'll have to just try our best to enjoy this one. The game started pretty well for Snow, who managed to keep RoyaL pinned on two bases well into the midgame. To cement his lead, Snow started expanding all over the bottom half of the map, while repeatedly dropping the Terran main. In many ways this game felt quite similar to Mind vs Best on Retro from last season's semi. RoyaL eventually secured a third base, and later a fourth, and managed some reasonably damaging attacks into the bottom right corner of the map. At this point it seems like Snow messed up. Instead of clearing out the push, and consolidating his economy, he tried to break RoyaL with counter attacks and harassment. Although many SCV's died, Protoss never landed the fatal blow and was eventually ground down by mines and tanks. Eventually, too starved to continue, Snow's adventure ended even more quickly than his ASL15 run. Better luck next season I guess?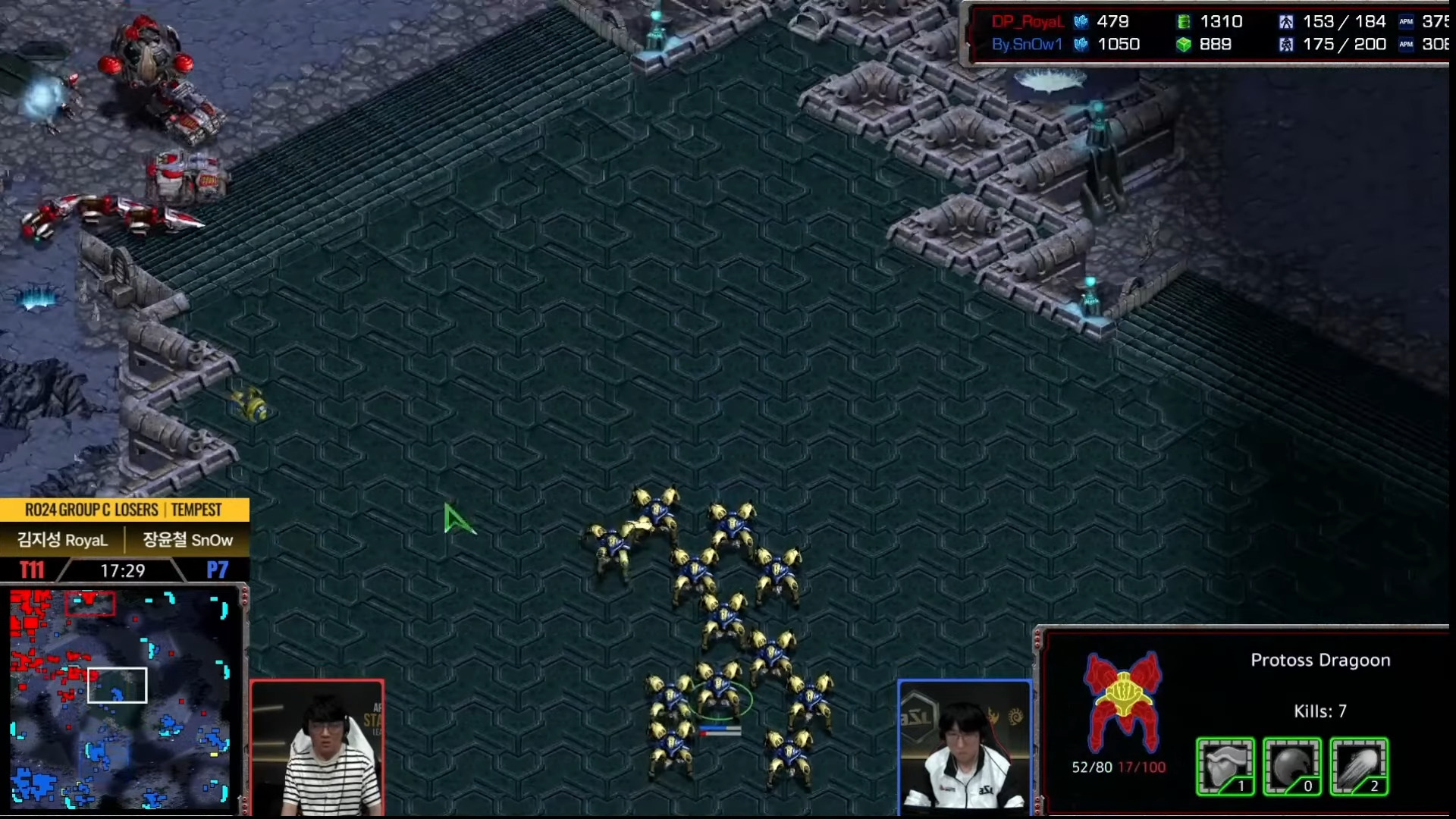 Is it actually possible to have too many expansions?
The Final Match attracted a good bit of controversy. Shuttle went for another aggressive proxy opening, picking DT's this time. Unfortunately, it seems that RoyaL heard the crowd reaction when his SCV narrowly missed the hidden buildings, twice, and
then
turned around just in time. The result was that RoyaL had a full wall on top of his ramp, which bought enough time for a missile turret to get up and spinning. Shuttle gamely tried for a while to make something happen, but eventually with turrets, two scanners and mines, he was pushed away. In the final act of the group, RoyaL moved across the map and dumped Shuttle out of the ASL.

Power Group
If this were 2010-2011, this would be one hype group to watch. Heck even now you could make the argument even now with two former ASL champions in Light and EffOrt. Action who has had consistent results in the ASL and free who might be the weakest link but given how the first half of the round went we might be in for a surprise. Unlikely though it may be.
Light's back after his Ro16 exit last season and in the meantime has been pretty much the best terran performer on the Major Proleague scene(one of the highest earners too). That said, after what happened with Snow, online achievement really isn't all that its cracked up to be if you can't perform where it matters, though I have more confidence in light since he has gone all the way and won and ASL before(also he plays terran, which is not protoss).
Free is coming back into the ASL after missing last season. He remains semi-active only recently getting into the K-League scene, where he hasn't shown the best games either. More importantly with the state of PvZ being what it is and the chances of him making out of the group hinge entirely on beating Light in the opener and hopefully beating Light again in the final match should they meet.
Action having the deepest run(Ro8) in the tournament last season of everyone else in the group is definitely a point of confidence in his favour. The offseason for Action has not been all that stellar as he's stayed relatively inactive in online play and mostly stuck to some K-League appearances off late, whether its because of practice remains to be seen but I would not be surprised if someone else manages to qualify from the group over him.
EffOrt is making his return to after his last run in 2021 for Season 11, little over 2 years ago, mostly due to wanting to remain away from competition for health reasons. EffOrt has been the face of K-League which is considered the lesser of the two online team leagues format matches where more of the smaller names or the ones inactive from competition play on their streams for sponsorship money where he remains one of the best players in it, which at the very least gives him a chance in this group against free and Action. Personally, I'd very much like to see him face Light in the group just to know if he's still got what it takes to go all the way.
Ultimately I feel like Light should take first place and the second place is a tossup between Action and EffOrt, and I'm giving Action the slight edge for just having that Ro8 result last season.
Light and
Action to Advance to the Ro16!

Feeding Time
Its not going to be a struggle for me to show my bias towards my two favourite zerg players. Given the makeup of the group I can easily just say Queen and Jaedong should win and save you the time, but it is the Ro24 of the ASL, Bo1s does mean Sharp and Ample can pull off good games and even win.
Queen's Tier 1 status gives him the advantage of opening up against the Tier 4 Ample who has not been active in the online scene and dropped out in the Ro24 last season with one win. Queen on the other hand since his fantastic series against Mind in the previous season has continued to truck around and been active online consistently being one of the top 5 zergs. Ample has one thing going for him in this match and that is the one win last season was against soma, who no one thought he could win against, so while its overwhelmingly in Queen's favour, its not impossible for Ample to derail someone again.
The second opener features Sharp vs Jaedong, I'll make this simple, Sharp fell off, years ago, its a constant surprise seeing him qualify for an ASL spot now and can't remember the last time he went past the Ro24. Jaedong on the other hand has been trending up in the ASL again, making the Ro8 last season for the first time in a while and still remains one of the most active players online as well. Jaedong should win, of that I have no doubt.
Winner's game most likely will see Queen vs Jaedong, I could trust JvZ to come through but after Jaedong lost to hero 0-3 last season in the Ro8 I might give Queen the benefit of the doubt and take 1st place.
Losers' game could go either way between Sharp who's known for TvT but since he's just not that strong of a player anymore Ample could still take it. Regardless of who wins, it's unlikely they would beat Jaedong/Queen in the final game, Ample less so than Sharp.
Queen and
Jaedong to Advance To The Ro16!

Land Before Time
You know its a pretty interesting group when Rush is the least interesting player in it, we got someone new that we haven't seen on this level of play before in ivOry (also helps that our community loves new faces 😃) and most of the reason why this group is going to get a lot of views, we go back to the jurassic period with Bisu vs Stork as the second opener.
ASL's own big Kong, the latest member of the
kong line
Rush opens up against fresh faced ivOry, unfortunately I don't know much about him other than the fact that I'm going to root for him to go as far as possible just to disrupt the scene, but Rush is nothing if not consistent in getting out of the Ro24 and this group is no exception and this match is the best start he can ask for.
Taek-Bang Rok, though maybe the least popular combination for a match among TBLS, is nonetheless one of the more exciting outings in PvP that I have ever known. Stork and Bisu may be nowhere near their peaks or even halfway at their peak form they nonetheless are known to bring out the best in each other and I don't doubt that they can do the same heading into this group, Bisu still remains fairly active in online and currently sits among the Top 3 performing protoss in proleague while Stork remains "retired", Bisu should be the one taking it but a fire might be lit inside stork.
The outcome of Stork vs Bisu probably doesn't matter to Rush, he's likely to beat both of them without much fuss and take the 1st place spot.
I'd like to see IvOry at least face and beat Stork in the Losers' game, mostly because it would be nice to see him win but also I'd suspect Stork to stream and whine about PvZ being a broken matchup or something, I want it for the content.
I don't think the fans would mind seeing another Stork vs Bisu match or Bisu vs ivOry, either way Bisu would win and take the 2nd place spot.
Rush and
Bisu Advance To The Ro16!
---
Writers: Simplistik, BLinD-RawR
Graphics: v1
Editors: BLinD-RawR