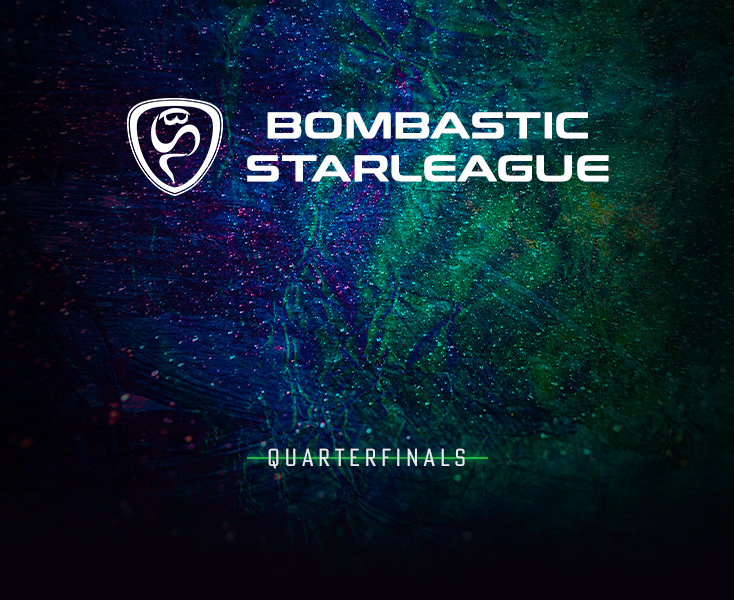 Having finished up the group stage last weekend, we're left with 8 players. The competition is fiercer than ever – in particular showcased by Bonyth failing to advance.
Our round of 8 bracket looks like this:
Dandy
vs
Dewalt
Gypsy
vs
Zhanhun
Sziky
vs
XuanXuan
BoA
vs
Mihu
These matchups are all highly exciting. Interestingly, they also give us a reasonably high chance for a repeat from last season's semi-finals – Dewalt vs Gypsy, and Sziky vs Mihu. Taking a more in depth look at each matchup, we'll try to figure out just how probable such a scenario might be.

First up, we have Dewalt against Dandy. As with most ro8 matchups, it's a juicy one, with high potential to deliver. Dewalt fell against an on-fire Sziky in the Ro16 group stage, but that was more a testament to Sziky's play than an indication of Dewalt looking bad in any way. Dandy on his end, impressed me and performed a bit ahead of expectation. He handled both his Chinese group stage opponents in a most convincing fashion, and hopefully, he will look his best in the up coming match, too. Going up against Dewalt, he'll need to keep playing at peak performance.
Dewalt got a somewhat bitter second place finish last season, struggling with frustration stemming from the finals being delayed and his own lack of sleep. Up until that point, he looked as good as any BSL contestant has ever looked, where in particular his semi-final against Gypsy showcased that his toolbox is fully loaded. This season, he hasn't looked quite as invincible, dropping a game to Avi-Love, and going down 0-2 to Sziky, but that doesn't have to be conclusive in any way.
As Dewalt's skills have improved steadily over the past year, so has his approach to PvT. Now, he seems to more consistently employ the mass speed shuttle with templar drops-style, arguably the hardest style of PvT – but also a style with nearly limitless potential. Against Goku in the Ro24, his lone PvT game this season, he even went for a surprise dt expand opening – a build order that gave him a significant advantage despite Goku having a wallin. Zealot- goon pressure, reaver openings, arbiters, mass shuttles, carriers if the map allows for it – Dewalt can do it all, and no approach is out of reach for him.
Dandy on his end is a bit more cookie-cutter, but not to the point where you can blindly predict what he will end up going for. His mechanics have looked really sharp and well-honed in his four games so far, and we saw JayStar be unable to handle his multi-tasking, vultures always finding an opening. I've seen Dandy successfully go 2 base 6 fac, open dropship, or play a more passive upgrade-based style.
Even though Dandy has been looking strong, I think he'll end up struggling against Dewalt. They've met in the BSL five times, and while Dandy won once, back in season 4, their previous three meetings all ended with a 2-0 score for Dewalt. This time around, I'm going with a 3-1 victory for Dewalt.
Dewalt Advance to the Semifinals!

Next up, we have Gypsy against Zhanhun. Arguably the tightest matchup of the Ro8, we're looking at two players with very impressive performances leading up to this point.
Gypsy has been tearing it up for two seasons straight. Advancing in first place from both the ro16 and ro24 group, only dropping one game against Kwark, he's been looking quite sharp. Zhanhun on his end advanced in second place behind Bonyth in the ro24 group, for then to get his revenge in the ro16 group, advancing through knocking out the BSL king.
This is a battle between two players with very strong mechanics, and by the looks of it, two players with quite similar approaches towards the game. While this is the first BSL event featuring Zhanhun, we've already seen him play four games of Protoss vs Terran, and while these games saw some variation in how he approached them, there are also a few similarities, likely to manifest against Gypsy, too.
His first game against Ultra was as cookie-cutter as it gets. Opening goon expand, he followed up with another gateway, more dragoons, observers, another expansion, more gateways and gateway units. He got reaver to harass Ultra's building third, then got two shuttles to bust Ultra's eventual moveout, only later on moving into arbiter tech. The execution was high level – he paid attention to every battle and had spotless macro until maxing out, making no easily identifiable mistakes to capitalize upon.
The second game was a bit less ordinary – but equally as convincing. Here, he identified that Ultra's opener would die against a proxy robo with elevated dragoons – and Ultra wasn't even close to holding.
Going up against Mihu in the ro16, he ended up losing 0-2, but losing against the champ is not necessarily indicitive of how you will perform against anybody else. These games also showcased strong mechanical play, although his macro was faltering a bit in the first game on Eclipse. In this game he also favored opening with a gas steal, but a gas steal on Eclipse is well within the realm of 'standard play'.
Either way – the tendencies that have showcased themselves over several games are – strong focus on macro and gateway units. His first arbiters have generally been showing up around the time where he's been hitting supply limit, although he opted for faster arbiter in the second game against Mihu. No blind allins or particularly cheesy play – however, a willingness to commit to an opening if he knows it'll end up killing his opponent. Additionally, throughout the four games, we saw zealot before dragoon three games, exactly one reaver built in three out of four games, 0 dark templar openings, and he never opted for carriers. His game against Mihu on Good Night was, honestly, an absolute throw, where he basically donated 60 supply of zealot dragoon attempting to attack up a ramp against 15+ sieged tanks.
Knowing that he's up against Gypsy, who favors fairly slow, upgrade based Terran vs Protoss, all of this is a recipe for a closely matched series with fairly long games. Mechanically, the two players seem fairly comparable. While Zhanhun isn't a particularly micro-based player, not prioritizing reavers or carriers, his unit control is still on point. Macro-wise, they're both entirely on point.
Predicting the outcome of this one is tough. Had Zhanhun been a zerg player of similar ability, I'd be very comfortable handing it to Gypsy, who looks amazing in that matchup. Now, I'm still gonna land on a 3-2 win for Gypsy, but, more than anything, I'm colored by the opportunity for a complete semi-final rematch from BSL13.
Gypsy to Advance to the Semifinals!

XuanXuan is another newcomer of this season, who also managed to qualify for the Ro8. Amazingly, he got here through playing eight Terran vs Zerg games against Trutacz. Even more amazingly, he did the very same goliath build in six of these matches, only mixing it up with one 7 rax in their very first game, and also adjusting to no spire being built in their final game.
Still, for all his predictability, he ended up winning six of those 8 games. In Brood War, if you execute something at a sufficiently high level, very few openings are easily beaten. While always doing the same thing has a significant disadvantage – predictability – it also comes with a significant advantage – that you end up really excelling at your strategy of choice. I fear not the man who has practiced 10000 kicks once, but the man who has practiced one kick 10000 times, if you like.
At the same time, I think Sziky is a fair bit more practiced at the moment than Trutacz is. Just last weekend, he all-killed in the BSL race war event, and one game featured Dandy opening mech. That game, quite honestly, was never close. Even though it was a decently long game, Dandy was never able to move out past his own third of the map. Sziky made enough mutalisks to buy himself time to transition into hydra/queen, and he then consistently took great engagements from that point onward.
I think Sziky will come prepared. Not with a particularly cheesy counter, or an anti-build or anything like that. Frankly, I'll be very surprised if Sziky's approach looks all that different from what Trutacz did – I expect him to open muta every single game. Whether he opts for a two- or three-hatch opening is a bit more up in the air, but when you have Szikyesque mutalisk control, employing it just makes sense. Rather, the area where I assume he'll be prepared, is that I think he'll have perfected his timings. His initial sunken is gonna finish morphing 5 seconds before the first vulture does its poke, and unlike Trutacz, who lost at least two games because his broodling timing was between 10 and 30 seconds late, Sziky's broodling timing will be entirely on point.
The reason why I am this confident is that the Sziky we've seen the past month now, is finally starting to look like the dominant force he used to be 10 years ago. He's been good enough to earn himself a fourth place finish two seasons in a row – but – that has actually been a version of Sziky not looking as honed as he can be. However, looking at how he performed in the Ro16 group stage – where he finally managed to defeat Dewalt (ending a 0-7 BSL streak), and knowing that he got a 2700+ mmr rating from the ladder stage, leaves me with the impression that this is Sziky back in top form. That Sziky is someone I feel is strongly equipped to handle a Terran player who opts for the goliath build – a build notorious for being fairly easy (comparably) to execute well, but, which also hits a 'peak' level considerably lower than what the case is for SK terran.
At the same time, it might be that it wasn't actually Trutacz' broodling timing that was 'too late', but rather, that we saw XuanXuan be extremely adept at gauging just how big Zerg's army is at any given point, and that his timings, due to perfecting the same build order over and over, are simply sharper and more honed than what we normally see from terrans employing this strategy. I'm also curious to see, what if Sziky ends up taking the first game or first two games in rather dominant fashion? Will XuanXuan adapt? Alternatively, do we get another 7 or 8 rax opening, forcing Sziky to perhaps abandon his overall game plan? Against a mech opener, greed is fantastic, and you want the pool to start as late as possible. Against a 7 rax, that's not really the case.
These variables do bring considerable excitement to this series, and I'm eagerly looking forward to it. Still, in the end, I predict a 3-1 victory for Sziky, and for XuanXuan to emerge victorious, I believe he'll have to bring more to the table than just his goliath build, no matter how well practiced it is.
Sziky to Advance to the Semifinals!

Our final Ro8 match is another top level game, featuring our reigning champion Mihu, facing off against eternal challenger BoA.
On paper, this looks a bit one-sided. Mihu has been smashing foreign protosses left and right. Having participated in exactly one BSL season, he won that one, ending it with a 4-1 win against Dewalt, although, granted, Dewalt was not playing at his top ability. Additionally, he's been playing various showmatches – and winning mostly all of them. On March 30th, he faced Zhanhun in a Chinese event – winning 4-2. That same event also featured him beating QiaoGege and Jaystar 2-0.
At the same time, he has not been looking unbeatable. He has dropped games to TT1 and Kwark. While the game against Kwark can certainly be excused – you don't really expect proxy gates inside your main on a three player map – the game against TT1 was more straight forward. He also had a disaster of a performance in the All-Star Race-Off, where he lost 0-2 against OyA, Bonyth and Dewalt, in that order.
BoA, on his end, has been playing in BSL events for quite some time now. Last season, he lost during the ro24 group stage. BSL12, he failed to qualify. BSL11, he lost to Terror in the Ro8. BSL10, which had a stranger format, saw him get 6th place. While these are respectable finishes – the BSL is a tough competition – they don't really indicate that he'll be able to best the likes of Mihu in a Bo5.
Still though, he should not be discounted. For one, BoA, much like Sziky, is a player whose skill level has been incredibly high in the past. Back when Fish ladder was a thing, BoA's rating, to my knowledge, would have made him the #1 foreign protoss player, or at least very close to it. (Although, at the same time, I believe he was still residing in Korea.) And, like Sziky, he seems to perhaps be hitting those strides once more. He was #5 after the ladder stage, with an MMR of 2617, more than 150 higher than the closest competitor situated in North America. Comparing this with last season, he qualified with just 2356 MMR back then. Granted, it does seem like MMRs are a bit inflated compared to the BSL13 season. However, they're not inflated by 250 points across the board.
This skill level increase has also manifested itself in how his games look. In the ro16, we didn't get to watch him play any PvT games, but the way he dispatched of Kid was very impressive. In the first day of the BSL races championship, we saw BoA secure a protoss victory, first beating Dandy, and then Nyoken. Those games actually gave me the impression that BoA might have what it takes to take down Mihu, too, because they featured just the type of play Mihu has looked a bit vulnerable against: Strong, committed attacks with great shuttle bombs arriving just when he's attempting to move out to take his third.
Nevertheless, I do have to consider Mihu an overall favorite. I'm going to land on a 3-1 victory going his way – but BoA is in no way drawing dead here.
Mihu to Advance to the Semifinals!
---
Writers: Liquid`Drone
Graphics: v1
Editors: BLinD-RawR