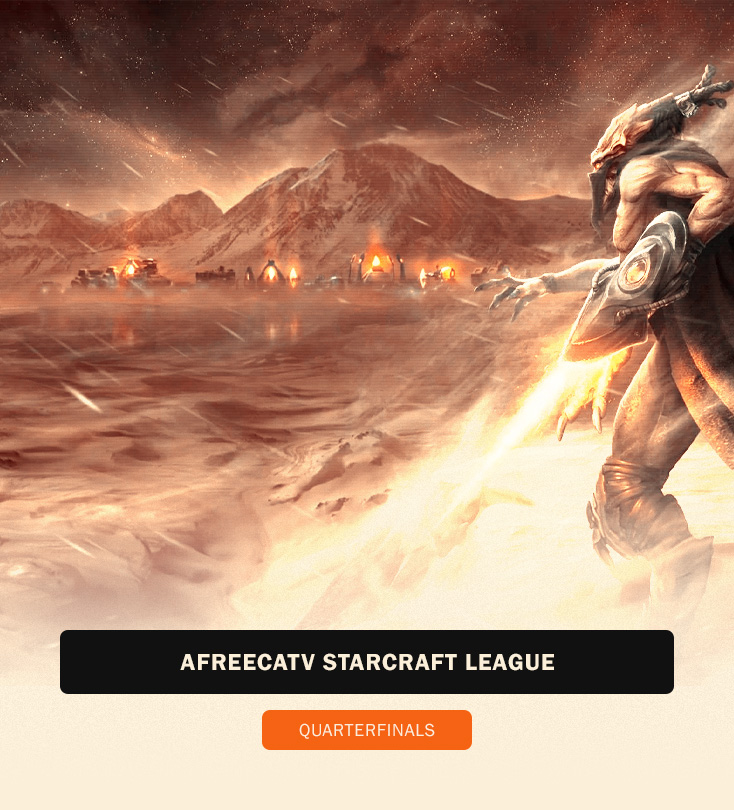 While the First Ro8 match has been pushed again by another week that does mean that this week's set of games will go as planned. We have a TvZ with two of the most skilled players in the history of the matchup with Light going up against followed by a TvP featuring the former Ace of SKT Bisu going up against one of the final young former b-teamers in SKT JyJ.



Light, Action, On Camera
Light
is facing off against
Action
for their round of 8 match up. This is the second quarterfinals TvZ and Terran were having... a not so bad time in this ASL. That was until
Soma
crushed
Rush
with a series of aggressive tactics on an underprepared opponent. His 3-0 stomp put the Zergs ahead in the TvZ matchup, with a 57% winrate. Everything we learned from watching Rush play Soma needs to be wiped from our brains. This series between
Light
and
Action
is going to be a much different experience for viewers.
Light
is coming off one of the most important moments of his life. The assumption is that as this article was written,
Light
got married. However, there were several unconfirmed rumors that
Light
was a no show despite
Light
's claims that he was standing at the altar the entire time. The wedding can either serve as a distr
Action
or a motivator. Our best case study dates back to ASL season 2. In 2016, Movie qualified through the Seoul qualifiers and saw that he was put in a group with
Flash
and
Soulkey
(and
Terror
). That night he kissed his then girlfriend and told her, "I'm going to advance in a group with Flash and marry you baby!". He got married and advanced to the round of 16. He was then put into a group with Flash again. Unfortunately, he ran out of women to marry, and his run ended there. What we learned though, is that the sweet passionate nerd gamer love all bundled up in
Light
right now is going give him a huge boost of confidence going into his match versus
Action
.
Light
's not only teching his family tree, he's killing it online as of late too. While he has struggled versus Zerg in offline matches recently, his online stats are finally starting to grow.
Light
's winrate versus Zerg had sunk into the fifties for some time, but in the past month he has blasted his way up to a 70% winrate. Furthermore, he has an 88% winrate against
Action
, winning 15 of their last 17 games.
Light
, arguably, only has himself standing in his own way of the quarterfinals.
Action
is only winning 48% of his games versus Terran this year. He has extremely poor records against every Terran that participated in this season of the ASL. The silver lining is that it is an improvement on his 46% winrate versus Terrans in 2021.
Action
's strengths will come from being an incredible planner and top-notch hive player.
Action
is one of the few Zerg who has consistently challenged Flash in late game TvZ at any point during either of their careers. Flash and
Action
last met in quarterfinals of ASL9.
Action
had the map picks for both map 1 and map 3. He won both those maps and only lost to Flash 3-2 in the Ace match. Once again
Action
has the upper hand on map selection.
Map 1 will be played on Revolver. At a very fast glance this feels like a wonderful Terran map and that would be true if this were TvP.
Action
is going to have very fast access to a close third gas expansion. Baring close top or bottom spawns,
Action
can play a very conservative and defensive gameplan that allows him to tech safely up to late game Zerg. While
Light
is solid at any state of the game, Revolver will be a wonderful map for
Action
to play a lengthy and exhausting game that hopefully prays on the several days hangover
Light
might be experiencing.
Action
will take map 1.
Map 2 puts the two opponents on Allegro. This map offers great opportunities for
Action
to take a late game style that hinges on taking your third base at a second main. This is different than map one because, if defended, allows Zerg to take a fourth more easily. The lynchpin is that no matter where Zerg is, the map just feels small and isolated.
Light
's bio control is the top 2 in the world now. With lines of marines at his disposal, and good decision making on which base to attack, his skills should completely outshine
Action
and
Light
will win game 2.
Map 3 features Eclipse. This map is so good for Zerg that it made
Mong
look like a joke when he got stomped by
Jaedong
in the Round of 24. This map is such a key pick from
Action
.
Action
doesn't have a history of being tilted after a single loss. When you see Mini lose a game at any point during a series, you automatically think "tilting".
Action
is always at the same level every game.
Action
, untilted by a game two loss, jumps back in on Eclipse and is salivating at the fact the he can take on
Light
as a four gas Zerg in the late game. The only way he loses this map is by a fast +1, academy build by
Light
. Anything less than aggressive will give this map away.
Action
wins here, taking a score of 2-1.
Map 4, Metaverse, creates such an awkward match. If you toggle between Revolver and Metaverse very quickly they almost look like the same map. The big difference is that these temple-guarded island sections create such an opportunity for a Zerg to play unorthodox. This is where a Zerg like Soma can excel super hard. Unfortunately,
Action
is a much less creative Zerg. He will probably only focus on opening the Temples after the 14-minute mark as he makes late game base expansions.
Light
will have some opportunities for a variety of mid game pushes or dropship tactics that might just do
Action
in.
Action
has a great defensive skillset that might just be enough for him to exploit his late game zerg in the same way he did on Map 1.
Action
just has momentum at this point. Any bit of good luck or builds will lead to another victory and a series win in just 4 games.
If Map 5, Butter, manages to happen then
Light
will win the entire series.
Light
always seems to be a step ahead on understanding weird maps.
Action
's playstyle is also a bit stale when it comes to unorthodox maps.
Light
would win here, if he made it this far.
Action to Advance to the Ro4 3-1!

Tied to the Whipping Post
Its always fun to see
Bisu
go up against his former b-team practice members from the old days, especially with how far
JyJ
has come to defy expectations time and again to make it to the Ro8, but of course when you're up against
Bisu
unless you're on an almost TBLS level then you are the underdog.
This might be
JyJ
's best run in the ASL this far in terms of advancement and quality of play where he's really come to his own when it comes to TvZ at least, but this is the first time we will see him play a TvP in the tournament.
JyJ
holds a 51% winrate in TvP since the start of the year and has a slight win record against
Bisu
in the last month (2-1) it's definitely a confidence booster.
Bisu
unlike
JyJ
has had a bump on the road making it to the Ro8 but considering the group he was put in in the Ro16 I wouldn't blame him too much for dropping sets to Soma, and besides we're talking about PvT here,
Bisu
has done fairly well in those.
Bisu
pretty much schooled light earlier in the Ro24, apart from that
Bisu
is on a 57% winrate against terran since the start of the year and is currently top 3 in sponbbang rankings.
With that out of the way let's get to the maps, with the state of the maps and TvP/PvT itself right now, the players picks were obvious.
First set on Allegro(
JyJ
pick) showcases what I mean when I said the picks are obvious, Allegro is a very hard map for protoss to hold 3rd gas base on which limits their options in playstyle making them play a bit more aggressive early to midgame to secure these bases, expect
Bisu
to play the big midgame speed shuttle gateway army while
JyJ
has many positions where he can really take advantage of siege tanks., but all in all Terran has won every TvP on this map.
Eclipse(
Bisu
pick) comes in second as the standard baseline map of the season(this is the 4th season its been in play in the ASL) Protoss so far are 2-1, its got a great expansion pattern leading up to double gas and a well protected 3rd base location, I can imagine
Bisu
pulling out carriers for this game, and with carrier even if you see them coming its hard to hold them off.
Monopoly(
JyJ
pick) just like with Allegro, wide open and hard to defend 3rd bases these mineral lines are begging to be hit by vultures on both sides and while it is possible to take the high ground base with one ramp adjacent to the 3 mains, the distance a ground army needs to cover to get from either base is extremely long. That said expect some proxy reaver moves from
Bisu
on this map
Revolver(
Bisu
pick) Another carrier map,
Rain
has already show how to decimate
Light
earlier on in this map in the Ro16 using carriers despite
Light
scouting it and being prepared for it, I expect this game to play out the same way for
Bisu
and
JyJ
.
Metaverse is just Revolver with extra gimmicks that limit unit movement, something that would benefit a protoss who up until this point has been relying on carriers,
JyJ
has to take special care if it does come to this map, but what better way to end a series than to go BBS on this map knowing what will come from protoss side.
Yeah the TL;DR is more or less that
Bisu
makes carriers and wins.
Bisu to Advance 3-1 to the Ro4!
---
Writers: BLinD-RawR, BisuDagger
Graphics: v1
Editors: BLinD-RawR