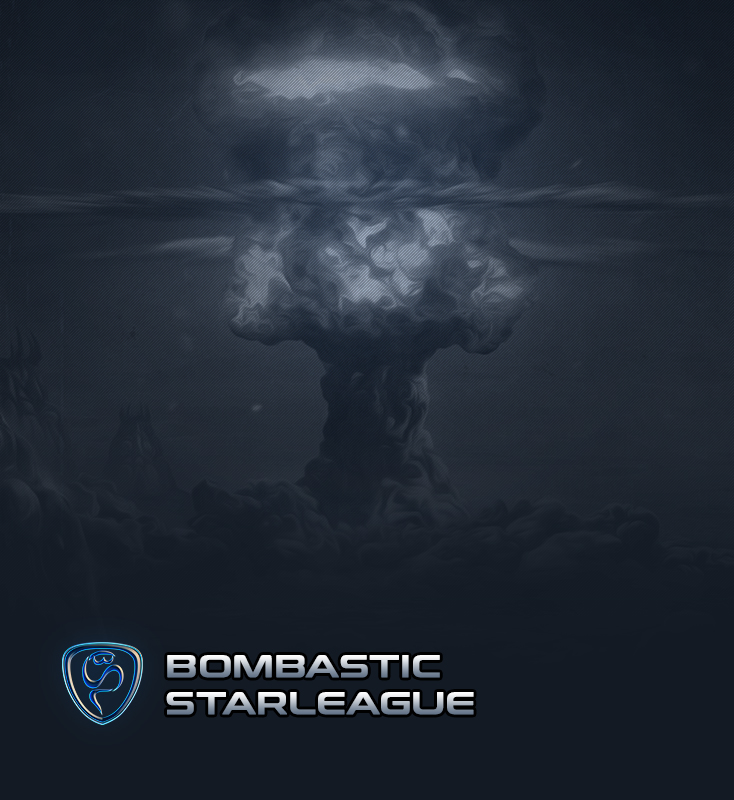 Welcome back to another edition of the premier tournament outside Korea – the Bombastic StarLeague!

Being done with the ladder stage and the ro24 group stage, we've now narrowed down the competition to 16 remaining players, all hoping to achieve fame and eternal glory. One peculiarity of this season compared to others is that the Chinese contingent has increased significantly – they were introduced last season and then we saw two of their players make the Ro16 – for both players to also make the ro8. This season, we're getting acquainted with another 5, along with previous champion Mihu making a repeat appearance.



Our first group kicks off with two BSL veterans coupled with two Chinese newcomers to the BSL stage. Dandy and trutaCz are long established BSL veterans – trutaCz having participated in 12 out of 14 seasons so far, a number equalled only by Bonyth and Dewalt. Dandy is no slouch either, and has been part of our lovely tournament 11 times – and he wasn't even allowed to play in the first two. Rounding out our group we have JayStar and XuanXuan. Normally, this'd make it somewhat difficult to predict how the games will go, but this time, we have fairly recent results to base a prediction around.
Starting off the group, we have JayStar and Dandy. JayStar is actually one of the more oldschool Chinese players, having participated in World Cyber Games all the way back in 2006, and he was a serious contender in various tournaments around 2009-2010 – even beating Bisu in a live tournament. He advanced in second place from his Ro16 group, going 3-1 against Madinho. Those games gave a fairly good impression of his approach to PvT. In particular the game on Ascension featured a nice mind game – he made a whopping one carrier, forcing out a double digit number of goliaths, cutting deeply into Madinho's tank count, which made JayStar's ground army prevail. It was a smart play for sure, and coupled with generally solid play, he ended up with a nice victory.
Dandy on his end has been a staple part of the foreign scene, consistently competing for the top spots of the tournaments he participates in, for the entire duration of SC:Remastered. Recognizable for his very strong mechanics and fairly standard approach, he nonetheless tends to fall a bit short against the very top protoss players. He sports a 71% win rate in TvT, 64% in TvZ, but only 47% in TvP – largely explained through having a 1-9 record against Bonyth and Dewalt, where his single win came all the way back in BSL season 4. While Dandy excels at longer, more drawn out games where he can allow his mechanics to shine, it sometimes seems like he doesn't have the confidence his skill would warrant, and that he too frequently aims to secure quick wins with some fast push of some kind.
This should be a close match, imo. Dandy seems to be in good shape, getting his MMR to above 2500 during the ladder stage qualification, and he also looked strong in the first matchup of the BSL KCM-style race championship. I don't think we're going to see anything too crazy from either player. While JayStar looked quite strong against Madinho, I think Dandy's TvP is generally on a higher level. I expect a 2-1 victory for one of the players, and rolling the dice, I'm gonna go with JayStar here, not that I feel particularly confident about the prediction.
Our second match to start off the group is XuanXuan against trutaCz. Again, trutaCz is a seasoned BSL veteran, while XuanXuan is a newcomer – who only advanced to the proleague because spx pulled out of the tournament. The two did face off in the Ro24, giving us fresh information on how a match between them might look. From that series, XuanXuan emerged victorious, with a 2-0 victory. However, I think it's hard to conclude too much based on that series. In the first game, XuanXuan won with a 7 rax, fully committed bunker rush where he brought 7 scvs along. TrutaCz was a bit unfortunate with his response, and fell. The second game was longer, and we saw XuanXuan aim for mech play. Here, trutaCz seemed to be in a very good spot, but a tactical error resulting in his mutalisks being out of position resulted in him being forced into an unfortunate engagement.
Now, my own impression is that a terran player who, in a two game series, aims for one 7 rax and one mech-based play, is normally not all that confident in his straight up SK terran style. Consequently, I don't think it'll go equally well for XuanXuan this time around. His Ro24 performance showed that he's a player willing to pull the trigger if given an opening – but the way he did it honestly wasn't all that convincing to me. At the same time, a willingness to commit to bunkerrushes does make the series more volatile. TrutaCz on his side will be wondering whether he should open pool first; a great idea against early rax builds, quite a bit less ideal against a mech based build.
I don't think we'll be seeing another 2-0 here. XuanXuan's first 2-0 was not based around superior mechanics resulting in a predictably replicable outcome, but around one successful gamble and one slight misplay from trutaCz. Still – he did win 2-0, and consequently, discounting him from a rematch played a few weeks later seems silly, too. Much like the first series, I'm gonna go with a 2-1, this time giving the win to TrutaCz.
Frankly, this group seems extremely close. TrutaCz and Dandy are evenly matched players, and while our two Chinese players are obviously skilled, they are not the top of the pack. From the ladder stage, trutaCz, JayStar and Dandy were ranked #7, #8 and #9, being separated by a mere 11 points. XuanXuan on his end was 130 mmr below Dandy. I expect our advancing duo to consist of two of the first three players, but XuanXuan's willingness to allin makes him a dangerous opponent for all.
Final prediction gives us trutaCz+JayStar advancing, but out of all the ro16 groups, I think this is the most open one; all four players have a fair chance at making it, and none of them seem particularly certain to do so.
trutaCz and
JayStar Advance to the Ro8!

Our second group is also looking very exciting. There's BoA, who consistently does well and is in contention for #3 foreign protoss behind Dewalt and Bonyth. Based on the ladder stage, he might be back in full form – achieving an mmr rating of 2617. There's Gosudark, whose peculiar playstyle should never be discounted, and who successfully dispatched of Oya in the ro24. There's Kid, whose group ro24 group stage started out with a zvz win against Cadenzie, followed by him punishing JayStar's overly greedy and aggressive play with two quick allins. There wasn't too much to form an analysis based on, but I can't fault Kid for his opponents dying quickly. He got 2531 MMR from the ladder stage, and definitely seems to be a strong contender. Finally, there's gypsy, who had his breakout performance in the BSL13 – where he looked fantastic and secured himself a third place finish, after losing the semi final against a Dewalt who looked in absolute top form.
Starting off, there's BoA and Gosudark. While I do consider BoA a slightly stronger player overall, Gosudark has the proper mindset for PvP, most recently seen wednesday, where he knocked out Oya. Gosudark has pretty solid micro and he plays clever mind games – but he also tends to forgo probe production, and if he fails to secure a significant advantage from the first ten minutes, I expect he'll end up falling short. BoA on his end, from what I've seen, tends to play more conservatively in PvP, which should be a fine choice against a player like Gosudark, where you're largely trying to decipher which particular aggressive build/allin you're going to run into. This series is one where I expect Gosudark to be the aggressor and BoA to react – and I think BoA will end up taking it in the end. Still, Gosudark's PvP builds are solid, and he is by no means drawing dead. I'm guessing we end up with a 2-1 victory for BoA here.
The second match of the group is Kid against Gypsy – which is a real juicy matchup. Gypsy on his end is a mechanical monster, with fantastic macro and micro. Kid's micro looked on point in the ro24 games, but none of the games showed how he fares in a late game scenario. Now, in TvP and TvT, Gypsy tends to favor more passive styles, sometimes punishing a fast nexus if he feels there's an opening to do so, but generally aiming for getting his economy and upgrades going, and aiming for a mid-late game victory. In TvZ, he's a bit more aggressive – being happy to open 8 rax, in particular if the map permits an easy wallin. Still, no matter his opening, he then proceeds playing marine and vessel heavy, the type of play style that allows his mechanical ability to shine.
Where Gypsy might be in trouble in this particular matchup is that he's a bit cut cornery, preferring to avoid building bunkers, assuming his great marine+scv control can get him out of most dire situations. From what I've seen – he also often succeeds with this approach, pulling off some miracle holds because his response is swift and on point. However, watching Kid vs JayStar, Kid pulled off some clever zergling movement, backstabbing at just the right moments, and this is something that might also prove to be Gypsy's downfall. Still, his tvz is fantastic. The bronze final from BSL13, where Gypsy beat Sziky 3-1, was an amazing series, where gypsy's abilities really shone through. I have no reason to suspect that his abilities have faltered since then, and consequently, I'm gonna land on Gypsy advancing, although I will once again predict a 2-1 victory – with Kid squeezing out a win from some clever tactical play.
That'll give us a Gypsy against BoA winner's match, and Kid matching up against Gosudark. In this event, I picture Kid and Gypsy both winning, giving us a presumed deciding matchup between Kid and BoA. Here, I'll give BoA the tiniest advantage, but it really can go either way. To be fair, so can the presumed winner's final between BoA and Gypsy. I don't think Gypsy really has any particular weak spots, but BoA's aggressive style with well executed shuttle bombs might just be it.
I do think overall, Gosudark is going to have a rough time in this group. While I think he has a fair shot against BoA, because his PvP seems like his strongest suit, I doubt he has the tools required to defeat either Kid or Gypsy in a bo3. Similarly, I think Gypsy is poised to advance, because I think he'll beat Kid twice if he has to, even if he might lose against BoA. Kid vs BoA however, is a very tough matchup to predict.
I'll land with Gypsy and BoA advancing here – but I'm sure Kid wants to be part of the equation, and if we get a decider match between Kid and BoA, I can also certainly picture him making it.
gypsy and
BoA Advance to the Ro8!
---
Writers: Liquid`Drone
Graphics: v1
Editors: BLinD-RawR