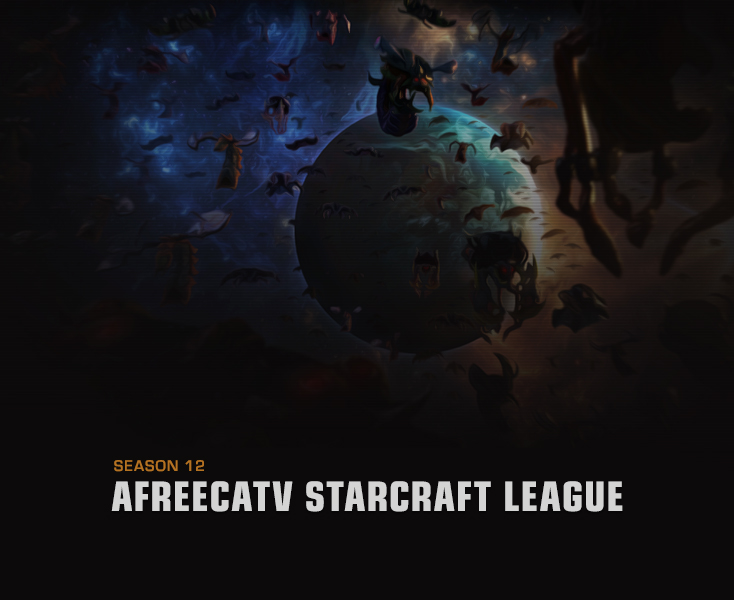 Somehow this season's top 4 are the same seeded players going into this season, clearly they have proved to everyone why they've earned their seed not just from last season but this season too, Even the brackets look all to similar minus the loss of Larva(whos spot Rush took in the wildcard to obtain his seed going into this season), we have on the topside a rematch between Mini the last hope of protoss and ZerO looking for his third ASL win and on the other side we have Rush finally making Ro4 on his own and earning his spot going up against hero who's looking to make another finals after coming so close last season.



Been There, Done That
Deja vu, I've been in this place before,
Mini
vs
ZerO
in the Ro4 of the ASL, this is exactly where and who ZerO fell to last season, will we see a repeat performance, one which is made more grand with Mini on the road to become the latest in the line of legends of the fall? Or will ZerO get his revenge and crush the final hopes of the protoss race. Grand stakes on the road to the Grand Finals.
Mini has not only been the last bastion of hope for protoss but also the most successful offline PvZ player in quite some, his recent sponbbang results while good don't exactly reflect such a grand standing with a 53% winrate against Zerg since the start of September, but as far as his head to head with ZerO goes off the 20 games they've played during that period he is 11-9 which is pretty nice to have against someone like ZerO.
ZerO seems to be in a bad spot against protoss off late yes he has a 52% winrate but overall the quality of opponents that he's beating isn't on par with the level of protoss mini is, ZerO has a losing record against Snow, BeSt and as mentioned earlier Mini, hes barely got one over on free, this is going be a tough series, its not like last time he's coming off of a back to back championship run, if anything this time it feels like its ZerO whos the underdog of the series.
Maps

Eclipse
-
Mini

Largo
-
ZerO

Revolver
-
Mini

Polypoid
-
ZerO

Ascension
-
Mini

GOOD NIGHT
-
ZerO

Lemon
-Afreeca pick
Unsurprising opening pick for mini, Protoss has been really strong against zerg on Eclipse offline, protoss going 5-2 this season, online, its still a bit zerg favored, off late I have seen zergs struggle to protoss pressure and being unable to secure that 4th gas base, with Mini its almost guaranteed you're seeing that kind of pressure.
Likewise for ZerO, Largo is a nobrainer first pick for Zergs against protoss, Zergs are undefeated offline and online hold a 60% winrate against protoss, although I will say this map has some great proxy spots for protoss to abuse scouting so ZerO has to look out for that.
First offline PvZ on Revolver, online its a 60% winrate for protoss, I have not seen many games on this map for PvZ but from what I've seen zergs do try to end the game quick with the good ol' hydra bust(the SH spam).
Polypoid is the standard bearer making the return run, and it is phenomenal for zerg, another excellent pick for ZerO, undefeated in the matchup offline and online racking up at 63% for zerg, it really comes down to how well zergs are able to hold onto their bases on this map over protoss, I do think this is the map where Mini is going to show his best nonstop aggression and harassment.
Set 5 is on Ascension, extremely surprising pick because we've seen before even last season that this is a map that Mini has some troubles with against zerg, its very easy to punish greed in the early game with how easy it is for zerg to get into the protoss main with zerglings, maybe Mini wants to get this over with earlier rather than later, but online its a fairly balanced map for the matchup with a slight 52% favor towards protoss.
GOOD NIGHT comes in for set 6 and yeah this map is tough for protoss, a whopping 74% winrate for zerg, and it comes down to how far away that 3rd gas base is for the protoss, theres not a lot protoss can do for long on 2 gas.
Finally we get Lemon, the gimmickiest map on the pool, its no surprise its been left to last in both Ro4 series because I cannot imagine anyone wanting to play on it, online there have only been 8 games played on it in the last 2 months, split right down the middle at 50%. Yeah, if its come to this, I'd still pick mini to win because mini just has ZerO's number in the matchup.
Mini to Advance to the Grand Finals 4-2!

Momentum man
The question we are all asking, "Where in the hell did
Rush
come from?" To find
Rush
in the Brood War professional data base, you have to scroll through 4 pages, 131 names, and you will find him neighbors with
ElkY
who not only shares the same elo, but has a higher peak than
Rush
. This
Rush
came from the bowels of the CJ Entus practice squad and only managed a total of 10 games of standard league play.
Remarkably,
Rush
has been playing competitive Starcraft since 2009 and even during his limited moments
Rush
still made quite a showing for himself throughout the Kespa era. In five appearances for TvZ matches he played games against
ZerO
and
Action
, while winning games against
RorO
,
Jaedong
, and
Soulkey
on his way to a 60% winrate in the matchup. While
Rush
's career was on the incline and he was winning his game in 2012, Brood War proleague was on the decline and
Rush
would soon be without team.
Rush
returns in 2015 where he faces his first opponent in the post Kespa Era and it's no other than
hero
. They meet in the round of 32 where
Rush
wins the match. They meet again in the round of 8 where
Rush
defeats
hero
again by a 3-2 score. After his great start,
Rush
would go on to lose his next 7 TvZs. After such a long losing streak across 3 tournaments,
Rush
finds his groove again by defeating
hero
once again in a best of 3 series.
At the very end of 2016,
hero
starts to turn things around on
Rush
. In Afreeca Starleague Season 2
Rush
is eliminated in the group stages by
hero
. This sent
Rush
into Round of 24 prison. While
hero
enjoyed some quality results and served time in the military, it took
Rush
6 seasons to finally advance to the next round. By season 10
hero
has finally returned in limited form and both advance through the round of 24 at the top of their groups. At this point
Rush
finds himself seeking refuge in Wild Card matches as each tournament sees its new round of players leaving for mandatory service. In season 11 both players finally meet again after 5 years. With a rich history between the two,
hero
takes nothing for granted and hands
Rush
a 2-0 loss. Still, each player advances into the quarterfinals where
hero
finishes third and
Rush
is eliminated.
It is no wonder that
Rush
and
hero
meet again even further down the bracket pole. Both players have showed such incredible improvement to their gameplay. A step away from winning the gold, the healthy competition online between the two has intensified.
Rush
was winning 58% of the games played vs
hero
in their past 72 games, but
hero
has buckled down on the matchup and seen
Rush
's winrate go down to just 52%. They are now 11-10 in head-to-head matchups since the beginning of October. All the evidences points to being the most competitive and thrilling TvZ series since Effort played Flash for the gold.
Match 1: The series kicks off with
Rush
's map pick, Polypoid. This is the fourth ASL season of the map that favors Terran 57% of the time in the TvZ matchup.
Rush
went undefeated on Polypoid in the wild card qualifier matches and in throughout the main tournament defeating Barracks, Best, Snow, and Soma along the way. Online matches reinforce his Polypoid dominance as he is winning over 60% of his matches versus Zerg. Without a doubt this map is giving
Rush
a huge advantage to start off the tournament and he should be up 1-0 to start the series.
Match 2: Hero's first selection was Ascension which unsurprisingly has a 56% winrate for Zerg players. Hero has been winning 63% of his online match since August with this map and in the past 3 weeks has been winning over 80% of his matches on Ascension. The big irony here is that Ascension is the one map
hero
got meched to death on. He really must be certain that he can beat mech, because
Rush
has an even better Mech playstyle then Light and will most assuredly be using it. Knowing what happened in the round of 8, this Zerg favored map will be lost once again putting
Rush
up 2-0.
Match 3: The map bounces back to
Rush
who chose Eclipse. This dual tileset map has proven to be quite even since it was brought into competitive play in 2020.
Rush
's pick is less about balance, but about being a sadist. He suffered an 0-2 defeat to Soulkey in the round of 16 where one of his only map loses this tournament occurred on eclipse. While he does have a 56% winrate online versus
hero
,
hero
has an even record against
Rush
.
hero
will be looking to get on the scoreboard here knowing
Rush
's weaknesses on this map and takes the score to 2-1.
Match 4: Goodnight is the map that sent
hero
into the loser's finals of his round of 16 bracket. He loss to the lesser Terran, sorry. It totally makes sense he'd bring that nightmare back is his second map selection. It is seriously a good pick for him.
hero
not only is winning 60% of his online games versus Terran, but is winning an amazing 67% of his matches across all races.
hero
has a ton of comfortability on this map and he will definitely take game 4 here with the score moving to 2-2.
Match 5: Largo will be played in the fifth match. This map is brand new to competitive leagues and
Rush
picks this map hoping he can capitalize on
hero
's weakness against mech again.
Rush
is winning 69% of his online games versus
hero
on this map. That's a 12% higher winrate then he has against all other zergs.
Rush
will be relentless against
hero
on his way to stopping a 0-3 skid from happening.
Match 6: Revolver is another new map this season. With
hero
low on map picks, he had to decide whether to bite the bullet on this map or try not to suck on lemon in the next map. This is a rough map. Soma versus
Rush
featured a marine death march brigade that overwhelmed his zerg opponent. The eco advantage for Soma looked enormous and
Rush
was somehow able to just shove his army down the face of his opponent.
hero
looked well prepared for Light on this map. Despite his losing record versus
Rush
online,
hero
is a more stable zerg and will take this series to game 7.
Match 7: The "no one wanted this" map, Lemon, is finally getting playtime. It starts off by handing a Terran player 2 gases in the main base! What a way to start the game. Despite the winning Terran record, there are many frustrations for the race. The main is extremely small and hard to navigate in. The oversized mineral line puts a ton of your scvs in one spot to be picked on and the natural has a lot of surface area behind the minerals that will have to be heavily guarded. Without a doubt
hero
will open with heavy mutalisk play. It makes no sense for him to even test his luck versus
Rush
in the late game. I expect a well-seasoned player like
hero
to bring his extremely high APM and out-micro his opponent has he overcomes a dramatic series and advances to the finals!
Prediction:
hero Advances to the Grand Finals 4-3
---
Writers: BisuDagger, BLinD-RawR
Graphics: v1
Editors: BLinD-RawR