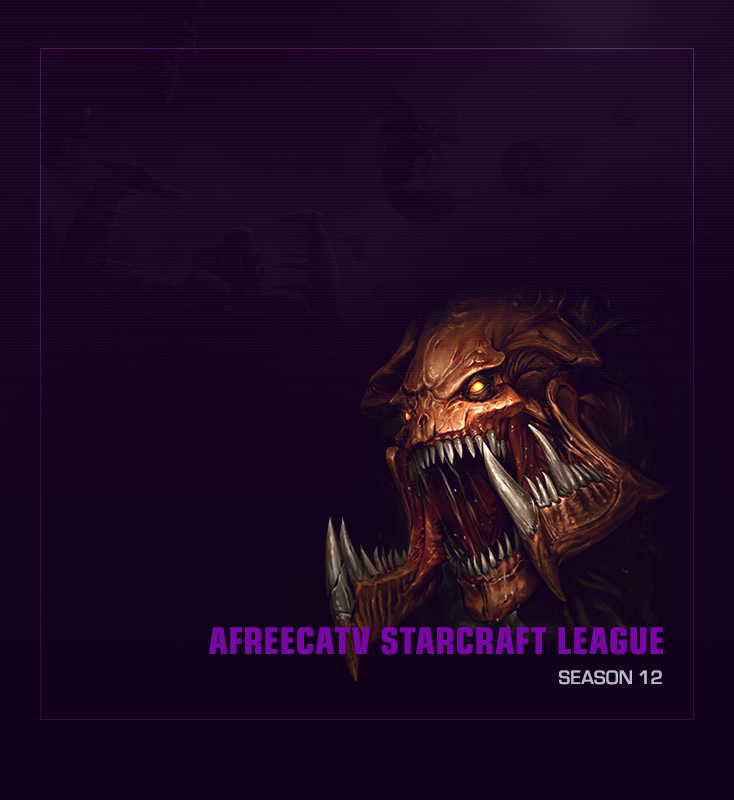 A nice selection of known names and tournament favorites grace the final 2 groups of the Ro24. After a more predictable set of results coming from Groups C and D, will we see the likes of
Action
,
Light
,
Stork
and
Sorry
(Royal) fill out the final spots of the Ro16 or is well known bracket spoiler
Shine
going to pull out some tricks from his bag of builds, or maybe
beast
,
Leta
and
Ruin
might come in with their own bags, in the Bo1 scenario of the Ro24 anything can happen!

A theme in both my previous previews this season was how newer blood was joining the premier scene for various reasons. This time, however, we simply cannot ignore the appearance of two true legends of StarCraft alongside veteran Action and (hopefully) up-and-comer beast. Those are, of course, Stork and Leta.
The opening match features one of the most entertaining and distinctive players in the history of game(I want to state right off the bat that I'll be terribly disappointed if I do not see a two-port Wraith build). After a long hiatus, Leta came back for KSL season 2 and earned a top 8 finish, but at long last he qualified for ASL in season 10. He even managed to top his Ro24 group by beating a very underperforming Bisu and then scoring a nice win in his historically strong TvT matchup against JyJ. He then proceeded to be eliminated by ZerO and Rush and did not qualify for ASL11, but now Leta's back. He does stream on occasion, although he's massed a grand total of 58 games since July, and has win percentages around 40% in the two relevant matchups. Most of his wins are against lower-tier players, too. He did beat ZeLoT 2:0 to qualify and that has to count for something, true... but not too much against the likes of Action.
Action has suffered a decline in offline results over the course of the past several seasons, but he's still a very, very solid player. He used to be unbeaten in ASL ZvZ series until Soma defeated him, has a historically strong ZvP and while his ZvT was his weakest matchup, he gave Flash a run for his money in a bo5 series in ASL9. The thing with Action is that he's somewhat inconsistent: he can have a streak of brilliance, followed by a bunch of scrappy games and even outright dullness. Still, he's one of the regular elimination-stage contenders of this age and is understandably the Tier 1 player of the group. Regarding online stats as a measurement of recent form, in this case since July, he's doing alright – a signature 61.8% ZvP winrate, 50% versus Terran and 52.6% versus Zerg. Also somewhat relevant are a string of solid displays against Light and JyJ in KCM and a narrow 4-5 loss against a very in-form Rush in Ultimate Battle, so I'd say he's a definite favorite against Leta. Unless he hits his mediocre streak and causes another classic Ro24 upset, that is.
Stork had a steady – and understandable - decline in form throughout the evolution of SC:R. It culminated in his failure to qualify last season, but he's back in ASL12 and while he's obviously not a title contender anymore (well, he won the CasterMuse Narak Starleague in the summer), he can still bring the warmness of the not-yet-retired legend to the stage. He plays a quite a few spongames and has acceptable results in PvT, hovering about 50%, but characteristically failing against Zerg with a win rate around 36%. Now, regardless of any stats and numbers, Stork has been known to go on insane streaks of brilliance as he did in KSL3. He proved why he's still a legend with three straight 3-0 victories against Jaedong, Last and Best. Granted, that was over two years ago, but Stork is Stork and should be handled with extreme care.
And beast should already know that by now. A newer addition to the ASL regulars, he failed to qualify last season, but made it to ASL12 by scoring an impressive win against Best. He made headlines about a year ago with a string of solid ZvZ wins in the ASTL, but that was pretty much it – in seasons 9 and 10 of the ASL he was eliminated in the Ro24. He's not been particularly active besides the CasterMuse Narak Starleague, where he lost 2-3 to Killer in the playoffs. His sponbbang statistics tell the same tale – 42 games over the span of more than two months, 50% win rate versus Protoss, 33.3% versus Terran. The sample size is fairly small and there is significant bias, so it'll be wiser to base prediction more on recent results rather than online stats. I would not be too surprised if beast actually manages to pull a win here – Stork's weakest matchup is PvZ and beast beat Best to qualify (then again, 815 eliminated Best from the whole tournament). But I'll go with my heart rather than reputations or stats. Stork wins, because he's cool and all, plus he's the sturdy ol' dinosaur that won't go for a string of unsuccessful fancy plays but rather plain beat you at the game he's been playing for the past umpteen years, thank you very much.
That would lead to a match between Action and Stork for the first place in the group. Frankly, Action's ZvP is just way too good. His early micro in defense can be the best in the scene on a good day, his builds are sharply trimmed and his late-game mechanics are very solid. The only way Stork wins this is 1) he hits his insane streak and 2) Action decides this particular match is appropriate for a sudden dip in performance. Both have happened before, so I won't rule it out, but Action is a heavy favorite here.
Leta versus beast isn't as clear cut, though. Both players' current form is relatively unknown and the only reference point we have are their sponbbang stats that are biased by playing relatively lower-tier players and have small sample sizes to boot. Beast's win rate is pretty low at 33%, but Leta's not much better (41%) and both have had decent results against players of their caliber – Leta's aforementioned win vs ZeLoT and beast's win over Ample in the CMSL. Both players like to play aggressive, too, so mental hardiness will be a plus in an already fast-paced and micro-intensive matchup. This is where I feel Leta should have an edge simply based on his extensive experience, so I pick him.
This makes Leta vs Stork the final match of the group. Now, Stork's PvT is easily his best matchup historically and this is still the case even after so many years. His 50% win rate on sponbbang features more matches against just Light and Rush than Leta has in total for the past 70 days. Those certainly pull his percentage down and they play the meanest TvP of the scene right now (Rush 2-0d both Snow and Best in the wildcard tournament for this season), so there is some bias, too. Leta's TvP isn't bad and can be surprisingly diversified with a whole slew of two-base timings and drop plays to pick from when not opting for a straight macro game... but his online win rate is around 38%, so he could be in better shape. I haven't had the chance to watch any games on Leta's channel lately, but if he's in fine physical condition he can enter the match on equal footing with Stork as far as mechanics go. But Stork has never been the mechanical type of player and as long as he's not too slow, he can more than compensate with his smart, economic style of play. He's a huge favorite versus Leta and unless craziness hits, he should qualify for the Ro16.
Leta
<
Action
Stork
>
beast
Action
>
Stork
Leta
>
beast
Stork
>
Leta
Action and
Stork make it to the Ro16!

It has been two calendar years since
Light
won his first (and last) tournament. Ever since his ASL 9 loss to
ZerO
,
Light
has been uncomfortably stuck in second place. He was second to Flash when Flash was still around, and now he is second to Rush. The sponbbang records between the two of them are neck and neck and
Rush
is the man who knocked
Light
out of the group stage in ASL11. If
Light
survives this group, there's a likely chance that he will face Rush in the round of 16. With
Light
chomping at the bit to get his revenge match, it will put a ton more pressure for the three remaining players to come with their best singular builds in the round of 24.
It has been four years since
Shine
became the bag of builds in ASL 3. Since then,
Shine
has been a re-occurring opponent in the round of 24, but not much more. He has consistently been a top 10 Zerg, which sounds great, but at no time has he been a top 5 Zerg since his amazing run. ASL 12 offers the greatest opportunity for
Shine
to go head-to-head with the entire Zerg brood. The round of 16 has already locked in 5 of the best Zerg players.
Shine
's advancement from this group sets the stage for a ZvZ filled finals run.
In terms of relative success,
Sorry
is actually doing pretty great for himself. He first qualified for ASL in season 9 and has improved upon his runs each time. Last season he made it to the round of 16 where he struggled with the TvT matchup. Great news though, he advanced in first place by defeating
Light
and
Shine
in a best of 1. This group has the EXACT matchups and 3 of the 4 players from last season.
Sorry
has to be feeling wholey optimistic with his group.
Ruin
gets his first run at the ASL this season. He is a former STX Soul member and his blood line is shared with players such as Mini, Shuttle, Trap, and Kal the great. After the SC2 transition,
Ruin
was at one point a teammate of Incredible Miracle who won GSTL while he was on the roster. He then went on to qualify for the 2014 GSL Season 2. Even at the age of 26,
Ruin
finds himself able to take the occasional game or two off of top pros. While advancing in this group seems unlikely, he has the exposure and talent to make this much closer then it looks on paper.
Match one is
Light
versus
Ruin
.
Light
is extremely strong versus Protoss with a 68% winrate.
Light
is extremely consistent and very reliable even in a volatile best of one. If there is one disappointingly fast match, it will be this one.
Shine
vs
Sorry
offers a lot more in match 2. Both are near 50% winrates in the matchup. The bigger difference is that over the past 4 months,
Sorry
has played 590 more then
Shine
. In fact, in that time frame,
Sorry
has played more spon matches than any other player. That is an insane amount of practice and focus. This kind of personal drive is what leads players to championship level success.
Sorry
should be a clear winner here.
Light
vs
Sorry
may offer us the longest game of the night, but there's almost no way to predict anyone but
Light
winning here.
Light
's TvT record for 2021 looks pretty mediocre at 60%, but in the last 4 months he has won 80% of his spon matches.
Sorry
has a record of 1-4 in recent matches and will have to hope that his one game lives up to his 20% winrate. Lightning doesn't strike twice in this ASL season and
Light
will advance first from the group.
Ruin
vs
Shine
is a matchup between two people who are struggling at PvZ in Spon matches. It's hard to predict
Ruin
defeating
Shine
when this is his first ASL live match, but it is also hard to predict
Shine
advancing when his Round of 24 luck has been really poor over the past few years.
Shine
's experience and breadth of builds should really be too much for
Ruin
and it would be dishonest to pick
Ruin
to win.
The
Shine
vs
Sorry
rematch won't yield a different outcome. Unless
Sorry
is mentally shook by losing to
Light
or
Shine
has some incredible lurker cheese planned,
Sorry
should win and advance.
Light and
Sorry advance to the round of 16!
Fun facts:
Shine,
Ruin, and
Sorry all share the same birthday month of August.
Sorry was born 11 days before
Ruin. All four players were born in the 90's, despite how old we really think
Shine is.
---
Writers: BisuDagger, TaardadAiel
Graphics: v1
Editors: BLinD-RawR