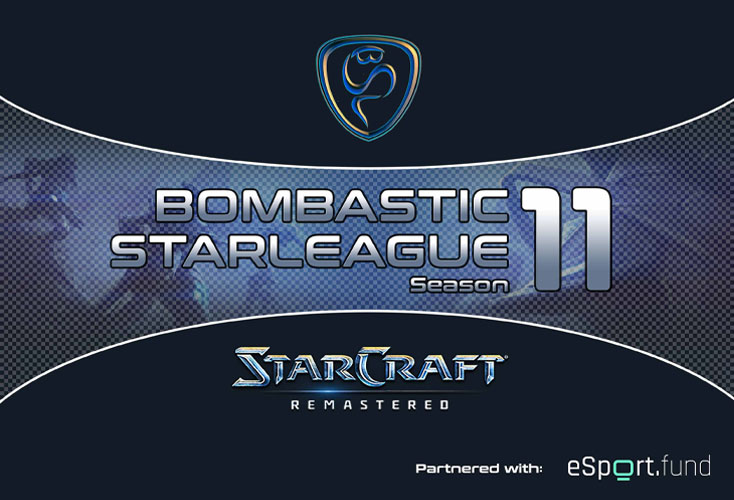 Its Zerg free radio time with the latter 2 groups of the Ro16 with Group C featuring Canadian Powerhouse DragOn, the Quite Polished Polish Terran KogeT and Peru's best Terrans TerrOr and Dandy.

Group D featuring BSL10's Runner Up Dewalt, BSL10 Standout BoA, making his Ro16 return this season Spx and TL Staff's very own KwarK!

Read up on the previews of the two groups by our very own TaardadAiel and Ty2.





Table of contents
Peruvian Terrans And How To Beat Them
Group C of the BSL11 features not one, not two, but three veteran Terran powerhouses alongside Canadian Protoss player DragOn. Dandy, TerrOr and kogeT are all fairly well-known names in the foreign scene and have been at the top of the Terran competition in the new BSL era. DragOn, for his part, is also a BSL regular with a top3 finish under his belt, although he's not as distinguished as his lately dominant Protoss colleagues.
KogeT has been around since forever and despite going on hiatus every now and then, his veteran presence never really waned for long. He finished 2nd in BSL3 and 3rd in BSL4 before going under the radar in 2019. His latest reemergence in 2020 started somewhat slowly with a Ro16 finish in BSL9 and a last-chance qualification for the BSL10 where he ended with a hard-fought 8th place finish. When the ladder qualification for the BSL11 came, kogeT was apparently killing it - topping the first part of the ladder stage (as the new ladder season began midway through the qualifier) with a whooping 2558 MMR and a 59-17 score. In tournaments, however, he hasn't been as dominating as such a finish would suggest - so far he's on 10th in the BBT with a 1-4 match score and 36% map win rate.
Consistency might be an issue here. KogeT's fundamental skill set has never been questioned - he's known for his great micro (particularly with wraiths), penchant for aggressive and technical plays, impressive build arsenal and general knowledge of the game, but there are days where he's just a bit off. And a bit is all it takes against such fierce competition. He lost 3-2 against TerrOr in the BBT, but this result is somewhat deceiving as he lost the first three games. He lost 5-0 to a really dominant Dewalt and 1-4 to OyA. The Polish player often relies on his technicality and aggression and if he can't find damage there, a longer macro slugfest might be problematic for him. But don't be fooled - correctly guessing and adapting for his impressive array of such plays is no picnic and even if you know they're coming, thwarting them can also be a challenge.
DragOn can be the kind of guy to do just that, though. He's an established veteran with considerable experience, he's doing slightly better in the BBT with a 2-3 match score and 40% map win rate and while his qualification process wasn't as impressive (2251 MMR with a 16-7 score) as kogeT's, he has caused problems for him in the past. Last time they met was in BSL9 Ro24, where DragOn emerged victorious 1-0. His usually careful, defensive style can be very effective against kogeT's abusive plays. That being said, in the BBT he lost to Dandy 1-4 mainly because of poor scouting against midgame timings and lack of map presence against early tank/marine/vulture pushes, so there are serious chinks in that particular armour. DragOn will have to try and correct those mistakes - kogeT has surely taken notes and will prepare accordingly. An aggressive opening for Protoss is an option, but I doubt we'll see that kind of play from DragOn against kogeT as the Terran player has sublime micro and general early defensive ability. Barring any scouting mishaps or build order disadvantages he is certainly more than capable to hold against early aggression (he showed exemplary defense against Bonyth in the RCG2020).
This matchup is somewhat unpredictable as KogeT's form tends to vary, but I favor him. Scouting will be key - if DragOn misses the tell-tale signs of a timing attack or, conversely, goes blindly defensive against a greedy build, odds will very quickly stack against him.
While certainly less appealing on the basis of being a Terran mirror, the other matchup is a true clash of the titans.
Dandy is one of the most prominent Terran players in the foreign scene, a one-time BSL champion and playoff regular, but his most recent results are even more intimidating than his veteran history. He dispatched Bonyth 3-2 in the RCG2020 on his way to the finals where he lost to Dewalt and defeated him again 3-2 in the BBT, where he's placed third at the time of this writing. The Peruvian Terran qualified for the BSL11 with a very respectable 2405 MMR through the ladder stage and cruised through his Ro24 group. A mechanical monster, known for his formidable macro and sharp timings, Dandy can safely be assumed to be the currently most solid foreign Terran and a favourite against almost everyone in the scene.
Dandy's compatriot TerrOr is another veteran Terran player and won't be a pushover. He has a rich history in the BSL era, including a second and third place in seasons 3 and 9, respectively; he qualified with an MMR of 2293 and topped his Ro24 group. Instead of being known for a particular aspect of his fundamental skills, TerrOr is a well-rounded player that takes his time to prepare against specific opponents and can (and will try to) sneak a vulture through the eye of a needle. He most recently beat kogeT in the BBT and while there was some marine-medic craziness on kogeT's part that might have influenced the outcome, TerrOr is an intimidating adversary in a Terran mirror.
Considering both players' styles, I expect to see attempts at pressure from the get-go and violent vulture duels. Should the games enter the macro stages, we'll see the full specter of TvT attritional warfare - maneuvering for tank positions, wraith switches and big drop plays. Both players are more than competent, but I'd give the upper hand to Dandy fairly confidently based on his recent form and overall TvT prowess.
Assuming those predictions are correct, a winners' match between kogeT and Dandy will follow. Everything concerning a Terran mirror above holds true for this matchup. KogeT is more likely to go for a 2-port wraith or a big mass vulture build than the average Terran, but I don't think Dandy will let himself be surprised by anything less orthodox and in the big positional stage is the favourite for me. Importantly, at the time of this writing the two haven't played their scheduled match in the BBT just a day before the BSL, so it will be interesting to see if any player tries to hide any stratagems. In any case, I expect Dandy to top this group.
TerrOr would fight DragOn in the losers' match to stay in the competition. While TerrOr has struggled in the past against the traditionally strong foreign Protoss competition, his most recent results are reassuring. He defeated BoA to top his group and beat OyA 3-2 in the BBT, showcasing his tendency to prepare player-specific strategies as he went for insanely fast double expansion builds against OyA's preferred macro style. DragOn will have to stay on his toes and watch for such greedy plays followed by a factory explosion and a sharp timing attack. He's shown a tendency to omit shuttles from his army compositions recently, which might prove a disadvantage against a fragile expansion strategy or a mid game timing. Again, scouting will be key, but I expect TerrOr to come out on top and advance to the final match.
This means a rematch against kogeT, who will undoubtedly want revenge for his BBT defeat. Again, I expect pressure from the very start as both players will vie for any early advantage they can get. Of the two, kogeT's arguably more inclined towards dropship plays and wraith switches, but I expect that both players will try and force the issue in some way rather than accept a stalemate on the ground and go for a stagnant TvT. Based on recent results, I consider TerrOr more likely to advance to the Ro8.
kogeT
2:1 vs
DragOn
TerrOr
0:2 vs
Dandy
kogeT
0:2 vs
Dandy
TerrOr
2:0 vs
DragOn
TerrOr
2:1 vs
kogeT
Dandy and
TerrOr to advance!
Out of group D, the player that immediately catches the eye is Dewalt. He is fresh off his RCG 2021 win after a years-long drought of premier tournament victories. Unfortunately, what awaits our top Protoss is a potential recipe for disaster: high expectations as a top foreigner and recent tourney winner, a challenging group of players, and a trailing RCG 2021 curse that may doom him to prematurely get knocked out. Dewalt may fall off mentally and underperform, an event occasionally seen from Dewalt.
On the opposite end of the spectrum is Kwark, a newcomer to BSL who will advance out of Group D due to some rookie hullaballoo. Sure, his mechanics are not on the same level, but he's the player that forms the exciting underdog narrative. He has that gumption and can-do attitude that isn't afraid to whip out abusive plays which exploit scouting weaknesses or rigidly standard play.
The two remaining players, Spx and Boa, are a real big tossup, but I find Boa's typical PvT 2 base reaver aggression into speelot and dragoon timing attack to be painfully predictable at this point. Who knows, though, his signature strategy might just work anyway.
Dewalt vs

BoA
How Dewalt fares in Group D will decide whether he's not just a winner, but a consistent champion-in-the-making. And who better to put that to the test than BoA, an American Protoss with great game knowledge and a playstyle that fluorishes when dictating the pace of the game.
However, the starting map of the series, Overwatch, with its long rush distance and choke points does not lend itself to fast-paced aggression and pushes, which favors Dewalt. BoA also has been less consistent and faltered in his control at the most decisive times in past tournaments. In a delicate matchup like PvP, that will spell a quick end to BoA in the series.

Kwark vs
spx
The grizzled BSL veteran Spx faces off against the fresh-faced Kwark, who made a lasting impression in his Ro24 BSL debut. Will Kwark playfully wield the same set of exploitative proxies and sharp timing attacks as he did in the previous round? Or will he play a cookie cutter style that spx will be obliged to reciprocate with his own strong mechanics? Kwark's path to success will take all the winning ingredients a tournament setting can afford - mind games, and map-tailored, abusive builds. Otherwise, I fear a one-sided, bogged down macro game, or a premature loss from an infamous Spx 2-base timing.
Prediction:
Dewalt
>

Boa

Kwark >
spx

Kwark >
Dewalt

Boa >
spx

Boa >
Dewalt

Kwark and

Boa to advance!
---