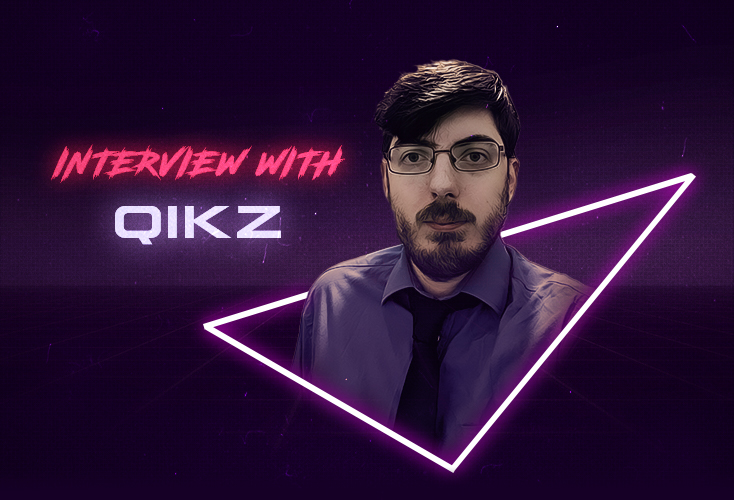 In the upstart foreign Brood War community is a man who marches to the beat of his own drum. Lover of fun maps, good StarCraft, and exciting team leagues, his name is Qikz. Qikz has been organizing events for over two years with his sights set on growing the StarCraft scene. He previously hosted the individual league Clash For Char tournaments before hosting his own team league, the Shinhan Tank Proleague, which is currently in its second season.
Watch it here
on his Twitch channel on Mondays, Wednesdays, and Fridays.
---
Thanks for doing this interview Qikz. This interview marks the almost one-year anniversary since the
last interview
you did with Clan ReV, published February 13, 2019. I'm sure a lot has changed since then, so let's get started. For starters, please introduce yourself to the people who aren't too familiar with you.
Hi all, my name is Qikz, and I'm the tournament organiser of the global team league STPL (Shinhan Tank Proleague). I've been playing and watching StarCraft 1 for around 11 years now, and I decided in 2015 to give back to the community I'd been part of for so many years by hosting tournaments.
As an organizer, what's the best part of STPL for you?
Personally it's seeing teams flourish and grow. Teams haven't really been a big focus for players for a long time in the foreign scene, and I thought that given the history of Brood War even outside of Korea it was a shame. There's a lot to be gained by having a close knit team to play, practice, and enjoy the game with, and seeing others show up to support their teammates is very endearing. Not only that, but as time has progressed, viewers who don't even belong to the teams have slowly started to pick up teams to support, and I think that's really cool. Many clans who started off small and relatively weak in the STPL have grown and become a lot stronger throughout the (albeit incredibly long) Season 1, and the effects of that have completely flipped the script in Season 2!
I definitely agree with you that a lot of these teams are growing. Speaking of the incredibly long Season 1, what exactly has changed for Season 2?
For Season 2, I decided to change the format to make things a lot faster. In Season 1, my goal was to have four rounds, each round taking three months, and then the grand final playoffs at the end. Of course, life doesn't pan out that way, and with multiple breaks for various reasons for not only the players but also myself, that extended to nearly 16 months. In Season 1, we had two groups each round with each group having it's own mini round robin. For Season 2, I decided to change this to have the season to be the round robin, and rather than having a mini round robin, we'd have each team play each team. I thought this was a lot fairer as it meant you wouldn't have imbalanced groups like we had before. So far we've had about 15 weeks of real time of STPL Season 2 and around 12 actual play weeks (with a small break), and I feel that's worked out better for everyone involved and especially the viewers as it's much easier to follow!

In terms of other changes, I upped the production a lot this time. I ended up redesigning the overlays to look better, and I made a lot of shorter videos and highlights to sit in between the games to keep people interested while I got the next game hosted and ready to cast. There's a lot of funny videos in there, but there's also a few tip videos and other general time lapse videos I've captured throughout my limited travels. I've recently added another couple over the last week as well to keep things fresh.
I've seen a few of those videos and I can vouch for their entertainment. How exactly do you come up with the ideas for classics like the infamous
mapman
or
teatime
videos?
I usually don't think about it at all. Oftentimes, I'll be doing something else and an idea will pop into my head, and I just end up trying to make something with it. Not everything makes it, but some do!
I'm guessing the same goes for maps. You're known for your love of unique and fun maps seen in STPL. What goes on in the decision making process of which old school maps you choose for the map pool?
I actually think about this a lot, and it takes me a good number of weeks to fully decide what maps to use. I take into consideration a lot of different factors (i.e. how old a map is, how previous balance fared, how often it's been played, how I feel it will fit the current meta, how fun the map actually is to play and how entertaining I think the games will be to watch). I'm not sure that most people will agree I've made the best judgments so far, but I'd say things have definitely been interesting, and a lot of maps that people would think would be super imbalanced have actually fared incredibly well. This season, for instance, take Neo Arkanoid, which most people looking at the map would say the map is pretty much impossible for Zerg. The map however has ended up being one of the most balanced maps in the league with every non-mirror matchup sitting at around a 50% win rate after 11 weeks. I also consider maps that didn't make it into major tournaments. Recently the STPL had a captains showmatch where we saw Fatal Combat, a map that lost the map contest for this season's ASL.

STPL benefits a lot from being a team league. Teams play maps multiple times during the tournament. This means if a map does appear to favor one race over another then they can choose to not send a specific race to play, or they can perhaps send a player who has specialized in the map. Week by week, an imbalanced map doesn't affect much. Even if someone does abuse a specific map feature, it's only one game of a Bo5 series, so there's still four more chances to win the series overall. The detriment to an imbalanced map is it means it leads to a lot of mirrors, which for viewers isn't perfect. For instance, Central Plains in the SPL 2010 season ended with the nickname "Protoss Plains" since there were seven non-mirrors on that map and 27 PvPs across the season. This hasn't really happened so far in STPL thankfully, so I think I might have made some good choices so far!

I'm impressed by how thoughtful you are about maps. Speaking of maps, there's a very dedicated and experienced community of foreign map makers. Today, we're seeing new maps like Bubbles and Quintessence, made respectively by Jukado and Freakling, in the map pools of BWCL and BSL. What are your thoughts on these new foreign-made maps and possibly including them in the future in STPL?
I think the foreign map making community is amazing and has been severely underappreciated for far too long. I haven't had any foreign made maps in the STPL so far, but I'm certainly not adverse to adding them in in future. I think the main reason I haven't included any so far is my inexperience with the maps themselves. I love to meme myself as the map man, but there's a lot I don't really know about the foreign map making scene. As many of the maps haven't had a large public presence, I have very little to base my opinion on, and it makes it a very risky choice to put in a 12-15 week tournament. With the side events that will be week by week, I'm going to be having a very large map diversity, so I'm almost certain we'll see some foreign community maps in the STPL ecosystem relatively soon!
Greater map diversity sounds right up STPL's alley. I've noticed diversity isn't present only in the map pool, but also the teams. STPL is notably different from foreign leagues due to its inclusion of Korean players. What significance has letting Koreans participate had on the STPL?
From experience watching every single STPL game (of which there's been now around 1100), I've seen the level of play improve tenfold. Initially, the teams who would struggle against the bigger Korean teams such as WHITE have been doing incredibly well. NetWars was the poster child of this in the first season. Two out of four times they made it to playoff finals and had an incredibly close series against both SouL and WHITE. SouL are without a doubt dominating the Season 2 group stage, but this isn't only due to it's Koreans. They've also got incredibly good foreign players in their roster. Bonyth, for instance, has played and won every single week he's appeared.

I feel there is a lot to be said about the Korean amateur scene, and I personally believe we all have a lot to gain and learn by integrating the scenes better. Of course having region locked tournaments will always be a good thing—but having global tournaments is also good as well. It really does help to bridge the gap between the scenes, and we all benefit.
On that note, what kind of benefits have been gained or potentially can be gained from Koreans and foreigners playing together and being better integrated besides improved levels of play?
I think the main benefit outside of improved level of play is more interest. There's a lot more people in Korea interested in the foreign scene than there ever has been. This has of course been spearheaded by Cadenzie, Dewalt, and eOn going to Korea in person, but a lot of Korean viewers want to see more. I've been speaking a lot recently to Castermuse as he's offered to cast STPL in Korean (which will be starting with the playoffs of Season 2). He feels there's an audience for it in Korea, and I've been speaking to BishOp (who's playing on Valhalla Team) who runs the HAMIC league in Korea about perhaps doing something together. Nothing is confirmed yet, so I can't announce anything, but we're working on something!

One of the greatest moments in eSports [Editor's note: Qikz is a monster, what is this monstrosity] is when you have the David vs Goliath matchups...against what everyone would believe, against all odds, a major upset happens. In both StarCraft 1 and StarCraft 2 (or at least in SC2 until recently), it has always been non-Koreans as David and the Koreans as Goliath. From experience, seeing non-Koreans fighting and winning against higher level Koreans generates a lot of excitement for viewers. We see it a lot in Jeez Weekly, and we've also seen it in STPL. One of my favorite games of the entire tournament was in the STPL Season 1 Playoff finals where Yeti, who even amongst the foreign scene would consider to be an underdog, took out the ASL qualified ByuL in a 40 minute macro game on Athena 2. It was an incredible game, and the fans loved it.
Well said. I think there are definitely more exchanges being seen than before and growth across the board. The scene is seeing more support with Liquipedia and eSports.fund funding a variety of events. As a person who's spoken about StarCraft having more room to grow, what would you say are the main challenges to overcome or best ways to grow StarCraft further?
I think I mentioned this on the Pylon Show, but I think the biggest challenge is getting people to learn it exists. I was fortunate enough to be able to go to BlizzCon in 2018, and many fans and content creators in StarCraft 2 didn't even know there were tournaments held outside of Korea for StarCraft 1. WarCraft 3 and Super Smash Bros: Melee have both seen huge growth in the last few years, and it's largely down to the use of social media. People clip interesting or funny moments, share them on Reddit, share them on Twitter and Facebook, and all of a sudden, a clip that maybe 100 people would've seen live is suddenly available in many different places to see. Especially with Twitter, it finds its way into the mind space of people who may never have seen anything to do with that game at all.

People see entertaining clips and they think, "Hey, this looks kind of fun. Let me check this out!", and slowly but surely you have more and more people joining, watching, and sharing. It's not a quick process, and it relies a lot on the whole community starting to do it, but unless we start to do it, it's going to be impossible to grow. We have some amazing tournaments in the StarCraft: Remastered community at the moment, and I would love if we could get more and more people watching to support the players and content creators and allow them to make even more content! Having a larger social media presence also makes it a lot more appealing to sponsors as well.
I'm sure quality clips to share to get noticed won't be in short supply with great events like BSL, BWCL, and STPL. You've definitely been noticed by Liquipedia who is sponsoring STPL Season 2. With that in mind, how do you see STPL growing more in the near and distant future?
I've been looking for sponsors for Season 3, and I have found one which I can't announce for now...but I'm hoping with them (and if we're able to secure additional funding from Liquipedia), the prize pool should grow again, which is great news. I still need to put a lot more time and effort into getting bigger sponsorships moving forward, but the STPL still needs a lot more history to show sponsors that it's worth investing into and a lot more viewers if we really want to see huge growth in sponsorship.

For the distant future, my goal for the STPL is to lead into a LAN finals. I feel that would be amazing, and I'm certain viewers would love it. My own personal goal is in the distant future be able to make organising and casting STPL my full time job. STPL is my baby, and I want to be able to put much more time into it than I already do, but I'm somewhat blocked by having a 9 to 5 job every day in order to live. It might be impossible to do this, but it's certainly my ultimate goal. Over 60% of my time when I'm not working or sleeping, I'm working on either casting or making things to make the STPL better. I'm hoping that people continue to enjoy the content I make and that perhaps longer term they'd be willing to help make it possible to make even more! This isn't only for me, but this is also for other content creators and even the players themselves. Making the scene large enough for people to make it their job would be amazing.
That's definitely impressive and positive to hear. That about wraps it up for my questions. Thank you very much for giving your time to this interview. Do you have any shoutouts or anything you want to say?
I'd just like to say a massive shoutout to all the team captains and players in the STPL. I wouldn't have any games to cast without them. I'd also like to say a massive thanks to Rapid. He hasn't been casting with me as much recently due to the really bad hours, but he's been a really big help over the last two years and has casted at some insane hours to make sure I could handle it all and didn't have to do it alone. Another shoutout to Castermuse, who has been a big help recently in offering to cast the STPL and also allowing me to cast CMSL2—which, while I haven't gotten very far with it yet, the first day of groups was amazing.
I'd like to say a massive thanks to Liquipedia and Matcherino for sponsoring Season 2 of the STPL. I'd like to say a big thanks to the people who have contributed toward myself and the STPL through Matcherino, donations, subbing on Twitch and also the people that are currently supporting me on Patreon. It's thanks to those patrons that I've been able to upgrade my streaming setup, and if anyone does want to help myself with my above goal, then they can support me on
Patreon
. If they want to contribute to the STPL prize pool, they can donate through
Matcherino
.
Finally I'd like to say thanks to all the people who tune into the STPL and especially those who are active in chat as thanks to everyone I really enjoy casting and I feel like we're slowly building a good community! :heart:
p.s. Thanks also to Ty2 for not only being a great player, but also a great interviewer, writer, and overall good guy!
---
Interview:
Ty2
Graphics:
v1
Editor/Formatting:
EsportsJohn