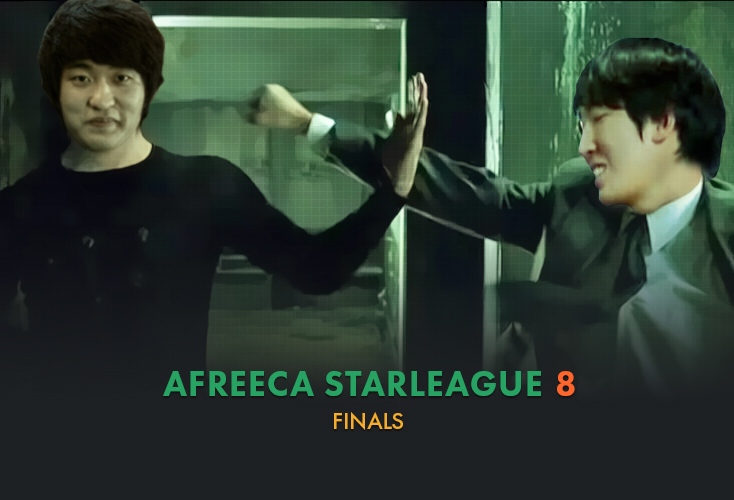 Last week we insinuated that it was "the end" of the tournament, and unfortunately, Rain and Action crumbled against their respective opponents (for different reasons) and gave us a lackluster semis. So here we are with renewed hope that this will be one for the ages. In many ways, the story of Flash vs Snow is the same as Rain vs Flash. Both are "newer" Protoss players who have made their name off god tier matchups, and in the vacuum of good Zerg players, have both snagged nominations for best players (after Flash). The difference is that Snow has actually beaten Flash.

So...given that we always pose the question, "who can beat Flash?", this might be the first time that since effort that someone sincerely has a chance of winning against Flash in the grand final. Of the current player pool, no one has better vT, and no one has confidently taken offline series from Flash before. Snow sits in a unique position between great potential and great results, and this final is the culmination of all his efforts.

Can he beat Flash?



Table of contents


Kryptonite


This is it, guys. After a fairly anticlimactic semifinal stomping of Rain, a fifth final appearance in seven seasons for Flash—and his last tournament appearance for the foreseeable future—is on the agenda. Flash's swan song generates enough hype as it is, but here's the kicker: he's facing the single Protoss player to defeat him in a live series in twelve years (and counting), the first player to stop him on his way to his tenth Starleague title, the undisputed offline PvT maestro.

In the post-Kespa era, Snow's star wasn't slow to rise. After being discharged from the military in ASL3, he joined the fray but was quickly eliminated by he was eliminated exclusively in PvZs in the Ro24. By Season 5, he made history by defeating none other than three times champion Flash 3-2 and eventually made it to the finals. Consistency was an issue in later tournaments, however, as he remarkably failed to qualify for the KSL2 and struggled in the group stages of ASL6 and ASL7. Although his successes were judged by some to be just a flash in the pan, Snow kept on working.

And the hard work seems to have paid off. Through grinding a hundred or more games versus Zerg every month, he turned from a PvT specialist to a fearsome all-round player, first proven by his recent top 4 finish in KSL3, where he soundly defeated Soulkey 3-1. This season in the ASL Snow had to prove his resilience once again by earning his Ro16 spot through the losers' matches after falling victim to a beautiful mind game by ZeLoT and defeating Jaedong in the final match. In the Ro16 his survival skills were again put to the test in an all-Protoss group, from which Snow emerged victorious through the losers' matches against Stork and Best.

But if such perseverance is becoming characteristic of Snow, preparing for best-of series is where he really shines. He made short work of defending champion Last as he played layers upon layers of mind games on the hapless Terran. The last obstacle to overcome on the way to the finals was up-and-comer Action, whom Snow handily defeated 3-1 to earn his rightful place opposite The Ultimate Weapon.

Facing Flash is unlike facing anyone else (save maybe for Rain in a mirror matchup). His macro, micro, timings, game sense, defensive prowess, and build arsenal are all exquisite. You name it, he's done it, and done it perfectly. No single build, matchup or even map pool can be easily expected to undermine his dominance.

And yet there are tiny cracks in this juggernaut's armor, cracks that players like Effort and Snow have learned to recognize. Flash is obviously a master of preparation himself, but last time these two met, Snow managed to get at least a partial read on him and played the appropriate mind games. He took a calculated risk in going for a Nexus-first build on Third World and correctly anticipating Flash's early Command Center. From there, he won through masterful execution on both offense and defense.

He unleashed Hell on his Terran adversary with an extremely damaging Dark Templar drop on Sparkle, but Flash barely survived and proceeded to win by virtue of his inhuman game sense. He abused Flash's neglect of his fourth base defense and won a major strategic victory on Gladiator, and after losing to a desperate push on Terran graveyard Transistor, played a dazzling mind game on Flash in the fifth set.

Snow evidently does not crumble under pressure and is devious to the point of abusing inappropriately defensive builds. He spooked the defending champion, kids—that's how scary Snow is. He's not just a virtuoso at handling Reavers, Dragoons, or Carriers, but rather the kind of player that will promptly recognize and abuse every little nook and cranny in an otherwise stellar build. Through adaptation and slick micro, Snow methodically builds small advantages into an insurmountable lead, and like an alpha predator, he just knows when to go for the jugular.

This lengthy exposé is not intended to goad the reader into admitting Snow is the favorite against Flash. He's not. Nobody is, for that matter. I've decided to skip on using statistics for this matchup, because against Flash they're near useless. He always has the lead on pretty much everyone, save for a statistical anomaly or two that can easily be rectified by expanding the sample size. He did have the numerical advantage before and through ASL5, too.

But one of his greatest assets can be and has been used against him: his thorough and lightning-fast processing of information. Deprive Flash of intelligence or, better yet, drip-feed him false data, and you're one step closer to bringing him down. Remember his nail-biting games against Jaedong in their ASL6 Ro16 group? Flash has admitted himself he tends to overintellectualize and read volumes into what is actually a fairly straightforward move. Snow surely knows this tendency, and combined with the two wonky maps in the map pool—Multiverse and Tripod—we might have just enough surprise potential for him to win again.

What is certain, though, is that we'll be treated to one hell of a series. Let's face it: in the current pecking order, there is no one better to try and tackle Flash on his last hurrah.

Prediction: Snow 4-3 Flash!




The Ultimate Champion


Here we are at the finals again, and once again, Flash is the favorite. What more is there to say? The Ultimate Weapon rose above the competition in the Kespa days, and after a brief foray in StarCraft 2, he has been nothing but dominant since.

What makes Flash so good, though? It's hard to put a finger on it because he's just so good at everything. There's no way to track down a single thing he's excessively bad at. His offline statistics sit above 70% in all matchups, and online he's just as (if not more) impressive. How did he get to be so good?

Let's go down the rabbit hole a bit. Flash's debut in the 2007 Daum OSL was nothing short of infamous. After taking down Light and iloveoov in close TvTs, he proceeded to cheese out the overwhelming favorite Bisu in the Ro8, much to the chagrin of fans. The event became scandalous, and Flash's name became synonymous with the word "cheeser" (at least, for Bisu fans).

But it was no fluke. Over the next six months, Flash improved rapidly and revealed himself for the prodigy that he was. In the 2008 Bacchus OSL, he eliminated the new royal roader Jaedong, rematched and defeated Bisu fair and square, and then stomped Stork in perhaps the most one-sided OSL final of all time.

And it didn't stop there. Over 2009 and 2010, Flash accumulated 5 OSL/MSL gold medals as well as 2 silver medals, a feat which no one else in Brood War history has ever come close to repeating (except maybe Stork, but all silver medals). After coming back to Brood War during a brief stint in StarCraft 2, Flash repeated his era of dominance with three back-to-back ASL titles and a silver in Season 6. He will always be considered the best—the player to beat.

But how did he get this good? Honestly, the only good answer is that he was always this good. Flash has always had a knack for StarCraft, and even in the tumultuous strategic environment we live in today, Flash is always one step ahead of everyone else in terms of tactics and strategic thinking. It's easy to praise Flash for his mechanics, but the things that stand out are his ability to process information quickly and his inhuman game sense that somehow guides him through rocky territory. Flash has gone beyond the nitpicky components of the game and risen to a higher plane which no one else seems to have reached yet. He doesn't worry about mechanics or how to do things; those things are second nature to him now. He just focuses on the strategy and beating his opponent outright.

So, looking at this finals, is it possible for Snow to finally topple Flash? Probably not. While Snow has had flashes (no pun intended) of brilliance from time to time, he has yet to prove that he has the consistency to stay at the top of the game. Snow is a PvT master, but what if Flash doesn't play into his game? What if Snow is forced to think on his feet instead of autopiloting his preferred style? Flash can alter his gameplay while maintaining his macro and exhibiting master-level crisis management, but can Snow do the same?

This is Flash's last tournament appearance for the foreseeable future. It would be cool to see him finally defeated at the hands of a second generation prodigy, but ultimately it comes down to a pretty good Protoss player against the best player of all time. Who would you choose?

Prediction: Flash 4-1 Snow!




---