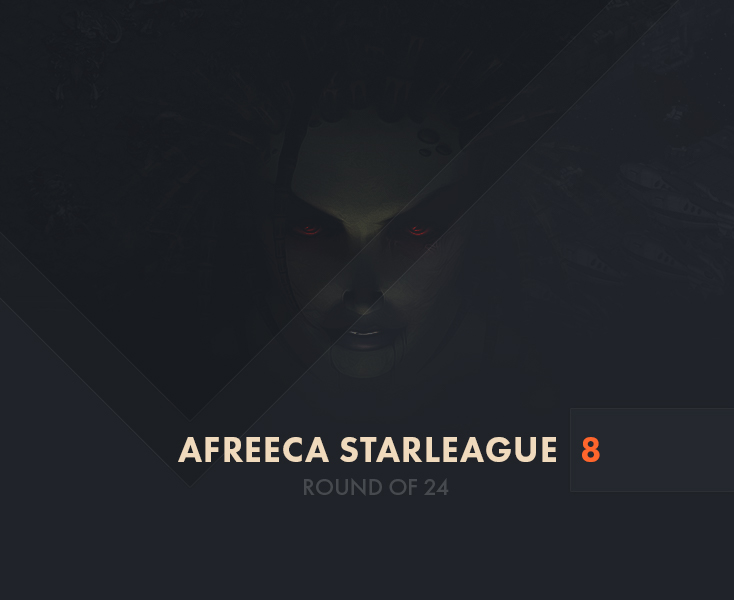 With the First Week of the Ro16 we have seen how the changes to its format has had an effect on the Groups, with Sharp showing all heart in his insane perseverance in Group A while Last proved why he is the defending Champion, while Group B had Action continue his Excellent run of the tournament with Light taking the surprise second spot. If you missed last week's games or any of the banter from Tastetosis, check out
Frudgey
's highlight videos!
This week we have some pure PvP Action from Group C With Rain being the favorite to take the first spot but the second spot is in clear contention among the rest of the Group and for Group D we already have our possible rematch from the Ro24 between Sacsri and Flash will Sacsri prove to be the God Slayer for real? Will Soulkey look to take an advancement despite his draft date being set 2 days after Group D? It's going to be a hell of a week for the ASL and BW!
Let's get to the predictions!
Table of contents


Fratricide
Group C of the Ro16 features an assortment of old veterans as well as new-age monsters come to take Korean StarCraft by storm. Get strapped in, lads, as this PvP-filled Sunday is bound to get bumpy.
Rain has only lost three televised offline PvPs since his return to Brood War. Three. One Bo1 against free in SSL Classic on the 4th of May 2017, another Bo1 against Bisu a week later in ASL Team Battle Season 1, and a Bo1 against Movie in ASL2 all the way back in December 2016. Ever since, Rain has been all about Protoss fratricide:
ASL4: 1-0 vs BeSt, 1-0 vs Stork
ASL5: 1-0 vs Movie, 3-1 vs Shuttle, 3-1 vs Snow
KSL1: 3-0 vs Movie, 3-2 vs Mini, 3-0 vs BeSt
ASL7: 3-0 vs Horang2
KSL3: 3-0 vs Stork, 4-0 vs Snow, 4-1 vs Mini
Right. Moving on, then.
Fresh off an 0:4 disaster of a semi-final against Rain in KSL3, Snow is bound to have got used to losing to the former SKT Protoss ('member the finals of ASL5? I 'member). And while that might make his situation appear somewhat dire, the reality couldn't be further from the truth - Snow seems to have spent a considerable amount of time polishing his PvP. Boasting a more than respectable 77.8% (sponbbang) winrate in the matchup since the aforementioned wreck of a performance in the KSL, Snow could very well end up advancing out of this group, despite arguably seeming like an underdog. While I don't see Snow taking down Rain, him pulling a sneaky on both BeSt and Stork is still very much on the table. Nonetheless, the PvT specialist is yet to convince me his PvP is up to par as well.
I can't help but feel Stork is slowly but surely running out of time to prove himself in the post-KeSPA landscape. As revered as he is in Brood War circles, he's well past his peak and as much as I'd love to see him continue his legacy as a member of the Six Dragons (and TBLS too, while we're at it), Stork is arguably struggling to find purchase in both professional circuits in South Korea. While his semi-final run in the latest season of KSL does inspire a modicum of hope, it follows an undeniable streak of flops - a failure to qualify for KSL2, a first round elimination in KSL1, not to mention the fact Stork has only made the playoffs of the ASL on one occasion over two and a half years ago. However you look at it, things aren't looking pretty for Bang, though, as I've mentioned, the recency of his breakout performance in the Korea StarCraft League has hopefully strengthened his resolve - keep riding the wave, Stork.
It would appear PvP is BeSt's Achilles heel. But then I also reckon I could just replace
BeSt
in the previous sentence with
and I'd end up with a nifty template for future use. I used to think the scrappy nature of ZvZ paired with its demanding mechanics would make it the hardest matchup to predict. And yet, time and time again, PvP proves it is second to none in unpredictability. With a sturdy, albeit not too awe-inspiring track record in offline tours, BeSt could prove to be this group's surprise factor. True, he has been eliminated from the second groupstage of the ASL in third place three times in the past. And don't let's forget the format has changed - with a 47.6% winrate in sponsored PvP games in July, I bet BeSt would rather keep playing Bo1s over Bo3s.
Predictions:
Rain
1:0
Snow
Stork
0:1
Best
Rain
2:0
Best
Snow
0:2
Stork
Best
1:2
Stork
Rain and
Stork to advance to the Ro8!

It Approaches
In Group D you'd think the greatest opponent is Flash, but in fact a far greater force than God himself afflicts this group. That threat is none other than Soulkey's looming military service! Soulkey is due to begin his military service in early August, which he was unfortunately notified about mid-tournament. Such a conundrum is unpredecented for ASL and is sure to cause complications. After all, even if Soulkey were to advance from his group, his efforts would be in vain. Meanwhile, caught in the storm are Horang2 and Sacsri, who try to tiptoe away with their lives.
Flash
vs
Soulkey
on
Tripod
In the maps of ASLs past, Soulkey as a frontier Zerg adapted to new maps successfully while other Zergs, like Larva failed to. That's why with Tripod's uncharted territory, Soulkey has plenty of tools to throw Flash for a loop. The map's interesting double ramps and minable neutral minerals allows for that.. Then again, because of the looming military service, Soulkey's level of motivation and prepration comes into question. Also, having to go up against Flash himself is demoralizing enough as is. Expect Flash to take this Terran favored map convincingly.
Sacsri
vs
Horang2
on
Tripod
Horang2 is met by a trident of obstacles - Sacsri, a fearsome ZvPer, Tripod, a Zerg favored map, and himself, having a lower winrate in PvZ than said map. Expect this to be a clean win for Sacsri.
Winners' Match:
Sacsri
vs
Flash
Given the misfortune of a Bo3, Sacsri must not only defeat Flash once, but at least twice! I don't think Flash will keel over easily in such circumstances, so Flash is almost certain to reign victorious.
Losers' Match:
Horang2
vs
Soulkey
Soulkey tends to choke, and along with the dampening feeling of you-know-what lurking in the back of his head, he'll be off his A-game for sure. Or, perhaps Soulkey in a moment of catharsis will unveil a truly spectacular performance to have him be remembered by. Unfortunately, the former feels more likely in what will create an uninspiring Bo3 loss.
Final Match:
Horang2
vs
Sacsri
Sacsri is fully expected to take this series in a clean sweep. Horang2 does have the advantage however of preparing only for Zergs as per the usual mentality. His efforts may culminate into his best performance yet, but Sacsri himself has been on a hot streak of consistency and is unlikely to keel over.
Sacsri and
Flash advance to the Ro8!
---