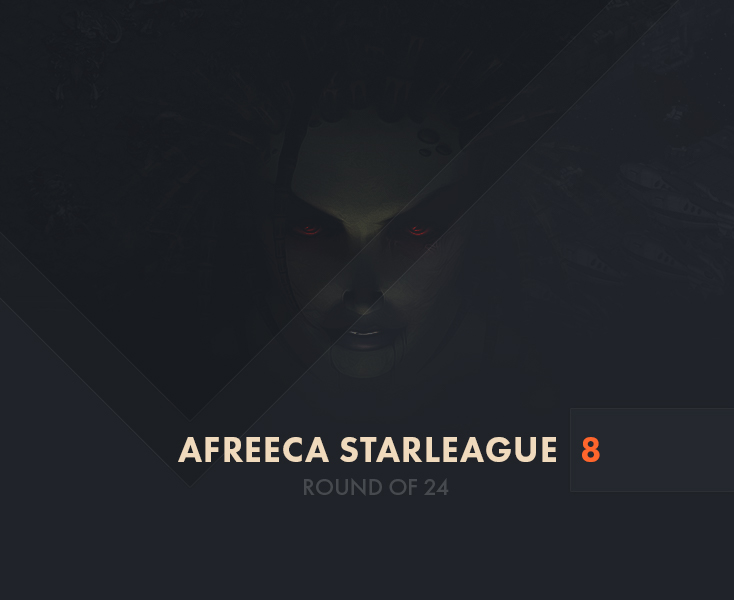 The ASL is back once again for the eighth season! We've seen the rise of post-Kespa heroes like Shuttle, Last, Rain, and effort. We've seen the return of Flash, Jaedong, Bisu, and Stork. We've seen unlikely contenders rising to the top like Sharp, Mini, and Larva. There's been so much in the past few years as we move into an era that can truly be considered the segue to the post-Kespa era.
The overarching story for this season is the same as every season before it: who can beat Flash? For a while, it seemed that no one could...until Snow dispatched the Ultimate Weapon with his brilliant reaver/shuttle maneuvers and masterful PvT. Then, in the next season, the
now-retired Effort
went toe to toe with God himself and barely took the gold in the best ASL finals to date. And then, in Season 7, Flash declined to participate at all, citing wrist problems. So we have to ask ourselves a question: has Flash fallen from his golden throne, or is this just a temporary decline?
Meanwhile, in his stead three players have begun to shine: Last, Rain, and Mini. Last has always been just behind Flash in terms of insane mechanics, game sense, and preparation, but he didn't hit his stride until the later half of last year. Despite being a strong competitor in 2017, it wasn't until KSL Season 1 that Last finally secured his first major win. Afterwards, he went on to place 3rd in ASL6 and KSL2 before adding another gold to his trophy case in ASL7. There is no doubt this kid is on fire, and assuming he doesn't have to come face to face with Flash, there's a case to be made that Last is the best candidate for first place.
Of course, let's not forget about Rain. In the absence of Effort, it looks like Rain has no real weaknesses. His PvT is great, and his PvP is godlike. With so many weaker Zergs on the board right now, his only bad matchup is mitigated a ton (assuming Jaedong doesn't go Tyrant mode again). Rain's consistent performance over the last year coupled with two first place trophies make him an absolute favorite, especially if he can coast by on his PvP.
Finally, there's Mini. It's taken a long time, but Mini has finally built up the momentum he needs to become a real champion. Formerly known as a bit of a cheeser, Mini's macro sense and army movement has leveled up to a sublime dance of manipulation rivaled by no one. The refinement of his army movements is just...perfect. While he still gets distracted by early pressure and is prone to the occasional mistake, if Mini gets on a roll, that momentum just keeps rolling with him. And with back to back second place finishes, that momentum is likely to carry him into yet another finals again.
This week, though! We start in the Ro24. We've got some new maps as well as some old ones, and things are looking to be quite interesting! Tune in on
10:00 GMT (+00:00)
to see the first group starting this week!
Table of contents

GuemChi's Group
The first group of ASL Season 8 starts strong. Flash is the unquestionable favorite to advance first while the rest vie for second place. Still, there's plenty of uncertainty and suspense with the remaining cast of wacky characters. Will Soma's lack of offline experience quickly deflate the immense hype behind him? Will GuemChi manage to get back in the groove of competitive play after fooling around as an Afreeca streamer? And will Sacsri's Afreeca stream become popular? Tune in this weekend to find out.
Flash vs
Soma on Multiverse
Flash, as a veteran of the booth and a champion of innovation, is the perfect candidate to give Soma a taste of what it means to compete with the best. New maps like Multiverse will only serve as fuel for the calm and calculating Flash to constantly refine and hone his strategies while he predicts whatever Soma can conjure up. Add Soma's inexperience with offline play into the mix and you have the makings of an absolute rookie beatdown.
Soma's only boon is the semi-island corner bases. Soma can employ the creative and ambitious strategies he's known for based on these maps by going for Crazy Zerg or other variants. He can even play on Flash's expectations of him getting these bases and launch an unexpected aggressive play instead. Either way though, the chances are slim Soma will have the perfect Flash-slaying strategy and the nerves to execute the win.
GuemChi vs
Sacsri on Multiverse
Sacsri is an all-around solid Zerg and one of the few recently returning ex-pros to get actual results. That doesn't remove the possibility of a clumsy mistake though; remember how he let a DT slip by against Rain in the last ASL. With such tiny margins for error, you can bet a player as abusive as GuemChi will take advantage of that.
In general though, GuemChi on a mechanical and matchup level is at a disadvantage against Sacsri. His long break from the offline stage also brings uncertainty as to whether he can achieve the same level of play before. Expect Sacsri to win against a fumbling GuemChi.
Winners Match:
Flash vs
Sacsri on Neo Sylphid
Miracles can happen. Sacsri beat Flash in a KCM Race War weeks ago in a huge upset, and he may attempt to replicate that success with a similarly cobbled aggressive play. Flash is pretty good though, and who would expect him to lose to Sacsri? Right? Flash is going to win.
Losers Match:
GuemChi vs
Soma on Neo Sylphid
In a disappointing display, Soma will likely lose as the mantra of experience trumps all echoes across the stage. As mediocre and uninspiring as GuemChi may appear, he is still an ex-pro and has achieved decent results in the past. Let's not forget that as Soma goes up against an otherwise capable Protoss.
Final Match:
Sacsri vs
GuemChi
In a tantalizing rematch, Sacsri's nerves will get to him as he follows in the footsteps of Action. It's a classic scenario where a seemingly solid Zerg reveals his vulnerability to massive blunders in the final match.
Prediction:
Flash and
GuemChi advance to the Ro16!

Clear Cut
In Group B, we have a slightly peculiar combination of players. We have the success story/certified punching bag Larva, ASL regulars Rush and Mong, and newcomer ajuk12 aka nOOB. Interestingly, the players seem pretty well "spaced out", according to Afreeca point ranking, into four distinct tiers—at least at first glance.
After taking a break from the stress of offline competition,
Larva
returns—rolling over the qualifier competition, by the way—to the tournament scene to try and fill the Zerg power vacuum caused by the departure of hero and Effort to the military and Jaedong's declining form. After making a name for himself with his work ethic, antics on air, and immense improvement almost a year ago, he managed to reach the top 4 of the ASL Season 4. Since then, he has not been able to replicate or improve on this success.
A quick glance at his online statistics in June shows us the same Larva we know and love. Zerg versus Protoss has historically been a strong matchup of his, and he's managed to keep a winning record against some of the top Protoss players with 55.8% in all matches. It's his statistics versus Terran, however, that are striking: he sports a measly 27.7% win percentage, but this is because an insane 56 of his 83 games (two thirds) of his games in the matchup have been against Flash. And since that's apparently not enough, 21 of the remaining 27 have been against KSL and ASL champion Last. Larva has clearly not lost his will to keep playing with the best to the point of humiliation, but it's is a big part of what propelled him to the top of the competition.
After topping both his Ro24 and Ro16 groups in ASL season 3,
Mong
earned his place in the second "tier" of players for determining the group draw after defeating Hyuk 2:1 in the Seoul qualifier. However, unlike his strong online performance from the Sonic era and on Afreeca, his offline results have suffered in general. Despite being virtually ubiquitous in the league, he has yet to regularly break out of the Ro24. His losses come from the likes of Jaedong, Killer, Last, Effort and Sacsri. See a trend?
Mong's sponmatch results paint a different picture, however: it's his Terran versus Terran that suffers the most. A 40% win rate with just five games in June followed by 46.4% versus Protoss paints a grim picture for Mong. Fortunately, he sports a respectiable 60.7% versus Zerg. Admittedly, he's scored most of his wins against lower tier players, but he has still managed to maintain a winning record against Action (4-2). All in all, Mong is an ASL veteran that has what it takes to reach the big stage...but rarely dominates the competition.
Another ASL regular is
Rush
, and he's not playing around. He's made his intentions about the league clear by practicing and laddering with accounts such as ASL5ChampRush and ASLChampionRush. And practice heavily he does, playing an obscene amount of games and easily reaching above 200 per month. A solid player with good fundamentals, Rush has yet to break out of the Ro24 in the ASL and skipped Seasons 1 and 3 entirely.
Recently, it seems that all the hard work has paid off. Rush won the CasterMuse Starleague, an online event with quite the lineup, and in the process, he defeated the newly returned Zerg prodigy ZerO in a Bo1, as well as Action (3-1), Mini (3-2) and Soma (3-2). Moreover, despite losing 1-2 to ByuL in the finals of his qualifier group in Seoul, Rush bounced back and dominated PvT maestro Snow 2:0 to qualify in Jeonju. His sponmatch stats, apart from the insane 233 games played just in June, suggest that his strongest matchup is the Terran mirror with a solid 60.9%. His record versus Protoss and Zerg is a bit more lackluster with 49,1% and 46%, respectively, but his recent tournament success definitely shows that Rush is a player to watch out for.
The "tier 4" player in the group,

ajuk12/nooB, is largely an unknown entity. The former WeMade FOX Protoss player defeated Modesty (2-0) and Killer (2-1) before losing 1-2 to Best in the Seoul qualifier, but then got in on the second try in Jeonju after defeating Iris and ByuL 2-0. His recent tournament history is sadly uninformative; the only tournament he signed up for, the CasterMuse StarLeague, he was unable to participate due to a hand injury. The extent of his recovery is unknown, but he's apparently fit to play, considering his path to the Ro24. Checking with his sparse sponmatch statistics isn't particularly helpful either. However, his June record of 26.7% versus Terran and 36.7% versus Zerg isn't very reassuring.
The group opener will be between Larva and ajuk12/nooB on Multiverse, a new map for the ASL8. With the difference in experience and Larva's strong ZvP in mind, the outcome of this match should be obvious. Despite the upset bonanza in the last KSL, Larva should be stomping his Protoss adversary.
The other pair of contenders are not that far apart in experience and prowess, but statistics and history definitely give Rush an edge. His Terran versus Terran record is fairly good, unlike Mong's, which is and has historically been mediocre. Moreover, on Multiverse in particular, Rush sports a frightening 70% win rate in the matchup (albeit from a small sample size). Considering these numbers and his recent tournament win, Rush should definitely be considered the strong favorite here.
In the winner match, expect to see Larva face Rush on Neo Sylphid. Although Rush did win his game against ZerO on this map in the CMSL, he got manhandled by Action on the same map too. His sponmatch win rate versus Zerg on the map is below his average, a mere 38.9%. Larva's statistics should not be considered in this matchup because of the extreme bias caused by playing Flash and Last exclusively. Considering each player's history and experience, an upset is possible, but again the advantage goes to Larva. I expect him to outwit Rush with smart map movement and force the game to the macro stage where he excels.
In the loser match, Mong will have to face nooB. Despite not having the best win rate against Protoss, Mong has a comfortable 4-0 record against this particular foe, and his comfort on the big stage will play hugely into his advantage. In addition, the Protoss player has not won a single game against Terran on Neo Sylphid in June. Expect Mong to advance comfortably.
The rematch between Mong and Rush on Neo Ground Zero should be the final match. Rush could again be considered the favorite here for the reasons stated above, but a statistical anomaly of 0-6 against Terran on that map in 2019 points to some upset potential. Still, I'd say Rush has the advantage with his momentum from winning the CMSL.
Prediction:
Larva and
Rush advance to the Ro16!
---