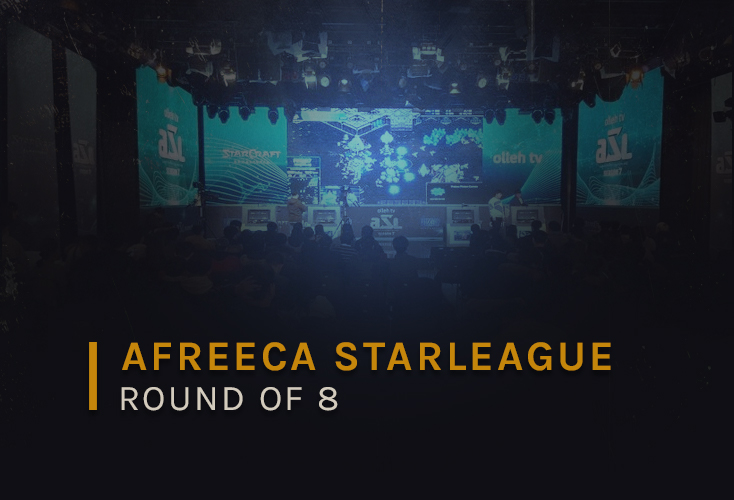 This is it! This week is an absolute rapid-fire torrent of matches to finish up the Ro8. In no time at all, we'll be approaching the championship and the first big champion in our post-Flash-post-Kespa era! But before we look forward, let's take a look back at the Ro16.
There were a lot of ups and downs and some huge upsets. Who would have thought we'd see Calm advance first over Soulkey, Snow, and Last? Who could have forseen Mind's surprise victory over Best in a macro TvP? This has been a crazy season so far, and the next round no doubt will lend us some more unexpected champions. If you missed the last half of the Ro16,
Frudgey
has you covered, as always:
Stay tuned for all the action, starting very soon! More previews to come later this week for the second half of the Ro8!
Our first Ro8 match, Calm vs Mini, is set to start in !
Table of Contents

Calm Before the Storm
I've said before that Calm is just on another level compared to the rest of the former top pros. I say that again today, but this time in a good way. That's all too clear from what we saw in the Ro16. The momentum behind Calm is not miraculous, it is the torn threads of Calm's Kespa past being mended. Now, writing possibly the greatest underdog story unprecedented in ASL—perhaps of all of post-Kespa history—he makes his next move.
But one moment. From the shadows is unveiled a mischievous background character who unexpectedly makes his return as the new antagonist. It is none other than Mini, who has been pushed around for far too long as he seeks redemption.
The first kick down the long stairway of disheartening defeats was a loss to hero. In a game that Mini had all but won, hero stole the series-deciding game in the third place match of ASL5. Then again, he was defeated by Flash in an utterly heartbreaking 0-3 in the ASL6 quarterfinals.
Since being dealt such devastating blows, Mini's presence in the scene has noticeably declined. He's one of the most emotionally volatile players, as evidenced by his exasperated gasps and animated facial expressions when losing. He's an ex-pro in the vicious maw of competition no doubt, which makes his journey all the more tragic. Mini has finally had enough. After shoving Larva aside only to have to face Calm, he's in for the strangest challenge he's faced so far. Calm is either the most underwhelming and luckiest ex-pro or the most skillful and resolute of them all.
As for how the games will actually play out, we can expect another great display of composure and planning from Calm. Here in a Bo5, Calm will be able to execute even greater levels of preparation. He'll account for what builds he'll face, how he'll play out the series depending on the order of wins and losses, and firmly anticipate Mini's actions.
There's a mixture of underestimation, self-confidence, and great series preparation that has enabled Calm to come this far. Against Mini, possibly the cockiest of players, Calm is undoubtedly the favorite. If the series even goes as far as 2-1 in favor of Calm, expect Mini's nerves to collapse. For Calm, pure confidence will be displayed, just like the time he said there was a 90% chance for him of getting past the Ro16. This won't be a game of mechanics but sheer will. That is the game Calm plays with a renewed gusto and confident words he can back up. The audience hasn't even seen Calm's final form yet. Already this timeline is approaching a reality where Calm wins ASL7. Get ready.
Calm advances to the Ro4!

Alien vs (A Beautiful) Mind
"I admire its purity. A survivor. Unclouded by conscience, remorse, or delusions of morality."
Reigning champion effort is considered by many to be the undisputed favorite to win this match and indeed the whole tournament...and rightfully so. After several seasons of mishap and underperformance, the Alien Zerg defeated the toughest of opposition—the then-defending ASL champion Rain, Last (who had just won KSL season 1), and none other than The Ultimate Weapon, Flash—to be crowned ASL champion himself. He showed his trademark aggression and cunning as well as formidable mechanical prowess. Even those who sometimes criticized his perceived lack of creativity were silenced by the deviousness of his builds and tactical burrow usage.
All this serves to show that effort is at the peak of his might, and this season we have no reason to expect anything less, even though he has not faced much opposition in GuemChi and Horang2. effort's online results aren't that convincing, though. In the ZvT department, he's managed to keep a positive record of 53.6% since January. Many of his losses come from TvZ expert Light, who got himself eliminated by two Zergs against the statistical odds—a lesson to show that online win rates do not instantly translate into results on the big stage. And effort, for all his misfortunes in the earlier seasons of the ASL, has had plenty of experience on the big stage.
"Terrified. Petrified. Stupefied… by you."
Mind the Scholar Terran surely knows he's the first serious opposition his fearsome foe must face this season. He's no stranger to ASL and the big stage either. He managed to reach the Ro8 in KSL2 before being eliminated by eventual finalist Sharp in what is definitely Mind's worst matchup.
What is more notable though is that he destroyed Soulkey 3-0 in their Ro16 group. His most recent appearance in the elimination stage of ASL was in Season 5, where he lost in five games to hero. This time around, Mind appears in fine shape. After defeating Modesty in both group stages, he won against macro beast Best in his final match. And let's face it, despite defeating such a formidable Protoss opponent to earn his Ro8 spot, it is versus Zerg where Mind really shines. His online win rate confirms that with a very, very respectable 68% in 2019. This includes a 5:3 record against Effort himself, though all games were played in early January. His TvZ style is definitely centered around bio openings and sharp timings, but he's been known to mix in a 1-1-1 even as the build's usage has gradually declined since effort dismantled its two most prominent users last season.
With all that being said, Effort is still the favorite to win this, but he will have to earn it. Mind is no pushover and will take every advantage the map pool and order give him.
The first map to be played is Match Point, which is considered a slightly Terran-favored map. Mind has zero losses against Zerg there—which is insane—but effort sports a very nice 7-3 record to compete against it. Expect effort to pull off a trademark aggressive build and defeat Mind comparatively early. Failing that, effort would be at a slight disadvantage.
The second game is on Whiteout. The map, with its unique features, lends itself to special builds like the one we saw Calm use against Last in the Ro16. Statistics are of little use here due to the comparatively small sample size (5:3 for Mind, 3:2 for effort) and somewhat lighter opposition both players have faced on Whiteout online. The winner here will very likely be decided by successful mind games, deviousness, and tactics, so I will give the advantage to effort.
The third map is Block Chain, the least understood map this season. Early on it was considered a TvZ nightmare because of the difficult third base for Terran. As games were played and data was gathered, though, statistics showed us otherwise: the Terran race sports a 57.1% win percentage against Zerg here. Our belligerents' results aren't much different, either. Effort has won just over a third (7-13) of his ZvT games on this map, whereas Mind has kept a positive (12-9) record so far. I will keep with the numbers here and give and ever-so-slight advantage to Mind.
Assuming the match reaches a fourth game on Neo Sylphid, we find ourselves on another three-player map. The big main, surrounded by walls, suggests drop and air plays can be and have been utilized to great effect by both sides. Statistically, Mind boasts a significantly better record here (7-2 as opposed to Effort's 9-6). As we already established, though, statistics are just a tool and a fairly imprecise one. Considering the stakes, the players' state of mind (pun not intended), and the fact that both players have prepared in secret, statistics mean little here. I expect effort to go against the numbers with tactics and micro as he did last season and take this map and the match.
Predictions:
effort > Mind // Match Point
effort > Mind // Whiteout
Mind > effort // Block Chain
effort > Mind // Neo Sylphid
EffOrt advances to the Ro4!
---