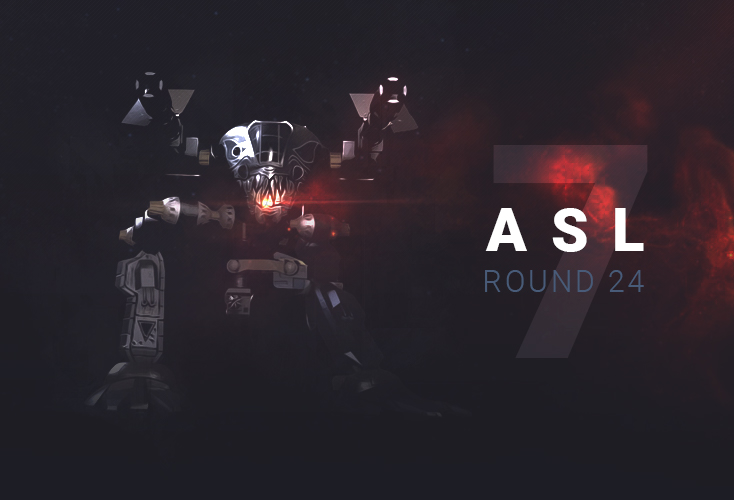 After an exciting first week of ASL, we're back again with more action with Groups C and D! If you haven't watched the Larva vs Nada game from last week...stop reading and go watch it now. Seriously. We've even got some short video recaps for you, made by Frudgey!




This week we've got another lineup of rather interesting players. From the ladder cheese star ZeLot to ASL veterans like Best and Mong to returning players like Modesty and Sacsri, our groups are incredibly diverse. Block Chain and Whiteout have already delivered some rather interesting games, but as we've seen so far, the better player usually wins. That said, there's still plenty of time for upsets in the Ro24. Can ZeLot cheese his way through the first round? Or will solid macro players like Light and Best work their way to the top?

We've got a lot to cover, so without further ado, let's get to the recaps by TaardadAiel and Ty2!

Group C is set to start in !

Table of contents

The Wily, Whimsy, and the Wimpy
Group C's most unique player is undoubtedly ZeLot—the gosu all-in Zerg user, as Koreans know him. What makes this appearance special is that this will be ZeLot's first time playing in a major tournament since Sonic Starleague 8. His upcoming match vs Best is far more than just a novelty though.
Sacsri also makes a return to the scene. Though he never made a splash in the Kespa days outside of some 2v2 play, Sacsri went on to a relatively successful StarCraft 2 career where he netted over $30k in prize money and took a DreamHack title home. Since his retirement in 2016, Sacsri went quiet for a little over two years before returning to competitive Brood War during the Moo Proleague Season 2.
ZeLoT vs
Best on Block Chain
Of all the top ex-pros ZeLot could be matched up with, Best is the most susceptible to cheeses. Best's shaky early and mediocre mid game are weaknesses ZeLot can capitalize on using his signature 3 hatch hydra. However, it's likely ZeLot will perhaps utilize the assimilator pathways for a more unorthodox cheese. Best's chances on such a unique map only go down as the possibilities for cheeses grow larger. Most likely though, we will simply see ZeLot pull out the classic hydra bust to win the first game.
Sacsri vs
Mong on Block Chain
Sacsri, while a pretty good Zerg, simply has mechanics and play that lag behind the best. Block Chain might be what bridges the gap by giving him a larger variety of play to choose from, though. We've seen Mong get flustered by specialized builds, including Crazy Zerg on Gold Rush and Shine's guardian/hydra play. I'm guessing Sacsri won't play the standard game and will instead use the isolated assimilator bases for a Crazy Zerg style...or maybe he'll just surprise us with solid standard play. Despite Sacsri's best efforts, on the live stage and against Mong's mechanical ability, I don't see him taking a game off his Terran opponent.
Winners Match:
ZeLoT vs
Mong on White Out
ZeLot's signature ZvT build is 2 hatch muta, and he most likely will pull it out here. However, I imagine Mong will have prepared for the build with especially good control. He will also conceive of any possible cheese play like lurker drops, lurker bust, or early ling aggression. I feel ZeLot will have to pull off a play similar to what Miso displayed against Light in the KSL. Here, this performance will show if ZeLot has the range to compete at the top. While the prospect sounds promising, most likely ZeLot will overextend and Mong will simply have a good enough defense to win the game.
Losers Match:
Sacsri vs
Best on White Out
Historically, Sacsri is a good ZvP player, but he still needs to work out the kinks before he can get on the same level as Best. On a map like White Out, Sacsri will likely do overlord drops or some other adaptive play, and we could even see him open 3 hatch hydra as a mind game against Best. Best's usual 2 base DT drop shenanigans are too predictable, so I think Best will opt for a standard game where his army control and macro can won him games despite being behind in the early or mid game. As much as I want to believe in Sacsri, I don't think he will cut it against such a strong macro player like Best.
Final Match:
ZeLoT vs
Best on Match Point
The same trick won't work twice, especially on a two player map. Or maybe it will, because that's the kind of player ZeLot is. Be prepared to see yet another 3 hatch hydra that may or may not fail horribly. Who knows, ZeLot may be our first non ex-pro to make it past the Ro24.
Predictions:
ZeLot > Best // Block Chain
Mong > Sacsri // Block Chain
Mong > ZeLot // Whiteout
Best > Sacsri // Whiteout
ZeLot > Best // Match Point
Mong and ZeLot advance to the Ro16!

Starship Troopers
This season's Ro24 group D has the classic conflict between humanity against the slimy, carapace-laden hive-mind aliens. The thing is, this time our Terran heroes have all the experience in roasting Zergs you can ask for and then some, which could make this Tuesday's first two matches a bit of an underwhelming watch in the suspense department—but should make up for it in entertainment.
Mind vs
Modesty on Block Chain
First off we have Mind aka Rommel aka Scholar Terran facing off against the returning Modesty. Modesty has upped his game considerably recently after he qualified for back-to-back premier tournaments. He participated in KSL Season 2 but got eliminated in the Ro16) after defeating Shine (2:1) and ForGG (2:0) along the way.
Still, he's nowhere near his Sonic era ZvT form. He sports a mere 48.1% winrate vs Terran since the beginning of the year, including 3 wins out of 8 games against his scholarly opponent in sponmatches. For his part, Mind can safely say he's in his comfort zone versus Zerg. He boasts a ridiculous 77.8% winrate in his historically strongest matchup, and even though it's a small sample size of 18 games total, he's managed to keep a winning record (5-3) vs defending champion EffOrt. To summarize, even though we could say Block Chain favors late-game Zerg to a certain extent, statistics are on the side of humanity.
Light vs
ggaemo on Block Chain
Our other pair of belligerents consists of Light, the TvZ specialist, and veteran Zerg ggaemo, who's returning to the ASL after taking a three-season break. Once again, numbers are not in favor of Zerg. ggaemo sports a losing record vs Terran with a win rate of only 40% in sponmatches this year and zero wins vs Light in the two games they played. Light sits in a much more comfortable spot with a 63.5% winrate in the matchup. To be fair, ggaemo did overcome two terran players (Mong and Piano, both 2:1) who actually qualified to the Ro24 themselves on his way to the group stage, and Light has a tendency to underestimate opponents, but once again, we'll go with the numbers.
Winners Match:
Mind vs
Light on Whiteout
Winner match prediction: Light vs Mind on Whiteout should be a bloody, hectic affair, if the two terran mirrors played on this map so far are any indication. The TvT style on Whiteout plays to Mind's strengths in his otherwise weakest matchup, so this time I'll go against the numbers and predict Mind to qualify for the Ro16 with a score of 2:0.
Losers Match:
Modesty vs
ggaemo on Whiteout
Loser match prediction: if a Terran mirror on Whiteout is supposed to be violent, ZvZ should be R-rated. I am personally expecting a very entertaining game with the vision-denying mechanic of the map. ZvZ is coinflippy, and the new map does not lend itself to accurate predictions, but I'll make my prediction based on current form. Since ggaemo sports an abysmal 12.5% winrate in ZvZ, Modesty should advance.
Final Match:
Light vs
Modesty on Match Point
Final match prediction: Light vs Modesty on Match Point seems lopsided at first. A second glance does not improve on anything, though. Modesty's best approach would be an aggressive two-hatch muta style considering the map and Light's most recent offline TvZ loss (1:3 to Where in KSL2). Barring successful aggro play by the Zerg player, Light should take this.
Predictions:
Mind > Modesty // Block Chain
Light > ggaemo // Block Chain
Mind > Light // Whiteout
Modesty > ggaemo // Whiteout
Light > Modesty // Match Point
Mind and Light advance to the Ro16!
---