The

Kongdoo Starzleague
was a complete success. The finals took place at GOMeXP studio and did not disappoint. Lights flashed across the audience as the intro camera panned through the studio revealing a packed house. News reporters, interviewers, sponsors, support staff, the Kongdoo team, and even Yellow were among the many attending this event. Once the event began, there was no slowing down. First up was Stellar who dazzled the audience with both their voices and expert dance moves. A motivated crowd snapped pictures with their smart devices, capturing every moment. After just a few songs, the lights dim and the intro began.
Highlight clips began first for
Kwanro
. Upon finishing, there was the first finalist standing at the end of a hallway making his way towards the interview stage. This was followed by

Mind
who received a similar welcoming. As interviews conclude, we are moments away from experiencing the first ever Kongdoo Starzleague Finals! The adventure continues below as our liquid analysts review each game and our onsite news team describes every detail of the event through their eyes.
As the TL team completes coverage of the KSL and looks forward to season 2, we want to thank all the wonderful writing, editing, layout, graphics, and translation contributors from throughout the KSL article series for volunteering their generous time and effort. Your invaluable contributions and dedication have truly shined the spotlight on the re-ascent of Brood War, granting the glorious game the attention it deserves. We also thank our readers, commenters, Hungry_Ghost, and LR-thread posters for enabling such lively interactions and engaging us in critical analysis. Your support has been instrumental in fueling the tireless efforts of our coverage team.
Mind opens aggressively with a barracks before supply, while Kwanro opts with an aggressive economy build with hatchery before pool. Unfortunately for Mind, his early bunker attempt is immediately detected and thwarted by Kwanro's drones, while Mind carelessly defends his main with limited marines from only one functioning barracks and no bunkers. Kwanro's continuous stream of zerglings proves overwhelming.
Zerglings undeterred by Terran ramp defense
On La Mancha, Mind starts more conservatively with supply-barracks, while Kwanro continues to delays his spawning pool, this time successively building both his second and third hatches before pool. Scouting this, Mind pushes out with eight (!) SCVs to try an offensive bunker, only to be denied by Kwanro's sunken. Harasses with gaggles of zerglings, Kwanro further delays Mind's bio build and finishes things off with a stream of mutalisks.
Sunken prevents Mind's offensive bunker
Once again, Mind opens with a standard supply-barracks build while Kwanro continues to favor his economy with hatch-pool-hatch. Scouting this, Mind pushes out with a handful of marines that manage to destroy a significant five drones to take a substantial early advantage. Mind follows with a 3 rax bio build with bunkers and turrets to turn away every muta/ling attempt by Kwanro, finishing off the zerg before he manages hive tech.
Kwanro's muta/lings thwarted by Mind's sim city and bio/tank army
On Avalon, Kwanro again opens with a hatch at his natural before pool, followed by another hatch at his mineral-only third. Mind starts with supply-barracks-barracks, but scouting Kwanro's build, opts for an offensive bunker to rid Kwanro of his natural expansion. Mind maintains the pressure with one-base M&Ms, forcing Kwanro to build 10 sunkens between his natural and third bases. As the game progresses, Kwanro makes some feeble attempts at mutalisks, followed by lurkers, but Mind was ready with his precise build. Teching to tanks and science vessels, Mind manages to out-time Kwanro before hive tech comes into play.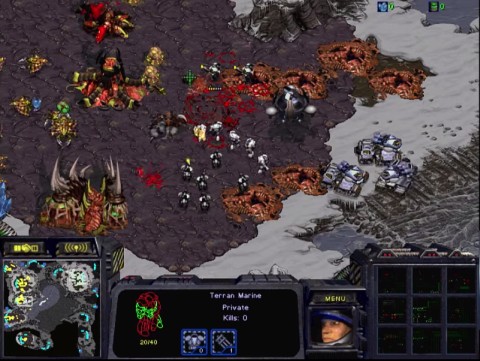 Mind's M&M and tanks descend upon the Zerg natural
Perhaps sensing the closer starting positions, Mind opens with a barracks-supply combo at his natural choke, while Kwanro again opens with a hatch at his natural before a gas/pool combo, perhaps intending 2-hatch mutas. Mind's proxy bunkers (three in total), however, eliminate the natural, with Kwanro effectively forced to go all-in with zerglings. Mind's sim city denies the zergling run-by attempt and his M&M army quickly finishes the game.
Zergling run-by attempt denied
On Circuit Breaker, Kwanro, sensing a need for a change, opts for a 9-pool. Mind, who opens with a standard supply-barracks, denies the zergling rush but loses a significant 4 SCVs in defending his ramp, but soon makes up for it with a M&M attack that wipes out many of Kwanro's drones. Mind follows with series of bio armies to harass and prevent Kwanro from catching up as the zerg is neither able to expand nor tech.
Kwanro's last-ditch muta/ling effort denied
Grades

MIND
Watching the live stream, Mind seemed unnecessarily aggressive with his offensive bunkers, but in retrospect, the Terran largely opened with straight-forward bio strategies and pursued effective timing attacks. For the most part, his bunkers were merely reacting to Kwanro's hatch-first builds as Mind refused to sit back on his laurels. After some carelessness in defending (game 1) and being overly aggressive (game 2), Mind settled down, corrected his errors and prevented the Zerg from reaching hive tech and a more uncertain conclusion. Four straight dominant wins.
KWANRO
Kwanro seemed to approach the series with a certain bravado in opting for hatch-before-pool builds in five out of six games, perhaps hoping to utilize a speedling harass to muta/ling progression (e.g. game 2). Unfortunately for Kwanro, however, Mind scouted well throughout and applied consistent pressure with small M&M harasses and defensive sim cities that prevented Kwanro from really settling down and executing. The Zerg just never managed to expand and tech effectively in pursuing a macro ZvT strategy when he was unable to end things early.
Down 2-1 before the start of game 4, this was Mind's time to shine. After a really solid game on
Fighting Spirit
, he was slowly getting his groove back. On the other hand, Kwanro still looked like he was in good shape and could take the series 4-1. On
Avalon
, Mind spawned in the top right while Kwanro spawned in the top left. To change things up from past games, Mind decided to open up with a 2 rax which was scouted by Kwanro who opened up with an expansion into pool build. Though he realized that he'll be defending an attack from Mind soon, Kwanro took his back expansion, a decision that helped him greatly. With a small marine force and SCVs for buffer, Mind was able to get a bunker up at Kwanro's natural. Kwanro's zerglings were not enough to take the bunker down which was getting repaired by several SCVs. The end result was a lost expansion:
Failed attempt
Though he lost his natural, Kwanro still had his back expansion while Mind stuck to one base teching up and adding medics into his composition. Macroing up another army, Mind decided to attack Kwanro's re-established natural. Panic mode set in as Kwanro realized that his natural had barely any defense and tried to morph 7 sunkens! Mind attacked right as more than half of the sunkens were still morphing, only having to face about three at once. It looked like Kwanro was going to lose his natural yet again, however, he ended up barely holding the attack much to the surprise of viewers:
So close!
Realizing that the natural was a no-go, Mind switched up his plan and tried to break down the Xelnaga temple to get to Kwanro's third. After scanning and finding out that three sunkens were waiting for him at the ramp, he ceased the operation and pulled back to his main. It was now Kwanro's turn to counterattack. With mutalisks out, he kept Mind on the defensive as he double expanded to try and widen his economical lead. Things kept getting worse for Mind who was going to be facing a five base Zerg soon enough. After finding out that Kwanro took a fourth base using some firebats, he decided to attack one last time with everything on the line.
With his first vessel out and the mutalisks having been repelled with irradiate, he moved out with a much larger MnM force+3 tanks and a vessel for support. Though Kwanro managed to reach hive and was getting defilers, it seemed that Mind was able to catch him at the perfect time, right in the transition. Mind easily won the first engagement after Kwanro tried a weak surround then busted up his natural and laid siege to his expansion as 6 lurkers were morphing. Though the 6 lurkers finished morphing, some spectacular splits and solid micro from Mind helped him take the expansion down before he stimed his way into the main after he took down Kwanro's only defiler and zerglings:
I are disappointed!
Just like that, the series was tied 2-2. Kwanro was slowly starting to lose his edge and Mind's game was starting to pick up.
Interview by HungryApp
Translated by Seeker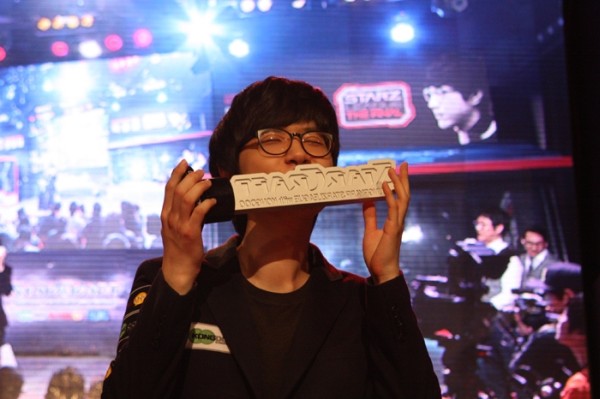 When asked how he felt about winning the championship, Mind stated that, "it was so difficult. I feel like I just dreamed about falling into hell. I've only been to a finals twice, but this one was the most difficult. The games overall ended pretty quickly but I told myself that I would have to win game two in order to win the rest of the series. I was feeling confident about that until I ended up losing game two and became dazed afterwards. I couldn't help but think, "is this what
Kwanro
is capable of?" There's a reason all his other opponents fell against him. My mind was full of bad thoughts about today being a losing day."
He then went on to say that, "I told myself that I would finish in second place if I ended up giving away game three as well. But map three was a do-able map and it was good when my marines were able to enter like that. But when Kwanro's zerglings came, I told myself that I would end up taking second place if I fell here but I was able to return the pace to my side once I blocked it off."
When asked about this trademark bunker rushes, Mind stated that, "I somehow ended up doing them. My bunker rushes today were not prepared. It was just something I ended up improvising after contemplating about it. Rather than be conscious about using bunker rushes, it just happened by chance."
Finally, Mind finished off his interview by stating that he wanted to participate in the next KSL and by thanking everyone who helped him out. Mind stated, "I don't have to join the army yet this year, so I can participate in individual leagues. I am glad that there will be more leagues after this. I feel that many more quality SC1 games will take place from here on out. I especially want to thank
Larva
,
ZerO
,
hero
, BlazE_EuNa, and Lee Eun Yun for helping me with practice."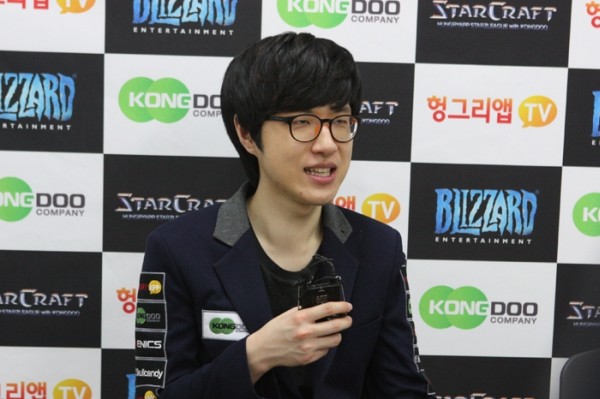 ---
Interview by HungryApp
Translated by Stratos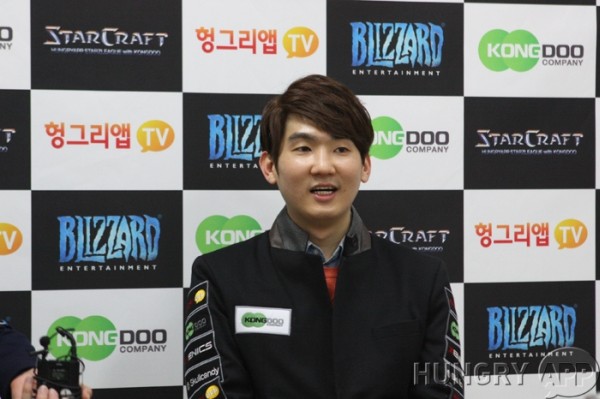 Sitting right next to the champion with his trophy, Kwanro was questioned first. Asked about his impression on finishing second, he stated that, "Losing today makes me really sad. Since it were my own shortcomings that lost me the games I want to congratulate Mind on the first place. Losing despite a two games lead is rather unfortunate. I had opportunities to win in later sets but I didn't use them which lost me the series."
Kwanro also shared that, "The game on Avalon was the most unfortunate. I didn't think it was a granted win but I felt I had the game within reach. I wonder how the games would have turned out if I had won that game."
Asked how he prepared and whether he watched any old VODs, Kwanro said that, "Rather than preparing blindly, I focused on understanding the opponent's style, so I watched a lot of Mind's official games."
He then went on to explain: "I did expect Mind play to aggressively in the early game but I didn't think he'd do it so often. Now I'm thinking that I should have been the one doing that instead."
Losing bothered Kwanro all the more considering he probably wouldn't be back the next time to take his revenge. Instead, Kwanro noted that that he is already quite old and needs to start working on his future and finding a job. He also added that he likes to read a lot and has been recently reading books on self-development.
Kwanro finished the interview by thanking and apologizing to all the players who helped him and the people who cheered on him, and once again congratulated to Mind. Hopefully he can take on the new challenges with his smart aggressive style and kwanroll his way to a happy life.
I spent three weeks in Seoul and was able to attend the last three KSL broadcasts. Enjoying some high level ZvZ at HungryApp's cozy studio along with other hardcore fans and devout fangirls was all that I was hoping for when I set out for the 3rd/4th place match. But shortly after the girls were done taking selcas with commentators and the first game of the ZvZ series between
hero
and
ZerO
had started, I was approached by HungryApp's public relations team leader. Ha Il-ku sat next to me and explained he noticed me visiting the studio before and taking pictures and was curious.
The gentleman was well-versed in English so we were jumping from one language to the other as I was telling him how I discovered Brood War a few years ago, took on learning Korean and joined the Team Liquid staff to translate and interview players for the foreign community and how I timed my trip to Seoul to enjoy the starleague's finals. Ha Il-ku told me he had only been in his position for a short time and this was the first time he heard about Team Liquid, so I showed him the portal on his phone and explained our news coverage of the SSL and KSL. He was impressed and offered me the possibility of conducting some exclusive interviews after the games. He assured me that he would be there to help with interpreting so taking him up on the generous offer was a no-brainer. He let me enjoy the games and took off to work his magic.
After ZerO won the fifth set, I made my way to a rather large office room. Ha Il-ku introduced me to David Cyz, an American Liquidian lurker who flew over to Seoul from Jeju to meet his friend and see the matches. David was quite confident speaking Korean and he agreed to help with the interviews as well. Finally we went inside the interview room where the two Zergs were sitting next to one another, eyeing us somewhat curiously. Still perplexed, we congratulated ZerO on the third place and opened with the most standard question in the world...
Who helped you practice for today?
ZerO mentioned his former teammate
Soulkey
was his good friend and helped him a lot. He also mentioned Modesty, Free and PianO as his close friends.
hero opened by saying he prepared alone. We inquired whether he actually played against the AI, making everyone laugh. He elaborated: "Oh computer? No, when I say I didn't have anyone to practice with I mean I played against Mind's Zerg." Everyone laughed again, then hero went on to explain: "His Zerg isn't good but he knows the builds so he helped me prepare for all possible scenarios."
Otherwise, our strategy for the interviews was fairly simple. Progamers spend hours streaming and talking to their Korean fans every day, so all the interviews by Korean media mostly focus on the games. Instead, we would try to get a peek at the stuff the Afreeca netizens take for granted.
How do you spend your time on a day like this when there are games to be played?
ZerO: The studio is far away from my home so there's not much that I can do. I just relax a bit, make my way to the studio and then head back home. I don't have any plans for later today either. hero: I like to just take a walk alone to clear my mind before games.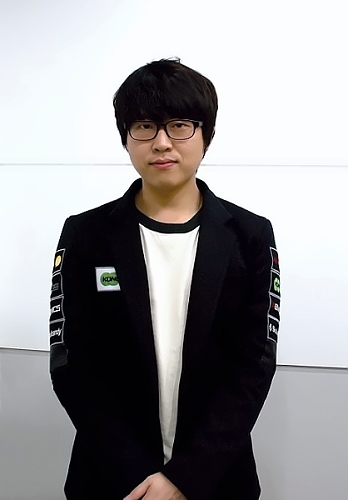 ZerO wondering why I'm taking so many pictures.
+ Show Spoiler +
It's only partly because I'm so bad with the camera.
How about your everyday life? Do you have any hobbies?
ZerO: I used to work out a lot, but that's not the case any more. I used to go swimming.
hero: I don't have a lot of free time since I stream so much but lately I've been studying English and doing some other activities.
Of course we were also curious about their love life. But when we asked if either has a girlfriend, both players grinned and shook their heads in a no. While both are handsome and popular with the ladies so you could make the case that they have some incentives to conceal their girlfriends, their response certainly gave the impression you'd expect from a fellow nerd: Of course not. David tried cheering them up by noting that after today's games they could surely find some.
How do you feel about Afreeca streaming compared to the progaming era and practice houses?
ZerO: Generally there's a good vibe even though some people can be mean. Thanks to the fans I stay motivated to play more every day. As a progamer there were days when I just hated it but that's not the case now. Partly that's because I don't practise so hard as well. (grins)
hero: There are a lot of helpful viewers but frankly I feel like we're better at what we do than most of our viewers so.. (laughs, ZerO nods) I also don't practise as much as I used to.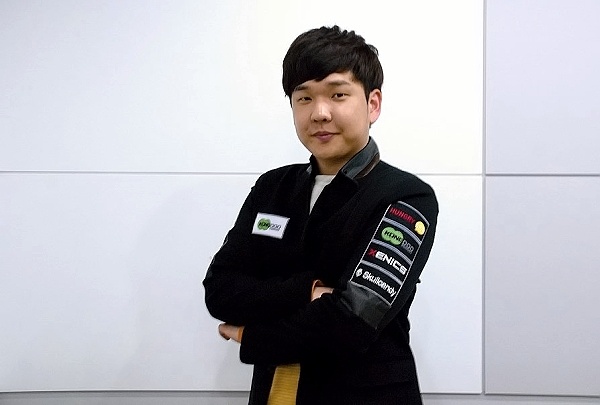 Both players were down-to-earth, not the interview machines you'd expect.
What are your plans for the military?
ZerO: When I retired I had thought I'd enlist in the army soon but since new leagues kept happening I always felt like playing in them and postponing the enlistment. It's still the same now. I really think I should enlist but each time I think to myself - I have to play in just this one, and this one more...
hero: I also keep thinking I should enlist the next year, then the year after. Since the leagues are still here it's a lot of fun.
---
Sadly, asking the few questions and transcribing the answers took us longer that I'd like to admit so while there was no pressure on us and the players seemed cool, we didn't want to bother them for too long. Besides, there were others waiting to be interviewed so we took pictures, thanked them and bid them farewell as the day's commentators Kim Chul Min,
Shark
and Yoo Dae Hyun were entering the room with puzzled expressions on their faces. Ha Il-ku assured them they can relax since we can speak Korean. We were going to try and get some insights on the state of the scene from them.
Can StarCraft keep developing on Afreeca?
Kim Chul Min: A lot of the popular progamers still stick with the game which is key. As long as that is the case the game can live on but it's other broadcasting parties need to pick up the ball as well. While not so many players still play Brood War, the thing the game has going for it is that as people grow old they can still enjoy watching it.
Shark: League of Legends is currently the number one game in Korea. The one big issue with StarCraft is that it's a 1v1 game. In League you have teams and people can also talk and swear (everyone nods) while playing. The RTS genre in general is not popular in Korea anymore, especially when it comes to young people. Finding new young players seems really difficult.
Shark, you have been contracting players for Kongdoo. Are there no new players you recently contracted?
Shark: Recently it's mostly been Afreeca BJs that stream League.
Was the transition from Brood War to League of Legends a rapid one or was it more of a gradual evolution?
Kim Chul Min: It was happening slowly before but if SC2 didn't come out, Brood War could have still been going strong today. When SC2 came out, things changed. If the game was as popular as BW it could've worked out but that wasn't the case. Over the years we all fell in love with the Dragoon and other units and the sounds they make in Brood War. Noone likes the Stalker. (everyone nods again) We've also come to feel like the game belongs to us but there were many problems with broadcasting SC2 in Korea besides the fight between KeSPA and Blizzard.
I wasn't able to note down everything that was said and I wouldn't want to put words into people's mouths. For quite some time, the roles also reversed as the commentators and Ha Il-ku were interested in the foreign scene. We explained how we weren't able to watch Afreeca before so it was all re-broadcasts for us but Afreeca is available globally now. We gave some viewership numbers for the past starleagues and mentioned foreign leagues as well. More than anything, you could tell that they really care. We concluded the friendly chat with some random questions and took a picture with the guys.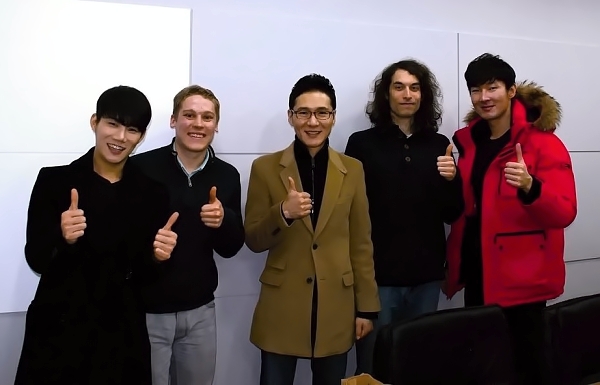 Shark, David, Kim Chul Min, Stratos, Yoo Dae-hyun
How do you all like working with HungryApp?
Yoo Dae-hyun: Officially, we have a very very very good relationship with HungryApp. Officially. (smirks and the others all nod in agreement, Ha Il-ku included)
Shark, we noticed you talked to hero shortly before the games, what did you say to him?
Shark: I was just catching up, asking if he prepared. Of course I wouldn't inquire about the builds he prepared. It wouldn't be fun for me then.
You also earlier streamed some leagues on Afreeca, do you plan to host some more in the future?
Shark: Oh are foreigners watching these as well?! There are some things I'm preparing, yeah.
---
When Ha Il-ku told me we would also get to interview one of HungryApp's most popular announcers, Cha Bokyung, I was partly excited but a bit worried as well. I already interviewed some players before and I researched the commentators long time before so talking to them quickly turned from an interview to a mutual exchange but I didn't really know what to expect from the announcer. We figured we'd use the opportunity to get to know her and how else do you get to know a lady...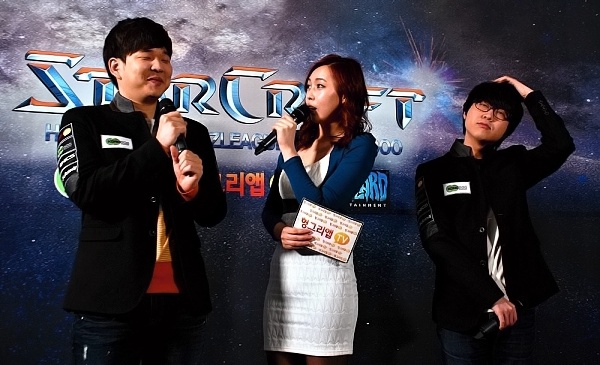 hero and ZerO interviewed by Cha Bokyung
So, did you ever play StarCraft?
When I was a middle school student and Brood War was more popular, I tried playing. I played Zerg then but I only learned how to mine minerals and I'd just die to the opponent's first wave of zerglings.
Did you have a favorite player back then?
There are some false rumours that I had something going with a certain player but let's not get into that (laughs). Earlier I really loved Boxer. Later on I also liked Shark as a player.
Liked?
I still like him (laughs).
How about nowadays?
Since I get to interview and talk to a lot of the players, I can't just pick one. I really like all of them.
Do you talk to the players often?
I talk to them a lot, even though they don't talk to me. (laughs) We don't talk over kakaotalk, I just bother them a bit whenever they come to the studio.
When you were in middle school and you were watching the progamers, did you ever think you would end up interviewing them years later?
I never saw that coming. At that time they were just distant figures to me. Getting to know them personally and interview them is really amazing.
What are your other activities and what other games do you play?
These days I'm broadcasting a lot of MMO content and I also play the games sometimes. Otherwise I really like playing mobile games but... while I like playing, I'm really bad at it. I truly want to learn to play better but there's just not enough time for that.
How do you feel about StarCraft 2?
I tried playing Star 2 and the story is cool. But since I'm so bad I couldn't get further into the game so I cheated by watching the cinematics on YouTube. Star 2 is cool but Brood War is the best! (fistpump)
How long have you been working for HungryApp?
I started last year in May.
What do you do besides your work?
My schedule at Hungry App is so busy that I'm always on the move. Whenever I have some free time, I spend it preparing for future broadcasts. I often replay the games all over again to be well prepared for the interviews. I wish I had more time to play games and get better at them.
Cha Bokyung was really sweet to talk to and we should have probably tried to get some more rumours from her, but having learned about her gaming ambitions and struggles, we had to let her go. Two HungryApp's journalists then went into the room to interview David as a foreign fan and I used the time to try and make some sense of my notes. When we were done, Ha Il-ku walked us out of the studio and out of the building (12 floors down) and promised me press access and a VIP seat for David for the finals.
Me and David could finally talk then and we ended the day at a PC bang in Hongdae. While League ruled the place, pretty much each of the four-man lines of PCs had at least a guy or two playing Brood War and it was without a doubt the second most played game in the place. Word soon got spread that two foreign D- scrubs were showing some epic macro games so we had some audience for a while as well.
---
The Finals
I arrived at the venue half an hour early to see the queue of fans going all the way to the ground floor (the studio itself was on the second floor). On my way to the press room I was seeing other familiar faces from HungryApp and Kongdoo from the day before and everyone was greeting me with a bow and a smile. There were some younger people, perhaps students, working for both parties so I didn't feel so out of place. Later on, HungryApp's PR Team Leader Ha Il-ku would also introduce me to whom I earlier described as the "short Korean lady in a SBENU jacket" that had been taking pictures before at the KSL semifinals and the SSL finals. It turned out Naoka was actually Japanese, she learnt Korean because of StarCraft and she was writing and taking pictures for the
StarCraft Times
(click for her writeup and pictures). Having worked late into the night, I was also well prepared for the interviews today. I did my research and prech helped me brainstorm some questions as well so I had about 40 questions ready and translated into Korean for the players and the commentators.
Ha Il-ku welcomed me asking if I had already eaten upon which I was served hot, delicious lunch. While I was taking care of that, the studio was already packed with people standing wherever they could fit. When the action had started I was mostly just following the experienced Naoka along with the other photographers like I was doing at the SSL finals. Later, I made my way up the stairs at the back of the studio where the commentators
IntoTheRain
, Park Sang-hyun and Lee Seung-won were sitting in front of just a single camera guy in the shadows. I spent like half an hour there just watching from afar so that I wouldn't disturb them from their (excellent) work. It was nice to see that their chemistry wasn't just a show for the cameras but that they would use every second off-air to tease and laugh at each other.
After the games and the ceremony, Mind and Kwanro met up on the stage and chatted about their games for like five minutes in a friendly manner, although Kwanro was visibly struggling to keep his eyes off of the trophy in Mind's hands. They would have gone on for longer but they were called off for the interviews. This time it was your regular joint interview with some fifteen journalists present and just three or five asking the questions. I also asked some of the questions we had prepared and the fact that both Fomos and DES each included one in their transcripts tells you it really should've been prech there instead of me. Unfortunately, both the commentators and Yellow were too busy to make the interview so that was it for the day. That was hardly a let-down though, considering everything that Ha Il-ku provided us with and the way he's been treating me and other foreign fans throughout the tournament.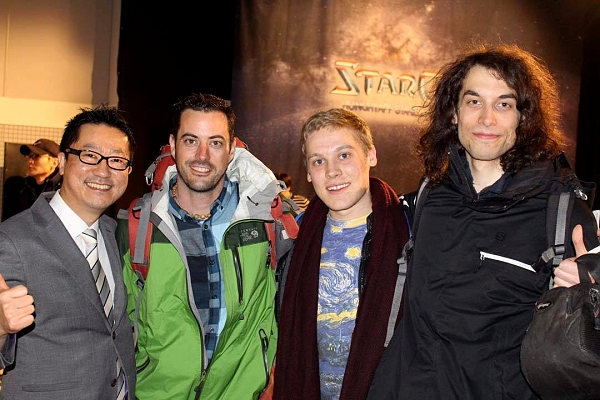 Want to sit next to Yellow in the VIP row at the next finals or interview the next Terran champ? Seek the man in the suit.
Smaller in the studios, prizepool, scale and broadcasting options than Sonic's Starleague, HungryApp and Kongdoo seem to be somewhat building on the legacy of the

MSL
with all of their commentators being former MBCGame casters as well. HungryApp are also doing an amazing job of turning the smaller scale to their advantage. After you've visited HungryApp's studio for a few times, you get to talk to the staff folks, you inevitably bump into the players and casters and you can easily spot other regulars and start feeling at home. The competition between the two parties (HungryApp and OGN) will certainly push them to the best of their efforts but at the same time, both projects seem to be developing a strong sense of style and identity. Personally, I can't wait to see what HungryApp can come up with for the second season – yes, it should be coming!

Writers: prech, BigFan, Seeker, Stratos, BisuDagger
Graphics: v1
Editors: BisuDagger, prech
Photos: Stratos
Images: HungryApp, Blizzard