Spoiler Alert!!
+ Show Spoiler +
MSL Survivor Group 1
2-0 Winner:
Sea
"I would've jumped into the river if I lost"
Q: You successfully got into MSL again
A: I always hope that I'm not on group 1, but it always happens. I dropped out of the OSL preliminaries already, so it worried me a lot. I would've jumped into the river if I lost, but now I'm thankful.
Q: Did your dropping out of OSL preliminaries burden you?
A: It really made me nervous today. I think my feel has gotten worse too. Thankfully, the games worked out for me after midgames.
Q: You didn't get a lot of chance to play in the Winner's League
A: You never know when you'll be playing in the Winner's League, so I didn't get to prepare enough for it. Although I got 2 wins, it's undeniable that my game sense has gotten worse. I'll get up there again over this break and do as well as
Light
is doing.
Q: It would've been hard for you to win without the vulture harass
A: I don't think
JangBi
had enough preparation either. I thought Jangbi would go for lategame management style, so I didn't do a proper sim-city, but I was lucky.
Q: Are you confident that you'll advance to Ro16 in the MSL?
A: Whenever I play in individual leagues, I don't feel too good and therefore, I practice less for it. So from now on, I won't do anything that will put my mood down before my individual league matches. I'll try my hardest to play with the best force possible out of me.
Q: Anything planned for the New Year's?
A: I don't think I'm go anywhere, so I'm going to stay home. However, I planned a good schedule for myself. I want to meet friends, watch TV, and read books. I want to enjoy the short break, and also practice so that I don't lose my senses.
Q: Anything else?
A: It's New Year's, so I hope everyone has a safe and happy New Year's day.
Original Article:
http://esports.dailygame.co.kr/news/view.daily?idx=22455
+ Show Spoiler +
Q MSL 복귀에 성공했다.
A 1조에 걸리지 않기를 바랐는데 꼭 1조에 걸린다. 스타리그 예선에서 떨어진 상태라 걱정이 많았다. 이것마저 떨어지면 한강에 뛰어들 뻔했는데 정말 다행이다.

Q 스타리그 예선 탈락이 심적 부담이 됐나.
A 말도 안되게 긴장을 했다. 오늘도 정말 긴장을 많이 했다. 경기 감각도 많이 떨어진 것 같다. 다행히 중반 이후에 잘 풀렸다.

Q 위너스리그에서 출전 기회가 많지 않았다.
A 위너스리에서는 언제 나갈지 모르기 떄문에 준비가 철저하지 못했던 것 같다. 2승을 했어도 1, 2라운드에비해 경기 감각이 많이 떨어진 것이 사실이다. 설 연휴에 다시 다잡고 (이)재호처럼 잘할 것이다.

Q 벌처 역습 없이 이기기 어려웠다.
A 허영무 선수도 준비를 많이 못한 것 같다. 허영무 선수가 운영을 할 것 같아서 심시티를 제대로 안했는데 운이 좋았다.

Q MSL에 16강 돌파할 자신이 있나.
A 개인리그를 할 때면 뭔가 기분이 좋지 않다. 그래서 연습도 덜 하게 된다. 이제는 더이상 개인리그를 앞두고 스스로 분위기를 다운시키기지 않을 것이다. 개인리그에 최고의 기세로 경기에 임할 수 있도록 하겠다.

Q 설 연휴 계획은.
A 아무 곳도 가지 않고 집에만 있을 예정이다. 하지만 나름대로 계획을 철저히 짰다. 친구도 만나고 TV도 보고 책도 읽고 싶다. 보람차게 보내고 싶고 경기 감각을 잃지 않도록 연습도 할 예정이다.

Q 하고 싶은 말은.
A 설날인데 모든 분들 새해 복 많이 받으시고 건강하셨으면 좋겠다.
MSL Survivor Group 1
2-1 Winner:
JangBi
"I want to see my family as soon as possible"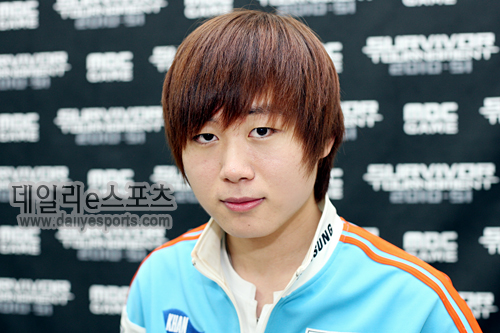 Q: It's your 7th consecutive MSL qualification
A: I didn't think about the Final Match, and instead think of winning it 2-0. Because I paced myself too hastily, I put my guard down when I played against Sea.
Q: When you disqualified from the OSL preliminaries, did it affect you a lot?
A: Preliminaries are scary. The opponents know me, but I don't know the rookies at all, so it's really hard.
Q: You beat two Zergs to advance.
A: I'm fine with whichever race I face. I don't think my PvZ is especially good compared to my other matchups. I think they're all fairly even.
Q: Your record hasn't been good ever since you advanced to MSL finals twice in a row
A: If I won the finals, things would be different right now. I keep thinking how it would be if I beat Bisu in the finals. But, I try not to dwell in my past.
Q: Your goal this season
A: I want to go to the finals and win.
Q: Your goals for the break
A: I'm heading down home on a 6:30 flight. When I arrive home, I want to eat and chat with my family. I also want to spend good times friends, relatives, and my beloved grandma.
Q: Anything else?
A: It was a vacation since the 9th, but I thank
hOpe
,
Lucky
,
Sharp
, and
TurN

for helping me practice so hard.

http://esports.dailygame.co.kr/news/view.daily?idx=22464+ Show Spoiler +

Q 7시즌 연속 MSL 본선 진출이다.
A 최종전은 생각하지 않고 2승으로 올라가자는 생각으로 왔다. 빨리 가야 한다는 생각때문에 마음이 급해서 염보성 선수와의 경기에서 방심했다.

Q 스타리그 예선에 탈락했을 때 심적 타격이 있었나.
A 예선이 무섭다. 상대는 나를 아는데 나는 신인들을 잘 모르기 때문에 어렵다.

Q 저그만 두 번 잡고 올라갔다.
A 어느 종족을 만나던 괜찮다. 특히 저그전을 잘한다기보다는 모든 종족을 골고루 잘한다고 생각한다.

Q MSL 2시즌 연속 결승 진출 이후 성적이 좋지 않다.
A 아마 그때 우승했으면 많이 달라졌을 것이다. 결승전에서 김택용 선수를 이겼으면 어떻게 됐을까 상상을 많이 한다. 이미 지난 일이기에 생각하지 않으려 한다.

Q 이번 시즌 목표는.
A 결승에 가서 우승을 하고 싶다.

Q 연휴 목표는.
A 오늘 6시30분 비행기로 내려간다. 집에 가서 오랜만에 가족들과 얼굴도 보고 밥도 먹고 이야기도 나누고 싶다. 친구들도 만나고 친척들, 그리고 정말 사랑하는 할머니와 좋은 시간을 보내고 싶다.

Q 하고 싶은 말은.
A 9일부터 휴가였는데 너무 열심히 도와준 팀 동생 (장)지수, (이)인수, (조)기석이, (박)대호에게 고맙다고 전하고 싶다.



Source: esports.dailygame.co.kr