Okay, so I have sat back in my chair chuckling at those with those "ezpz lmn sqz" physics problems until I got slapped with a D on one of my quizzes =\. My teacher offered to let everyone to correct their problems to receive half of their points back...
I feel as if in this question, I am missing something, because I almost have it, yet I am so far away...
This is the one I have yet to figure out: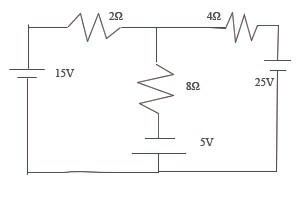 (Quick and dirty drawing. Should be and good enough)
If the current in the 8 ohm resistor is I=5/14 A going up, what is the current through the 4 ohm resistor?


Okay, now for the other:
Just a quick thing, as I was typing this, I ended a few sentences with a semicolon, lmao... Java is getting to me.

Next: For those of you that play guitar (It's about acoustic)

I'm planning on changing strings to get some variety out of my guitar, so I came across a question: I know the definition difference between mellow and bright sounding strings, but could anyone link me to videos, song, or give any explanation demonstrating the differences so I can try to figure out on which I want?