I've been with Team Liquid for eight years, and over that time I had never initiated anything. I always did what I did best, supporting my fellow graphic designers and being clutch at last minute things. Presenting the idea of Blue to my bosses was the first thing I ever pitched and somehow I was entrusted in pursuing it.
In 2018 I was following this twitter account called Mondo Mascots, which is an account that posts photos of all the different Japanese (sometimes other countries) mascots out there. Seeing all those cute mascots everyday started to make me think Team Liquid should take a crack at it.
Sometime in October, I started to draw the first iterations of Blue. I showed my drawings to our graphics chat and the reception was instantly positive. From there, I started thinking that maybe this could be a pitch, and so I started to make a small presentation deck. At first, it was less than ten pages. But after showing it to some colleagues, I started to get suggestions. I added case studies, numbers, action plans, and such until the deck ended up expanding to thirty pages of cute.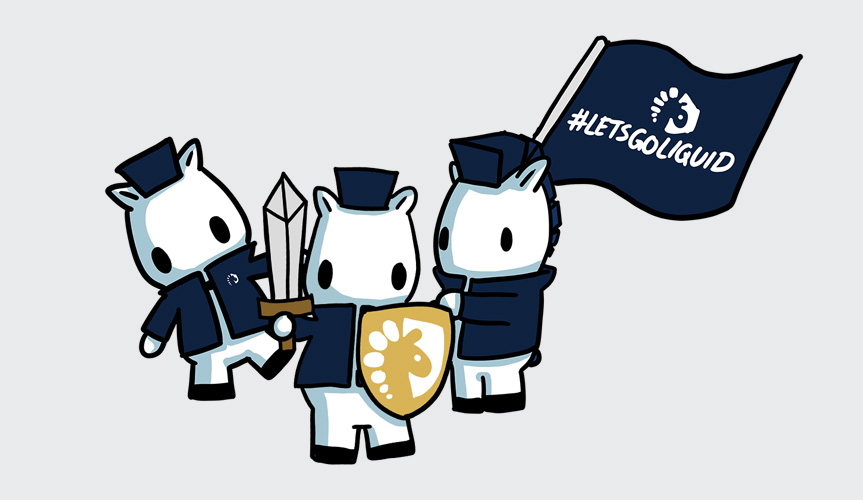 After all that preparation, I was able to get an opportunity to finally present the deck to one of the CEOs in early 2019. To my surprise, it got approved instantly. It felt a little too easy, but I was reminded that I put in a lot of effort into it. Something that was just a passion project became so much bigger than I could have ever imagined.
Ever since then the journey has been a huge learning process. From working with the costume company to retrieving the shipment from the LAX with the help of a freight forwarder and getting it cleared through customs, to figuring out strategies, research, guidelines, and writing. There were so many things I never dealt with, so it was all new to me. I had great support from my colleagues who helped me with things they were stronger at than I was and they also kept me in check. I'm surrounded by the best team of people ever, this wouldn't be possible without them.
After Blue's reveal at LCS, a lot of anxiety about the initial reaction was gone. Even now I still don't feel a sense of accomplishment, just relief. Not sure when or if I ever will feel accomplished. It's all so surreal. Seeing people gasp at Blue the way I gasp at cute things, I saw myself in them. I know what I did, how much work I put into it and how big it was for Team Liquid. Debuting Blue isn't even the hardest part. There are a lot of challenges and big things in the future that will continue to make me grow.
Thanks to everyone who helped me on this, without you guys it wouldn't have gone nearly as well. You know who you are. I'm incredibly lucky to be a part of Team Liquid and be surrounded by the best, not sure where I would be if I wasn't given that second chance eight years ago.