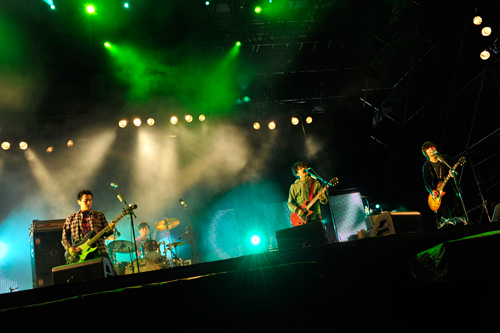 Asian Kung-Fu Generation – A Fanboy's Guide



A little disclaimer here since we have a wide audience of readers at TL. I have no real musical background besides taking vocal lessons for about half a year, and yet I am going to try my best to convince and persuade you why AKFG is a great band. There are a lot of intelligent people on TL, who are musically inclined, or have an understanding of music theory and whatnot, likely I'll sound like a dumbass to those people – I'm willing to bear that shame. Additionally, while I'm a huge fan it's not like I know everything about AKFG to an extreme stalkerish-degree, it's possible some of my facts or discussions are incorrect.

Asian Kung-Fu Generation is a Japanese punk-rock band that had its indie roots prior the start of the decade. I'll just copy/paste from Wiki here: "The band's musical style is influenced by seminal Western punk and alternative rock acts in conjunction with their own local Japanese indie rock background. As a result, their songs maintain a balance of various aspects of the genres, most typically expressing fast-paced tempos and prominent, hard-edged guitar riffs as well as rhythmic flow and emotional lyrics. Despite the indie nature of their music, the band has enjoyed worldwide commercial success in addition to critical acclaim." It is now one of the best selling and most renowned Japanese mainstream rock bands by far.

Most people, especially in the west, are first exposed to AKFG through their songs they've made for anime openings. These songs are typical of their earlier, punk-ish style. I myself found AKFG after downloading a top 30 hit list during the Fall of 2006 and heard "Aru Machi no Gunjou" (A Town in Blue), which sat in the top 5.



http://www.youtube.com/watch?v=RVyqKJPaOKE


(Excuse the Spanish subs)

After that I was enamored, and was convinced that the combination of drums, a bass, and two guitars was the perfect harmonization of mankind, beginning my journey as an AKFG fanboy.


Musical Styles


A while ago I showed Haji (one of the many I've successfully converted into AKFG fanatics) an MV from a mainstream J-pop-rock band "flumpool". His words were along the lines of "this song is meh, it really lacks character." (To be fair, this was during flumpool's debut album, since then they've experimented successfully and have a better overall sound range) I thought it was a decent song and asked him to elaborate, and he told me to listen to AKFG's "Blue Train" again.



http://www.youtube.com/watch?v=vLyNiJkofnc




Indeed, AKFG, despite having released over 8 albums, still maintains a carnival of character and personality in their songs.

(2003) Earlier: Raw punk-rock
Music fit for an anime opening…
+ Show Spoiler [Haruka Kanata, Rewrite, Mirai no Kakera] +



Haruka Kanata (Far Away) was the ridiculously successful OP for hit anime "Naruto", and was from their major-label debut EP "Houkai Amplifier"


Rewrite, another successful hit as the OP for "Full Metal Alchemist" , quite possibly their most well known hit amongst Westerners.


Mirai no Kakera, off of their first full studio album.



The biggest songs from their earlier albums are characterized by a more "raw" sound. I guess it's no surprise that their early works are more youthful, "angsty", and full of energy. Even Masafumi Gotoh (vocalist, second guitarist) has incredibly prominent guitar sections during this time, mashing on his GLP. Over time he began to mellow out to let Kensuke Kita, lead guitarist, comprise most of the guitar line of future songs, as Gotoh remains significantly the rhythm guitarist.

This may be untrue but I feel like most Westerners hear these songs and immediately classify AKFG as a simple punk rock band with a repetitive style, and their perception of AKFG is narrowed down to these few songs and style. Actually, it seems like most long-time AKFG fans don't even list many of these rawer, punker hits to be amongst their favorite.

(2003-2004) Early: Instrumental Punk-rock
A perfect harmonization in the making…
+ Show Spoiler [Natsu no Hi, Zanzou, Mugen Glider, Kai…] +



Natsu no Hi, Zanzou (A Summer's Day, Afterimage), still has its roots in their raw, punk style but showcases their intention as an instrumental band as well. This song, and the sequence from 1:53 to 2:36 is quite possibly the best representation of this intention, punk instrumental combined with raw emotion.


Mugen Glider (Infinite Glider), one of the few slow-paced songs amongst their early releases. I like how easy Gotoh's voice blends in the background, shifting attention to the bass, drum, guitar lines in this 5 minute long "narrative".


Kaigan Doori (Waterfront), once again emphasizes primarily the instruments rather than the vocals. This song is often accompanied with an ensemble of string instruments to complement the fantastic guitar line during lives.



None of the songs listed above were singles and as such did not have their own promotional music video, yet they're amongst my favorite songs. I can't say that I listen to an eclectic range of rock music, but amongst the rock music I do listen to, AKFG is far and away the best at emphasizing each part of their band. The bass doesn't get swallowed up by the two guitarists, the drummer and lead guitarist are amazing, and AKFG has a rhythm section as well (in Gotoh's guitar), resulting in what I mentioned before as what I thought was the perfect harmonization of sounds.

(2004-2006) Maturing: Lyrical genius and Kita the Lead Guitarist
Older, better, wiser – The art of storytelling and social commentary…
+ Show Spoiler [Kimi no Machi Made, Blackout, Last Scene] +



Kimi no Machi Made (To Your Town), amongst their most famous songs in and out of Japan, featuring a hilarious music video to boot. Kita's lead guitar starts the song whimsically in a notable break from the raw styles prior.

You who are trembling and helpless
Will you, one day, become the wings of tomorrow that will save us?


Blackout, from their 3rd full studio album, Kita's lead guitar line pretty much "makes" this song. The music video and lyrics are a fun commentary on the age of television and technology.

3-2-1 entangled information, don't know what the truth is
The birth of the present state and illusions, tomorrow and its footsteps
3-2-1 emotions running wild, want to escape from reality
The mixing of conjectures and delusions, things to be swept away

So that I don't lose this moment
Even if your frail hands weakly flutter away
Sweltering in the boiling heat of a winter snowfield
Numbing my sense of touch
Don't forget me


Last Scene, another slow-paced narrative that builds up into something beautiful at the end. I remember this song mostly for the beautiful tone of Kita's guitar line.

The rain disappeared from the beautiful blue sky
And the end has paid us it's visit



It seems somewhere before the production of the third full studio album "Fanclub" they began to make a noticeable shift. Their lyrics began to acquire increasingly more depth and metaphorical meaning, not to mention the subject matter of the lyrics began to take on different shape as well. Instead of first-person narratives typical to most angsty punk rock styles, the lyrics began talking in the third person, included more poignant and esoteric imagery. Gotoh started writing about the world, society, the emotions of others. Musically, many songs from around this era began emphasizing the talent and ability of Kensuke Kita, their lead guitarist. A refreshing change in lyric subject matter and the development of Kita gave birth to what truly characterizes AKFG's flair and personality. Uncoincidentally, "Blue Train" (from the beginning of this post) is from the third album "Fanclub".

The next couple years would be spent refining this overall style, while still maintaining the original indie-punk flavor that made them famous. They released another full studio album, Feedback File, and immediately following that was their hit single Aru Machi no Gunjou (the very first song included in this post). Here are some more songs from Fanclub and Feedback File:

+ Show Spoiler [World Apart, Kaiga Kyoushitsu, Sakuras…] +



World Apart, a popular single from "Fanclub". Features a more mature punk style, with classic Gotoh "screaming".


Kaiga Kyoushitsu (Class Picture), like World Apart, reminiscent of their earlier indie-punk style.


Sakurasou (Primrose)


Eien Ni (Forever)


Jyuni Shinhou no Yukei, classic Gotoh musical passion and emotion in the final 2 minutes




(2006-2008) Experimentation Era
A redefinition of Ajikan Rock…
+ Show Spoiler [After Dark, Korogaru Iwa, Kimi ni Asa…] +



After Dark, was the OP song for popular anime "Bleach", features an upbeat tempo reminiscent to their older styles.

Korogaru Iwa, Kimi ni Asa ga Furu (Rock n' Roll, Morning Light Falls on You), features a really poignant guitar line, and while it's still clearly "Rock" it's also a lot more digestable and enjoyable than previous rock songs.


Atarashii Sekai (New World), a now-refined notion of punk rock that differentiates itself from the early punk rock songs due to its overall clearer sound.


Mustang, a song I feel showcases the superb bassist Takahiro Yamada more than anything. Overall more catchy and relaxed.


Mada Minu Ashita ni (Into an Unseen Tomorrow)


Fujisawa Loser had a very popular music video that was a humorous commentary on the rat race of both office work and the journey to becoming a famous rocker.



AKFG took a brief hiatus after Feedback File and came out with "World World World". It received mixed reviews, and was the beginning of a three-album experimentation era for AKFG. This experimentation era consisted of trying to redefine their rock style into something more concise, clear, and audible. The band favored trying to go for a simpler musical route, while at the same time experimented with different sounds and notes. An interesting lyrical effect I've noticed (And this can be seen in their music videos as well) is that, probably due to a result of being older and more mature, their music is now intended to be a message for a younger generation. The direction of the band has led to a matured punk rock style that no longer lyrically resembles the younger, angsty indie rocker Gotoh, but rather that of a wiser Gotoh.

(2008 – Present) Post-redefinition
Over a decade of experience…
+ Show Spoiler [Shinseiki no Love Song, Solanin, Maigo…] +



Love Song of the New Century, A repetitive beat breaks into a plethora of audible beauty at the half way mark, similar to Jyuni Shinhou no Yukei.


In Solanin, Gotoh and Kita switch their GLPs for Mustangs, and the ending instrumental is the first time "shredding" is blatantly apparent in their music.


A Stray Puppy and the Beat of the Rain, the first time AKFG implements the use of brass instruments in their music.


Magic Disk, the title song of their upcoming album.




They have not released an album after the three "experimental" albums so I've yet to see what sort of big changes they make with their music (their upcoming album comes out in ~2 weeks!). From the singles released during this time, it's evident that they're content with their current notion of Rock that is simple, digestable, but pristine at every note, while still making one easily noticeable experimentation here and there. But in a way, it's always been classic AKFG – an amazing supporting cast with Gotoh at the helm letting his easily enjoyable vocals blend in with the talent of the instruments. The maturation of the band and Gotoh comes full circle at this point, it's almost surprising to see that the band who made "Love Song of the New Century" was also responsible for hits like "Far Away", "Rewrite". By now, Gotoh's lyrics are works of art, and impressive music writing is only backed up by solid music production.


The Band


Masafumi Gotoh - Lead Vocalist, Rhythm Guitarist, Lyricist
I can't really say much for the other members of the group because I'm not that musically inclined. I'm led to believe from what other, smarter people say and from my own experience that each member is ridiculously talented at what they do, but I'll let you judge that for yourself. Gotoh has always been one of the biggest reasons why I was so attached to AKFG. Vocally, Gotoh isn't extremely talented. He sticks to one specific range for the most part, but of course goes into falsetto and screaming/wailing mode at times, but over the long history of the band this hasn't really changed or developed. However, like I mentioned earlier, AKFG I believe is more of an instrumental band as well, and interestingly enough I feel like Gotoh's vocal range fits to complement that intention, and not the other way around.

Gotoh writes most of the lyrics for the band, and as such the development of the band is evident from his lyrics. Gotoh is enamored with outdoor scenery, with space, along with the abstract such as emotions, time, technology, social change. At the end of the day he also doesn't take himself that seriously, the band itself has a great sense of humor and a taste for the fantastical (note their attachment to animals and their music video styles). The band members are in their 30s and Gotoh himself is married, and you can extrapolate from their music and musical styles that at this point in time, they're not concerned with complaining about things, writing about frivolous things, etc. – most of the lyrics at this point are just narratives about life, others, and the world the way they (well, mostly Gotoh) see it.

But How Are They Live?
I feel like a good indicator (although not the BEST) of a "good" band is how well they perform live.

The intro is about the most euphoric 2 minutes of music I've ever heard in my life:

+ Show Spoiler ["Re:Re" Live] +

This song, accompanied by a string orchestra, is one of my favorite lives of all time

+ Show Spoiler [Waterfront Live] +

While the above are really just exceptional lives, here are two famous songs performed live, notice how it sounds just as good as a "studio version"

+ Show Spoiler [To Your Town and Rewrite Live] +


Nano-Mugen Festival

Every year since 2006, AKFG produces and performs in their own music festival during the Summer, in which they invite many indie Japanese and Western bands to perform. AKFG is a huge supporter of indie acts and has exposed many talented indie artists to the mainstream market via this festival and the resulting CD compilations.

Nakamura Yusuke Cover Art

If you've noticed from some youtube embeds, AKFG has some interesting cover art. Their cover art is drawn by Nakamura Yusuke. Their cover art thematically includes blending nature with man (or usually, the woman), or music. Literally every single album and single cover is designed in this way, each one being just as creative as the last.


Album: Sol-fa
Single: Aru Machi no Gunjou
Single: Fujisawa Loser




Clearly, I'm a pretty huge fan of AKFG. For a band that has a bit over a hundred studio-produced songs, it's a bit hard to create a personal Top 5 but I'll try (note that I've literally been in love with these songs for 4 years):
1. Kimi no Machi Made (To Your Town)
2. Natsu no Hi, Zanzou (A Summer's Day, Afterimage)
3. Kaigan Doori (Waterfront)
4. Aru Machi no Gunjou (A Town in Blue)
5. Blackout

If you've read everything up to this point you have my sincere appreciation. It took quite a bit of time to write this but if I could just get one person hooked on AKFG then it was all worth it, and suddenly my rabid fandom now has merit. If you have any questions or want to correct something, feel free. If you want to learn more, head over to www.akfgfan.com , which has a thriving forum.

Thanks for reading!

Download - Song Pack (25 songs), 133mb
http://www.sendspace.com/file/ofu8u9