Player: RuFF
Race: Terran
Game: StarCraft II
Team: vVv Gaming
Rank: Grand Master (US)
Facebook: http://www.facebook.com/pages/VVVRuFF/307989929230299#!/pages/VVVRuFF/307989929230299?sk=wall&filter=1
Youtube: http://www.youtube.com/user/WMRuFFKiD?feature=mhee

[Stream] http://twitch.tv/ruff13

Brood War History:
I was a long term Brood War player. I've been playing Vinilla StarCraft ever since it came out. Once introduced to some of the Korean Pro-Players by a friend, I found a heavier interest in playing melee over user map setting games in broodwar. I created some very unique builds that eventually become personalized reaching B- on iccup before moving onto StarCraft 2.

BroodWar RuFF Unique Builds:
1. 2 Base Ghost Rush against zerg with nukes/flares.
2. 1 Base Ultralisk Rush against SK Terran Players with +4 Armor Upgrade into Queen Broodling/Crack Ling.

StarCraft 2 History:
With the knowledge of micro'ing from broodwar, I applyed this into StarCraft 2. I was a very cheesy player always proxy raxing players and made it to the top of diamond league doing so. Once the nerf happened, I tried to find another alternative to winning games with micro. At that point I created the Hellion/Viking/Banshee build against all players involving a really fast second factory before Starport. At this point I ran into EGIdra on the ladder. At first I thought he was a smurf and realized that it was the real EGIdra. At that point I took my game to the next level and started entering into small onlin tournaments for 20-50 dollars first prize. After 2 tournaments I made my first victory as a champion in the Weekly StarCraft Cup. Since then I have won many online tournaments for a small cash prize back in 2010. 2011 I stopped playing StarCraft due to infestor abuse. Once I returned summer of 2011, I was picked up by vVv Gaming due to my unique style in taking a lot of known names down on the ladder consistantly. Ever since I've been improving my game style since.

StarCraft 2 RuFF Uniqe Builds:
1. 4 Rax Marine into Reapers and Double Expanding.
2. 3 Rax Into Banshees.
3. Double Planetary Rush on Metalopolis Against Zerg
4. 2 Factory Blue Flame into StarPort. (Doesn't Work Anymore Due to Nerf)
5. +1 Attack, Stim, Combat, 2 Medivac Marine at 8 minute Mark
6. Hellion Outside Main Proxy into StarPort Proxy Reactor
7. 3 Rax into Nuke Rush
8. Mass Rush Viking Against Zerg
9. Standard Gold Expand TvT

Coaching:
20$/hr online
20$/hr live at the Fayetteville Elite Zone
Contact: ri-vik@hotmail.com
Battle.net: vVvRuFF.266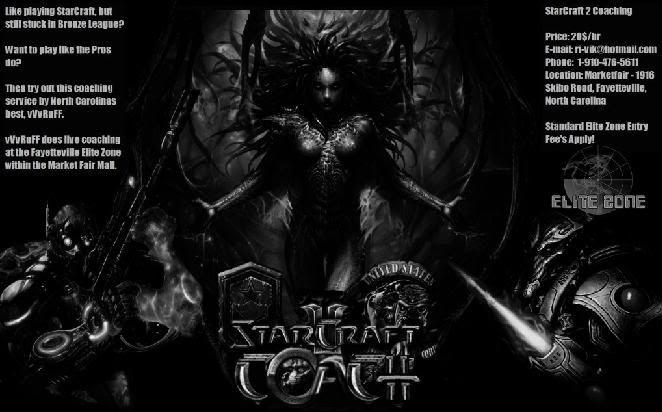 Interested in Replays? Check these out!
https://rapidshare.com/files/333223283/Replays.zip

Want more Replays? Check out http://www.topreplays.com and search RuFF !