Saturday May 14th 18:00 GMT (+00:00)

TSL3


By Xxio

The TSL final is this Sunday. Naniwa vs. Thorzain, in the most epic – yesyesyes. We know. Calm down, people. First thing's first: who comes third? Besides an extra $1,500, the third-place finisher will take home a seed into the TSL4.

Kas and HasuObs are as unexpected to be in a fight for a TSL4 seed as a Thorzain vs. Naniwa final. In European circles, Kas and HasuObs have long been known as top players. It is only recently in the TSL, however, that the entire, stretched StarCraft 2 scene started giving them the level of attention a gosu deserves.



On April 25 2011 05:55 Irave wrote:
Hasu played so well, feedbacking ghosts nailing storms.

On April 25 2011 05:55 BoBiNoU wrote:
gosuhasu

that micro is just amazing


HasuOb's run in the TSL is a long time coming. After IEM Cologne in August, he seemed to fall off the map. In reality, he had followed up his performance in the first major StarCraft 2 tournament with five tournament wins and eight second-place finishes. He was trading wins with players like Dimaga, WhiteRa, and BratOk in the weeks leading up to his round of 32 TSL appearance. Not every player gets the chance to play on the biggest stages, the ones that people post and make threads about. The TSL widened the spotlight for many once-smaller players and gave them the opportunity to turn into stars. HasuObs took the opportunity and went all-out, proving with wins over Huk, Morrow and Boxer that he is as skilled as any big-name player.



On April 24 2011 04:36 Dakmaniac wrote:
EmpireKas = MacroMachine o.O

On April 24 2011 04:36 HQuality wrote:
120vs60 supply
what?


Right now, Kas is the scariest player from the Ukraine. Which pretty much means that he's one of the scariest players in the world. Kas is a macro-monster, and been one for a long time. Like HasuObs, he was dominating long before the TSL highlighted his brute-force, nerd-shattering play. The Top Dog of March boasts ten first-place finishes and five silver medals over players like BratOk, Strelok, Mondragon and Grubby. He has undoubtedly been one of the most skilled and exciting players to watch. When he exits the TSL on Saturday, he will take a piece of the limelight with him.






PvT is HasuObs' best matchup. Since April 1st, he is 29-9. To see why and how he is so dominant in this matchup, just look back at the 2011 Ultimate Gaming Championship (which he won) or his games against Boxer in the TSL. Against Select in Gadget Show Live, HasuObs showed that, just like skittles, his PvT has all the flavors of the rainbow. In one game he almost won with a 12 minute, 2 base phoenix push. In another, after a 3 gate, pressure-expand, he hid a dark shrine and destroyed the Terran's economy with DTs. Against Sjow, in the same tournament, he set the pace of the game with phoenix, forced his enemy's tech path, then cleaned up with a perfect unit composition.

Kas was able to reaper-FE over and over against Adelscott and strong-arm wins through terrific macro. While definitely a macro-monster, he will not be able to beat HasuObs with macro alone. HasuObs knows exactly how to deal with macro Terrans and has some of the best drop-defence, which is sure to fluster Kas. If Kas settles into the macro game, HasuObs will have a stack of builds to pull from. In fact, HasuObs excels at the macro game. Rarely does he lose a fight at max food. Kas' macro is so good, though, that he can run over his opponent before a perfect death-ball can be crafted. His enormous bio pushes should never be underestimated. The problem with them, however, is that they most always come after a successful defence in the form of a counter-attack, and HasuObs is patient. He knows how to rein in a mobile Terran and never over-commits. Another problem is that HasuObs has been crushing this exact, stim-heavy style of play since April. I hope Kas mixed some mech into his builds because HasuObs is very comfortable against the norm.

Prediction: HasuObs 4-1.

Liquibet Stat: Kas: 4602 HasuObs: 4376






Cheerfuls !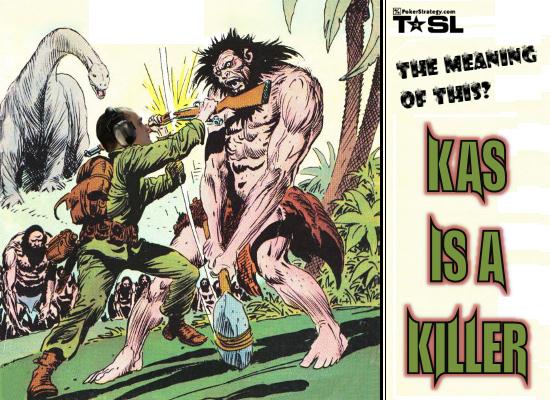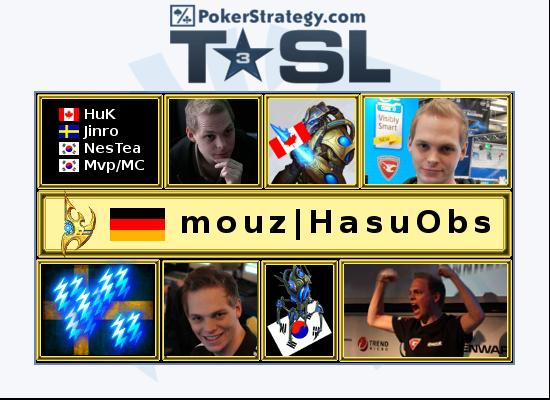 ---

This TSL is sponsored by PokerStrategy.com, the world's largest poker school and community. With hundreds of Poker VODs and an assortment of learning material in 18 different languages, PokerStrategy.com offers the chance for aspiring Poker players to learn from a beginner to a professional level. Sign up using TL's referral link.

By signing up, you can also enter the TSL3 Raffle, where you can win a 5-night trip to South Korea for 2 people to watch StarCraft live in person and tour the oGs-Liquid house.

Discuss with other fans in the TSL3 Forum.