The Best Worst GSL Final: soO vs INnoVation in 2017 Code S Season 3
By: Mizenhauer and Wax
When we think about great players, it's natural for the high points of their careers to spring immediately to mind. For
sOs
, that moment might be his consecutive proxies to seize the $100,000, winner-take-all prize at
IEM Katowice 2014
. Or, you might recall how he bewildered Jaedong in the grand finals of
BlizzCon 2013
with a series of cheeses. Indeed, sOs' creativity, confidence, and audacity set him apart from all of his peers. Nobody was more eager to gamble it all on a never-before-seen build, and more often than not, he hit the jackpot.
However, there's an underappreciated aspect to sOs's game that allowed him to become more than just the most charismatic cheeser of all time. While his hand speed and mechanics were fairly good, they were definitely worse compared to elite contemporaries such as soO or Maru. If he had to play them in orthodox macro games, then he would surely be at a disadvantage. That's where sOs's other great strength kicked in: his ability to make games
weird.
sOs regularly dragged his opponents into the mud, forcing them to play scenarios that they would never have encountered on the ladder or in practice. A 'honorable' macro game between two standard-minded opponents might resemble a fencing match: a skillful duel contested within strict and narrow boundaries. A macro game against sOs was more like a bare-knuckle backyard brawl, where fighting dirty was the only way to win. It didn't matter how good his opponents were on paper. It didn't matter how sterling their statistics were or how ruthlessly they stomped their previous Protoss opponent. sOs would disrupt their game plan and force them to play the type of game
he
wanted.
One of the best examples of this ability came in
2017 Code S Season 3
finals, where sOs went up against INnoVation. This may seem like an odd match to pick—not only had sOs had come down from his prime by that point, but he also happened to lose. However, it's actually sOs's decline that makes this match so apt. In what should have been a one-sided stomp, sOs's reality-warping abilities brought him within a map of winning a Code S title.
The Players: 2017 sOs vs 2017 INnoVatioN
Up until 2015, sOs had been considered the clutchest player in the world. He was the three-time World Champion (two WCS, one IEM), and had never lost in the finals of a major event since 2013. However, in 2016, he started down the slow and inevitable road of decline, with his Code S finals loss to the hitherto unproven ByuN signaling the start of the new phase in his career. One might call it the "you never know" phase. As in, "sOs is kind of bad, but you never know when he'll defy all logic and make a deep tournament run."
2017 had been largely nondescript for sOs, and he even bombed out in the RO32 of the Code S Season 2. Prior to Season 3, he was ranked a lowly 18th on
Aligulac.com's Korea ranking
, which reflected his mediocre performances throughout the year. But somehow, it wasn't
too
surprising when he abruptly sprang back to life in the final season of the year, taking out the likes of TY, Bunny, herO, Solar, and Stats on his way to the finals. It was one of those familiar "Class is eternal" moments in StarCraft—now, would that class be enough to win a championship?
Unfortunately for sOs, he was going up against a player with his own legendary aura:
INnoVation
. If you need a refresher, 2017 INnoVation had a solid argument to be called the greatest-of-all-time. His tournament resume in world championship events was lacking compared to the other legends, and his passion for SC2 could certainly be questioned. However, INnoVation made up for it with how ridiculously dominant he was at his peak. When INnoVation was playing at 100% of his abilities, you would pick him to beat anyone in history in a BO7 series.
Like sOs, INnoVation had declined relative to his prime days in 2013-2015. But, in contrast to sOs, even a slightly diminished version of INnoVation was still an absolute terror, and arguably the best player in the world (think 2018 Serral vs 2021 Serral). In the prior 12 months, he had won championships at IEM GyeongGi (Dec 2016), GSL vs the World 2017, and SSL Season 1 2017, putting up a 13-4 record in offline BO5+ matches during that time.
sOs had a meager 7-9 record against Terrans in offline matches in 2017, a figure that looked mightily unimpressive compared to INnoVation's 18-8 mark against Protoss (including a 2-0 record against sOs). Even worse was the fact that TvP at the time played to INnoVation's strengths. The meta wasn't quite settled a year into Legacy of the Void, but INnoVation had blazed a path forward for himself. The macro-monster readily incorporated the newly introduced Liberators into his army, assembling deadly Bio-Liberator forces that Protoss players simply couldn't find an answer for. (There's a number of reasons for this, but it should be noted that upgraded Liberators had +1 longer range compared to now, and Tempests were a weaker air-to-air unit). Also, two base Tank-pushes were highly effective at the time, giving Terran a chance to end the game outright or transition seamlessly into a macro game (time is a flat circle).
It seemed there was no stopping the Machine from leaving an indelible mark on StarCraft II history by claiming his third Code S title. After all, Mvp's hallowed four GSL titles was really just 3 Code S + 1 GSL vs the World—wouldn't a third Code S championship for INnoVation put him at the same level but with a far longer career? And, if that were the case, wouldn't that settle the GOAT dispute? (It didn't, for the usual narrative-versus-substance reasons we always talk about in these articles).
sOs, meanwhile, was going to have to mix things up if he wanted to keep up with the best player in the world. In these dire straits, sOs turned to his aforementioned ability to throw a wrench in the gears—leading to what still stands as one of the weirdest, ugliest, and most perplexing Code S finals of all time. Just the way he wanted it.
The Match:
INnoVation kicked off the series with a two-base tank push on Mech depot. sOs responded with a backdoor warp-in of Glaive Adepts, forcing INnoVation to split his attention on both attack and defense. On the sOs chaos scale, this move didn't rate particularly high, but it did its job. INnovation failed to adequately deal with the backdoor attack (losing 20+ workers) AND he couldn't properly focus on his push. sOs focus-fired down the Tanks while INnovation was distracted, effectively ending the push. INnoVation stuck around despite playing from massively behind, but eventually surrendered the FanTaSy GG timing.
Game two on Abyssal Reef followed a similar early game pattern, with sOs countering another two-base Tank push with a backdoor attack. Only this time, he chose to backdoor with four Oracles, which picked off a number of key add-on buildings (canceling stim research at the last moment). This helped sOs eventually dislodge the push, but this time INnoVation remained on solid economic footing. sOs made his big play by committing hard to Glaive-Adepts and going for a series of aggressive Shades into the Terran expansions. This seemed to work out initially, deeply cutting into INnoVation's worker count. However, the sacrifice in terms of tech and army was too much, sOs had to GG out when a consolidated Terran army came marching in.
Game three on Newkirk Precinct was an odd amalgam of the first two bouts, with sOs going up to four Oracles while INnoVation executed a two-Factory Cyclone all-in. If you don't recall, the September 2017 version of the Cyclone had a much weaker lock-on ability in exchange for a powerful anti-ground auto-attack, making it an incredible A-move unit in the early game. sOs was able to delay the push for quite some time, but eventually he was outgunned by the combined firepower of Cyclones and Marines.
Down 2-1, sOs kept the speed run going on what had been a very quick finals to that point. After a failed proxy-Stargate, he pivoted into 7-Gate Glaive Adepts and hammered the unsuspecting INnoVation to tie the series at 2-2.
Game five on Odyssey was where the series got really strange, with sOs playing a truly vintage sOs game. sOs took a fast expansion at his gold expansion, and then proceeded to proxy the majority of his production (Starport and two Gates) at yet another faraway expansion on the map. Then, he took his third and fourth bases on top of that, all while INnoVation was still stuck on two bases.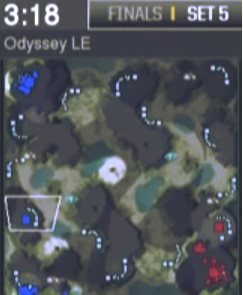 Normal sOs positioning, three minutes into the game.
Surely sOs couldn't get away with this much greed? Actually, he could, even with a mine-drop blasting several of his Probes. He quickly converted his massive mineral income into Gateway unit production, and assembled a huge Adept-Zealot-Phoenix army that absolutely crushed INnoVation's first big move out.
One would think this would have been enough to decide the game, with sOs pulling off one of the greediest starts in GSL finals history. The problem, however, was that sOs completely missed the window to close things out when A-moving mass Chargelots would have done the job. INnoVation, given just a little bit of time, rapidly amassed a powerful Liberator-backed army that sOs had no idea how to approach. sOs's late-game army control was simply lacking compared to the mighty INnoVation (and perhaps Liberators were a tad strong), leaving him with no way of winning a straight-up fight.
However, sOs had map control and many more standing expansions, giving him a different pathway to victory: neverending backdoor attacks and basetrading. He scampered around the map, leading INnoVation's Liberators on a merry chase. Whenever a base went down in one location, he made sure to have a new Nexus warping as far away as possible. All the while, Zealots kept INnoVation from securing new expansions, putting a timer on his economy.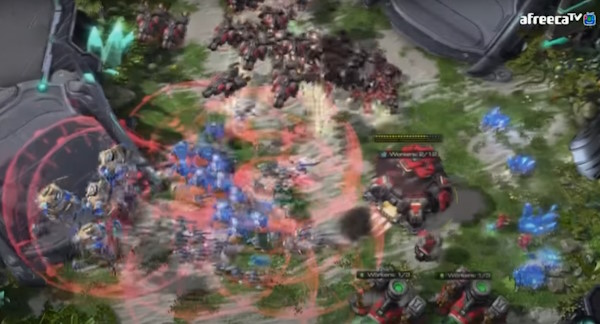 Normal INnoVation positioning, twenty minutes into the game.
INnoVation ended up barely mining for the vast majority of the game, but the Liberators made actually ending the affair a chore and a half for sOs. Even when nearly all of INnoVation's buildings were destroyed and his worker count was reduced to zero, he still looked to be the favorite in a head-on fight. In the end, after 22 minutes of fighting, sOs found a creative way to put the game away. His backdoor attacks forced lift-offs on all of the opposing Orbital Commands, freeing up Dark Templars to come in for the kill.
Up 3-2 and riding the momentum of the previous game, sOs blew game six in spectacular fashion. A big part of sOs's legacy is being the most successful cheeser in StarCraft II history, but this game proved that even the best don't have a 100% hit-rate. Having already played the greediest opener in GSL finals history, this time he went for the GSL's most ill-conceived all-in: A Chargelot and Blink-DT timing off of three bases.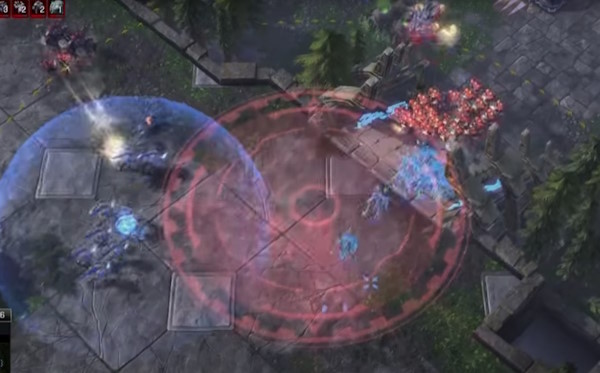 Could we blame this game for single-handedly making progamers give up on Blink DT's until the 2020's?
This attack ended in disaster, because INnoVation actually had units and detection. Even with a fairly good DT blink into the backlines, a scan, stim, and A-move was enough for INnoVation to wipe out the Protoss troops. The game lasted a little longer, but sOs didn't have the tech or the economy to upgrade his units or his army and quietly exited in a one-sided defeat.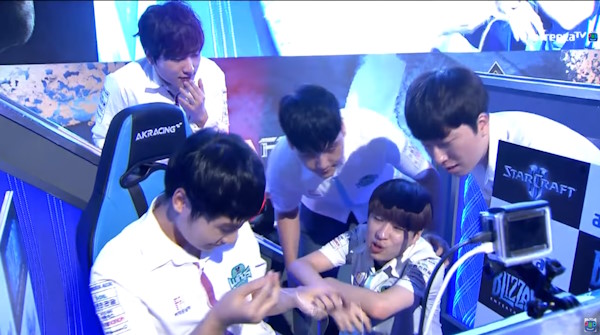 The Jin Air players are probably reassuring sOs after the loss, but it's funny to imagine Maru is just taunting him.
And, so, with the score tied 3-3, the series went to Acolyte for game seven. It has to be noted that this was only the seventh time in Code S history that the grand finals had gone the distance. But, unlike Mvp versus Squirtle or Soulkey versus INnoVation, this finals failed to give us a dramatic finish worthy of the moment. sOs had managed to make it this far against the superior player through a strange mix of basetrades, all-ins, and audaciously greedy builds. INnoVation had taken it all in stride, sticking to the game plan and making few visible adjustments.
One map away from that vaunted third Code S championship, INnoVation stuck to his guns and prepared another two-base tank push. He marshaled his forces, marched across the map, and set up shop at sOs' natural. And, disappointing, this was the game where sOs didn't have an outside-the-box answer. He tried to play Phoenix-Colossus off of two bases, but the composition came online far too late to delay INnoVation's push. The Tanks easily tore down the natural base, and INnoVation was perfectly happy to contain sOs while powering up back at home. The only ace sOs had up his sleeve was a hidden expansion at another base, but INnoVation showed incredible awareness to scout and destroy the base just as sOs was recalling Probes in.
This effectively ended the competitive portion of the game, but it being game seven, sOs had to try for at least one last-ditch ploy. He was never going to make up the 50+ army supply difference, but he could at least try to basetrade and pray that INnoVation made the biggest mistake of his career. He recalled his trapped army and Probes out, and sent them off for one final attack into the Terran natural.
While Artosis usually gets a collective eyeroll from the TL.net community whenever he invokes the dreaded "greatest thing ever" phrase, he was probably correct here when he stated "If he can actually break through with these Probes, it will be the greatest move in the history of GSL!" The only problem was that Artosis' statement implied most of sOs' army was made up of Probes, INnoVation had already destroyed the majority of the buildings in sOs' main, there were already plenty of new Terran units produced back at home, and did we mention the 50+ army supply difference? If sOs had won, it would actually have been the greatest thing in the history of things.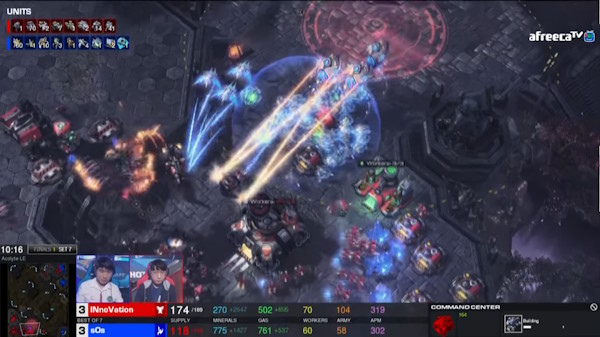 A few moments later Artosis added, "It's not looking too promising."
Throughout the series, sOs had done everything he could to negate INnoVation's advantages. He had done his best to decide things early or take games in odd directions so as to mitigate INnoVation's superior macro. He had gone for basetrades whenever he had the chance, even if it was a hopeless endeavor. And, as the last of sOs' forces washed away against INnoVation's defenses in a hopeless tide, the imminent three-time Code S champion flashed that coy, knowing smile of his.
But, when the GG came, INnoVation didn't immediately saunter over to the trophy. He took a moment to exhale, with relief etched on his face. He knew all too well that the series had been a complete mess, that he had survived a battle in knee-deep bog of mud, in the middle of a blizzard, during an earthquake, in the days following a volcanic eruption. It never should have been so close. It never should have even been a contest. But, on that day, despite ending up on the losing end, sOs had nearly brought INnoVation to his knees. He had fought as only he could and went out on his own terms.
sOs would never again reach the finals of Code S, but he continued to create more "you never know" moments. He reached the semifinals of BlizzCon 2018, defeating Maru in one of the most insane upsets at the time. And even when people thought he was completely washed up, he managed to reach the top eight of IEM Katowice 2020.
To this day, sOs remains a one of one. There has never been, nor will they ever be another player like him. Was this the cleanest series? No. Was it the most technically sound? Clearly not. Was the average quality of the games high? Not really. But, what it was, was sOs, through and through. And, in that respect, it could not have been more perfect.
---
Credits and acknowledgements
Writers: Mizenhauer and Wax
Images: AfreecaTV
Records and Statistics:
Aligulac.com
and
Liquipedia